Majestic glaciers, alpine meadows, cool blue tarns, and a plethora of rugged peaks await hikers in the Mount Baker Wilderness.
The main focal point of this vast 117,900 acre wilderness is Mount Baker itself.
Known to the indigenous Lummi people as Koma Kulshan (meaning "Great White Watcher"), Mount Baker is an active stratovolcano, the tallest peak in the North Cascade Range, and one of the most glaciated peaks in the lower 48.
As you tread along the trails here, you'll be under the Great White Watcher's eye. Rising high in the distance, you'll often find yourself gazing at the white peaks as you travel along many of the trails.
This is not the only spellbinding force you'll find. Trek along any of our favorite routes listed below and you'll understand what is so special about Mt. Baker hikes.
1. Chain Lakes Loop
Why you should go: The perfect day hike featuring a chain of alpine lakes and picture worthy views of Mt. Baker and Mt. Shuksan.
Distance: 6.5 miles
Elevation gain: 1,820 feet
Difficulty: Moderate
When it comes to day hikes, the Chain Lakes Loop is the whole package. Subalpine lakes, heather meadows, and picturesque views of Mount Baker and Mount Shuksan rising in the distance are all within the 6.5 mile loop.
And with less than 2,00 feet in elevation gain, you won't have to huff and puff too hard to earn it.
Accessible only in summer and fall, Chain Lakes Loop can be approached from three different parking lots. To get the ascent out of the way, being your hike at the Austin Pass and Heather Meadows.
Another popular option is to start at Artist Point and hit the lakes a bit later when you're ready to dive right in.
Related Read: 11 Best Hikes in the Alpine Lakes Wilderness
2. Heliotrope Ridge
Why you should go: A well traveled trail from dense forest to above treeline to reach Coleman Glacier.
Distance: 5.9 miles
Elevation gain: 1,988 feet
Difficulty: Challenging
If you want to experience Coleman glacier up close and personal, challenge yourself at Heliotrope Ridge Trail. This trail takes you from dense old-growth to above treeline at 5,100 feet.
Along the way, you'll pass by rocky moraines, the site of the former Kulshan Cabin, and some tricky stream crossings. Be prepared to ford if you want to make it to the glacier, but keep in mind calm waters can easily change.
Once you reach the glacier you might see some climbers testing out their mountaineering techniques. As a day hiker, we advise you to look and not touch. Coleman is indeed an active glacier and should not be stepped on without proper climbing gear and the skills to go with it.
3. Table Mountain Trail
Why you should go: Short and steep ascent to a plateau with sweeping panoramic views.
Distance: 2.8 miles
Elevation gain: 692 feet
Difficulty: Moderate
Short and steep, Table Mountain Trail has some difficult terrain so come prepared and leave the pets at home (no pets allowed).
Starting at the Artist Point parking lot, you'll embark upon a traverse up the rocky southeast face to reach the broad tabletop like summit.
If the summit gods grant you clear skies, you'll have a sweeping panoramic view of peak after peak along with Chain Lakes.
Related Read: 9 Amazing Lake Camping Sites in Washington
4. Skyline Divide
Why you should go: A popular, challenging trek that rewards you in views and scenery.
Distance: 9 miles
Elevation gain: 2,500 feet
Difficulty: Moderate/Challenging
Skyline Divide is a popular trail that's as rewarding as it is challenging. In the first two miles alone you'll gain 1,500 feet, but the views of Kulshan, Shuksan, and the High Divide are well worth the push.
Trekking through evergreens, open flower filled meadows, and knoll after knoll, the Skyline Divide's scenic landscape and panoramic views of the North Cascades are stunning to say the least.
Be sure to fill up your hydration pack before venturing out because there is no reported water source on the trail.
5. Horseshoe Bend Trail
Why you should go: Mellow family-friendly trail next to the raging Nooksack River.
Distance: 2.4 miles
Elevation gain: 220 feet
Difficulty: Easy
Not all hikes in the Mount Baker area are strenuous. Horseshoe Bend Trail is a pleasant family-friendly trail located right off the Scenic Mount Baker Byway.
The trail follows the North Fork of the Nooksack River through a dense second-growth forest setting. Watch as the water rages downstream, presenting a striking contrast to the path beneath your feet.
If you happen to be here during the salmon spawning season, you're in for a real treat. You'll be able to marvel at how these anadromous fish complete their life cycle. We just ask that you please leave them in peace.
Unlike some of the other trails on this list, Horseshoe Bend is accessible year-round and is pet friendly.
Related Read: 10 Scenic Drives in Washington State That'll Blow Your Mind
6. Artist Ridge Trail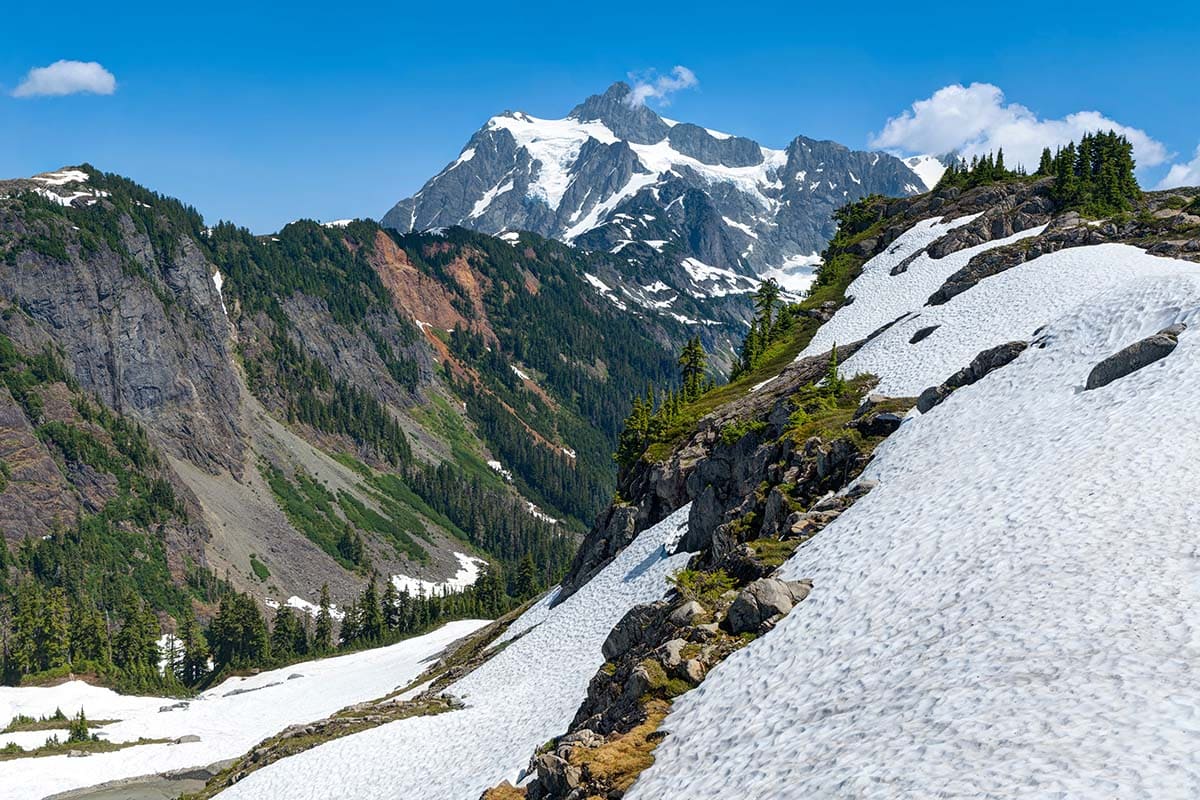 Why you should go: An insanely easy and popular trail among a fragile ecosystem with mountain views.
Distance: 1.2 miles
Elevation gain: 200 feet
Difficulty: Easy
Artist Ridge is an incredibly easy and accessible trail that's good for all ages and skill levels. Only open during the summer and fall, Artist Ridge is extremely popular and is known for drawing in quite the crowd.
But don't let the masses keep you away. Artist Ridge offers some spectacular scenery that will delight photographers and hikers alike.
Gaze off into the distance and spot Mount Baker and Mount Shuksan piercing the sky along with Goat Mountain and Mount Stuart.
Summer wildflowers burst with color while fall foliage brings about its own charm. Meanwhile, the tarns (lakes formed due to glacial erosion) are a testament to how the glacial landscape has changed over time.
7. Goat Mountain Trail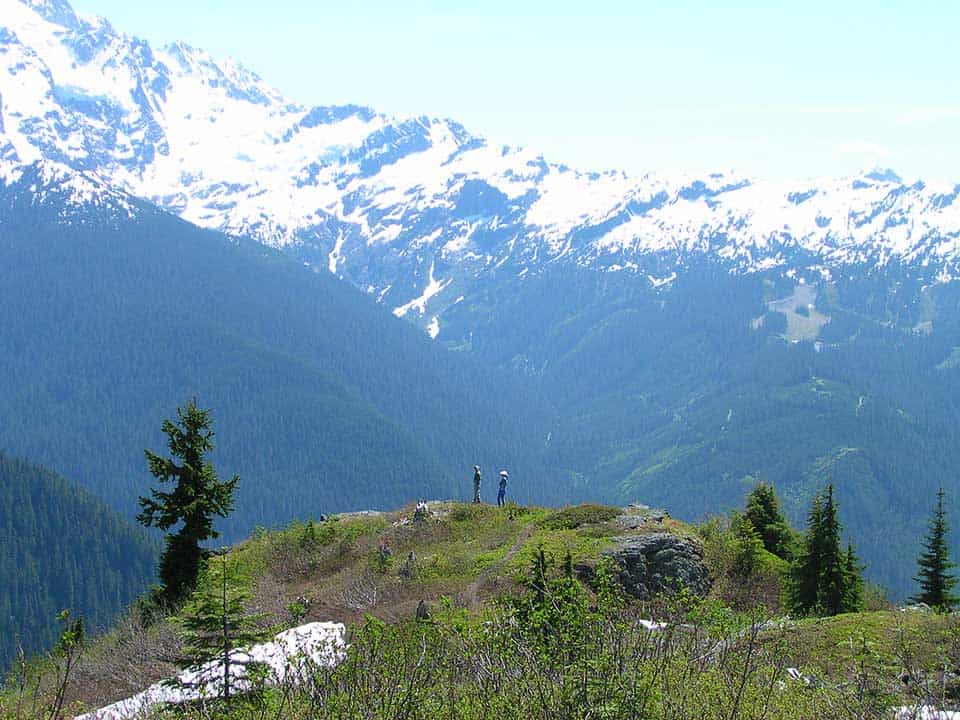 Why you should go: Earn bragging rights and ascend a vertical 4,000 foot plus climb to mountain and glacier views.
Distance: 8.7 miles
Elevation gain: 4,242 feet
Difficulty: Challenging
If the views of Goat Mountain entice you, give in to temptation and tackle the 8.7 mile trail. Mostly located within the Mount Baker Wilderness boundaries, Goat Mountain Trail is a rewarding feat for any hiker who is willing.
You'll begin the journey ascending switchback after switchback. Keep it slow and steady, you've only got about 4,000 vertical feet to gain!
Once you reach the official wilderness area around mile two you'll come across an unmarked trail. This leads to an old lookout site which has become overgrown over time.
Stay on your current path and crest a ridge before you reach your destination with craggy mountain and glacier views at 5,600 feet.
Related Read: 11 Best Glamping Spots in Washington for a Natural Getaway
8. Park Butte Trail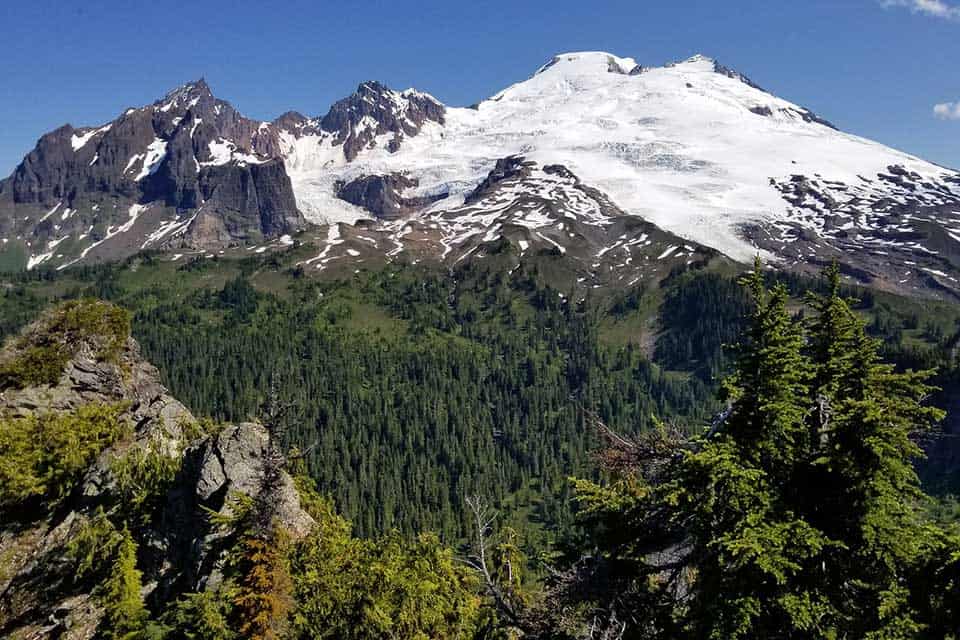 Why you should go: A historic fire lookout tower situated at 5,400 feet.
Distance: 7.5 miles
Elevation gain: 2,220 feet
Difficulty: Moderate
An historic fire lookout tower awaits at the top of the Park Butte Trail. Built in 1932, the lookout tower is still maintained thanks to the Skagit Alpine Club volunteers.
Along the way, you'll wander through meadows of huckleberry and heather with the presence of Mt. Baker consistently upon the horizon.
As you leave the meadow behind, you'll encounter Rocky Creek flowing through boulder fields. Cross carefully before encountering the next section of forest and meadows.
Take in the expansive views and finish the last ascent strong, reaching the lookout at 5,400 feet.
9. Winchester Mountain
Why you should go: It's less than two miles to ascend to dramatic views and a fire lookout tower.
Distance: 2.9
Elevation gain: 1,299
Difficulty: Moderate
If the Park Butte Trail is a bit too long for what you had in mind, you can still experience dramatic views and an old fire lookout tower at the top of Winchester Mountain.
The climb up the Winchester Mountain Trail is far shorter, less than two miles long, while the elevation gain will cost you about 1,300 feet. Peer down at the world below and you'll have a beautiful vantage point of twin lakes.
The one catch to accessing this trail is the road. It's one lane and requires a high clearance vehicle.
If the road happens to be closed, you can park at Tomyhoi Lake Trailhead. Take note, this will extend your hike by two miles.
Related Read: The 10 Best Pet-Friendly Cabins in Washington
10. Yellow Aster Butte Trail
Why you should go: Trek through a stunning landscape of forest, meadow, and glacier carved terrain.
Distance: 7.5 miles
Elevation gain: 2,550 feet
Difficulty: Challenging
If alpine meadows and stunning views draw you in like a moth to a flame, add the Yellow Aster Butte Trail to your hiking list. This trail traverses the High Divide on the south facing slopes.
Along this challenging trek, you'll encounter avalanche paths, creek crossings, glacier carved rock formations, eye-catching blue tarns, and thickets of fresh blueberries given the season. All of this and you'll end with a 360 degree view.
Keep in mind, the ecosystem here is fragile so tread lightly.
11. Big Four Ice Caves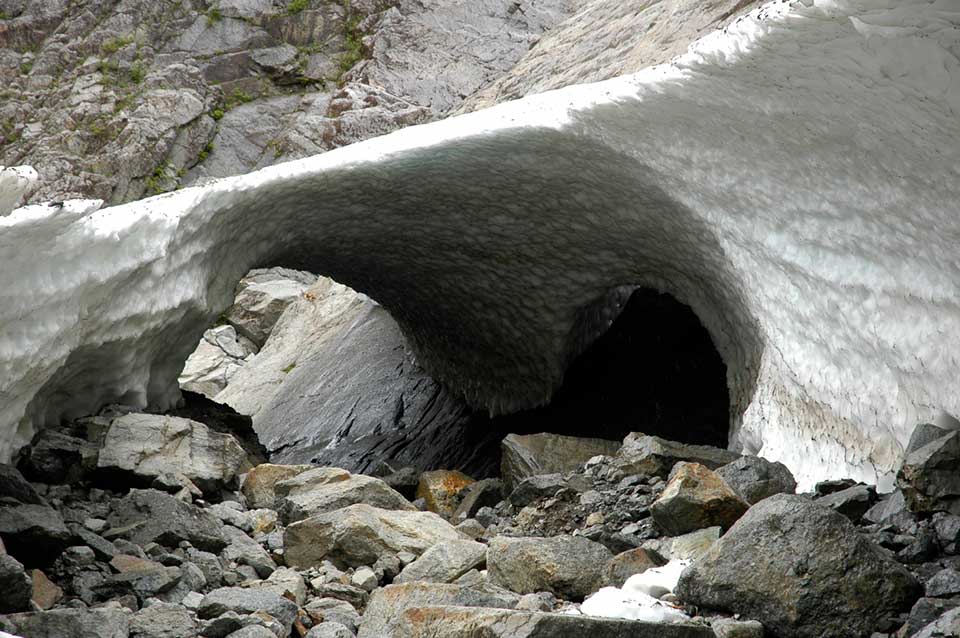 Why you should go: A natural phenomenon of ice caves that occur at Big Four Mountain.
Distance: 2.2 miles
Elevation gain: 220 feet
Difficulty: Easy
The name of the trail alone warrants investigation. If you're riddled with curiosity, stride along the boardwalk out to the Big Four Ice Caves of Big Four Mountain.
"At the bottom of its steep 4,200 foot high north face, debris piles form from avalanches and can remain there year-round because of the continuous shade provided by the mountain," said Seattle North Country.
Typically forming in late July, the ice caves are a result of warm winds and melting snow.
But please, heed the warning signs as this natural phenomenon is best admired from the view area at the end of the trail. The melting snow has been the unfortunate cause of injuries and a fatality.
Related Read: The 14 Best Hikes in North Cascades National Park, Washington
12. Picture Lake
Why you should go: A flat, paved path with a scenic landscape photo op that even the laziest of hikers can't miss.
Distance: 0.5 mile
Elevation gain: 6 feet
Difficulty: Super Easy
Picture Lake is seriously picture perfect. Grab the camera because you won't want to miss a chance to capture a photo of this mesmerizing landscape.
At half a mile long, Picture Lake is an easy one to add to the list. It's also incredibly flat making it ideal for any and every skill level.
Follow the paved interpretive path and enjoy a relaxing morning saunter. Mt. Shuksan rising high in the distance with the pristine waters of Picture Lake mirroring its image is a sight to behold.
13. Bagley Lakes Loop
Why you should go: Easy mileage and a scenic Bagley Lake the whole family will enjoy.
Distance: 2.2 miles
Elevation gain: 259 feet
Difficulty: Easy
If you want a bit more of a stretch than Picture Lake, take the family on the Bagley Lakes Loop. The mileage and scenery make this a hike the whole family will enjoy.
The Bagley Lakes Loop features two pristine lakes, wildflowers, waterfalls, and mountain views.
To turn this trip into the loop, you'll want to link up with the Chain Lakes Trail. This does mean you'll have to do some stream crossing, but nothing too serious.
Related Read: 12 Secluded Cabin Rentals in Washington for Private & Remote Getaways
14. Lake Ann Trail
Why you should go: A moderate hike that features small lakes and views of Curtis Glacier and Mt. Shuksan.
Distance: 8.2 miles
Elevation gain: 1900 feet
Difficulty: Moderate
Lake Ann may draw you in, but it's Mt. Shuksan and Curtis Glacier that seal in the deal.
The Lake Ann Trail meanders through an alpine landscape filled with meadows, boulder fields, forest, and talus slopes. All to reach Ann Lake with a wide open view of Mount Shuksan and Curtis Glacier.
As for the trail itself, the Lake Ann Trail can be rocky and rooted so watch your step. Also, keep a lookout for pikas and marmots that may be scurrying around nearby.
Along the route, you'll also have views of Mount Baker, Fisher Chimney, and Artist Ridge.
15. Damfino Lakes to Excelsior Peaks
Why you should go: Get a good heart pumper in and summit Excelsior Peak without spending all day doing it.
Distance: 5.2 miles
Elevation gain: 1,558 feet
Difficulty: Challenging
The Damfino Lakes Trail to Excelsior Peak is a good hike if you want to get your heart pumping, but not spend all day ascending traverses.
During this hike, you'll tread through old-growth and expansive meadows. In the summer months, the wildflowers and blueberries are abundant.
Stop for a quick antioxidant rich snack when you reach the tiny lakes. Then continue onward because you've got a summit to reach.
Explore Washington
Sign up for our free email to join thousands of readers getting epic travel, hiking, camping and gear ideas every week.
---