Las Vegas is known for a lot of things — glitz and glam, gambling, and world-class restaurants and shows. But is it really a hiking destination?
Good news — it most certainly is. Southern Nevada offers some of the Southwest's most diverse environments and landscapes. From desert treks over sculpted sandstone to mountain hikes to hidden waterfalls and ancient Bristlecone forests, Las Vegas is an ideal jumping off point to a number of stunning viewpoints.
Vegas locals often beat the searing summer heat by cooling off in the water of Lake Mead or making the 45-minute drive to Mt. Charleston, where temperatures are 20 degrees cooler. From October to March, crowds migrate to nearby Red Rock Canyon or Valley of Fire State Park to explore the fiery glow of the colorful sandstone formations without the scorching desert heat.
Below, you'll find a list of the best hikes near Las Vegas, all (more or less) within an hour's drive of the strip.
Remember that difficulty ratings are relative to other trails in the area; a "difficult" trail in Maryland may be considered "easy" in Colorado. Be sure you're prepared before starting any hike, and always follow Leave No Trace principles. 
Related Read: 8 Amazing Day Trips from Las Vegas
1. Historic Railroad Trail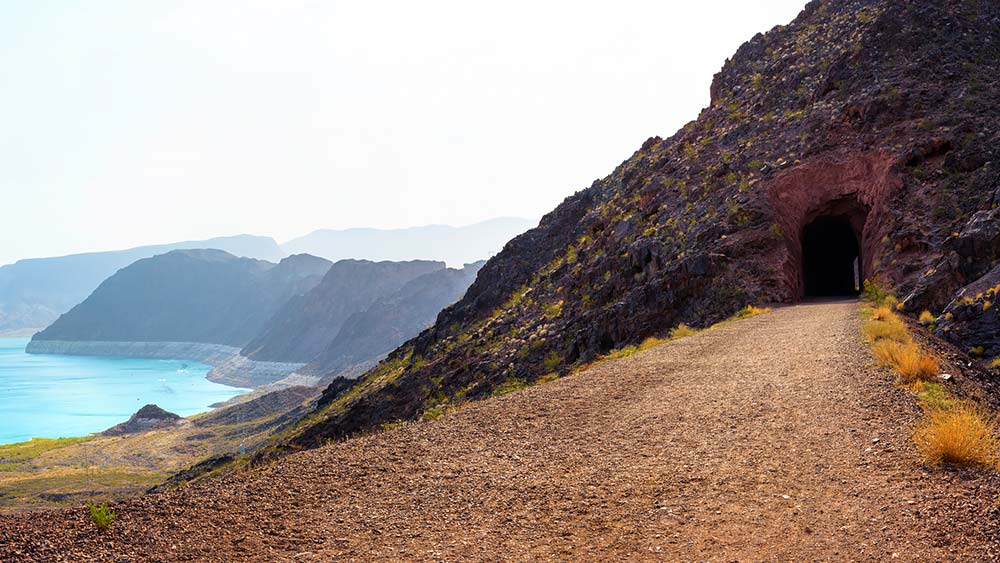 Why you should go: Family and pet-friendly trail leads hikers through Hoover Dam's historic past.
Location: Lake Mead National Recreation Area
Difficulty: Easy
Distance: 7.5 miles
Elevation Gain: 11 feet
A flat, gravel path, the Historic Railroad Trail follows an old railway through five tunnels leading to Hoover Dam. Built in 1931, the railroad moved supplies to workers building the dam. The tunnels, each 300 feet long and 25 feet wide, were blasted through solid rock. If you love history, walking this trail be a highlight as you explore hikes near Las Vegas.
Today, you can walk, run, or bike the trail, sharing it with bighorn sheep, rabbits and other wildlife. The trailhead is by the Lake Mead Visitors Center, though you can access a shorter version from the Hoover Dam Lodge parking lot.
2. Robber's Roost
Why you should go: Drop into a hidden hideout to explore limestone caves.
Location: Spring Mountains
Difficulty: Moderate
Distance: .04 miles
Elevation Gain: 280 feet
Another hike with a bit of lore is Robber's Roost. This short, aggressive leg stretcher involves hiking down into a forest of juniper, pinyon, mahogany and ponderosa pines. You'll navigate some limestone stairs and do a bit of rock scrambling to reach the Robbers Roost caves.
Local legend says that outlaws used the area as a lookout to ambush travelers along the old Mormon Trail. The alcoves provided shelter and a place to store stolen goods. The cliffs are popular among rock climbers, and kids will love exploring the caves. It's a one of the best hikes near Las Vegas for kids and families to play.
Related Read: 6 Epic National Parks Near Las Vegas, Nevada
3. Petroglyph Trail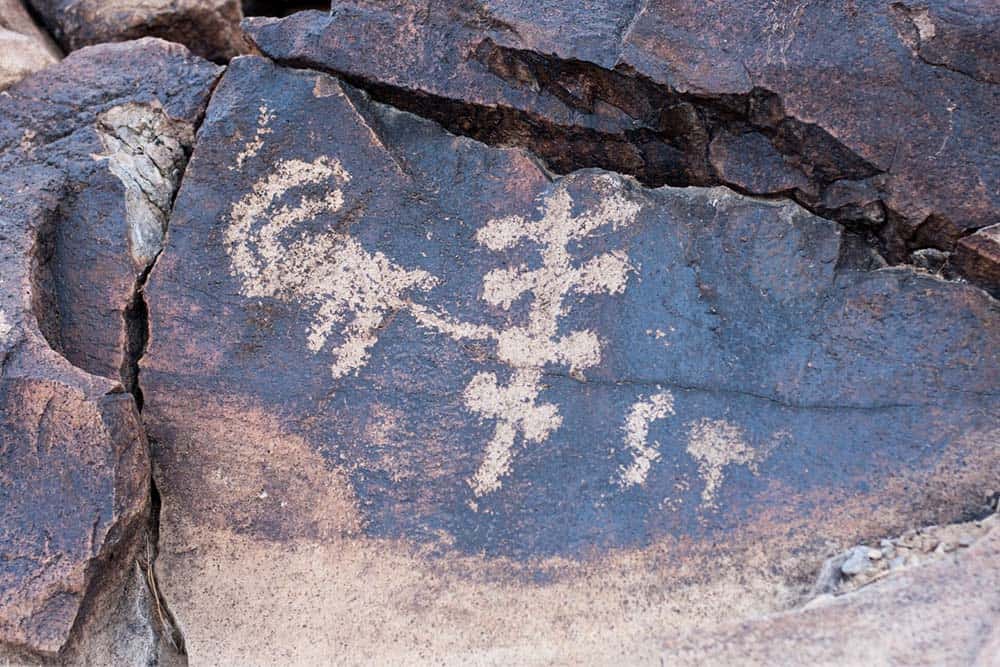 Why you should go: Hike to hundreds of ancient petroglyphs.
Location: Sloan Canyon National Conservation Area
Difficulty: Moderate
Distance: 4.4 miles
Elevation Gain: 500 feet
This one of the best hikes near Las Vegas if you're looking for a quick afternoon escape. In just 25 minutes from the strip, you can be in the desert exploring hundreds of petroglyphs. For the most part, the short Petroglyph Trail in Sloan Canyon is an easy hike, although there's some scrambling and climbing in parts.
Peppered with wildflowers in the spring, the trail follows a wash as it leads to a stretch containing more than 300 petroglyphs.
4. Wetlands Park Nature Preserve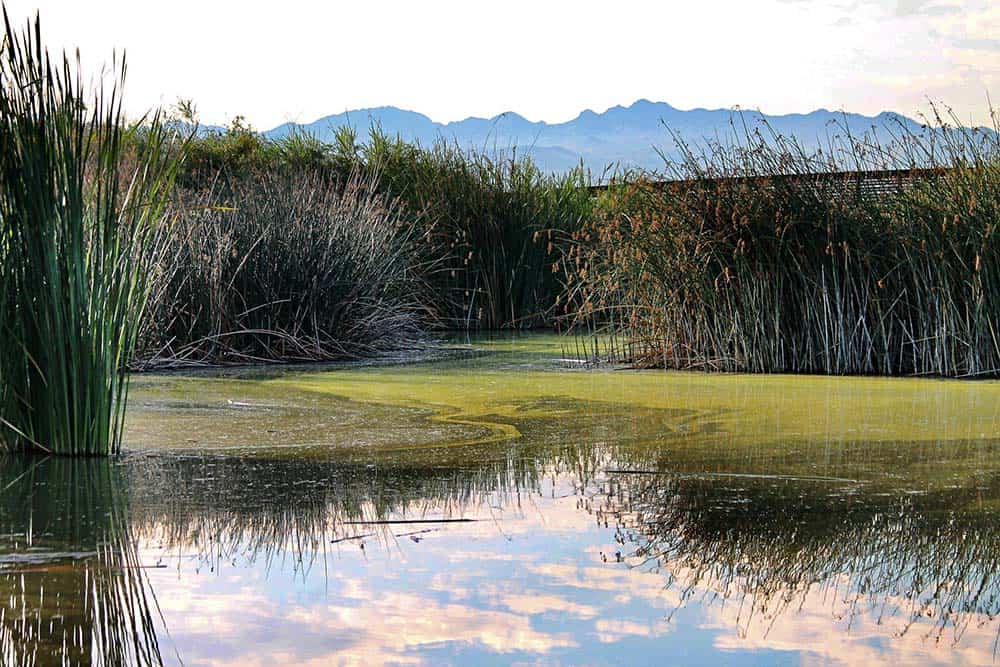 Why you should go: For bird watching and an easy escape from the city.
Location: Henderson
Difficulty: Easy
Distance: Up to 7 miles, several loop trails
Elevation Gain: 26 feet
Bring your binoculars on this spectacular walk. Wetlands Park Nature Preserve is an ideal spot for birders who want to spy on songbirds, quail, sandpipers, wood ducks, great blue herons, and egrets. According to the Red Rock Audubon Society, more than 280 species have been spotted in this shrubby, desert park.
A 20-minute drive from the Strip, the 210-acre preserve is an easy getaway and an excellent place to spend a couple hours with the kids. Start at the Exhibit Hall and Nature Center, where interactive displays and activities provide a great introduction to the habitat and wildlife just outside the door. When you're ready to start hiking, you can choose from seven miles of paved and unpaved trails looping past ponds, over washes, and through cottonwood groves. Three miles of trail are ADA accessible, making this one of the best hikes near Las Vegas for older or beginner hikers.
The park is open from dawn to dusk. To protect wildlife, dogs and bikes are not allowed.
5. First Creek Canyon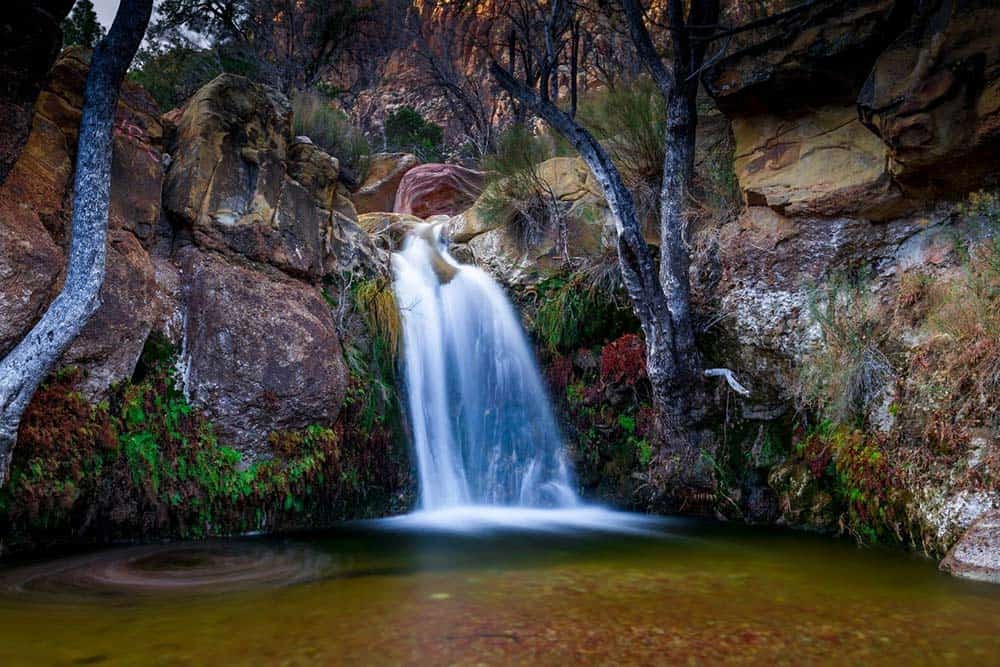 Why you should go: A rewarding hike to a hidden waterfall.
Location: Red Rock Canyon National Conservation Area
Difficulty: Easy
Distance: 3.4 miles
Elevation Gain: 370 feet
This easy hike follows a sandy, level path to the mouth of a colorful sandstone canyon, passing a clutch of cottonwood trees and desert willows along the way. First Creek Canyon is just off the Red Rock Canyon scenic drive, with parking off Nevada State Route 159.
The out-and-back trek starts in a recovering burn area and quickly moves through a landscape of low shrubs, creosote bush, cacti and Joshua trees. About a mile in, you'll see a cluster of trees in a wash off to the right. Leave the main trail here and take the small path a couple hundred feet to the creek bed, As you follow the creek you'll need to scramble a bit to reach the shaded pool where an 18-foot waterfall flows over moss-covered rocks (though it can dry up by mid-summer.)
Wild burros, once common in the area, have become more scarce in recent years. You will, however, likely see jackrabbits hopping among the bushes.
6. Ice Box Canyon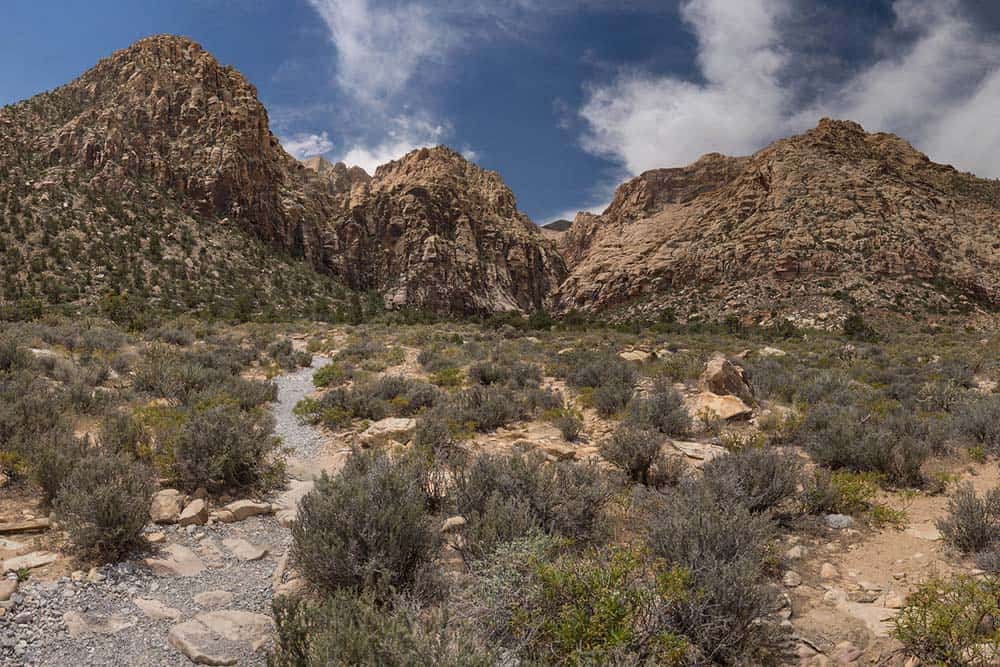 Why you should go: A cool canyon oasis on the edge of the desert.
Location: Red Rock Canyon National Conservation Area
Difficulty: Moderate
Distance: 2.6 miles
Elevation Gain: 600 feet
Ice Box Canyon lives up to the name. In winter, the moody canyon is sometimes blanketed with snow. And in summer, the canyon provides relief from the soaring temperatures that routinely creep into the triple digits, making the desert hike bearable when Vegas is sizzling. But spring is the best time to visit Ice Box Canyon, when seasonal waterfalls stream down the rock face at the end of the steep canyon.
The hike crosses the open scrub desert and leads to a narrow, relatively lush canyon. As you make your way deeper into Ice Box, the walls get steep and you may have to scramble up some boulders to reach the canyon's end.
Return the way you came. Ice Box sees little sunshine, so prepare for cooler temperatures year-round.
7. Mary Jane Falls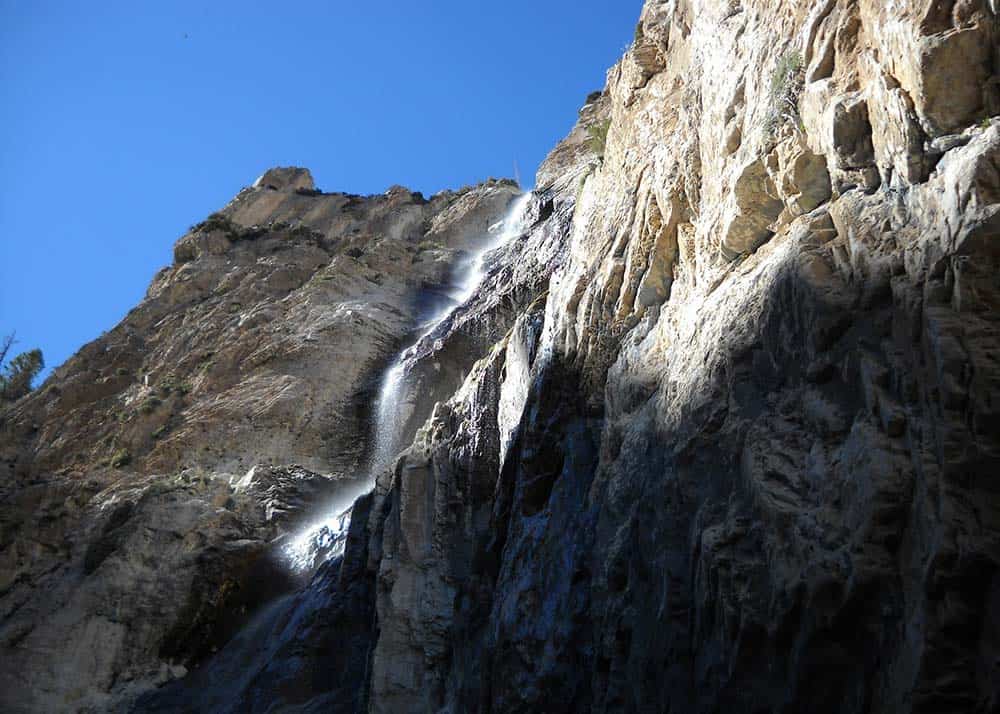 Why you should go: A steady climb to a waterfall and several caves.
Location: Spring Mountains
Difficulty: Moderate
Distance: 2.9 miles
Elevation Gain: 980 feet
The most popular trail in the Spring Mountains involves navigating a series of steep switchbacks through an aspen and pine forest. At the end is Mary Jane Falls, a seasonal waterfall cascading down a limestone cliff.
The trail starts in Kyle Canyon, following an old road that once led to campground washed out and never rebuilt after a flash flood year ago. At about the half-mile point the, hike gets serious as it climbs the switchbacks before looping around to the falls. Pack a picnic lunch, explore the nearby cave (roughly 400 feet from the falls,) and take in the views of the valley below. Eagle-eye hikers will spot Big Falls off in the distance.
8. Big Falls
Why you should go: This challenging trail for advanced hikers leads to a large waterfall.
Location: Spring Mountains
Difficulty: Difficult
Distance: 3.4 miles
Elevation Gain: 850 feet
You won't see the crowds at Big Falls like you do at Mary Jane. In fact, there are no signs pointing the way to this more remote waterfall. But if you do find it, the payoff is a huge waterfall with an 80-foot drop.
Before tackling Big Falls, be sure to download a topographic map as the trail is hard to follow. It starts along the route to Mary Jane Falls, but instead of heading up the switchbacks, you'll leave the trail, hop over a log, and dive into the canyon. As you enter the wash, you'll need to climb across some moderately sized boulders.You can walk through the stream, though there are paths in places along the hillside. Staying in the canyon will lead you to the falls. The canyon is mostly shaded, so there's often snow well into spring.
9. Goldstrike Hot Springs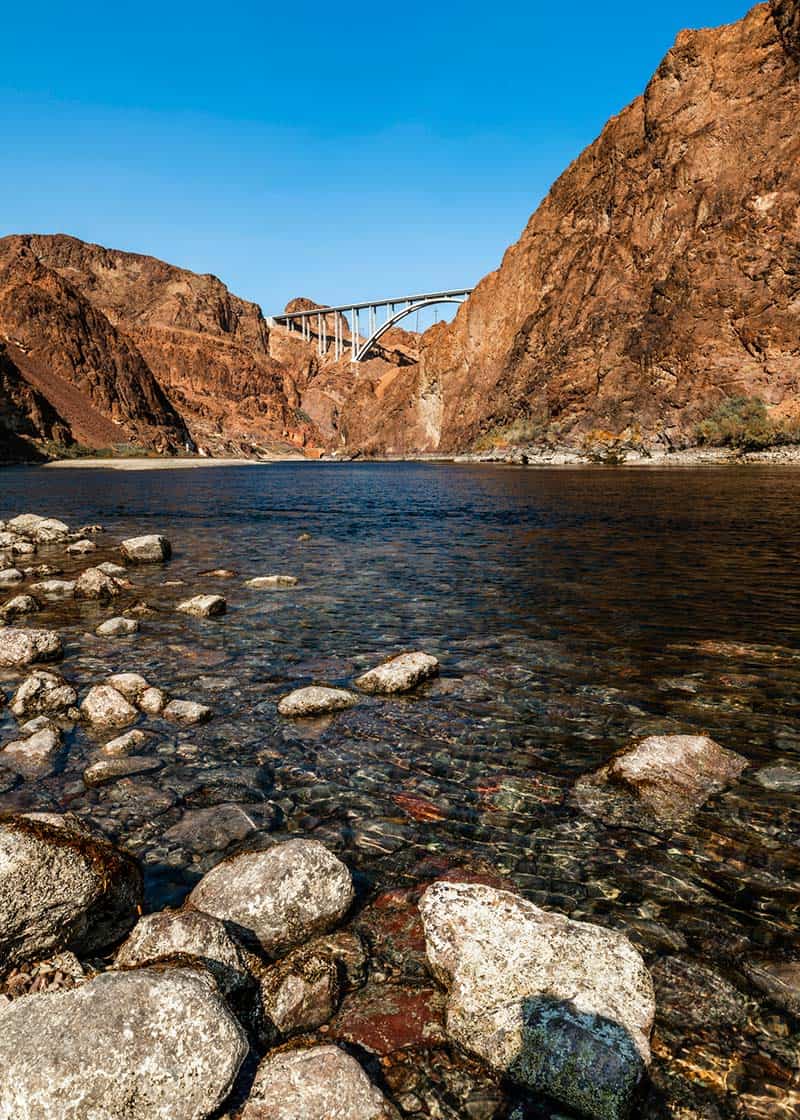 Why you should go: Warm up on a cool day with a plunge in a hot spring.
Location: Lake Mead National Recreation Area
Difficulty: Challenging
Distance: 6 miles
Elevation Gain: 1,460 feet
This fun — albeit challenging — hike requires you to navigate eight fixed ropes on the way to Goldstrike Hot Springs and the Colorado River. The ropes vary in difficulty, but both children and adults should be able to manage them. Wear sturdy footwear rather than tennis shoes – the rocks can be slippery, and you'll want some extra grip. This is an out-and-back hike, so remember: what goes down must come up.
The easy-to-follow trail descends through the canyon and is a gravel path for much of the route. At about 1.5 miles in, you'll encounter a large rock with steps etched in. Use the rope as a guide. You'll now be entering the ropes section — expect a series of rappels with periods of rock scrambling between.
Watch the path others take to find the best way down, don't rush, and wait to watch another person do it first if you're unsure. The trail ends at the hot springs near the river. Return the way you came.
While hiking, keep an eye out for bighorn sheep. It's common to spot them on the rocks above the wash.
Both Goldstrike and its sister trail, Arizona Hot Springs, are closed in the summer due to the extreme heat. Check with Lake Mead National Recreation Area for closures.
10. Bowl of Fire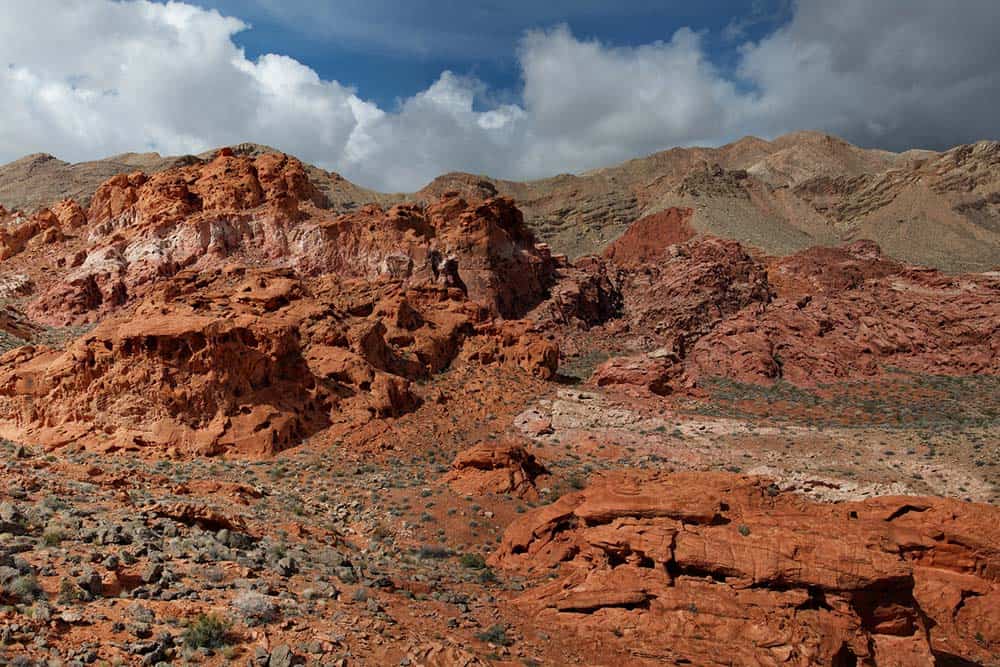 Why you should go: Isolated hike to a fascinating landscape of fiery Aztec sandstone.
Location: Lake Mead National Recreation Area
Difficulty: Moderate
Distance: 3.7 miles
Elevation Gain: 400 feet
The trailhead is off Northshore Road on the edge of the Lake Mead National Recreation Area. Park in the pullout and head towards the low ridge about a half mile away. At the ridge, walk toward the rock formations. The trail heads north and sticks mostly to a wash, then enters a narrow canyon climbing into the Bowl of Fire.
The area is mostly petrified sand dunes dating back to the time of dinosaurs. It's full of vibrant pink-and-red sandstone formations in all sorts of fantastic shapes that take on a glow in the early morning and at sunset. Avoid hiking in summer when the temperatures are extreme.
11. Fire Wave
Why you should go: An easy jaw-dropping walk across colorful striped stone.
Location: Valley of Fire State Park
Difficulty: Easy
Distance: 1.5 miles
Elevation Gain: 175 feet
Not long ago, Fire Wave existed in photographs only as the location wasn't on the park map. It wasn't until 2012 that the park service built a marked trail.
It's one of the most interesting hikes in Valley of Fire State Park, and that's saying a lot. If the park looks familiar, it's probably because you've seen it in films and car commercials. The park doubled as Mars in "Total Recall," and scenes from "Star Trek Generations," "Transformers," and "The Professionals" (which has part of set still left) were all filmed here.
The trailhead starts across the street from Parking Lot #3, near White Domes Road. You'll start hiking through deep sand and wind around the right side of a cathedral-like rock formation called Gibraltar. It then travels across sock to the Wave – a deep bowl with rising sides that display the red, orange, yellow and white striped bands in all their glory. After wandering around, retrace your steps.
12. Calico Tanks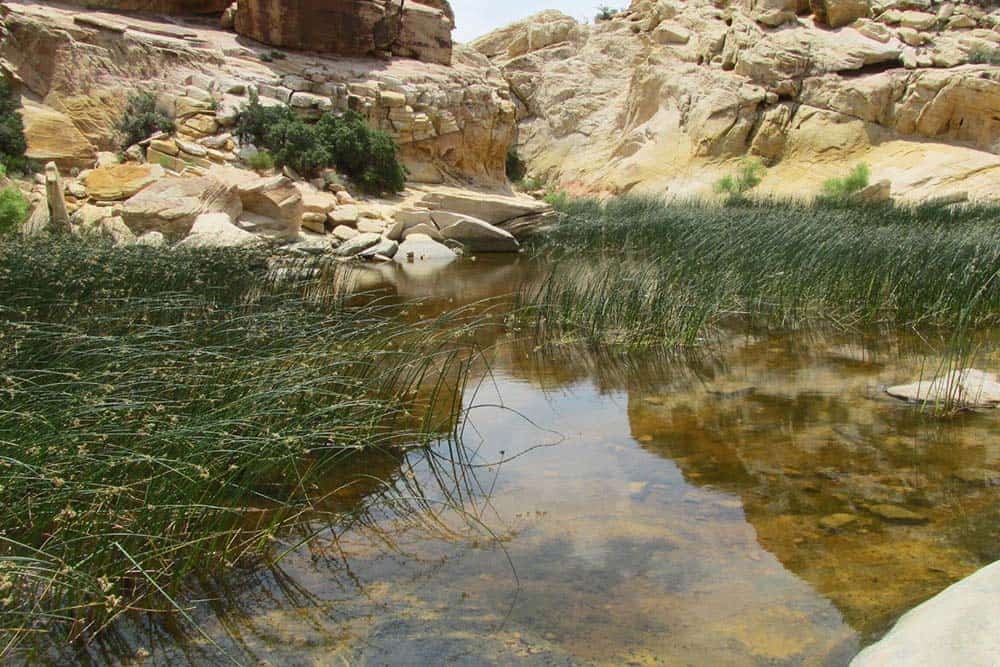 Why you should go: The signature, picturesque hike in Red Rock Canyon.
Location: Red Rock Canyon National Conservation Area
Difficulty: Moderate
Distance: 2.5 miles
Elevation Gain: 580 feet
A hike, a scramble, and a view. That pretty much sums up the trip to Calico Tanks. A favorite among visitors, this hike is a great introduction to Red Rock Canyon's history and geology.
Off the park's Scenic Drive, the trail leaves from Sandstone Quarry. A mile into the hike, at the junction for Turtlehead Peak, continue on the Calico Tanks trail. You'll then encounter an ancient agave roasting pit evidenced by the charred white rock. Here, the scrambling begins as you'll need to use your hands to pull yourself up over the large boulders. When the trail flattens out, you'll pass the smaller of the two tanks. Continue the climb after the larger tank and perch yourself on the top for an expansive view of the valley, including the Las Vegas Strip.
13. Cathedral Rock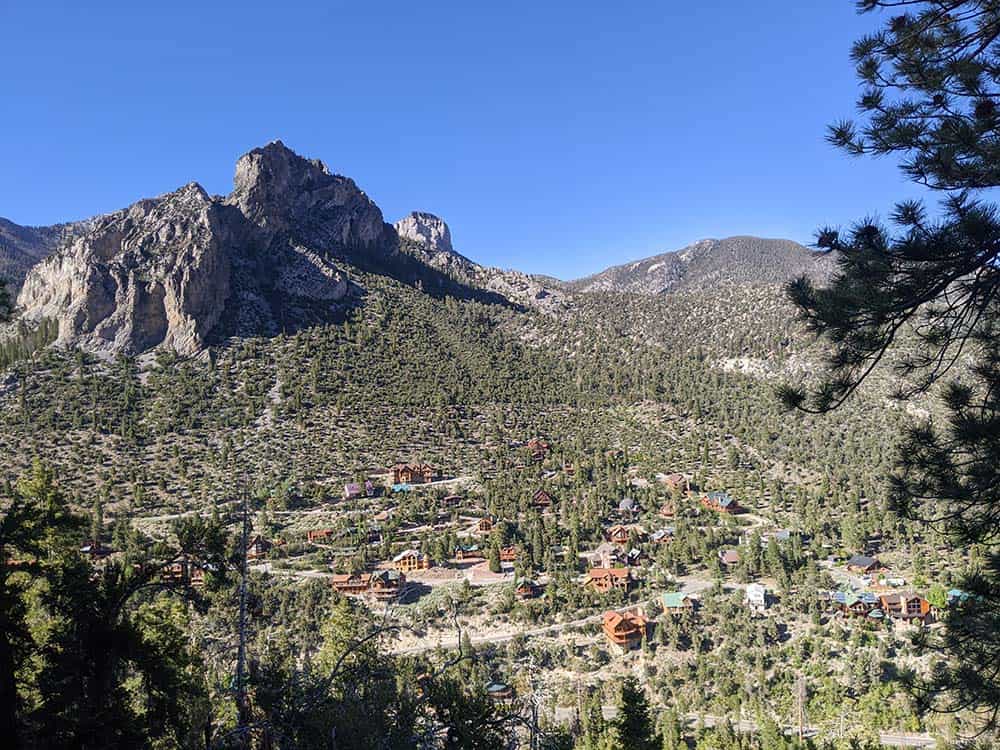 Why you should go: A steady climb to a rock outcrop with a glimpse of the village below.
Location: Spring Mountains
Difficulty: Moderate
Distance: 2.5 miles
Elevation Gain: 920 feet
From wildflowers, butterflies, and birds in spring to fall foliage and grand views year-round, Cathedral Rock is rewarding in so many ways. The trail gains elevation immediately as you wind through the spruce, ponderosa, and aspens, crossing an avalanche zone before a steep climb leads to the first series of switchbacks. The path then gets more gradual as you approach Cathedral Rock from the rear, ending with a few switchbacks.
From the summit, you can see the Spring Mountain's highest point (Charleston Peak), along with the silhouette of Mummy Mountain across the canyon, the village below, and the desert in the distance.
The trail is easy to follow and a good hike for the whole family.
14. Bristlecone Trail
Why you should go: An extraordinary walk through an ancient Bristlecone forest.
Location: Spring Mountains
Difficulty: Moderate
Distance: 6 miles
Elevation Gain: 1,091 feet
For those who have never seen the gnarled and twisted trunk and branches of a bristlecone pine, this will arguably be the most memorable of your hikes near Las Vegas. Located in Lee Canyon, the Bristlecone Trail has two starting points, separated by roughly a mile. The upper trailhead, at an elevation of 8,690 feet, is located at the ski resort.
Best completed in fall to take in the golden aspens, this family-friendly hike starts to quickly climb through the forest, much of it on a ridgeline fire road. Roughly a mile in, you'll enter the bristlecone forest. These magnificent and hardy trees are among the oldest living things on the planet. Some date back more than 4,000 years.
15. Charleston Peak (South Loop)
Why you should go: Bag the eighth highest peak in Nevada.
Location: Spring Mountains
Difficulty: Challenging
Distance: 17.2 miles
Elevation Gain: 4,819 feet
You'll need an early start and a lot of stamina to tackle this beast. At 17.2 miles round trip, this is an aggressive day hike even for experienced hikers, but the views make it one of the most notable hikes near Las Vegas. When you do finally reach the 11,916 foot summit of Charleston Peak, you'll feel a real sense of accomplishment. Tackling the highest peak in Southern Nevada is a long haul.
There are two ways to the top. The North Loop covers 24 miles and, despite being called a loop, is best completed as an out-and-back trail unless you have a second vehicle dropped at one end.
The shorter South Loop is considered by many to be more scenic and allows you to bag two impressive summits on a single trip. If you decide to detour to 11,057-foot-high Griffith Peak, it will add an extra mile to the trip — highly recommended if you have time. There is even a sheltered spot at the base of Griffith to rest and snack.
The south route begins in the Cathedral Rock parking area. After three miles of steep terrain, you'll hit the ridgeline and a rather lush meadow, where some overnight if doing a two-day trip. From here, you follow the ridgeline for another six miles to Charleston Peak. Either return the way you came, or take the Trail Canyon Loop to the road and back to your car — and be proud of yourself for finishing one of the hardest hikes near Las Vegas.
Explore the Southwest
Sign up for the Weekend Wanderer to join thousands of readers getting epic travel, hiking, and camping ideas every month.
---