Moab is one of the most popular outdoor destinations in Utah, and for good reason.
Moab offers an endless supply of activities for everyone from beginners to experienced outdoor enthusiasts. From hiking to climbing, mountain biking to floating down the river, you can find adventure and solace around every river bend in Moab.
Ready to plan your next adventure? Here's a list of some of our favorite things to do in Moab, starting with the area's star attraction: Arches National Park.
Related Read: The 12 Best Things To Do In Bryce Canyon National Park
Arches National Park
Founded in 1929, Arches National Park is home to some of the world's most intriguing natural wonders: desert arches! These fascinating arches are formed from millions of years of water and wind erosion, and the park features the largest concentration of them in the world.
Inside Arches National Park, there are dozens of trails that lead to unique arches and red rock formations that you won't find anywhere else. With viewpoints around every turn, you'll be hard-pressed to take a bad picture around here.
Hike To Delicate Arch
Delicate Arch is one of Arches National Park's most famous natural arches, so you'll find tourists flock to this trail no matter what time of the day or week.
Clocking in at a half-mile long with 480 feet in elevation gain, the hike to Delicate Arch is a quick out-and-back trail that's easily accessible for families and senior visitors.
Hike To Double Arch
Double Arch is another great but short hike that showcases one of Arches' most unique viewpoints. The trail is heavily trafficked, but don't let that dissuade you from visiting — it's worth sharing the trail to see this magnificent rock formation.
The trail is wheelchair accessible and well-maintained, and the half-mile trek to the viewpoint makes it a quick hike.
Tour The Fiery Furnace
The Fiery Furnace is another great hike at Arches National Park, though it requires a day permit to explore. There are only a handful of permits available for this hike each day, so it's a good idea to reserve one several weeks in advance.
Return visitors and experienced navigators can explore the Fiery Furnace on their own, but for most people it's best to sign up for a guided tour. The two-mile tour provides ample time to explore the narrow slot canyons, and the Ranger will ensure you don't lose your way inside the maze of red rock fins.
Related Read: 6 Epic Glamping Destinations Near Moab, Utah
Canyonlands National Park
Canyonlands National Park is just over a half-hour's drive from Moab, but it's worth the journey to experience this incredible destination. It's best explored below the rim, so bring your hiking shoes for Canyonlands' top hikes.
Divided into two parts by the Colorado River and its tributaries, you have the option of visiting The Needles district or Island in the Sky. You won't be able to drive directly between the districts, so it's important to look at the trails and available activities on each side before deciding on an itinerary. No one wants to spend most of their nature trip in the car!
Hike To Pothole Point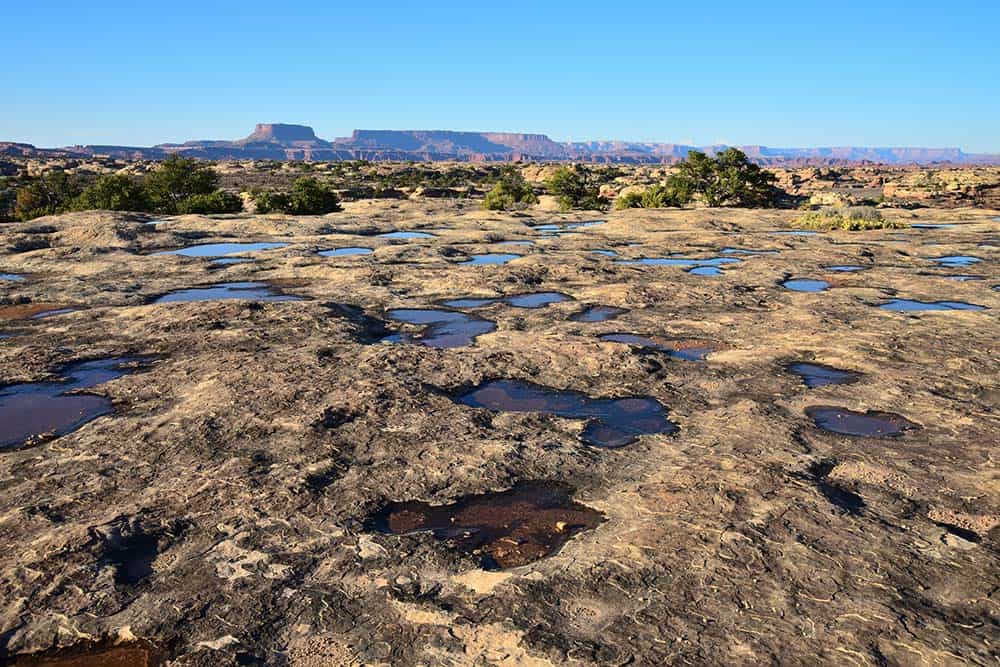 Pothole Point is a half-mile trail that showcases the erosion process and how it works to form the beautiful canyons that the park is known for.
Throughout this short hike you'll find potholes of all shapes and sizes, and you'll enjoy a great view of The Needles from a distance.
Drive To The Needles
Visitors can see The Needles from a distance at The Needles Visitor Center, but there's nothing quite like taking a drive through the park. Hop in your car and follow UT 211 to the end of the highway and you'll get a chance to see The Needles up close.
Trust me — they're bigger and even more beautiful up close, so it's worth the drive.
Hike The Mesa Arch Trail
Mesa Arch Trail is probably the most popular trail in the park. A half-mile, 15-minute hike will take you to the cliff-edge of Mesa Arch, where you can soak in a sunset unlike any other.
This trail is known for its photo-worthy sunrises and sunsets with its view across the canyon country to the La Sal Mountains, so bring your camera!
Venture Into Gooseberry Canyon
For a challenging hike down to the canyon wash, check out Gooseberry Canyon Trail. With strenuous switchbacks and a descent of 1,400 feet into the canyon, you'll have your work cut out for you on the way out.
Follow the trail for 5.4 miles and watch as the canyon folds in around you. You'll finish the trail at White Rim Road, where you can fully take in the views.
This hike is rated hard, but it's well worth the effort for the scenery when it's all said and done.
Related Read: 8 Cozy Cabin Rentals Near Moab, Utah
Dead Horse Point State Park
For those looking for a little more peace and quiet than you can find at the national parks, add Dead Horse Point State Park to your adventure itinerary.
This park offers vistas like those at Canyonlands, but with it's own iconic views.
But the best part is that it's pet-friendly! You can take your pets on any of the hiking trails (not the mountain biking trails) at Dead Horse Point as long as they are on a leash and properly picked up after.
Bike The Intrepid Trail System
The Intrepid Mountain Biking Trail System features a handful of bike paths rated moderate to intermediate, all of which are easily accessible from the visitor center parking lot. The trails range from 1-4 miles and are interconnected, so be on the lookout for other bikers at all times!
Hunt for Geocaches
There are two geocache locations in the park. The main location is the easiest one to reach as it's just off to the side of the main road. The second geocache requires at least two miles of hiking to reach.
Check the state park website for the exact locations of these geocaches, and remember to bring your GPS unit to help you find them.
Hikes Outside the Parks
The hiking trails around Moab, even outside of the well-known parks, are simply spectacular. There are endless trails available to all levels of hikers that lead to beautiful vistas, canyons, and arches.
Here are a handful of trails to check out next time you're in the area.
Hike To Corona Arch
After visiting Arches National Park, the Corona Arch Trail will give you a whole new perspective on how you see the world's natural arches. Though this trail is marked as "heavily-trafficked," you'll find it offers the perfect amount of solace right before sunset on weekdays.
The Corona Arch Trail is a little over two miles long with a mild 469 feet of elevation gain. Pets on a leash are welcome on this trail, but keep in mind there's a ladder close to the arch that may not be easy or safe for pets to climb by themselves.
At the end of this trail, you'll enjoy views of the canyon on one side and both the Bowtie Arch and Corona Arch on the other.
Hike The Moonflower Trail
The Moonflower Trail offers a quick and easy hike with beautiful views. The 0.6-mile trail ends with a waterfall, and the trail features petroglyphs and foliage that make it an excellent year-round hike.
Kick Up Some Dust In An OHV
Ride The Chicken Corners Trail
The Chicken Corners OHV Trail offers 40+ miles of off-roading and scenery. The trail takes riders out near Dead Horse State Park, offering beautiful views along the way.
The trail is mostly used by Jeep-lovers and ATVs, though it's also a popular bird-watching spot. Pets are free to ride along on this trail, but all paws and hands should be kept in the vehicle while bumpin' down the road.
Crawl the Porcupine Rim
The Porcupine Rim Trail is a shorter off-road trail that's about 14 miles. In addition to OHVs and 4×4 vehicles, the trail welcomes mountain bikers and hikers.
The Porcupine Rim Trail crosses a river, so it's only recommended for experienced off-roaders.
With all the hard work needed to take on this trail, anyone who is up for the challenge won't be disappointed by both desert and mountain views.
Go Camping
Camping near Moab allows you to take in the fresh desert air near the Colorado River, desert towers and canyon walls. You can camp within a few minutes drive of the town center or out in the backcountry, which makes it easy to escape away from it all on short notice.
Drinks Canyon Camping Area
Located just six miles from US Highway 191 and Utah Highway 128, you'll find the Drinks Canyon Camping Area alongside the river. The campground offers easy water access and epic canyon wall views.
Campsites here are available first come, first served for $15 a night. There are 17 campsites available and toilets for those who need some luxury!
Cyrus & Atticus Getaway
The Cyrus and Atticus Getaway isn't your standard campground, but Moab is a place to try new things and meet new people!
The Cyrus and Atticus Getaway is a family-run horse farm that also hosts campers. Here, campers can pitch a tent alongside red rock cliffs overlooking the horse corrals, while also enjoying access to hiking and horseback riding to nearby mesas and canyons.
Pets and RVs are welcome, too!
Ken's Lake Campground
Ken's Lake Campground is located just below the Moab Reservoir. This area is maintained by the Bureau of Land Management and has easy access to non-motorized boating, fishing, hiking, and horseback riding.
The best part of this campground is that it overlooks both the La Sal Mountains and the red rock fins in Moab that may one day become arches!
The Ledge Campground
The Ledge Campground is broken up into five sections with 105 campsites in total. Though this may seem like a ludicrous number of campsites, you'll find plenty of space and solitude out here throughout the year as the campsites are dispersed and a little further outside of town than the others campsites listed above.
For classic red rock views and a campsite off the beaten path, it's hard to beat this under-the-radar campground.
For a full list of BLM sites within the Moab area, check out this map.
Raft The Colorado River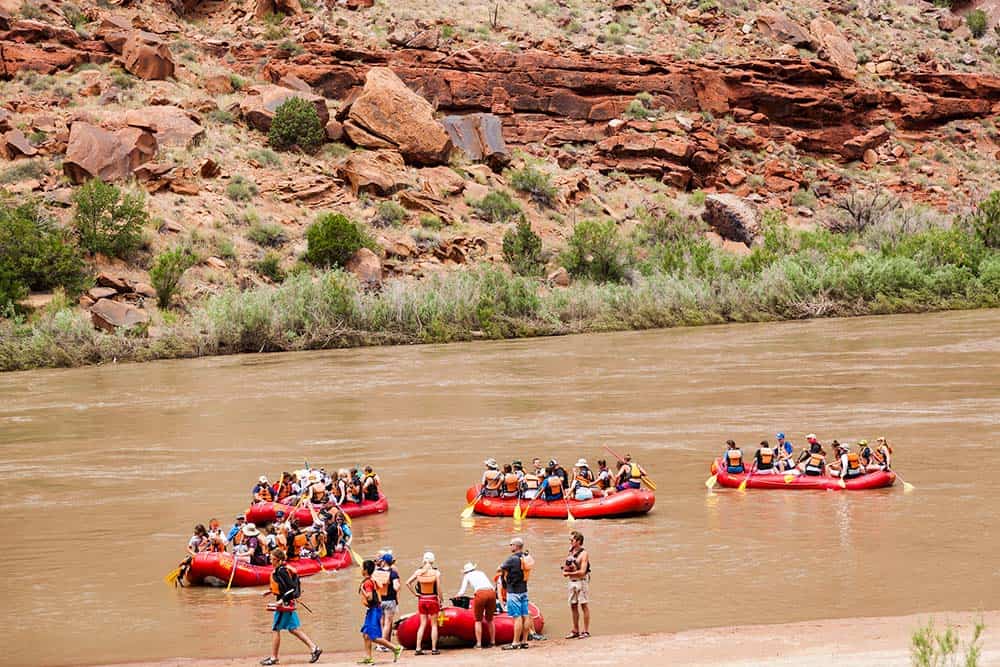 Rafting in Moab is a must. Like John Wesley Powell, a man who explored most of the Grand Canyon and its rivers by raft, you can explore the rivers around Moab by floating down the Colorado River.
There are several entry points along the Colorado River near Moab. The most popular jump-off point is Lions Park located right off US Highway 191.
The key to having the best time rafting in Moab is to be safe (ie: hire a guide!) and plan according to your abilities. Fortunately, there are a number of local outfitters that offer rafting tours ranging from a few hours to a week on the water, so it's easy to sync up with an experienced guide.
Climb Some Boulders
Moab is the Mecca of climbing for many rock climbers in the Southwest, home to thousands of climbing routes and varieties of technical climbing. If you're interested in climbing a desert tower or scrambling up canyon cracks, there's no better place to learn and explore the art of rock climbing.
Just like rafting, you should always be prepared before tackling a new outdoor skill. If you're unsure or need a little guidance, hire a guide to help you set up and show you the ropes (pun intended).
For those looking for new Moab routes to climb, check out Mountain Project's comprehensive list of Moab routes!
Mountain Biking Around The City
Like off-roading, mountain biking is a great way to see Moab. Throughout the city and the surrounding area, you'll find plenty of mountain biking trails that are easily accessible. No matter where you ride around town, you'll find a different levels of biking from easy to difficult, so anyone can get on two wheels and see the views.
There are a handful of local outfitters around Moab that rent out mountain biking equipment so feel free to do your own research for the best rental prices. If you're not sure where to go based on your skill level, visit Discover Moab to see the list of mountain biking maps to point you in the right direction.
If you've never mountain biked before, Moab may ruin it for you everywhere else. Take in all the views behind your handlebars and you won't be disappointed.
Stargazing
One of the best things to do in Moab is find yourself lost in the desert under one of the darkest skies in the country. Moab is the perfect place to lay back, look up, and see the Universe at its fullest.
Whether you decide to camp inside Canyonlands National Park to do your stargazing or find yourself just outside of Moab city limits, you'll find yourself beneath the sky wondering just how small you are. There's something about stargazing in the desert that makes the stars brighter.
Want to know what day is the best day for stargazing and in Moab? Check out this calendar to learn what nights will have the darkest skies. Better yet, ask a Park Ranger at Canyonlands or Arches National Parks to help you navigate the constellations.
Explore More in Utah
Get epic travel ideas delivered to your inbox with Weekend Wanderer, our newsletter inspiring more than 10,000 readers every week.
---