We research, evaluate and select travel destinations based on a number of factors, including our writers' experience and expertise, user reviews and more. We may earn a commission when you book or purchase through our links. See our editorial policy to learn more.
---
Fido is welcome to come along if you book one of these dog-friendly cabins in Texas.
There's no denying that Texas is a state that loves their dogs, with nearly half of all households owning a pooch. That's why it can be a real bummer to plan an adventure away from the city only to find out your hotels and rental houses have strict no-pet policies. You shouldn't have to choose between staying somewhere lame or leaving your trusted buddy behind.
Thankfully, there are a number of dog-friendly cabins across Texas more than happy to welcome you and your dog — and fortunately, most of them offer fantastic access to the outdoors both humans and pets will enjoy. So pack your bag, pack your pup's bag, and make some unforgettable memories together at one of these dog-friendly cabin rentals in Texas.
Related Read: 9 Incredible State Parks with Cabins in Texas
1. Doves Rest Cabins
Why you should stay: You can't top the views from these cabins on the rim of Palo Duro Canyon.
Nearest town: Canyon
Sleeps: 5
Minimum stay: 1 night
Rates from: $475/night
Fun fact: Texas has the second-largest canyon in the US, and at Doves Rest Cabins, you and your dog can stay on the edge of it.
By far the biggest draw of these cabins is their location. From your patio, you get unbeatable vistas of the stunning Palo Duro Canyon that stretch far into the horizon. Take your pick from the porch swing chairs or the outdoor jacuzzi — probably pick the chairs if you're relaxing with your pup — for a good spot to take in the scenery.
You're also just minutes to the actual entrance of the canyon state park for when you feel like hiking. Don't worry — pets are allowed in as long as they're leashed.
It may be one of the most expensive dog-friendly cabins in Texas, but did you see those views?
Check Availability
2. Moondance Cabin
Why you should stay: Rustic Hill Country stay with a creek running through the backyard.
Location: Wimberley
Sleeps: 4
Minimum stay: 2 nights
Rates from: $345/night
Escape busy city living with a trip to Moondance, a comfortable log cabin full of cozy touches like a wood-burning stove, handcrafted furniture, and a soaking tub.
Since the cabin's 400-square-foot back deck is enclosed, your dog can hang out with you off leash while you relax on the rocking chairs. And when you're ready to explore, you're just a few steps away from Cypress Creek where you can swim and kayak. Water-loving dogs will be in heaven.
Been busy pampering your pup with outdoor adventures? Don't forget to pamper yourself too and request an in-cabin massage. Or if you'd rather explore the area, know that Wimberley Valley Winery is extremely dog-friendly.
Check Availability
Related Read: 11 Best Resorts in Texas for a Rejuvenating Getaway
3. The Miner's Shack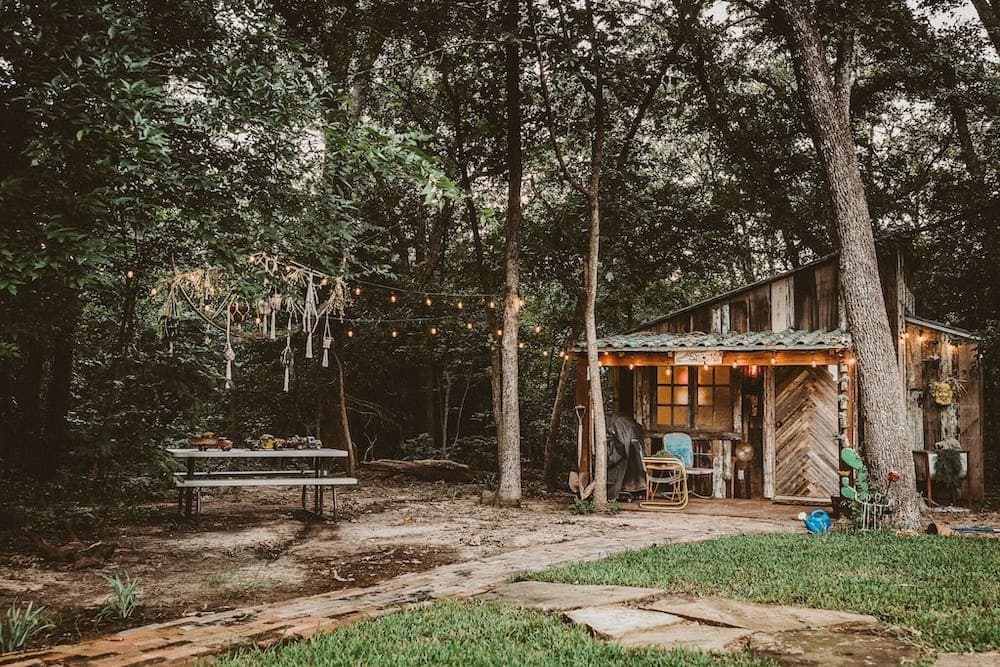 Why you should stay: Unplug at a country shack surrounded by animals of all sorts.
Nearest town: Terrell
Sleeps: 5
Minimum stay: 1 night
Rates from: $325/night
Hidden in the woods, The Miner's Shack certainly has a unique aesthetic to it. It's rustic. It's quirky. And it's secluded. However, it does have some welcome comforts including a TV, mini-fridge, microwave, and outdoor grill. There's also a cool bathroom in a silo-like building, so you don't have to worry about roughing it when it comes to relieving yourself. Don't expect very good cell service, though.
Your pooch is welcome, but he or she will hardly be the only animal roaming the property. Expect to hear a chorus of wildlife, including the host's friendly dogs, chickens, horses, owls, and maybe even some coyotes. Oh, and there are also the lions and tigers at the wildlife refuge next door…
By the way, Terrell is a Dallas suburb, so you can head into the city if you'd like to check out the city's dog-friendly parks for the day.
Check Availability
Related read: 12 Indoor Dog Parks Active Pups Absolutely Love
4. Adorable Cabin
Why you should stay: Charming cabin with a hot tub and fenced deck in Hill Country.
Nearest town: Wimberley
Sleeps: 4
Minimum stay: 2 nights
Rates from: $206/night
You'll have no trouble getting some peace and quiet at this adorable two-story cabin in the trees on five private acres.
Head through the french doors and you'll find yourself on the back deck where the hot tub awaits. Just a few steps from there is the fire pit and outdoor grill, though the home also has a full kitchen. The hosts are even generous enough to provide a bag of coffee beans for your morning cup of joe.
Sure, the town center is less than 10 minutes away, but you and your dog may not want to leave when you can roam freely here. There's even a baby gate on the stairs so your pup can chill on the deck while you soak in the hot tub.
Check Availability
Related Read: 9 Incredible Cabin Rentals Near Austin, Texas
5. Dragonfly Cabin at Wahwahtaysee Resort
Why you should stay: Dog-friendly tiny cabin on a 100-acre resort.
Nearest town: Kingsbury
Sleeps: 2
Minimum stay: 1 night
Rates from: $295/night
Chances are you and your furry friend don't want to be cooped up indoors all day. At Dragonfly Cabin, it's a cinch to get out and enjoy nature since the riverside resort covers more than 100 acres.
From your cabin, you can walk to the banks of the San Marcos River. While you're there, you can either lounge at the private beach, have a little swim, or go tubing (BYO tubes).
The small, modern-looking cabin itself may not scream comfort from the outside, but step inside and you'll find a bright, stylish space with necessities like a mini-fridge and tub. The $50 pet fee per night is one of the more expensive ones, but there are outdoor showers you can use to make sure Sparky doesn't bring any dirt inside the house.
Check Availability
Follow 'em: @WahwahtayseeResort
6. Rustic Canyon Lake Cabins
Why you should stay: Homey, 2,000-square-foot property in the countryside for the whole gang.
Nearest town: Canyon Lake
Sleeps: 12
Minimum stay: 2 nights
Rates from: $267/night
Know plenty of friends and family who want to tag along with you and your pooch? There's room for everyone at the dog-friendly Rustic Canyon Lake Cabins, which has three bedrooms (plus additional sleeping areas), four decks, three bathrooms, and an outdoor dining space. You'll get to appreciate the hot tub while your pet will appreciate having access to a giant dog run.
It's just a couple of miles from this rental to Canyon Lake, where outdoor recreation opportunities like hiking, biking, fishing, and paddling abound.
Pets are, of course, welcome at Rustic Canyon Lake Cabins, but there is an additional fee, and you have to get your dog approved in advance.
Check Availability
Related Read: 8 Cozy Cabin Rentals Near Dallas, Texas
7. Riverfront Cabin
Why you should stay: Run wild with your pup at a 34-acre resort with a private riverfront.
Location: Wimberley
Sleeps: 4
Minimum stay: 3 nights
Rates from: $225/night
The name itself gives away the main highlight of Riverfront Cabin: it's next to a stretch of the Blanco River, which you'll have a view of directly from your cabin window. Such proximity to the water means plenty of fun for you and your furry companion — because this is a list of the best dog-friendly cabins in Texas, after all.
While the cabin's interior is laid out like a studio, it doesn't feel too cramped thanks to the high ceilings. It feels like a secluded nature retreat, but you're actually in the middle of town, so conveniences like delicious restaurants are still at your fingertips. And you don't have to leave your pup. Wimberley has many dog-friendly restaurants, though remember to pack a jacket as some restaurants limit dogs to the patios (so rude, we know).
Check Availability
Follow 'em: @TheWatersPoint
8. Naturalist Cabin with Private 36 Acres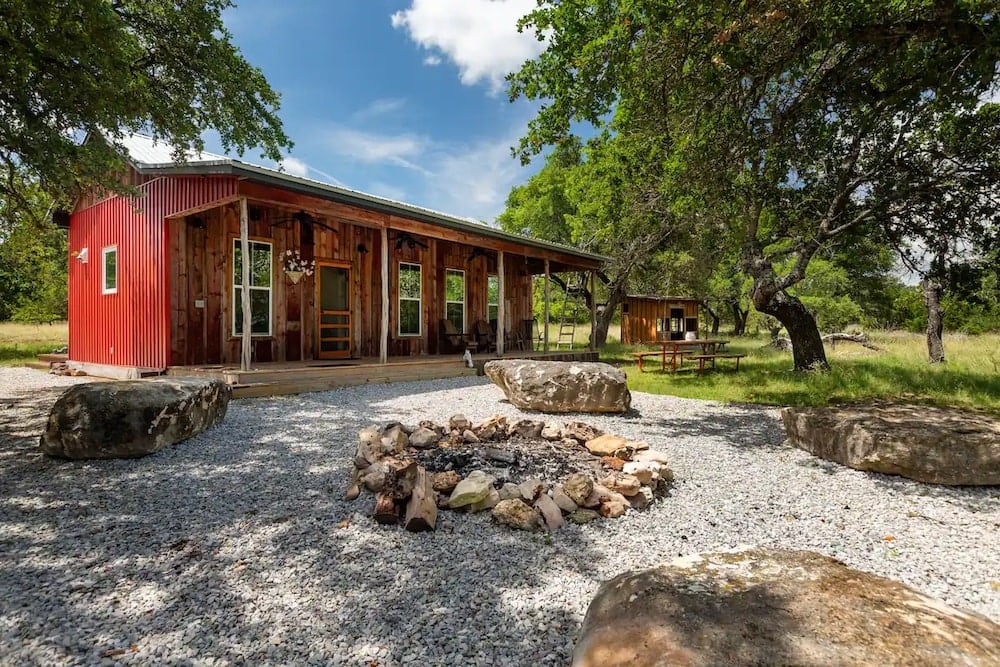 Why you should stay: Cute dog-friendly farmhouse cabin on a ranch.
Nearest town: Dripping Springs
Sleeps: 6
Minimum stay: 2 nights
Rates from: $213/night
It's modern ranch living at this cabin with an attractive interior design. If you're here during the winter, you can stay cozy by lighting up the wood-burning stove or running a bubble bath in the clawfoot tub. When the weather is right, head out to the field behind the cabin for some stellar stargazing.
You're free to explore the whole 36 acres and barbed wire fencing will let you know where the boundary is. Be sure to explore the amazing trails at the nearby dog-friendly Pedernales State Park. The Pedernales Loop is a great trail, but there's a water crossing, so check the water levels in advance if you have a small dog who hates water.
If your dog is good with other animals, they'll be right at home with the property's other inhabitants, including donkeys (named Bert, Ernie, and Grover) and a cat named Silver Bear. You may also find yourself in a traffic jam with the neighbor's cattle when driving in and out. It's all part of the ranch charm.
Check Availability
Related Read: 9 of the Best Romantic Getaways in Dallas, Texas
9. Camplee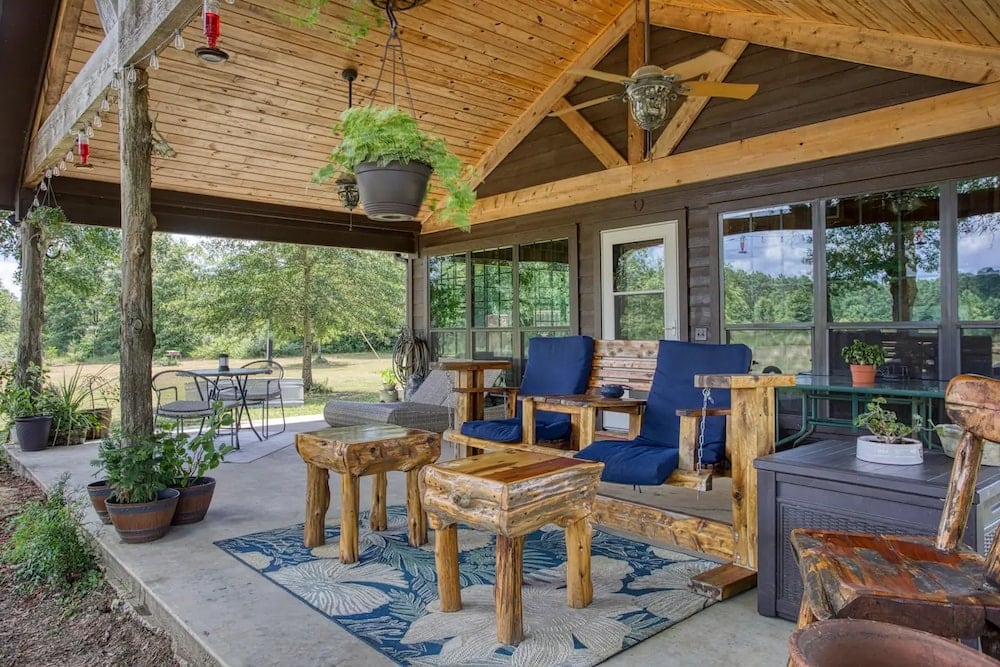 Why you should stay: Bring your boat (and your friends) to this decked-out stay near Lake Sam Rayburn.
Nearest town: Zavalla
Sleeps: 12
Minimum stay: 3 nights
Rates from: $325/night
Throughout Camplee, you'll notice an assortment of modern conveniences and comforts you might not expect in a cabin, like a smart TV with a Fire Stick, a height-adjustable desk, and a hot tub. The kitchen alone is a welcome sight for avid cooks with its numerous appliances, including air fryers, crockpots, and juicers. There's even Alexa for those technologically inclined. Just say "Hey Alexa, calm my dog" if your pup gets nervous in new spaces.
Outside the cabin, you'll have 50 acres to hike with your dog. There are also two fire pits, a stock tank pool, and a pond where you can fish. This dog-friendly Texas cabin is very close to Lake Sam Rayburn, so bring your boat if you have one. If not, you can rent a boat (and any number of other water toys) at one of the marinas around the lake."
Check Availability
10. Madrona Ranch Casita
Why you should stay: It's Hill Country vistas, waterfront access, and peaceful privacy at this lakeside stay.
Nearest town: Piper Creek
Sleeps: 4
Minimum stay: 3 nights
Rates from: $221/night
Immerse yourself in the joys of the quiet countryside at Madrona Ranch Casita. The grounds here are pet-friendly, and your pup might make a new friend or two since deer often wander the property (which also has a lake and a creek). While you may want to unplug entirely amid your relaxing surroundings, it's easy to stay connected as there's Wi-Fi and reliable cell service.
The property's tree swing and fire pit are two choice spots to sit and appreciate the beauty of the Hill Country, and you'll have lake views through the windows. If you're interested in hosting a bigger gathering or celebration, ask the hosts about the availability of the on-site pavilion.
Check Availability
Find Your Next Texas Adventure
Sign up for the Weekend Wanderer to join thousands of readers getting epic travel ideas every week.
---