Get ready to explore the parks and ghost towns of the Silver State by highway.
Nevada has so much to offer travelers beyond Las Vegas and Reno. It's dotted with incredible state parks, home to Great Basin National Park, straddles Death Valley and is just a few hours from Utah's Mighty Five.
With so many spectacular areas to explore in the Silver State, we're going to zero in on some of the more overlooked ones, many of which make the list as National Scenic Byways. So load your playlist because we're leaving civilization and heading for some of the most remote areas of the state. Let's go for a ride.
Related Read: 6 Epic National Parks Near Las Vegas, Nevada
1. Fire Road: Neon to Nature
Why you should go: Drive a road you've seen in the movies and TV commercials.
Distance: 65 miles (from Las Vegas)
Drive time without stops: 1 hour
Put Las Vegas in the rearview mirror for a few hours and head for the glowing red rocks of Valley of Fire State Park. One of our favorite day trips from Vegas, it's about the destination. The early part of the drive, past the Las Vegas Motor Speedway and Moapa Paiute Travel Plaza (a smoke shop that sells fireworks), isn't too special.
Then you turn a corner and hit one of the most magnificent stretches of American asphalt you'll ever see, a twisting 11-mile road through a stunning red sandstone canyon. Stop for photos at rock formations like Elephant Rock and The Beehives, spy petroglyphs at Atlatl Rock and take a stroll along the Fire Wave Trail.
Related Read: 11 Best Hot Springs in Nevada That Promise Nature-Based Relaxation
2. Great Basin Scenic Byway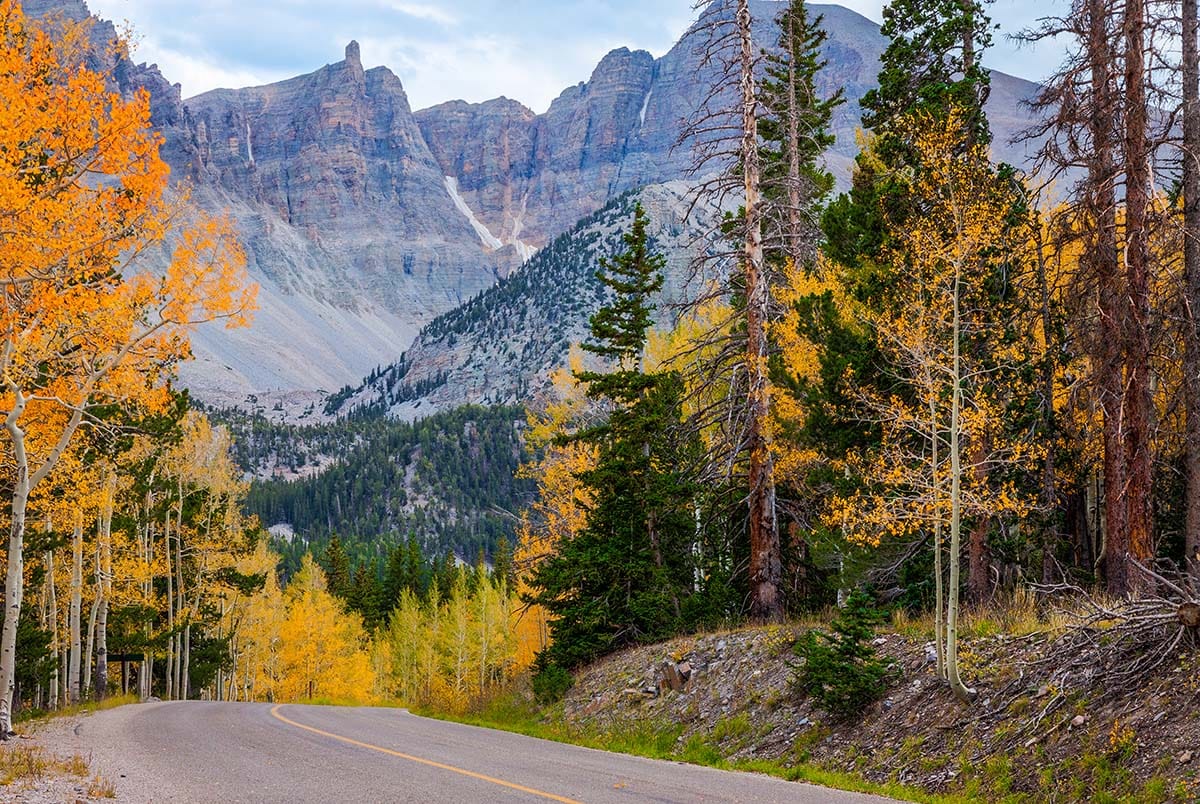 Why you should go: Explore nature and Nevada's vast parklands.
Distance: 355 miles (Las Vegas to Ely)
Drive time without stops: 4 hours
North of Valley of Fire, this route can be driven as a standalone from Las Vegas to Ely or a continuation of the Fire Road. It's a dream trip for outdoor enthusiasts and geology geeks. Traveling up U.S. 93, it passes several historic mining towns and seven state parks before reaching Great Basin National Park, famous for Lehman Caves, ancient bristlecone pines and the state's second highest mountain (Wheeler Peak, 13,065 feet).
It's a lonely road, best broken up with some side trips. Along the way there is everything from slot canyons and alpine lakes to gritty saloons and abandoned ghost towns.
Kershaw-Ryan State Park is a surprising oasis with natural springs, gardens and fruit trees. Further on you'll find fishermen and birders at Echo Canyon and Spring Valley state parks, while Cathedral Gorge reveals interesting rock spire hoodoos. Before pressing on to Great Basin, stop in Pioche, a rough Wild West town with a history that makes Tombstone seem tame.
3. Lake Tahoe Loop
Why you should go: Scenic, alpine drive rings beautiful Lake Tahoe.
Distance: 72 miles
Drive time without stops: 2 hours
Arguably the prettiest drive on this list, the Lake Tahoe Loop offers breathtaking views of the crystal clear lake, towering pine trees and often snow-capped mountains. Roll down the windows, or better yet, rent a convertible and breathe in the fresh mountain air along this 72-mile lakeshore drive. To fully enjoy this drive, take an entire day to hike along the shoreline, explore the beaches or rent a kayak.
Lake Tahoe sits at 6,225 feet above sea level and is 22 miles long and 12 miles wide, making it  North America's largest alpine lake. I suggest driving the loop clockwise to make it easier to pull off the road. In Heavenly Village, you'll find shops, restaurants and a gondola. Ride it to the top for an eagle-eye view and to ski in winter or to hike in the summer.
Once back lakeside, follow Highway 50 crossing into California. Your first must-stop is picturesque Emerald Bay where you can tour a stone castle. D.L. Bliss State Park is an excellent spot on Rubicon Bay and tours of Hellman-Ehrman Mansion are available at Sugar Pine Point State Park. While we're just scratching the surface, other scenic spots include Palisades Tahoe (formerly Squaw Valley), which hosted the 1960 Winter Olympics. Kings Beach for paddle boarding and Cave Rock, a site sacred to the Washoe Indians.
Related Read: 11 Beautiful Airbnbs at Lake Tahoe for an Unforgettable Trip
4. Las Vegas Strip National Scenic Byway
Why you should go: Slow roll through the lights, action and energy of the Las Vegas Strip.
Distance: 4.8 miles
Drive time without stops: 30 minutes
Listed as the nation's only nighttime scenic byway and designated an All-American Road, the Las Vegas Strip is five miles of pure adrenaline with neon lighting the way. Start at the "Welcome to Fabulous Las Vegas" sign and head north.
You'll pass the Luxor pyramid, New York-New York skyline and roller coaster, fountains of Bellagio and Caesars Palace, the High Roller observation wheel and Venetian gondolas on your way to the Strat needle. If you wish, continue another three miles to visit the galleries, antique stores and brew pubs in the Arts District, then hit downtown's action-packed Fremont Street Experience.
5. Burner Byway
Why you should go: Discover the artistic spirit of Burning Man.
Distance: 140 miles (from Reno)
Drive time without stops: 3 hours
The Burner Byway is the annual pilgrimage Burners take from Reno to the Black Rock Desert for the Burning Man festival. Starting in Reno, you'll find murals and art installations (from past Burning Man events), then while traveling north you'll come across roadside attractions, galleries and museums now anchored in the environment that extend that bohemian vibe throughout the year.
For nature lovers, stops along the shores of Pyramid Lake to see waterfowl, including a colony of white pelicans that nest here from late February to September, or a visit to the hot springs in Gerlach, should top the list. Another highlight is Fly Geyser, a ranch owned by the Burning Man Project, which offers seasonal, guided nature walks to one of the most spectacular, colorful geothermal vents in the world.
Related Read: 10 Adventurous Campervan Rentals in Las Vegas, Nevada
6. Extraterrestrial Highway
Why you should go: Go on an out-of-the-world adventure through Nevada's alien alley.
Distance: 257 miles (Las Vegas to Tonopah)
Drive time without stops: 3 hours, 30 minutes
Channel your inner space cowboy and let your imagination run wild on this trip as you pilot your ground craft through Nevada's alien landscape where countless UFO sightings have been reported. Your end game: the top secret site known as Area 51, a military base that the government didn't admit was real until 2013.
Famously called the Extraterrestrial Highway, state Route 37 is an empty road (with no cell service) used by folks dreaming to find proof that space invaders exist. Fill the tank in Las Vegas or up in the road in Alamo because there are no other gas stations after that.
Weird and quirky, you'll find established cult classic spots along the way. They include E.T. Fresh Jerky where you can take a selfie with cowboy alien murals, the Alien Research Center, a gift shop with strange souvenirs you never knew you needed, and the Little A'Le'Inn, a five unit hotel with food, drinks (grab an Alien Amber Ale) and quirky gifts. If nothing else, this is a memorable trip you'll tell your friends about when they ask about your Area 51 coffee mug.
7. Loneliest Road in America
Why you should go: Experience a spirited trip through the ghost towns of northern Nevada.
Distance: 380 miles (Carson City to Baker)
Drive time without stops: 6 hours
This route got its loneliest road designation in 1986 when Life magazine published a story saying there were "no points of interest" along Highway 50 and that driving it required  "survival skills." So you've been warned. In actuality, however, the trip from Carson City to Baker (home of Great Basin National Park) isn't exactly boring. It's historic. You just have to know where to look.
This Nevada road trip is a gateway to see ghost towns, historic mining camps and old sagebrush saloons. One play place is the Sand Mountain Recreation Area, where a Pony Express Station dating to the 1860s was unearthed under the sand dunes and 23 miles of off-road trails attract dune buggies and ATVs.
Old mining towns worth exploring include Ophir Canyon, Treasure City and Belmont Mill, a well-preserved mining camp where you can see the pulley system workers used during the mine's heyday.
8. Rubies Route
Why you should go: This epic drive goes into the heart of the remote, glacier-carved Ruby Mountains.
Distance: 332-512 miles (from Elko)
Drive time without stops: 3 hours, 30 minutes to 6 hours
You'll find Rubies Route tucked in the northeast corner of Nevada near the border of Idaho and Utah. Starting in Elko, this off-the-beaten path winds into the wilderness where you'll find plenty of recreation opportunities among the lush valleys and brilliant blue alpine lakes of the Ruby Mountains.
The high-elevation route is best driven June through October. North of Elko, the Jarbidge Wilderness offers 125 miles of hiking trails, wildlife viewing and several secluded lakes and streams within the Humboldt-Toiyabe National Forest where anglers cast for trout.
But the crown jewel of the trip is Lamoille Canyon, a glacier-carved wonderland with awe-inspiring views. The scenic 12-mile drive cuts through jagged rock formations, U-shaped canyons and hanging valleys on its way to the Ruby Crest National Recreation Trail. This 36-mile trail, which climbs from Harrison Pass (7,200 feet) to Wines Peak (10,893 feet), can be completed as a backpacking trip or as an out-and-back to majestic Liberty Lake. Keep an eye out for wildlife as you'll share the trail with bighorn sheep and mountain goats.
Explore More
Get epic travel ideas delivered to your inbox with Weekend Wanderer, our newsletter inspiring more than 10,000 readers every week.
---