We research, evaluate and select travel destinations based on a number of factors, including our writers' experience and expertise, user reviews and more. We may earn a commission when you book or purchase through our links. See our editorial policy to learn more.
---
Sometimes all you need to spice things up is a well-chosen getaway.
Who doesn't love a romantic vacation? You can check your worries at the door, embrace alone time with your special someone, and feel pampered with fun amenities and luxuries you might not have at home. All you need is to find the right place to make all of that happen, and Austin has plenty of spots to choose from depending on your idea of romance.
From more secluded, outdoorsy escapes to high-class hotels that let you live out your high-roller fantasies, these are some of the best romantic getaways you can find in Austin.
Related Read: The 9 Best State Parks Near Austin, Texas
1. Treehouse-Inspired Home
Why you should stay: Nature lovers will adore this decked-out sanctuary at the heart of all the action.
Sleeps: 10
Minimum stay: 2 to 3 nights (depending on the date)
Rates from: $250/night
If your perfect date involves spending plenty of time outdoors, then this property with a treehouse vibe is a great option for your next romantic getaway.
For starters, this spot is located within easy access to Lady Bird Lake, Zilker Park, and Barton Springs Pool so you'll be able to step out the door and get to a fun couples' activity like kayaking or stand-up paddleboarding in no time. When taking a break from all those Austin adventures, this beautiful house — with its abundance of natural materials, smart décor, and dope front deck — is the perfect relaxing oasis.
Since the property can house so many people, you may want to invite some of your other friends for a fun couples' vacation.
Check Availability
Related Read: 9 Incredible Cabin Rentals Near Austin, Texas
2. Hotel ZaZa Austin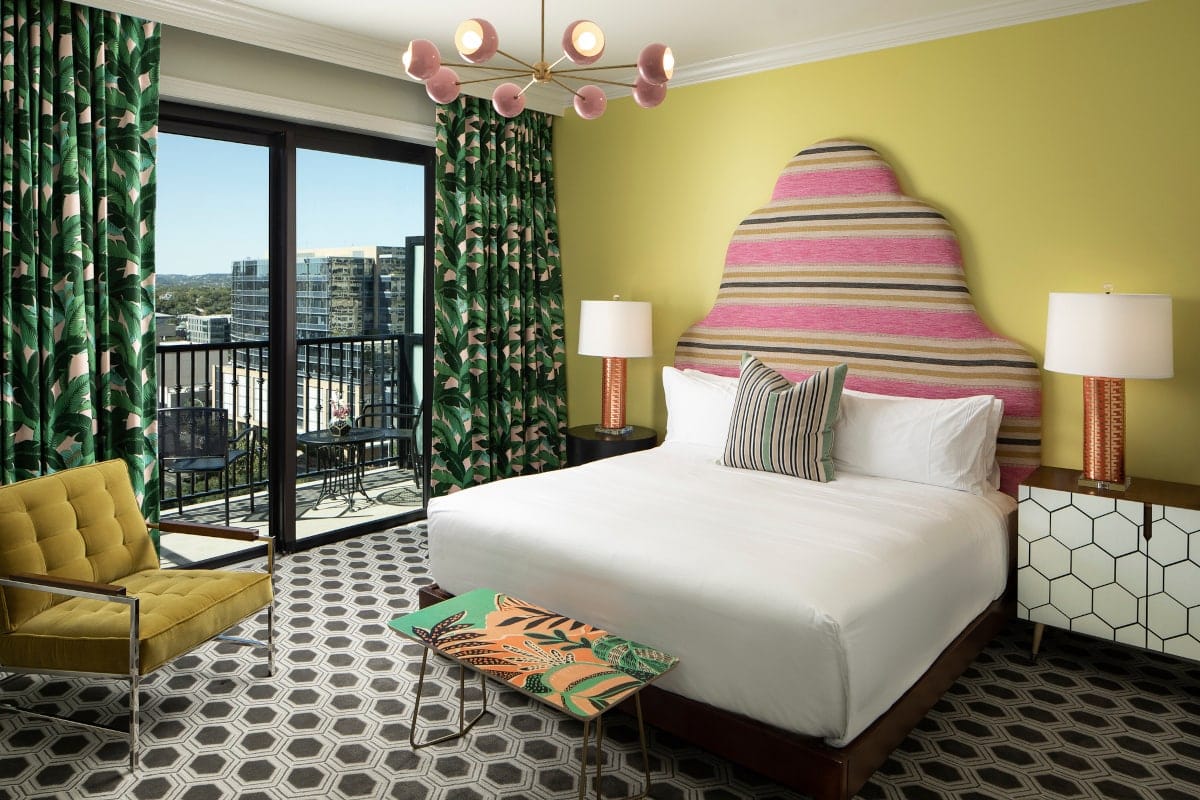 Why you should stay: Live a little at this sophisticated hotel with glamorous, themed suites.
Sleeps: 4
Minimum stay: 1 night
Rates from: $352.25
Sure, you could book a regular room at Hotel ZaZa and you'd probably have a great time, but if you're looking for something really romantic, then you need to consider one of the lavish suites. Between the hotel's so-called "Magnificent Seven Suites" and its "Concept Suites," you have a bevy of options for a dreamy escape. The "About Last Night" suite is particularly suited for romance with its sensual, velvet decor.
As you and your travel partner are living it up, make sure you pay a visit to the rooftop pool where you can also enjoy a drink with a side of choice downtown views at the cabana bar.
Check Availability
Related Read: 12 Outdoor Things to Do in Austin for Adventure Lovers
3. Hotel Ella
Why you should stay: Go for a sophisticated stay at this stately boutique hotel with a pool in Central Austin.
Sleeps: 4
Minimum stay: 1 night
Rates from: $185/night
Located in a historic house from 1900, Hotel Ella is anything but old-fashioned. The hotel's rooms are outfitted in comfy, modern decor, and some of them even have their own private patios —and a little privacy is always appreciated on a romantic vacation.
Since the hotel is located right next to The University of Texas campus, you're in a good central position to explore the rest of the city. That being said, you and your date can just as easily stay cozied up at your home away from home, enjoying swanky activities like Hotel Ella's afternoon tea service, a cocktail at the Parlor Bar, and dinner at Goodall's (the in-house restaurant).
Another place you and your travel partner are sure to love? The hotel's pool.
Check Availability
Related Read: The Ultimate Houston to Austin Road Trip Itinerary
4. The Inn at Jennifer's Gardens
Why you should stay: This unique, secluded rental brings the magic with its beautiful gardens and treehouse.
Sleeps: 4
Minimum stay: 1 night
Rates from: $385/night
From the outside, The Inn at Jennifer's Gardens looks like a place right out of the pages of a fairy tale with its lush grounds and gardens. Inside the house itself, you'll find Spanish decorative influences paired with homey furniture, creating a warm, inviting atmosphere.
The property has a few other interesting spots worth mentioning: One being the separate treehouse that guests are welcome to explore. Others are the amphitheater in the garden and the quaint gazebo. Needless to say, if you were planning a special proposal of some kind (wink wink), there are plenty of enchanting spots to make some unforgettable memories.
Check Availability
Related Read: 10 Best RV Campgrounds in Austin, Texas
5. Austin Proper Hotel
Why you should stay: A five-star experience awaits at this luxe hotel downtown.
Sleeps: 4
Minimum stay: 1 night
Rates from: $458.15/night
In the mood to really treat your partner — and yourself? Book a stay at Austin Proper Hotel, a five-star hotel found in the Second Street District just a couple of blocks from the river.
Unlike some hotels which can verge on the side of generic and devoid of personality, this hotel's stylish interior design celebrates a warmer side of luxury with lots of earth tones and a variety of artisan touches. Anyone willing to splurge for some extra romance should check out the suite options, which feature fancy amenities like a built-in wet bar, soaking tub, and private terrace.
For more fun, check out the pool on the fifth floor or the spa.
Check Availability
Related Read: The Ultimate Dallas to Austin Road Trip: What to See Along the Way
6. Hotel Saint Cecilia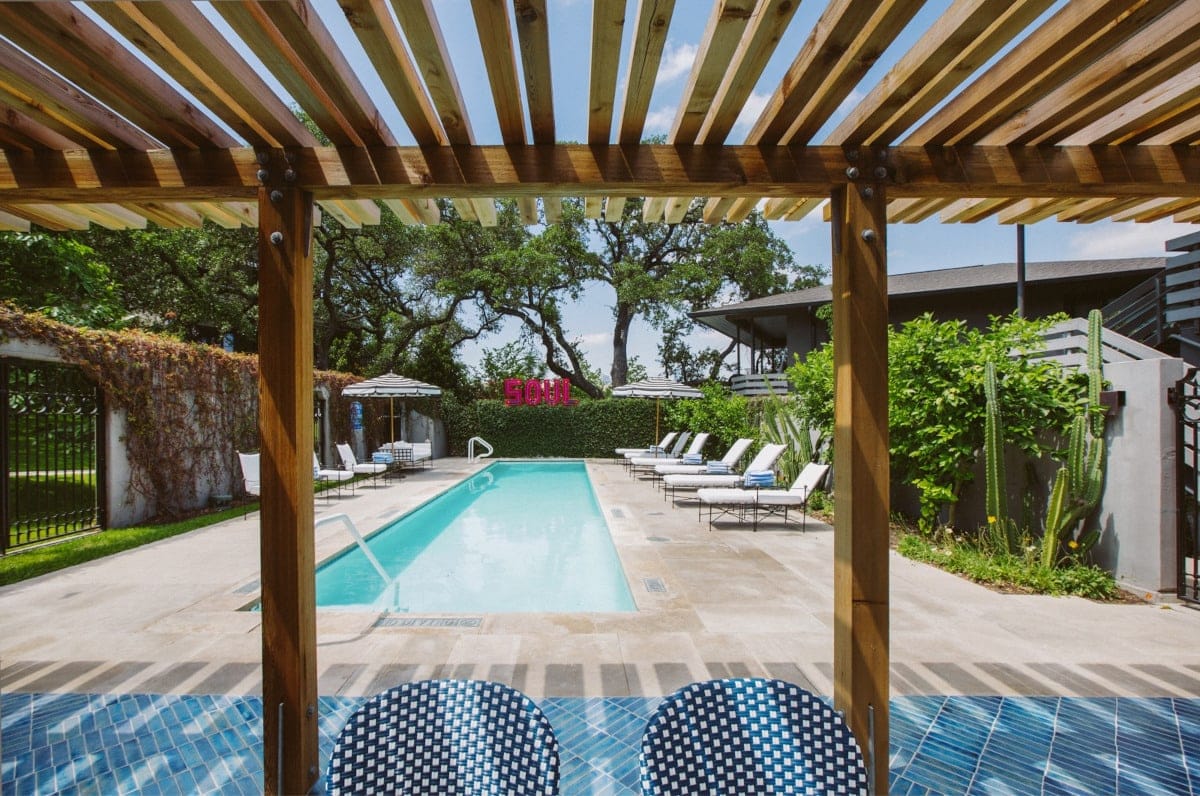 Why you should stay: A block from South Congress Avenue, this artsy hotel with an LP library gives off elevated bed-and-breakfast vibes.
Sleeps: 2
Minimum stay: 1 night
Rates from: $594/night
At Hotel Saint Cecilia, you may be just a short walk away from some of the city's best shopping but you'll feel secluded in your own little world. There aren't that many accommodation options (five suites, six bungalows, and three studios), and the property is only accessible to guests, giving you and your partner plenty of privacy.
Whether the weather is cold or warm, you can make use of the heated lap pool, and the covered terrace is a lovely place to have a dinner date. Hotel Saint Cecilia also has a lending library of vintage LPs so you and your loved one can pick out some romantic tunes to set the mood back in your room — each room has a Rega turntable and Geneva sound system.
Check Availability
Related read: 12 Refreshing Swimming Holes Near Austin, Texas
7. Tiny Home Out in the Country
Why you should stay: Leave the busy city behind and enjoy quality couple time at this rural escape.
Sleeps: 2
Minimum stay: 2 nights
Rates from: $194/night
If you're looking for a quiet place to reconnect, then this tiny home situated on three acres of private property is just the place.
Despite being a tiny home, this stay is outfitted with a big, comfy bed; full kitchen, and full bathroom. And who needs a big space after all when you have each other?
You may find yourself finding a good chunk of your visit enjoying the hot tub on the back deck. Yes, there's a TV you can conveniently watch from the tub, but leaving it off to enjoy the starry night sky (and each other's company) will make your time even more romantic.
Check Availability
Related read: 8 Must-Do Weekend Road Trips from Austin, Texas
8. South Congress Hotel
Why you should stay: Go local at this boutique hotel with lots of special, on-site services.
Sleeps: 6
Minimum stay: 1 night
Rates from: $263/night
Austin is a city that loves to embrace local, and that love is certainly exemplified at South Congress Hotel. This property has not one, not two, but three restaurants plus a coffee and bakeshop, and multiple bars — all of which are locally owned.
As if that wasn't enough to keep you and your partner entertained and pampered, other guest services include complimentary drip coffee in the mornings at the front desk, motorcycle rentals, and personal shopping at an on-site boutique. Did we mention there's a pool, too?
Looking at the rooms, you'll find spaces that are modern, more minimalist but still chic, and you can decide what kind of views you want between courtyard, neighborhood, and South Congress Avenue vistas.
Check Availability
9. Kimpton Hotel Van Zandt
Why you should stay: A rooftop pool and loads of bars nearby are just two of the perks of this trendy hotel.
Sleeps: 6
Minimum stay: 1 night
Rates from: $255.55/night
In the bustling Rainey Street District, Kimpton Hotel Van Zandt puts you directly next to some of the city's best bars. But it's not just the prime location that makes this chic, four-star hotel special. The interior is sophisticated but laid-back, classy but unstuffy. Kimpton Hotel Van Zandt also has some cool spa guest rooms with even larger bathrooms and posh soaking tubs, which are perfect for couples.
One of the best parts about choosing this hotel for your romantic vacation is that you and your special someone will get to enjoy the resort-like pool area on the fourth-floor deck, complete with a bar, cabanas, and an outdoor fireplace.
Check Availability
Related read: 10 Best Glamping Getaways Near Austin, Texas
10. The Driskill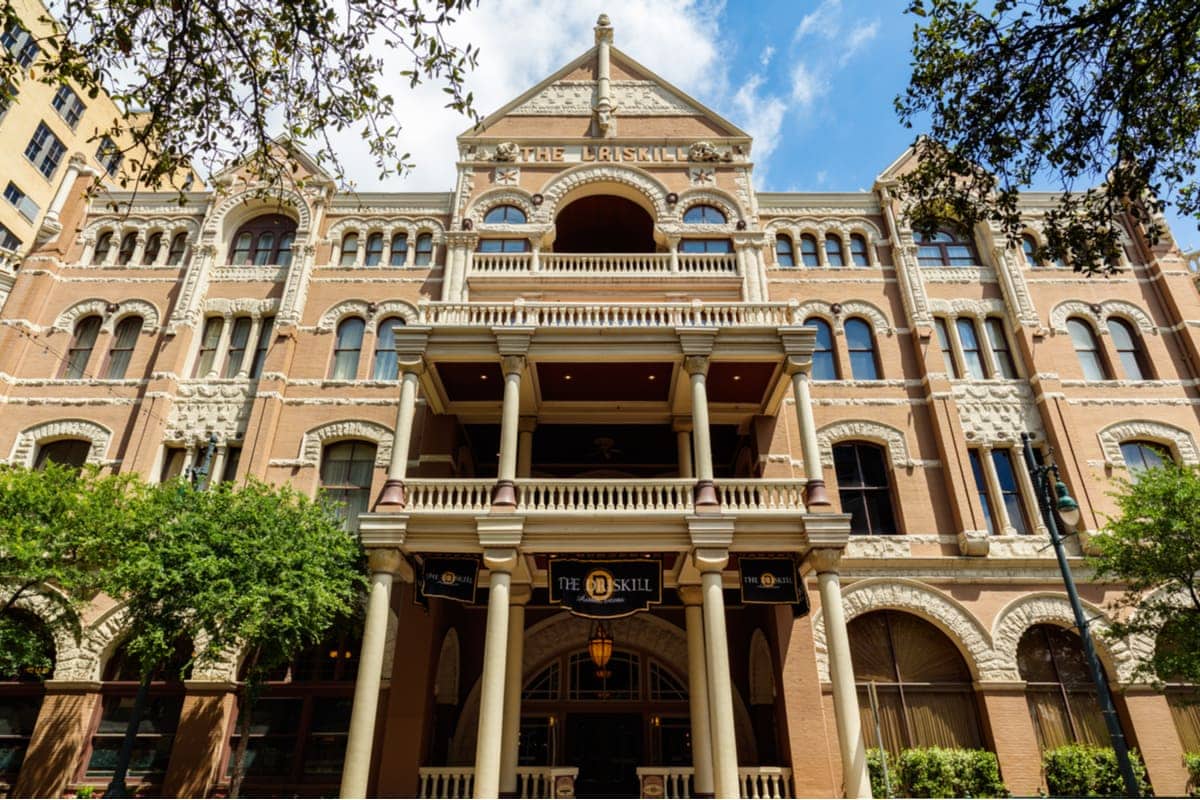 Why you should stay: This iconic hotel is full of history—and opportunities to embrace the luxury.
Sleeps: 4
Minimum stay: 1
Rates from: $233/night
Open since 1886, The Driskill might just be the most famous hotel in all of Austin, and a stay here is sure to be one you and your loved one won't soon forget.
Inside, modern luxuries blend together with vintage, historic charm in each of the rooms. Romance-wise, it doesn't get much better than one of the suites that have private balconies looking out onto the lively downtown streets.
You also have some options for date activities inside the hotel itself, such as the art tour audio guide and the traditional afternoon tea where there's no limit on the tea or sparkling wine. At the Driskill Bar, it's full-on Southern sophistication with the luxe leather seating and assorted Texas decor, and you can expect live music most nights of the week.
Check Availability
Explore Texas!
Get epic travel ideas delivered to your inbox with Weekend Wanderer, our newsletter inspiring more than 10,000 readers every week.
---