We research, evaluate and select travel destinations based on a number of factors, including our writers' experience, user reviews and more. We may earn a commission when you book or purchase through our links. See our editorial policy to learn more.
---
Covered in sprawling forests, freshwater lakes, and fertile land that's helped develop a flourishing wine country, there's much more to Illinois than you may expect. It's not just Chicago.
While Illinois may not have towering mountain peaks, it's certainly not lacking in beautiful landscapes. State parks like Starved Rock and Matthiessen protect thousands of acres of forest, striking sandstone canyons, and massive waterfalls.
In the south, the Shawnee Hills Wine Trail welcomes visitors excited to experience charming small towns and local vineyards. And there's plenty in the Shawnee National Forest and far-reaching network of rivers scattered across the state to offer a few weeks of exploration, too.
One of the best ways to experience the natural beauty of this often-overlooked Midwestern getaway is by booking a cabin rental in Illinois to help you really feel at home. Here a few to check out if you've got cabin fever.
Okay, if you came to see specifically cabin rentals near Chicago, we got you covered too.
1. The Barn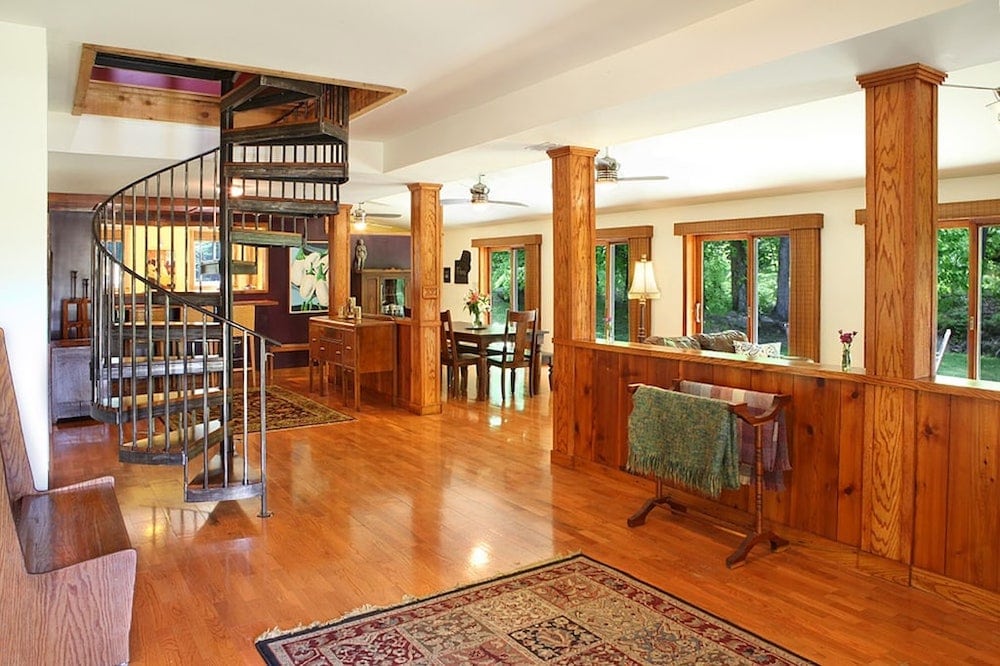 Why you should stay: Family-friendly cabin near hiking in Giant City State Park and the famous 17th Street BBQ joint.
Location: Pomona
Sleeps: 16
Minimum stay: 2+ nights
Rates from: $329/night
Check Availability
The Barn is a warm and inviting log cabin on a remote property with a bubbling creek. During your stay, you can sip your morning coffee on the home's porch and spend your evenings huddled next to the cabin's blazing bonfire.
The property also features kid-friendly amenities such as a playground, a PlayStation, and a fun selection of games. This is a great cabin rental in Illinois for larger groups as there are five bedrooms plus a few pull-out couches scattered about. Pomona is on the wine trail and Von Jakob Vineyard is a very reasonable four minutes away by car.
Related Read: 12 Charming Barndominiums for Your Next Rural Getaway
2. Moose Cabin at Hidden Acres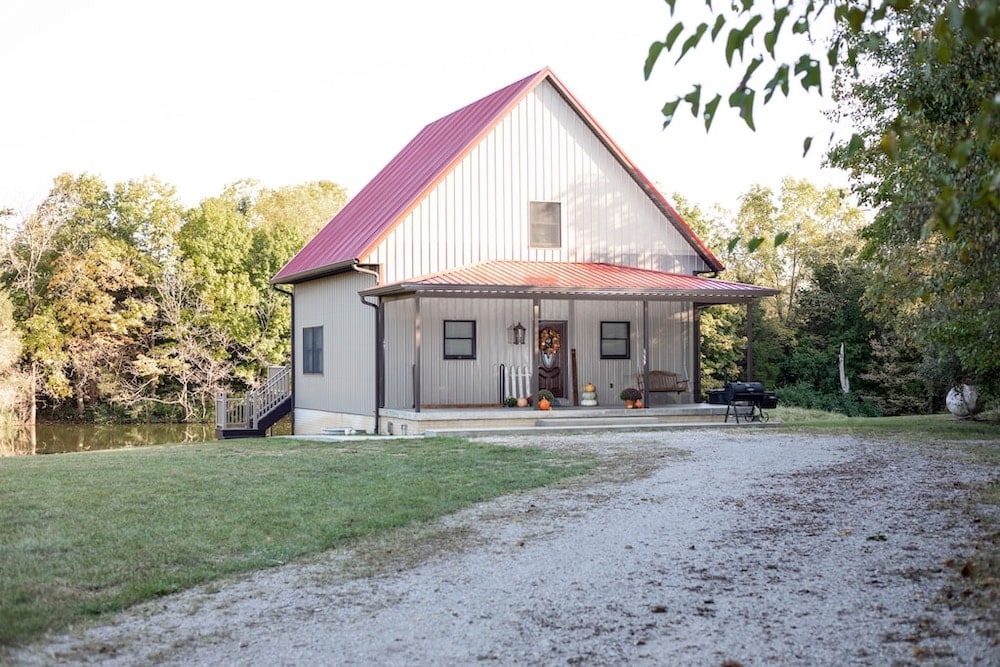 Why you should stay: Solar-powered cabin near Lake Shelbyville Beach.
Location: Sulivan
Sleeps: 8
Minimum stay: 2 nights
Rates from: $230/night
Check Availability
Don't write off the small town of Lake Shelbyville just because you've never heard of it. It has more than 50 miles of hiking trails, boating, public water parks. historical sites, and even the world's tallest goat tower (Google it.) It's also home to plenty of campsites, but if that's not your jam, then this Illinois cabin rental may be the perfect fit.
Don't let the simple exterior fool you — the Moose Cabin at Hidden Acres has beautiful wooden finishings and a stone fireplace touching the soaring ceilings. The basement is great for socializing with a mini-bar and plush sofas, and in the backyard, a spacious deck makes it easy to cook outside or lounge in the sunshine.
Outdoor enthusiasts will love the home's 50-yard shooting range and the stocked fishing pond. You'll find this Illinois cabin conveniently located about an hour from both Springfield and Champaign.
Follow 'em: @MooseCabinAtHiddenAcres
3. Cabin on the Lake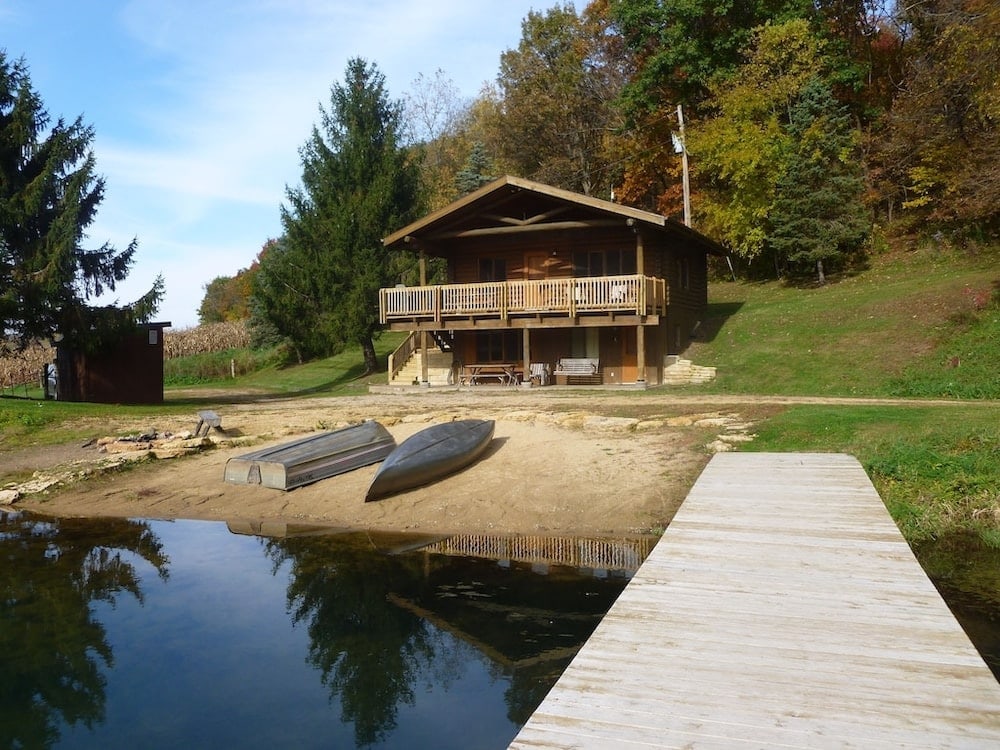 Why you should stay: Cabin on a private norther Illinois lake with a beach, swimming platform, and boats.
Location: Hanover
Sleeps: 6
Minimum stay: 3 nights
Rates from: $325/night
Check Availability
Sitting on 200 acres, including a 10-acre lake, the cabin on the lake has plenty of space to disconnect in nature. Whether you decide to fish on the water, hike throughout the property, or play card games on the home's porch or balcony, you're sure to have a relaxing time.
If interested in shaking things up, Galena's vibrant shopping and dining scene is also a quick 25-minute drive away. Or plan a day outside at Chestnut Mountain Resort, which has skiing in the winter and everything from alpine slides to riverboat cruises come summer.
Related Read: The 10 Best Cabin Rentals in Iowa for a Weekend Away
4. A-Frame Cabin
Why you should stay: Cute, dog-friendly A-frame for an affordable last-minute getaway.
Location: Ellsworth
Sleeps: 5
Minimum stay: 2 nights
Rates from: $89/night
Check Availability
Offering an easy getaway from Bloomington, this A-Frame cabin is outfitted with a lofted bedroom and a pull-out sofa bed in the living room. The home's front doors open wide and have full screens that allow for fresh air to circulate throughout the house. Since it sleeps up to five it's a great spot for small group of friends (or even just one person, considering the price) to take a last-minute trip when you just need a change of pace for the weekend.
The yard has a porch with space for outside dining plus a private fire pit. Guests can rent kayaks and other lake equipment from the nearby Moraine View Restaurant and Bait Shop and there's great Wi-Fi in case you want to have a movie night at home. Ellsworth is easy to reach from both Chicago and Peoria.
Related Read: 10 Exciting Weekend Road Trips From Indianapolis, Indiana
5. The Loft
Why you should stay: Three-bedroom cabin on the Shawnee Hills Wine Trail.
Location: Pomona
Sleeps: 8
Minimum stay: 3+ nights
Rates from: $219/night
Check Availability
The Loft by Cornerstone Cabins is a beautifully modern home with unique amenities such as a lofted sleeping space above the kitchen, a jetted tub in the largest bathroom, and a wood stove in the living room to keep things toasty.
The cabin sits on a sprawling forested property within Shawnee National Forest, adding a touch of privacy to your stay. Thanks to the large wooden deck, there's plenty of space to soak up the sun, hang out with everyone in one spot, or grill up a BBQ dinner. Fancy a hike? Lace up your boots and head to the striking Pomona Natural Bridge from the house. And, of course, you'll have a few wineries nearby on the wine trail.
Related Read: 9 Delightful Weekend Road Trips From Columbus, Ohio
6. Toolshed Corner Guest Cabin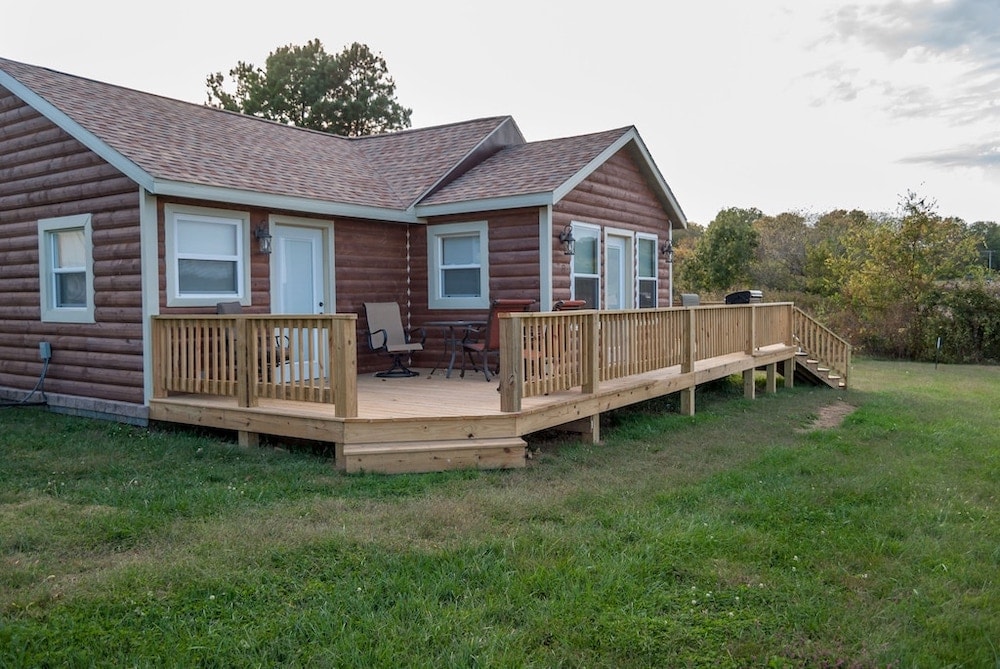 Why you should stay: Rustic cabin in a "hippie town" in southern Illinois.
Location: Makanda
Sleeps: 6
Minimum stay: 2+ nights
Rates from: $142/night
Check Availability
At the Toolshed Corner Guest Cabin, guests rave about the host's hospitality and complimentary drinking water and snacks in the kitchen. Each of the cabin's two bedrooms has access to a private, luxurious bathroom with a walk-in shower and a large jetted bathtub.
Guests can take in the views from the roomy front deck, which is also wheelchair accessible. The property is a fantastic home base for exploring nearby attractions such as the local wineries, Ferne Clyffe State Park, and the hiking trails of Shawnee National Forest. This Illinois cabin rental is in the town of Makanda, which bills itself as being a "hippie town." What's that mean? Well, for starters, expect opportunities to rock climb, quirky artisan shops, and a few choices for health and wellness "healers."
Related Read: 9 Fabulously Unique Places to Stay in Illinois
7. Kishauwau Cabins
Why you should stay: Cabin at a wilderness resort near Starved Rock and Matthiessen state parks.
Location: Vermillion
Sleeps: 2
Minimum stay: 1+ night
Rates from: $102/night
Check Availability
Kishauwau Cabins is a wilderness resort offering private cabins equipped with all you need for a stay in the woods. Standout amenities include a fireplace, a jetted bathtub, and private yards with picnic tables, fire pits, and grills. This cabin rental is without Wi-Fi, so take that into account before bringing the kids. Some cabins are dog-friendly for a reasonable $15 a night.
This is one of the best cabin rentals in Illinois for big groups as you can rent the entire property for family reunions or celebrations. The entire complex has 17 cabins, so you can sleep nearly 40 people if you fill all the beds. You can book via the resort website or find individual cabins on Airbnb.
Follow 'em: @KishauwauCabins
8. Doc's Lakeside Cabin
Why you should stay: Adults-only cabin with a great starting rate on a lake outside St. Louis.
Location: Union
Sleeps: 4
Minimum stay: 2+ nights
Rates from: $150/night
Check Availability
Doc's Lakeside Cabin is a lovely two-bedroom cabin in southern Illinois near Shawnee National Forest and the Mississippi River. Its impressive yard features multiple seating areas, including an attractive stone patio with a fire pit, a hot tub deck, and even a lakeside sitting area.
A highlight of this southern Illinois cabin rental is the big screened-in porch connected to the living room so you can relax in the fresh air even when the bugs are at their peak. If interested in hiking, hit up  Trail of Tears State Forest. Mountain bikers will want to explore on two wheels on the Tunnel Hill State Trail.
Related Read: 10 Romantic Getaways Near Chicago, Illinois
9. The Cottage on Lake Galena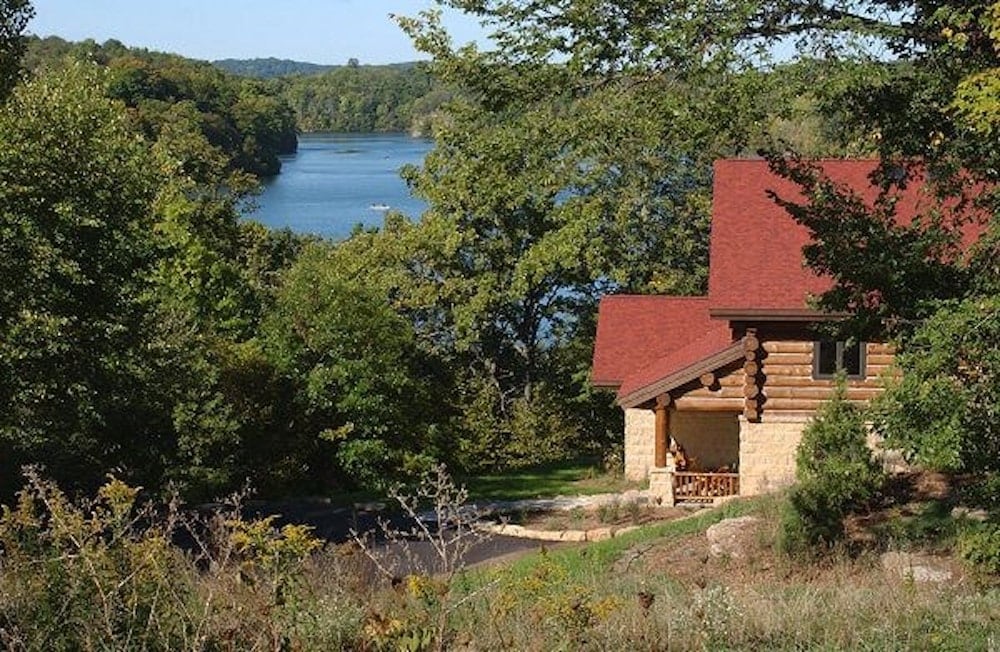 Why you should stay: Stunning lake cabin with epic views of Lake Galena.
Location: Galena Territory
Sleeps: 4
Minimum stay: 2 nights
Rates from: $290/night
Check Availability
Located in a picturesque resort community, The Cottage on Lake Galena offers a quiet stay not far from the Iowa and Wisconsin state lines. That means you'll have artsy Dubuque, a really under-the-radar college town, just a short drive away (it's in Iowa.) This particular home in the woods has a bubbling hot tub and a fantastic balcony overlooking the lake. You'll be hard-pressed to pull yourself away from the home's outdoor spaces.
However, the interior is just as lovely with its exposed log beams, vaulted ceilings, and built-in audio system so you can bump your favorite jams while you cook.
10. Peaceful Log Cabin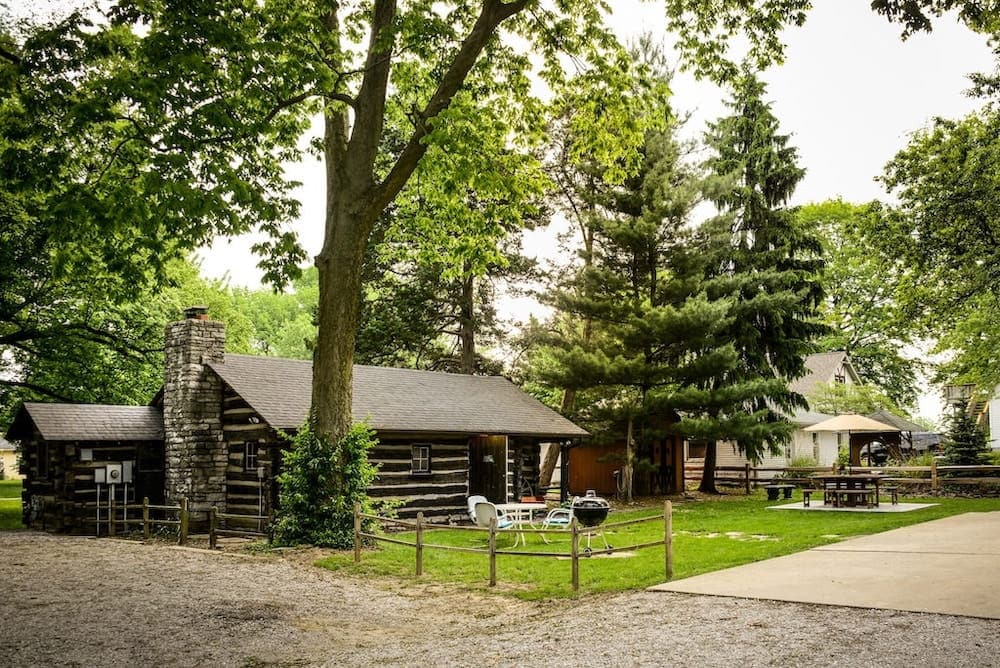 Why you should stay: Classic log cabin near all the fun and amenities of St. Louis.
Location: Waterloo
Sleeps: 3
Minimum stay: 2 nights
Rates from: $89/night
Check Availability
This peaceful log cabin is a cute studio cabin rental about 30 minutes south of St. Louis and just a minute from the historic downtown streets of Waterloo, Illinois. It's log cabin all the way, with a rustic exterior, log furniture, a stone fireplace, and basic outdoor amenities like a picnic table and grill.
This is a great place to stay if you want a mix of country living and city amenities. You can catch a Cardinals game and take a ride in the St. Louis Arch one day and go for a paddleboat ride on the Mississippi or hike through the White Rock Nature Preserve the next.
11. Whispering Oak Hideaway
Why you should stay: Secluded, quiet cabin with a hot tub in the woods.
Location: Karnak
Sleeps: 4
Minimum stay: 2 nights
Rates from: $145/night
Check Availability
The Whispering Oaks Hideaway is a relaxing place to unplug. It sits on 66 sprawling acres, including wooded places to hike, meadows perfect for frolicking and stargazing, and a stocked lake for your fishing or paddling pleasure.
The expansive yard also has a fire pit, a swinging hammock, and a covered pavilion with an outdoor dining table. Not sure what to do in the area? Practice you swing at the property's one-hole golf course, check out the waterfalls on the Rocky Bluff hiking trail to the north, or spend the day in nearby Mark Twain National Forest.
Find Your Next Midwest Adventure
Sign up for the Weekend Wanderer to join thousands of readers getting epic travel ideas every week.
---