We research, evaluate and select travel destinations based on a number of factors, including our writers' experience, user reviews and more. We may earn a commission when you book or purchase through our links. See our editorial policy to learn more.
---
Step aside, cabins: treehouses are an exciting way to experience Minnesota's great outdoors.
When you think of travel in Minnesota, the state's thousands of lakes and massive Mall of America likely come to mind. And while great in their own right, sometimes, when the travel bug hits, it's good to branch out and try new things. Thankfully, scattered across the state are beautiful treehouse vacation rentals that are exciting travel destinations in their own right.
Built into living trees or stilted off the ground, treehouse rentals provide a whimsical escape that can spice up your travel plans and help you create lifelong memories. From glamping-esque to downright luxurious, there's a treehouse stay in Minnesota for everyone. Check out our list of unique treehouses and treehouse-style rentals in Minnesota, perfect for your next Midwestern adventure.
1. Lofty Lodge Treehouse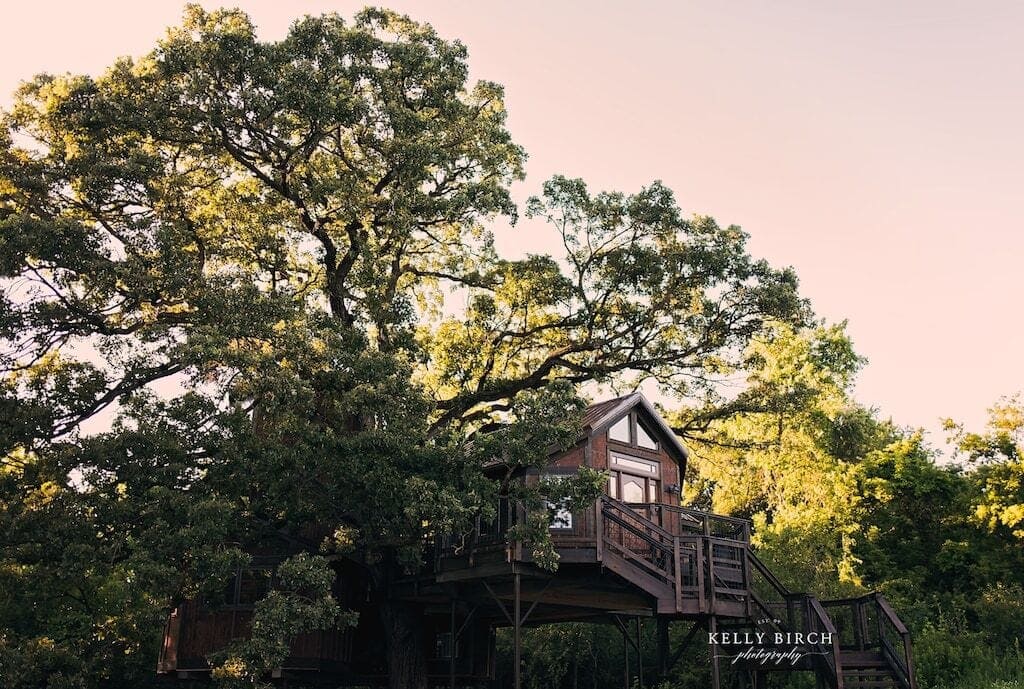 Why you should go: The Lofty Lodge Treehouse is a quiet and magical escape just outside the Twin Cities. Boasting romantic touches like a stone fireplace, jacuzzi tub, and warm wooden accents, it's a perfect place to spend time with your partner.
Pros: This spacious treehouse is unique because it features a full bathroom, kitchen, and primary bedroom. Other excellent amenities include multiple balconies and a surround sound system. One reviewer shares, "The treehouse was amazing! It has wonderful decor and is so well-kept. It was fun looking for the hidden room and finding the little treasures."
Cons: There's little to complain about here! But one thing to keep in mind is the many levels of stairs that may be unsuitable for small children.
What's nearby: Top Minnesota attractions, including Minneapolis, St. Paul, and the Mall of America, are a short drive away. The treehouse also sits on a wooded property bordering the Cottage Grove Ravine Nature Park where guests can stroll or bike.
Check Availability
Related read: 7 of the Most Romantic Getaways in Minnesota
2. LOTR Treehouse
Why you should go: Let your imagination run wild with a stay at the fantasy-inspired LOTR Treehouse. This rural, pet-friendly treehouse is about 45 minutes from St. Cloud and is filled with old-world charm thanks to its purposefully rustic and nature-focused decor that call upon days at The Shire. Pops of art and unique touches like stained glass windows and a spiral staircase also amp up the coziness of this enchanting treehouse getaway.
Pros: Guests enjoy exceptional amenities, including a hot tub and a suitcase elevator that brings your luggage to the top. Other noteworthy features include the gas fireplace and a spacious balcony overlooking the garden.
Cons: The hosts have chickens on the property, which can mean noisy mornings. Additionally, the hot tub is shared with another unit on the property.
What's nearby: Although nestled in the Minnesota countryside, numerous lakes and Sinclair Lewis Park lie within 30 minutes of the treehouse where the whole family can swim and play.
Check Availability
3. Nestling Pines Treehouse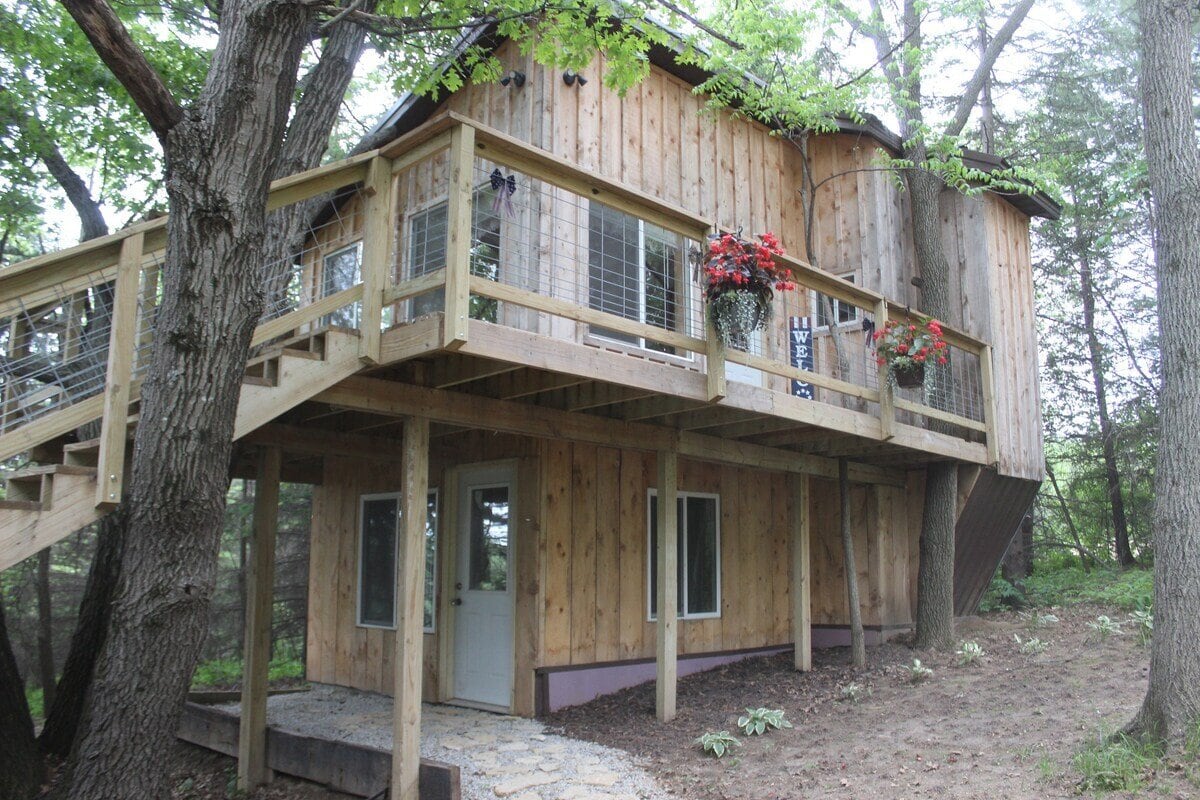 Why you should go: The Nestling Pines Treehouse is a glamping-esque stay amongst the rolling hills of southern Minnesota. Pets are welcome, and animal lovers will appreciate the chance to witness the host's majestic horses that graze nearby.
Pros: Outfitted with modern conveniences like running water and electricity, the only thing missing at Nestling Pines is a full kitchen. One reviewer shared, "The place was extremely clean and had everything we needed. We enjoyed coffee and birds in the morning and conversation and bonfires at night. The horses are gorgeous, and Trixie, the dog, protected us."
Cons: The sleeping quarters are studio style, so groups of four have limited privacy at night and there's no full kitchen.
What's nearby: Nestled in the small town of Mabel on the southeast border, guests have things to do in Minnesota, Iowa, and Wisconsin at their fingertips. Some of the best things to do in the area include visiting the Winneshiek Wildberry Winery, walking the Root River State Trail, and playing golf at Harmony Golf Club.
Check Availability
Related read: 16 Gorgeous Minnesota Glamping Destinations
4. Treehouse Retreat
Why you should go: This spacious Treehouse Retreat combines the comfort of a classic cabin with the joys of waking up to bird's-eye views in a treehouse. The property is located along the scenic North Shore of Lake Superior, a premier destination for skiing and vibrant fall colors. Not to mention, the Superior National Golf Course is nearby.
Pros: Boasting four bedrooms and the space to sleep up to 12 guests, this impressive treehouse-esque rental has enough space for all your closest friends and then some. From the home's top-floor balcony, you can marvel at spectacular views of the lake and surrounding forests. The cabin also features a fire pit, garage access, and numerous lounge spaces perfect for large groups.
Cons: One reviewer shares, "Only thing to note is with the unique layout of the house, you'll be using the stairs a lot! I was glad I brought my slipper socks."
What's nearby: The charming small towns of Lutsen and Grand Marais are a short drive away, where local favorites like the North Shore Winery await. The area is also home to numerous hiking and snowmobile trails, the famous Alpine Slide, and, of course, the Lutsen Mountains Ski Resort.
Check Availability
5. Treetop Cabin
Why you should go: Relish the peace and quiet of the Northwoods with a stay at the Treetop Cabin. This wooden, two-bedroom cabin sits atop stilts and boasts a second-story covered deck with forest views. Inside, vaulted ceilings and numerous windows create a warm and inviting space.
Pros: Tucked away in a wooded property not far from downtown Crosslake, guests enjoy a semi-secluded escape to the woods and close proximity to local restaurants and attractions. For those uninterested in venturing far, the cabin is well-equipped with a fire pit, covered deck, board games, and more to keep you happily entertained and relaxed.
Cons: Reviewers have little negative things to share about the Treetop Cabin and can't stop raving about how clean and well-appointed it is. However, one reviewer does mention, "The neighbors are closer than expected, but they were extremely quiet, and we never noticed them."
What's nearby: The area in and around Crosslake boasts numerous lakes, including the Whitefish Chain of Lakes, comprising 14 bodies of water. That means classic lake fun, like fishing, kayaking, swimming, and more, make up the best things to do near the cabin.
Check Availability
Related read: 8 Best Tiny House Rentals in Minnesota
6. Tree Haus
Why you should go: The Tree Haus is a log cabin that boasts a separate treehouse suite along the shores of Cross Lake. Situated in the backyard, this property's treehouse is an uber-cozy and private guesthouse that offers the perfect escape for couples traveling with others. Although it lacks an ensuite bathroom or kitchen, it does have a plush queen bed and a private balcony.
Pros: The property's primary cabin is stocked with all the comforts of home. The outdoor areas are also exceptional and include a garage-turned-game room with ping pong as well as a fire pit in the yard. There's even a sauna where you can warm up after taking a dip from your private stretch of sandy beach.
Cons: This isn't solely a treehouse stay but a cabin rental with a detached treehouse bedroom.
What's nearby: Access to residential facilities like tennis courts and boat launches is included as part of your booking. Crosslakes is also home to countless outdoor activities, including days out on the lake, local hiking trails, and the Crosswoods Golf Course.
Check Availability
Explore Minnesota
Get epic travel ideas delivered to your inbox with Weekend Wanderer, our newsletter inspiring more than 10,000 readers every week.
---