Maine is arguably the best place to spend your vacation time on the East Coast, with remote and rugged landscapes, numerous farms and ranches, old historic towns, lighthouses, and stunning swaths of coastline.
It's easy to understand why some people take one trip to Maine and start daydreaming about moving north to live the quintessential New England life. Fortunately, if you're in Boston, the Boston to Bar Harbor road trip is an easy drive, not to mention a beautiful one.
Here's the best itinerary for your Boston to Bar Harbor road trip, complete with the best stops for travelers interested in small coastal towns, history, wildlands, beauty, and true New England hospitality.
Related Read: When is the Best Time to Visit Acadia National Park?
Boston to Bar Harbor By Segment
There are two routes you could take for a Boston to Bar Harbor trip, but if you have time, travel along the coast the entire way. Technically fewer miles (275 versus 285), it does take a little more time (about 5.5 hours instead of 4.75) but is totally worth it.
The trip along the coast is one everyone should do at least once. Visiting the quaint coastal New England towns, enjoying views of the rocky shores, and taking advantage of the numerous opportunities to get out and explore trails or historical sites all make this route well worth the extra time.
If you can, take a few days to make your way along each segment of this trip.
Related Read: 11 Relaxing Swimming Holes in New Hampshire
Segment 1: Boston, MA to Portland, ME
Distance: 112 miles
Drive time without stops: 1 hour, 45 mins
For simplicity's sake, this road trip guide assumes you've already explored Boston to your heart's content and are ready to explore beyond the lands "just outside Boston." T
his first segment will take you through New Hampshire and into Maine.
Related Read: The 6 Best Scenic Byways to Fully Experience Massachusetts
Segment 1 Highlight: Portsmouth, NH
When you get to Portsmouth, NH, make sure to stop and explore the town. Fuller Gardens, just south of the city on the coast, is a botanical garden open to the public. The Gardens have a fascinating history dating back to 1927, and the Rose Garden is a must-see.
Your next stop in Portsmouth should be the Seacoast Science Center. This educational detour is located in Odiorne Point State Park. Learn about the oceans and marine life and explore tide pool habitats. You can also sign up for kayak tours, workshops, and family programs, to name a few of many. This is a great first stop to get everyone excited about fun things to come.
Related read: 8 Unique Places to Stay Near Boston When You Need to Get Away
Segment 1 Highlight: Portland, ME
Now here is a city worthy of exploration. Portland, is a fast-growing city on the ocean. The downtown, also called Old Port, is home to all sorts of charming shops and restaurants and sits along the waterfront. You won't regret taking extra time to spend a day or two in this little city.
Portland Head Lighthouse is always breathtaking. Built in 1791, it's the oldest lighthouse in Maine and is still active today. However, it now houses a museum about the cape's history.
If you have the time, look into taking a sail on one of the Portland Schooner Company's windjammers that leave from quite near downtown. They have several special events through the season, or you can book a standard two-hour public sail.
Related Read: 12 Magical & Unique Places to Stay in Maine
Segment 1 Side Trip: The Crane Estate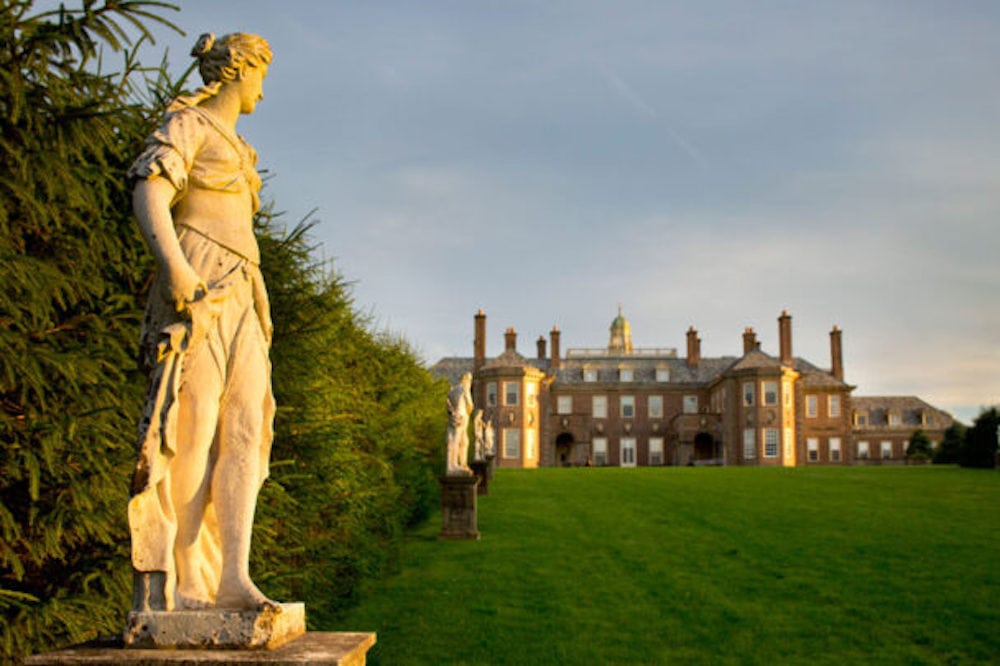 About a 30-minute detour from the interstate, the Crane Estate is a great side trip for hiking fans, history buffs, or those fascinated with architecture. The estate began its life as a humble farm in the late 1900s; however, through the preservation efforts of The Trustees, the property was developed into an expansive historic site now open to the public.
The estate has several zones: Castle Hill, Crane Beach, and the Crane Wildlife Refuge. There are historic houses, collections, beaches and trails to explore, and sometimes special events on the weekends. Be sure to pick up a map when you enter.
Segment 1: Where to Stay
You'll find no shortage of charming B&Bs in either of these towns. At the Crane Estate, you can stay at Lodging the Inn at Castle Hill, a beautiful estate turned inn is rich with history. In Portland, you can check out some of these cute airbnbs or try the beautiful (and pet-friendly)  Inn by the Sea.
If you can't pull yourself away from Portsmouth, try the downtown Ale House Inn or glam Wentworth by the Sea. Portland has plenty of camping, too.
Segment 2: Portland to Rockland
Distance: 79 miles
Drive time without stops: 1 hour, 40 mins
The coastal stretch from Portland to Rockland has so much to do that it's impossible to recommend everything. The 79-mile stretch of road (92 if you add Popham Beach) is jam-packed with small towns, beach visits, and lighthouses.
The following are only a few suggestions to get you started, but you could easily spend a week exploring everything this segment has to offer. While this is one of the best days on a Boston-to-Bar-Harbor road trip, it also works well as its own separate trip for a few days if you want to see everything in more detail.
Segment 2 Highlight: Freeport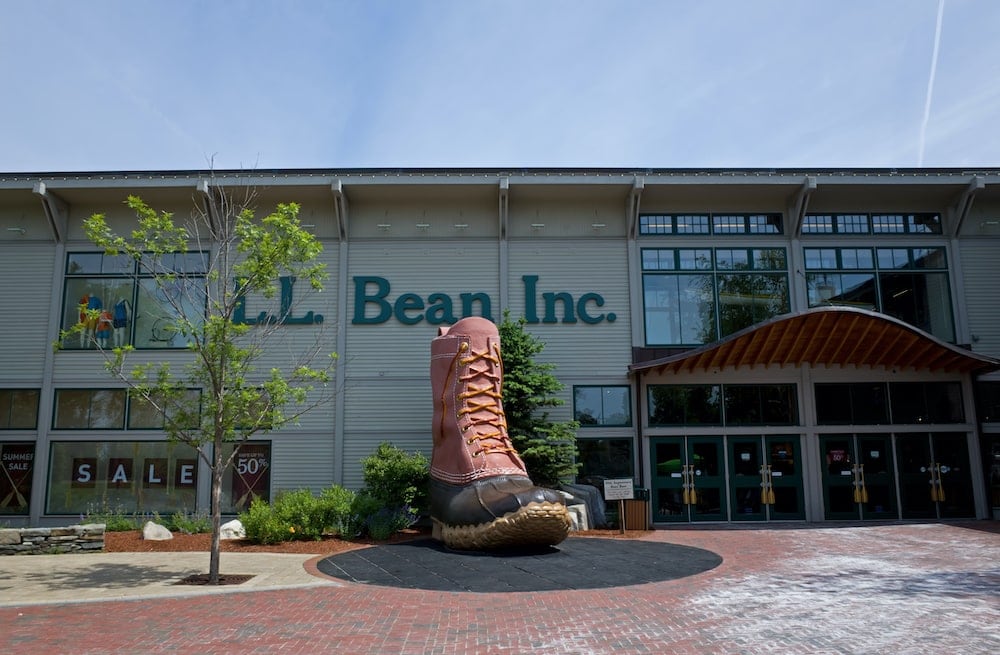 Freeport is undoubtedly a tourist town and is probably best known by out-of-towners for the legendary Flagship L.L. Bean outlet stores. But Freeport has more to offer than just shopping.
You can lace up your boots and explore any of the numerous nearby parks and preserves that offer up great hiking, or grab your binoculars and visit the Mast Landing Audubon Sanctuary, a birding hotspot just a mile from downtown. History buffs in your crew may want to check out the Freeport Historical Society.
Segment 2 Highlight: Rockland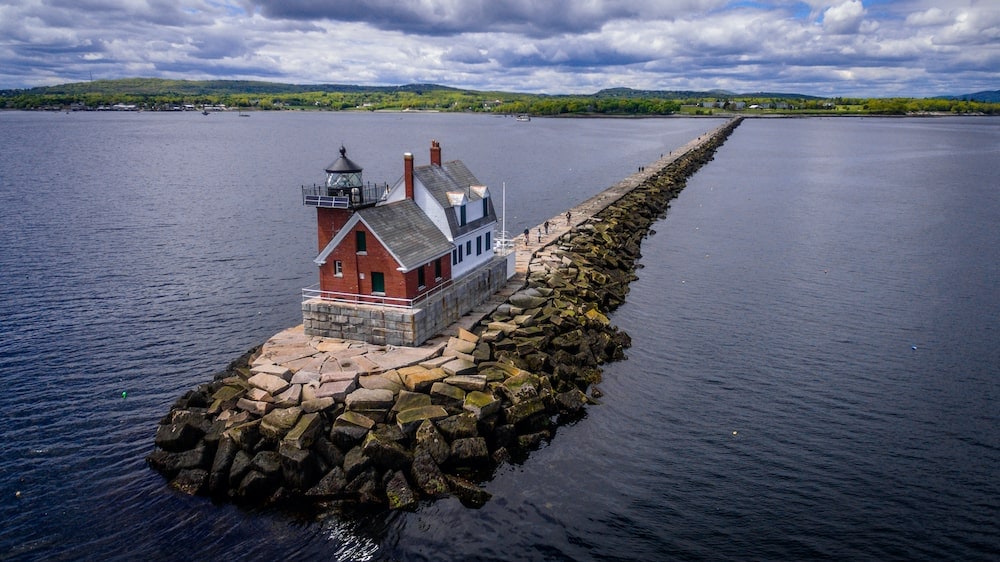 Rockland is directly on the Boston to Bar Harbor main route and is a beautiful stop. There are a couple of lighthouses in the harbor worth visiting. Start at Owls Head Light, located in Owls Head State Park, dating to 1852. It's a pleasant spot to spend an afternoon picnicking and exploring. On your way from Owls Head to the second lighthouse, stop by the Maine Lighthouse Museum to learn about maritime history and the lifesaving evolution of lighthouses along the coast.
The second lighthouse to check out is the Rockland Breakwater Lighthouse. Placed at the end of the breakwater to guide ships into the harbor, visitors can walk the entire length of the breakwater. Wear comfortable shoes, though, as the lighthouse is almost a mile out to sea.
Segment 2 Side Trip: Popham Beach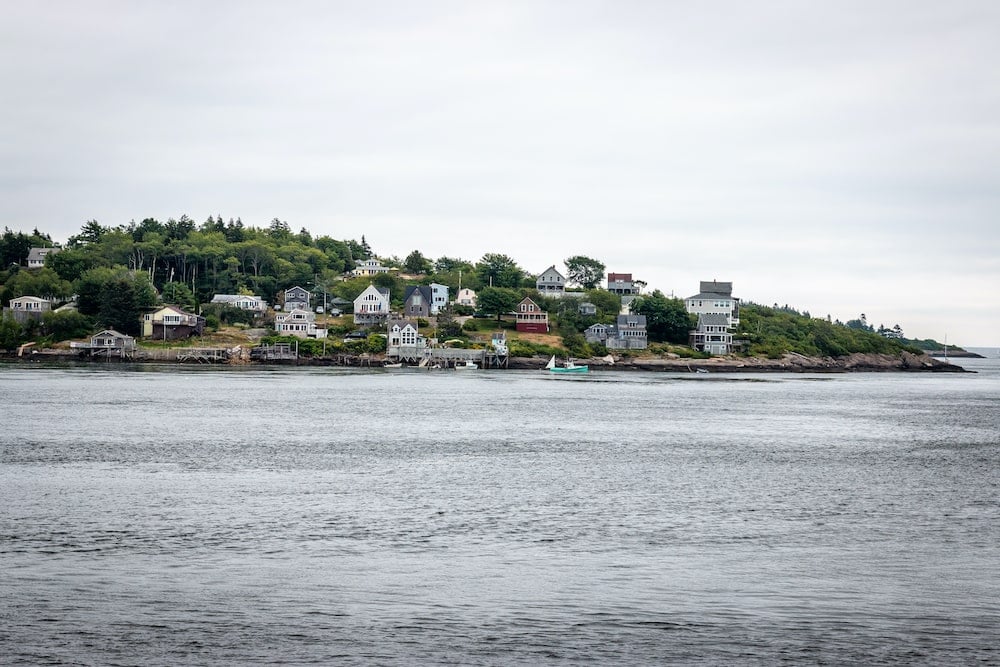 Only a 25-minute detour from the coastal route, Popham Beach State Park is a must-visit stop on the Boston to Bar Harbor road trip year-round. The ocean views are stunning, and the beach is amazing to explore; sand dollars and shells are common if you keep your eyes peeled.
If the tide is low, you can walk out to the largest of the Fox Islands, but beware of the changing tides. You don't want to be stuck out away from the shore when the tide comes in and covers the path back to the coast.
Segment 2: Where to Stay
Along this segment, there are a plethora of campgrounds, especially around Freeport.
In Rockland, you can choose between a short-term rental, hotel, or even splurge on a bed and breakfast, such as the LimeRock Inn. Maine Forest Yurts is a fun choice, too.
Segment 3: Rockland to Bar Harbor
Distance: 85 miles
Drive time without stops: 2 hours
At last, you're almost there! Much like the segment before, this stretch has plenty of quaint New England coastal towns to visit along the 85-mile stretch of road. Camden and Belfast are both great towns to explore. However, as you move north of Belfast, the route becomes a bit more remote and scenic.
There are still places to visit, but it's as if the road knows that you don't want any distractions on the way to your destination: Bar Harbor.
Segment 3 Highlight: Acadia National Park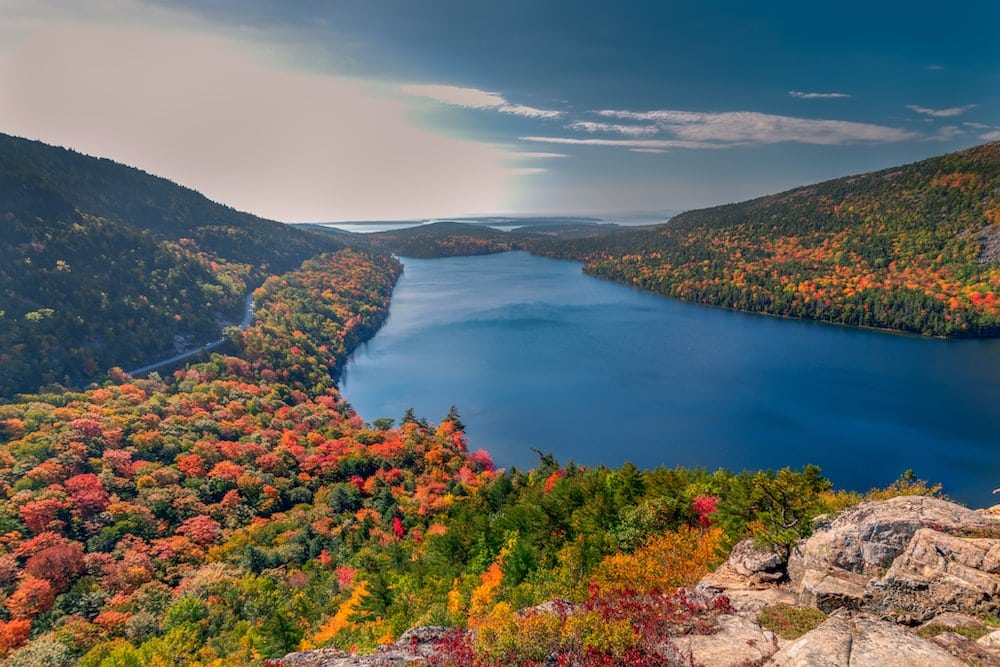 Hardly a contest, the main attraction near Bar Harbor is Acadia National Park. From bathing on Sand Beach to hiking Cadillac Mountain to biking the extensive carriage trails network, Acadia itself is deserving of a weeklong trip.
Be sure to explore all of the best hikes in the park and hit up all the highlights along the Park Loop Road.
Related Read: 8 Spectacular Glamping Spots Near Acadia National Park, Maine
Segment 3 Highlight: Bar Harbor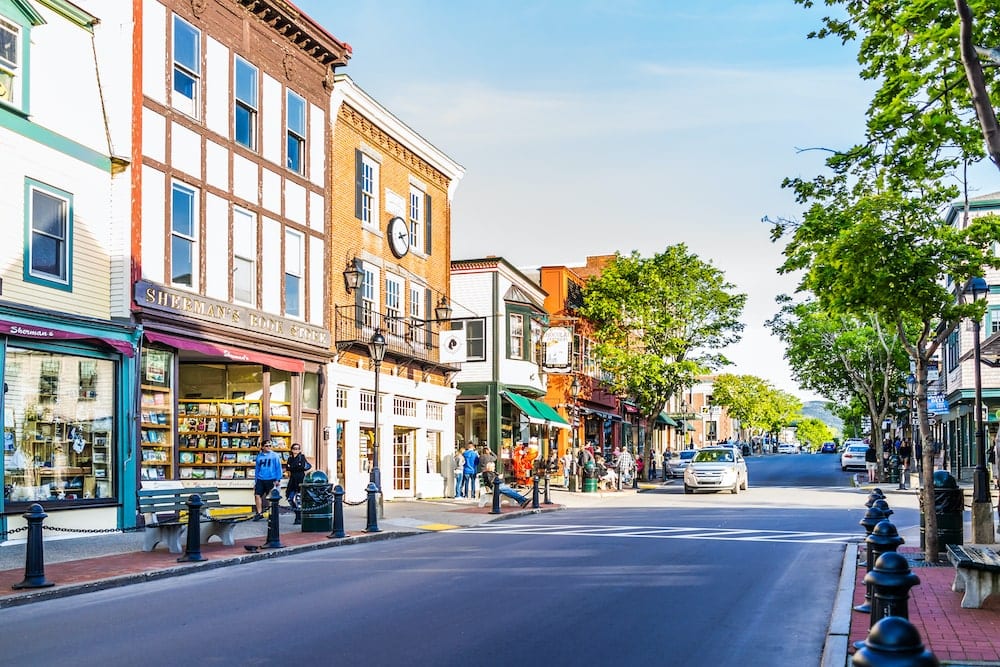 Naturally, if you made it all the way here, you must take a bit of time to explore the hospitable town of Bar Harbor. Tuck into one of the small shops to find your souvenirs or head out to one of the many delicious restaurants — the Thirsty Whale has a great menu packed full of coastal favorites.
After some food, head out for a stroll along the Shore Path to take in sites of the harbor or out to Bar Beach. There's also a trail (accessible only during low tide) that heads to the top of Bar Island.
Related read: Top 10 Campgrounds to Book for Your Visit to Acadia National Park
Segment 3 Highlight: Wildlife Cruises
The Bar Harbor Whale Watching Company offers all manner of on-the-water activities, from whale watching tours to a puffin and lighthouse cruise. Whale watching trips are between three and five hours, and after 30 years, the company has a good sense of where the whales will be, offering you the best opportunity to see the whales up close.
If you're looking for a slightly shorter trip, the puffin and lighthouse cruises are an excellent opportunity to see all kinds of wildlife while touring the lighthouses. Make sure to bring your binoculars to see the wildlife in their full glory.
Segment 3 Highlight: Schooner Sail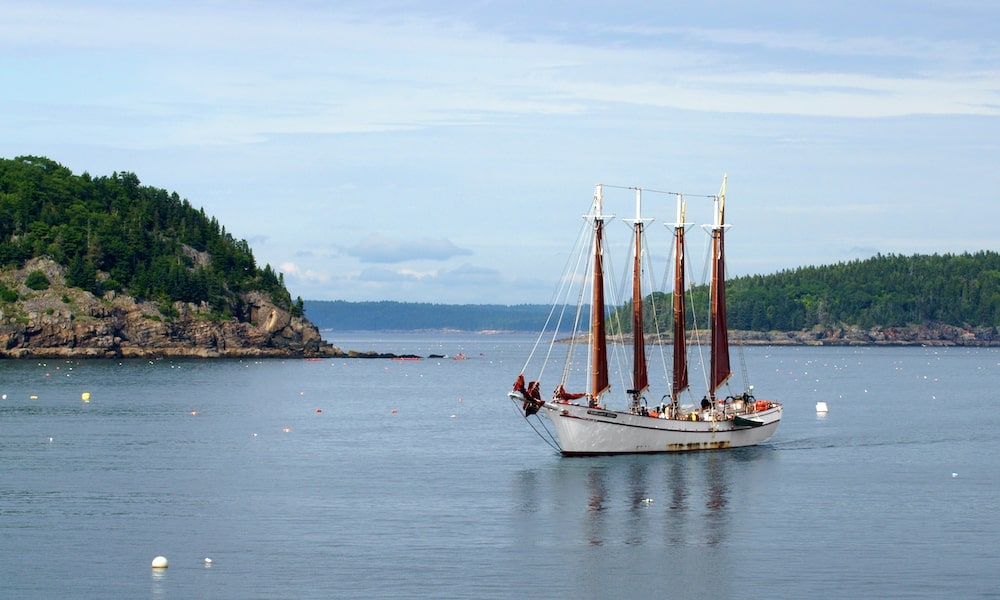 If you're into boating, set aside some time in Maine to sail on a schooner. The Downeast Windjammer Cruise Lines offers an assortment of opportunities, from morning sails to sunset cruises.
The evening sails can be romantic and fun as they serve wine and beer on board and often have live folk music on board for entertainment. The afternoon sail is a great option as it comes with a narration on local history and wildlife. The trips aren't too much of a detour from Bar Harbor – the pier is about 15 minutes north of town.
Segment 3 Where to Stay
Bar Harbor is home to one of the country's most popular national parks and you'll have a huge assortment of lodging options.
Check out the beautiful airbnbs nearby, stay at a yurt and wellness center or spring for the downright stunning Terramor Outdoor Resort. If you want to stay in Acadia National Park, though, you should make sure to book well in advance.
Explore More in New England
Sign up for Weekend Wanderer to join thousands of readers getting epic travel and gear ideas every week.
---