Fuel your wanderlust with a trip along Vermont's most scenic drives that pass charming New England towns and jaw-dropping mountain and forest views.
With routes that cross every corner of the state, opting to take a road trip down some of Vermont's most scenic byways is one of the best ways to experience all this little state has to offer. Like Vermont's rolling Green Mountains, a 250-mile long mountain range brimming with outdoor activities like hiking, skiing, and mountain biking. And as one of the U.S.'s oldest states, history buffs can plan their Vermont road trip around exploring the state's old covered bridges, quaint small towns, and historic battle sites dating back to the Revolutionary War.
As if that's not enough, Vermont is also home to the Ben & Jerry's Factory Tour, a tasty pit stop where you can stretch your legs and see how their famous ice cream gets made. While these scenic drives are incredible to visit any time of year, nothing beats cruising Vermont's roadways once the leaves change color in the autumn.
So if you're daydreaming of seeing the best of the Green Mountain State via road trip, check out these incredible scenic drives in Vermont.
1. Scenic Route 100 Byway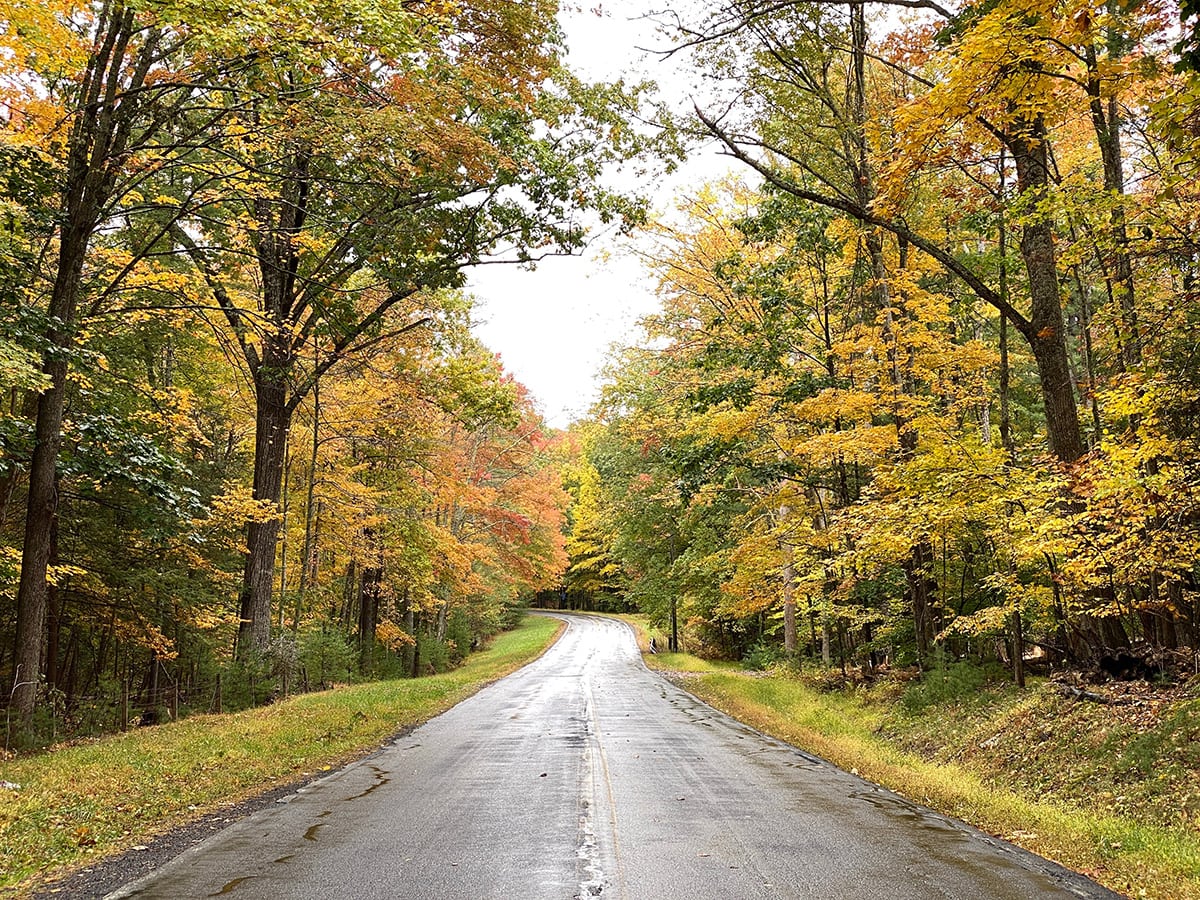 Why you should go: A famous road trip along the Green Mountains nicknamed "Vermont's Main Street."
Distance: 216 miles
Drive time without stops: 5 hours
The Scenic Route 100 Byway is a classic road trip in Vermont and the longest single highway in the state. From the southern border in Stamford, Route 100 travels as far north as Newport through the center of the state. This highway follows the eastern edge of the Green Mountains and passes popular destinations like Moss Glen Falls and the Mount Snow gondola.
In the south, the byway passes Jamaica State Park, public lands with forested hiking trails and Vermont's tallest waterfall. Further north, is the beloved Ben & Jerry's ice cream factory. Other lovely scenic Vermont drives like the Mad River Byway and Green Mountain Byway intersect with Route 100 and offer even more possibilities for your itinerary.
Related Read: Top 10 Romantic Getaways in Vermont to Keep the Romance Fiery
2. Green Mountain Byway
Why you should go: A scenic loop that offers a short and easy trip through some of Vermont's most beautiful places.
Distance: 71 miles
Drive time without stops: 2 hours
The Green Mountain Byway is a short loop in northern Vermont that drives through classic New England small towns, rolling farmland, and a portion of the Green Mountains. Beginning in Waterbury just off Route 100, this byway travels north through Stowe, onward to North Hyde Park and Jefferson, before looping back down to your starting point in Waterbury Village.
On your drive, stopping in Stowe is a must, a town famous for its picturesque covered bridge and white spire church that pops when the surrounding forest changes colors in the fall. Another notable point is Mount Mansfield, Vermont's tallest mountain, where you can hike in the summer and ski in the winter. This loop also passes incredible places like Smuggler's Notch State Park and the scenic three-mile Smuggler's Pass Notch Road that's closed in winter. When hunger strikes, the Cold Hollow Cider Mill is a charming place to grab an old-fashioned donut and a hard cider.
Related Read: The 6 Best Scenic Byways to Fully Experience Massachusetts
3. Connecticut River National Byway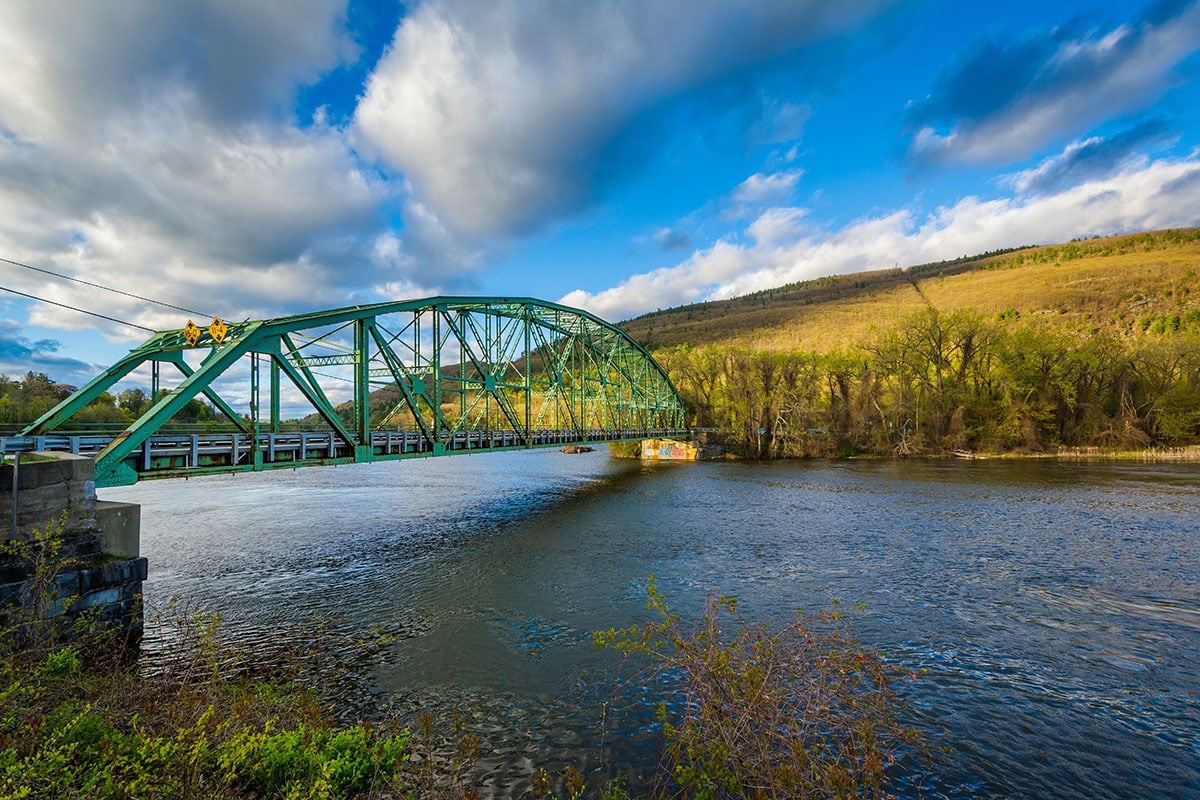 Why you should go: A 400-mile long byway through three states that follows the mighty Connecticut River along Vermont's eastern border.
Distance: 210 miles
Drive time without stops: 4 hours 12 minutes
Following the Connecticut River is the idyllic Route 91, better known as the Connecticut River National Byway. The Vermont segment of this national byway is about 200 miles long and is beautifully framed by the Green Mountains on one side and the White Mountains on the other. Route 91 passes through the Connecticut River Valley and is a peaceful drive marked by its serene farmland and rural small towns. One of which is Brattleboro, an artsy little getaway where local art galleries, eateries, and bed and breakfasts charm in southern Vermont.
As you make your way north on Route 91, you'll pass Westminster, Vermont's oldest town, established in 1725, before reaching Windsor, where the state's constitution was officially adopted. While in Windsor, make time for Mount Ascutney State Park and the Cornish-Windsor Covered Bridge that dates back to 1866.
Related Read: 9 Romantic Getaways in Connecticut to Turn up the Heat
4. Lake Champlain Byway
Why you should go: A route that encircles Vermont's largest lake, where islands and countless parks offer plenty to see and do.
Distance: 184 miles
Drive time without stops: 3 hours 30 minutes
Nicknamed Vermont's West Coast, Lake Champlain Byway is a designated route that measures 184 miles and branches out to numerous rural communities. The drive goes between Alburgh and West Addison and stretches onward to Middlebury. Throughout your journey, you'll be wowed with picturesque views of the Adirondack Mountains and islands that dot Lake Champlain.
Along the way, Alburg Dunes and Sand Bar State Park make for a perfect day at the beach in the north. As you head south through Grand Isle, stop at the Colchester Causeway, a narrow trail in the middle of the lake between the island and mainland. The Middlebury Tasting Trail can be found on the southern portion of this scenic drive, where local cideries and breweries wet your whistle while giving you a taste of local Vermont flavor.
5. Northeast Kingdom Byway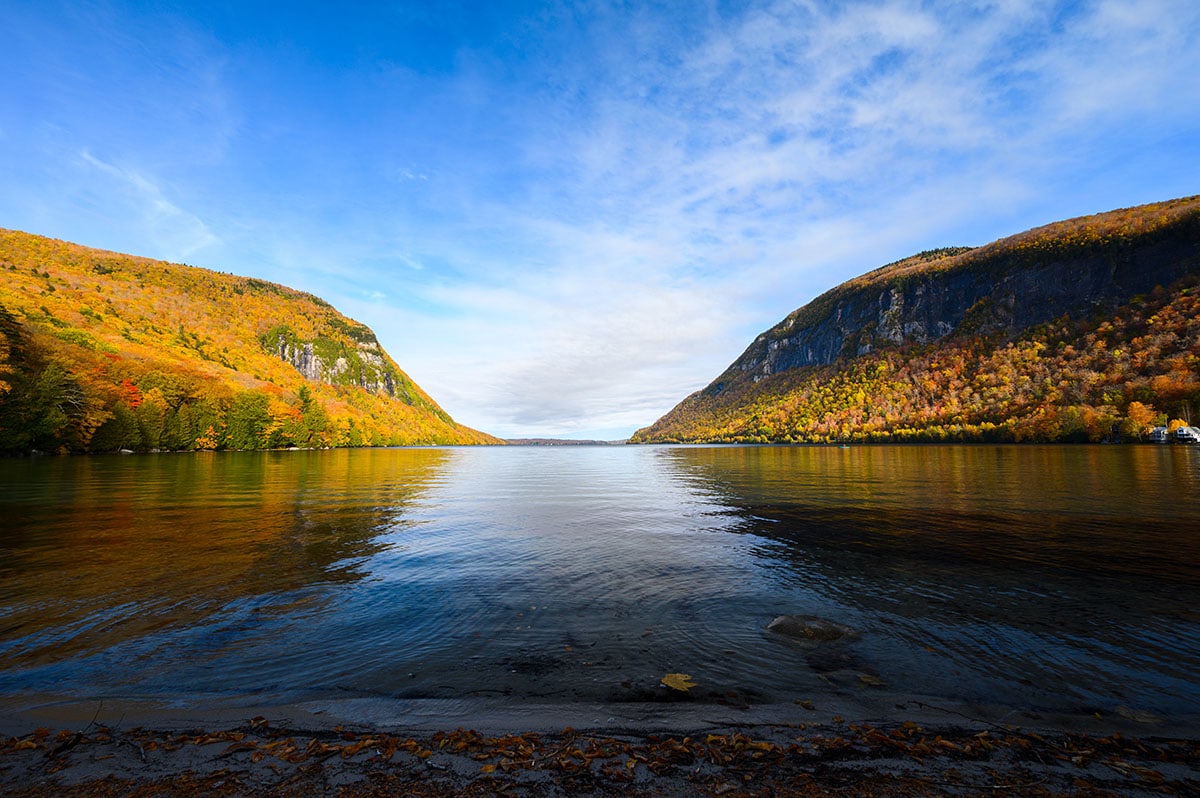 Why you should go: A picturesque journey through northeastern Vermont, where Lake Willoughby and dense forests are a sight to see.
Distance: 51 miles
Drive time without stops: 1 hour
The Northeast Kingdom Byway travels north to south on Route 5A between St. Johnsbury to Newport. It's best defined by the natural beauty of the lakes and dense forest it passes. In fact, one of the best things to do on this road trip is to stop and hike to the top of Mount Pisgah, where you can take in unobstructed views of Lake Willoughby.
Here you can see how the lush forest and rolling mountains perfectly frame the glassy waters, an exhilarating hike in the fall. Those interested in seeing covered bridges should make a pit stop in Lyndonville, where the Chamberlin Mill and Schoolhouse Covered Bridges transport you back to the late 19th century.
Related Read: 10 Best Swimming Holes in Vermont to Cool Off
6. Lincoln Gap Road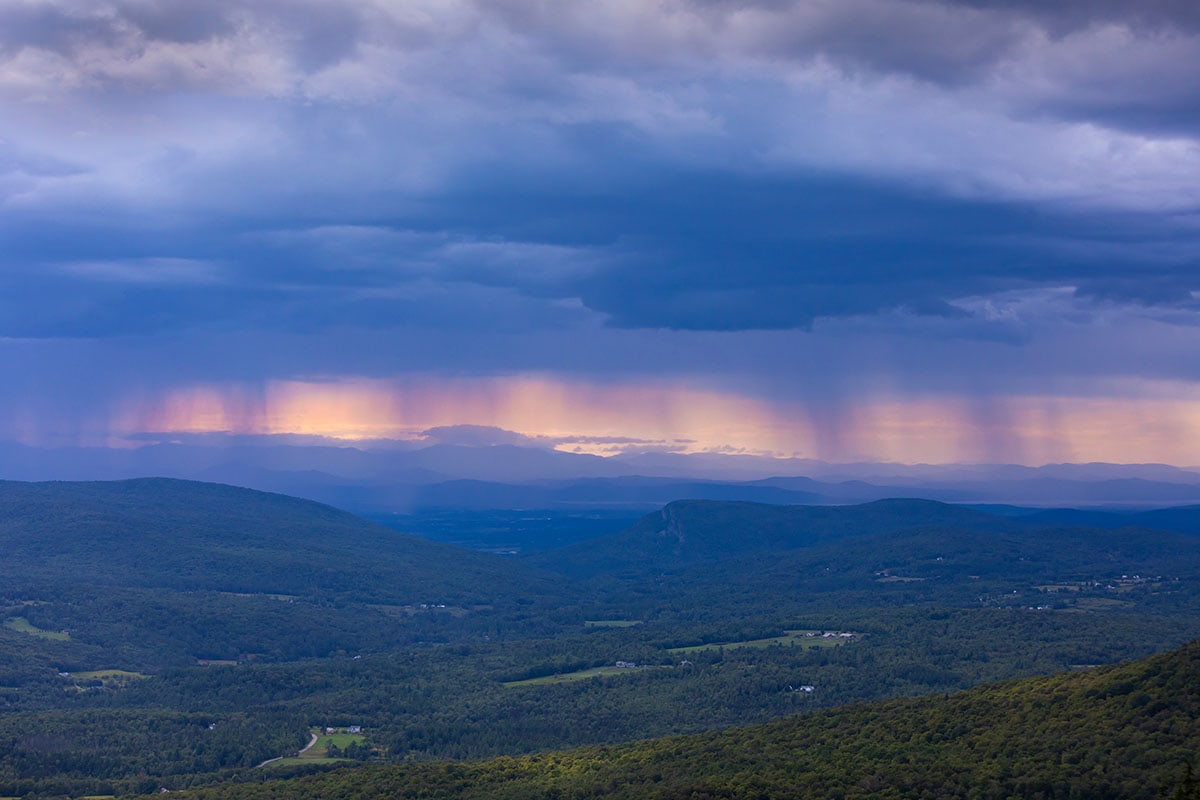 Why you should go: A seasonal mountain pass with steep curves and a short stretch of gravel road that reaches an elevation of 2,500 feet.
Distance: 8 miles
Drive time without stops: 20 minutes
Lincoln Gap Road is a beautiful Vermont drive that's short but sweet. Winding up the mountainside, this route travels between Warren and Lincoln through the Chaplain and Mad River Valleys. It's often considered one of Vermont's most beautiful drives, but its rural locale means it's usually free of crowds, even during peak fall foliage season.
In Lincoln, hikers can travel a portion of Vermont's Long Trail, the oldest long-distance route in the country, or the Sunset Ledge Trail, a short but steep climb with a fantastic mountain overlook. After your hike, refuel at the famous Warren Store, an old-fashioned shop with a bakery, deli, and quirky fares. If visiting in the summertime, you can cliff dive and relish the clear waters of nearby Warren Falls, a beloved Vermont swimming hole. This scenic route also intersects with the Mad River Byway, another popular designated Vermont byway.
Related Read: 10 Best Hikes in Stowe, Vermont to Experience Outstanding Views
7. The Shires of Vermont Byway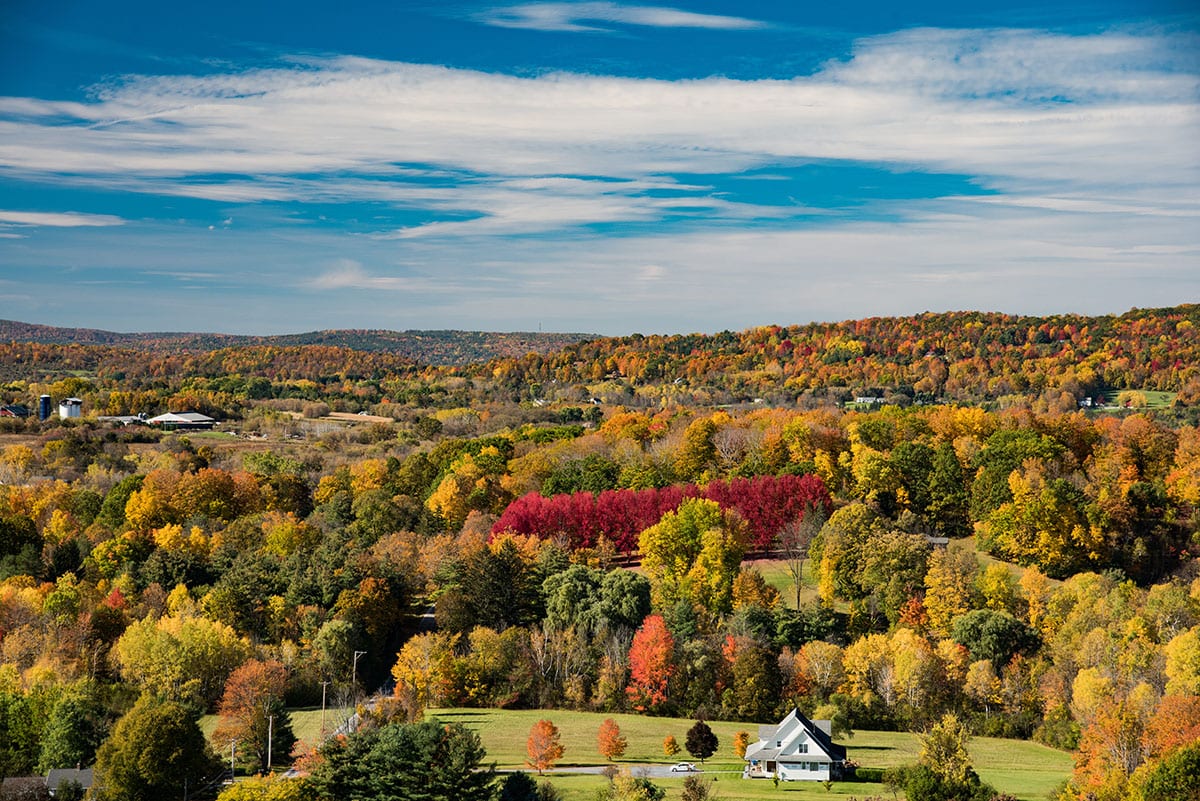 Why you should go: A drive that meanders through mountain valleys and provides exceptional leaf-peeping opportunities in the fall.
Distance: 25 miles
Drive time without stops: 33 minutes
Nestled in southwestern Vermont, The Shires of Vermont Byway shows off the stunning Taconic and Green Mountains. It's best for those interested in hiking, admiring the leaves, and soaking up the quaint charm of small towns. This byway follows Route 7 and 7A between Bennington and Manchester.
In Bennington, visitors can experience Revolutionary War sites like the Bennington Battle Monument, dedicated to those who fought in the historic Battle of Bennington against the British in 1777. On the other end of the byway lies Manchester, a little city with a vibrant downtown area not far from the Skyline Auto Toll Road. This private road is another incredibly scenic drive that takes you to the top of Mount Equinox for a fee, the tallest peak of the Taconic Mountains.
8. Stone Valley Scenic Byway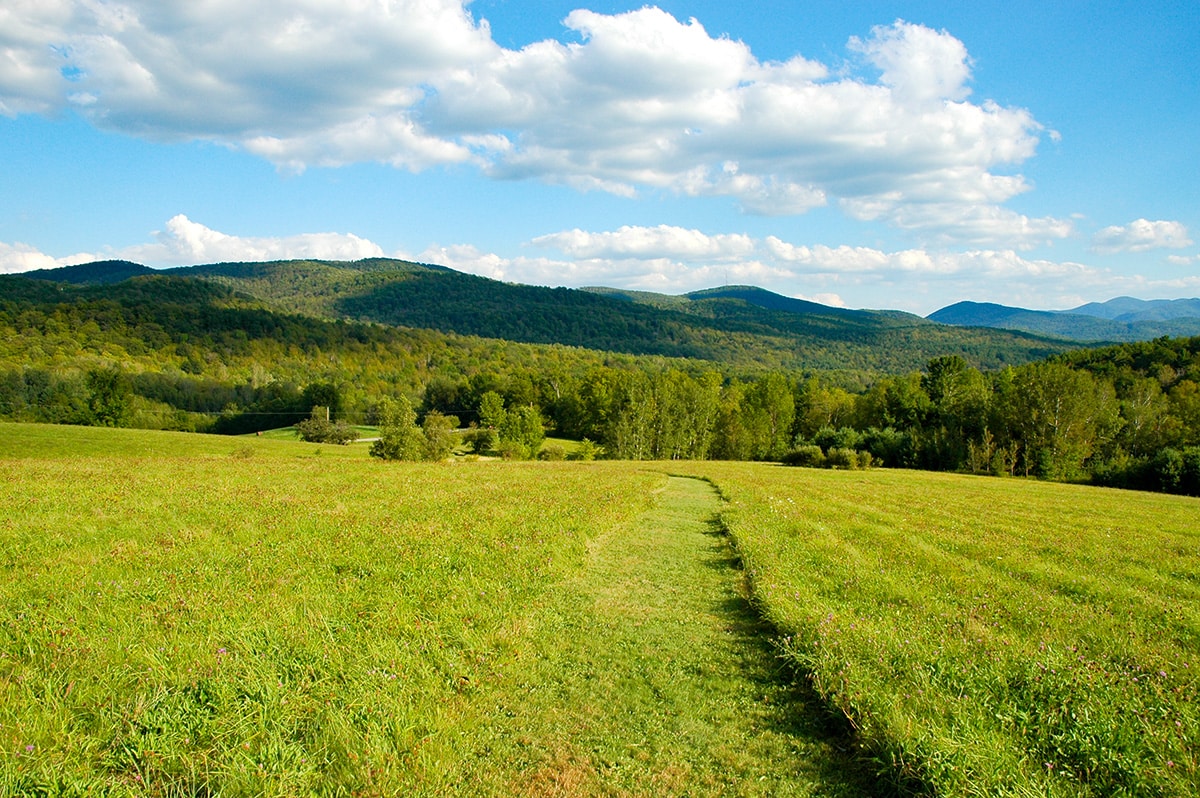 Why you should go: A charming one-day road trip that passes storybook views that include farmlands, lakes, and quarries.
Distance: 30 miles
Drive time without stops: 45 minutes
Vermont's Stone Valley Scenic Byway traverses a portion of Route 30 between Hubbardton and Manchester. Named after the area's famous quarries, many come to Stone Valley for outdoor activities like hiking, picnicking, and water fun on Lake Saint Catherine. On this route, you'll also find the Dorset Marble Quarry turned swimming hole that's an incredible 60 feet deep.
If water sports aren't for you, Gilbert's Lookout Hike is conveniently along this scenic drive, where hikers are rewarded with sweeping mountain views at the top. Those interested in learning more about the Revolutionary War will be pleased to find the Hubbardton Battlefield State Historic Park, a battle site turned museum.
Where to Go Next in New England
Get epic travel ideas delivered to your inbox with Weekend Wanderer, our newsletter inspiring thousands of readers every week.
---