We research, evaluate and select travel destinations based on a number of factors, including our writers' experience, user reviews and more. We may earn a commission when you book or purchase through our links. See our editorial policy to learn more.
Was this article helpful?
---
Despite being home to the country's most-visited national park, Tennessee offers hundreds of hills and valleys to help you find space to yourself on your next vacation.
From the Appalachians to the Mississippi River, millions of travelers explore Tennessee each year for some of the best outdoor adventure in the southeastern U.S. And though well-known trails may crowd and popular scenic routes in Great Smoky Mountains National Park might come to a standstill, it's more than possible to find a remote cabin rental for quiet solace between adventures. You can even find Tennessee cabin rentals that are a short drive from the park but don't have a neighbor in sight.
Here's a look at 10 of the best secluded Tennessee cabins, from budget-friendly vacation rentals to designer cabins with panoramic mountain views.
Related Read: 13 Relaxing Cabins in Tennessee with Hot Tubs
1. Private Log Cabin
Why it made the list: The best private cabin for big families.
Nearest town: Franklin
Sleeps: 16
Minimum stay: 3 nights
Rates from: $426/night
After his success back in the 1970s, country singer Ed Bruce (Mammas, Don't Let Your Babies Grow Up to Be Cowboys) bought a piece of quiet, secluded land about 30 miles southwest of Nashville as a retreat from the Music City. Today, that same 18-acre plot of land is the home of this designer cabin.
It's an ideal family getaway, with five bedrooms and extra living spaces like a game room and home theater. Light wood interiors and long hours of sunlight make the living room feel extra spacious, and its modern furniture is a welcome contrast to some of the older, outdated cabins you might find in the area.
The outdoor space is just as accommodating: a massive deck holds a pool, a hot tub, and seating to take in sunrises and sunsets. And when "secluded" applies to parents wanting some quiet time to themselves, just send the kids to play in the mini-log cabin out back.
Check Availability
Related Read: The 12 Best Spots to See Tennessee's Fall Foliage
2. Crimson Crest Cabin
Why it made the list: It's the best cozy option for a couple's getaway.
Nearest town: Wears Valley
Sleeps: 4
Minimum stay: 3 nights
Rates from: $197/night
There's not a bad view in the house at Crimson Crest, from the hot tub and rocking chairs on the deck to the fire pit surrounded by towering trees. From this hilltop cabin, you'll get wide views of Wears Valley to the south and the Great Smoky Mountains just beyond.
Inside, the views continue from a small but efficiently planned living room and kitchen. There's one bedroom and an upstairs loft with a pool table – just enough space to lounge around when you need a break from view-gazing (or want to challenge your significant other to see who's best at billiards.)
Check Availability
Related Read: 8 Impressive Glamping Spots Near Nashville, Tennessee
3. Private Hilltop Retreat
Why it made the list: A beautiful interior with 360-degree mountain views.
Nearest town: Wears Valley
Sleeps: 6
Minimum stay: 3 nights
Rates from: $325/night
There are cabins, and then there are "oh my gosh, we have our own rooftop observation deck"-types of cabins. This modern home on 36 acres falls squarely in the latter camp, and even before reaching the deck, you'll be wowed by the amazing views of the area through floor-to-ceiling windows in every direction.
According to host Emma, this home is on top of the highest hillside in the area outside the park, and the vistas seem to back her claim. You'll catch stunning views of the rolling Smokies in the distance from nearly everywhere in home, whether you're snuggled up next to the custom fireplace, in the hot tub, or chilling on the small window nook. It's one of the most luxurious (and unique) Tennessee cabin rentals near the national park.
Check Availability
Related Read: 9 Unique Places to Stay in Gatlinburg, Tennessee
4. River Cabin on 2 Acres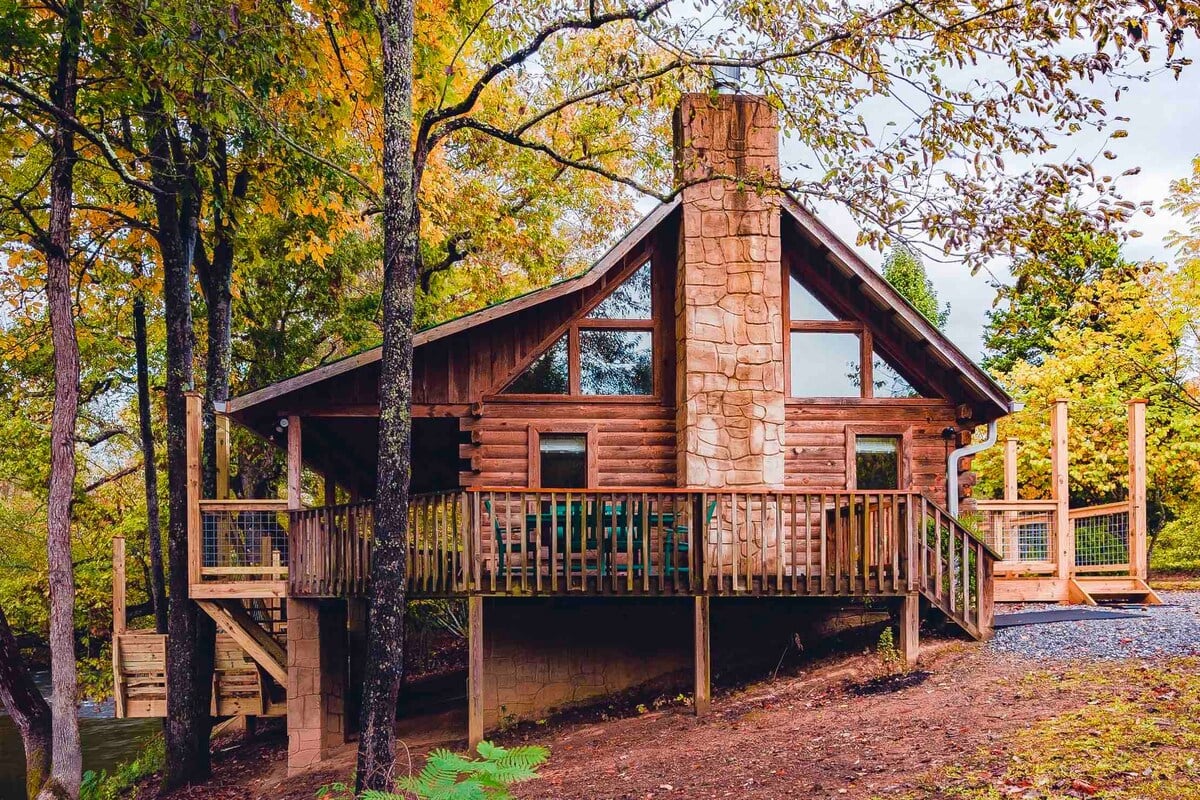 Why it made the list: The best Tennessee cabin rental on the water.
Nearest town: Pittman Center
Sleeps: 5
Minimum stay: 4 nights
Rates from: $342/night
River Rest Cabin's prime location on the Little Pigeon River makes it both private (even though it's part of a 50-acre farm) and near the area's best outdoorsy draws. In fact, as Airbnb host Caroline points out, it's near a town known as a "local secret" for avoiding the heavier trafficked byways between Pigeon Forge, Gatlinburg, and the Smokies.
The cabin's recent renovations make it easy to take advantage of its location on the water. It has a river deck extending from the home's original deck, creating a platform for relaxing next to the stream. Or if that's not close enough, there are steps to take you all the way down to the river, which runs crystal clear in the spring.
Beautiful farmland surrounds the cabin, with grassy areas to roam, cattle in the distance, a fire pit, and picnic-table seating outdoors. It feels like a luxury southern bayou home, so it's a little surprising that Great Smoky Mountains National Park is only 20 minutes away.
Check Availability
Related Read: 10 Can't-Miss Glamping Sites Near Great Smoky Mountains National Park
5. Secluded Designer Cabin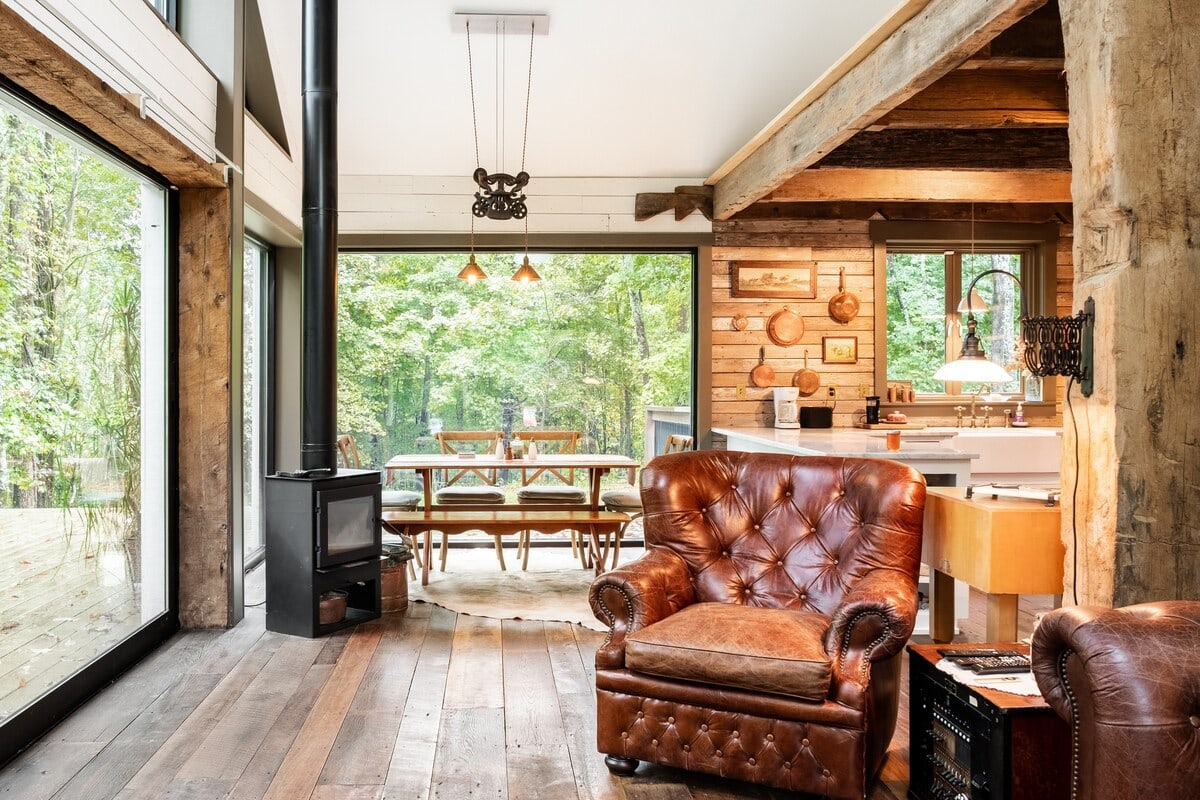 Why it made the list: The best affordable option near Nashville.
Nearest town: Goodlettsville
Sleeps: 4
Minimum stay: 1 night
Rates from: $150/night
As the only Airbnb Plus cabin in the Nashville area, this home on 42 acres books up quickly. Its recycled materials make for an aged vintage look, but burlap accent walls, sleek decor, and a bright kitchen bring the contemporary cabin vibes.
Floor-to-ceiling windows in the dining room and living room offer a constant reminder of your seclusion and views of the surrounding forest greenery pour in from every angle. And when you're ready to leave your magical spot in the woods, Nashville's less than 30 minutes away.
Check Availability
Related Read: 8 Best Resorts in Tennessee for Every Traveler
6. How Sweet the Sound Treehouse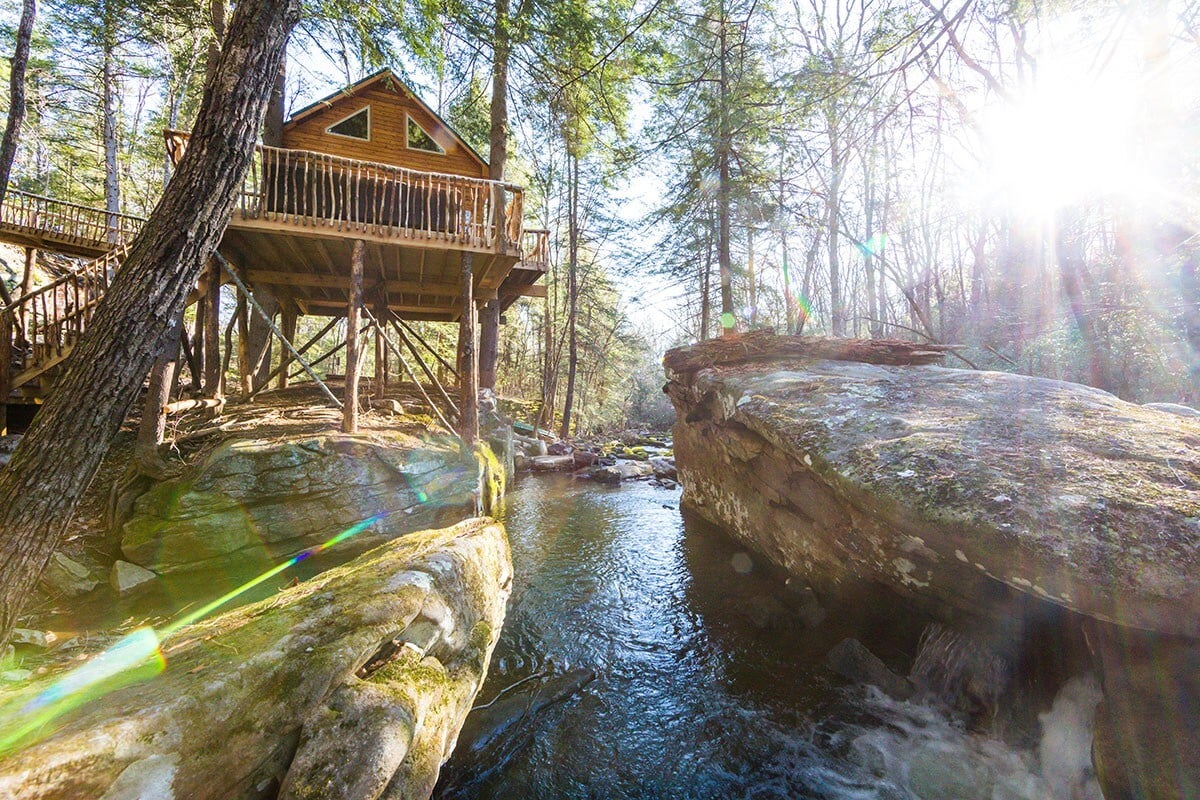 Why it made the list: A secluded treehouse perched above a beautiful creek.
Nearest town: Pikeville
Sleeps: 6
Minimum stay: 2 nights
Rates from: $200/night
If your idea of seclusion is getting away from the Pigeon Forge area, consider this treehouse built among the creekside hemlocks north of Chattanooga. The creek and its small waterfalls roll slowly below, and both banks offer plenty of land to explore. The insider of the cabin is small but makes great use of space and includes fairly high-end fixtures, including a full kitchen.
As if the treehouse wasn't cool enough, there's a second connected deck with outdoor seating and a fire pit directly above the water. There's no shortage of outdoor adventures in the area, from scenic hiking near Dayton and whitewater rafting on the Ocoee River to nearby Fall Creek Falls State Park. This Tennessee treehouse can technically sleep six, but there's an extra free for every person past the first two.
Check Availability
Related Read: 8 Dreamlike Treehouses in Tennessee
7. Smokies Haven
Why it made the list: The best jacuzzi tub in Tennessee.
Nearest town: Sevierville
Sleeps: 6
Minimum stay: 2 nights
Rates from: $185/night
Where most cabins' lofts make for a game room or spare bedroom, the stairs in Smokies Haven leads directly to the master bedroom, where stunning views of Wears Valley await from the jacuzzi bathtub. You can find equally impressive views from the back decks, hot tub, and screened porch, but the jacuzzi tub is perfectly framed in front of an epic green mountainscape. There's no excuse for not enjoying the landscape when you stay here.
Inside, you'll find traditional cabin aesthetics, from wood-beam ceilings and a stone fireplace to the handmade wood furniture. Exploring nearby Wears Valley is easy, and you're only five miles from a park entrance when it's time to hit Great Smoky Mountains NP.
Check Availability
Related Read: 11 Peaceful Cabins with Hot Tubs in Gatlinburg, Tennessee
8. Modern Grace Cabin
Why it made the list: The best modern cabin rental in Tennessee
Nearest town: Sevierville
Sleeps: 6
Minimum stay: 5 nights
Rates from: $299/night
Modern Grace Cabin clings to a hillside just east of Sevierville, where spectacular views flood in through the massive wall of windows in the home's main living space and bedrooms.
The cabin's modern silhouette and tasteful Scandinavian decor are a welcome alternative to traditional log cabins, and families will find plenty of space to relax indoors and out after a day spent hiking.
If you need a step in the right direction, try picking up a local beer from Gatlinburg Brewing Company, settling into a hanging chair on the deck, and enjoying the warm breeze over the mountains. Of course, unwinding in the hot tub overlooking the valley below is an equally great choice.
Check Availability
Related Read: 11 Exciting & Unique Places to Stay in Tennessee
9. Flying Horse View Cabin
Why it made the list: The best views for a small budget.
Nearest town: Wears Valley
Sleeps: 4
Minimum stay: 2 nights
Rates from: $149/night
It's not often you can book a secluded cabin with dual wrap-around decks for less than $200 per night, but the Flying Horse View Cabin offers that and more. The family-friendly vibe here includes a waterfall out front, entertainment options throughout the home, and an efficient two-bedroom layout. It's one of the better-priced Tennessee cabin rentals for four, so the killer views on top of that are just a great bonus.
The cabin also comes with complementary access to Honeysuckle Meadows Pool & Deli, a nearby rec area with swimming, catch-and-release fishing, and more.
Check Availability
10. Crate and Cabin
Why it made the list: A charmingly secluded farmhouse-style cabin. 
Nearest town: Monteagle
Sleeps: 12
Minimum stay: 3 nights
Rates from: $174/night
The 2,000-acre community that hosts the Crate and Cabin includes summer camp-style amenities like a pool and private lake. But don't be fooled by the neighborhood – this tree-encircled airbnb on six acres is all about privacy. So unlike a summer camp, you won't hear the neighbors snoring or wake up when the house next door to you slams the door too loudly.
The interior blends modern farmhouse and cabin aesthetics to create a simply stunning atmosphere. It's  reminiscent of an "after" home on HGTV's "Fixer Upper" or an interior design magazine ad. And though its newly built, it's not cold or sterile – thoughtful decor throughout the home adds a welcoming, personal touch.
Check Availability
Explore Tennessee & Beyond
Get epic travel ideas delivered to your inbox with Weekend Wanderer, our newsletter inspiring more than 10,000 readers every week.
Was this article helpful?
---