We research, evaluate and select travel destinations based on a number of factors, including our writers' experience, user reviews and more. We may earn a commission when you book or purchase through our links. See our editorial policy to learn more.
---
Get all the benefits of nature without the bugs or humidity by living the high life in New Hampshire's most regal glamping rentals.
New Hampshire has endless outdoor opportunities including hundreds of trails and over 800 lakes. But that doesn't mean you have to pitch a tent and sleep on the ground to experience any of it. Why not romp around the mountains during the day but then fall into a bed fit for royalty at night? Just because you have a sufferfest when the sun is up, doesn't mean you have to go through that at night!
You'll want the luxurious retreats anyway when weather undoubtedly turns sour although there's no wrong season to visit New Hampshire. Whether you're looking for a dreamy treehouse, a cozy yurt, or a canvas tent, you'll find the perfect glamping spot for your next visit to the Granite State.
Related Read: 8 Spectacular Glamping Spots Near Acadia National Park, Maine
1. A Fairytale Treehouse
Why you should stay: likely the only place where you can find a clawfoot tub in a treehouse.
Nearest town: Sanbornton
Sleeps: 4 guests
Minimum Stay: 2 nights
Rates from: $285/night
Walking into this dreamy treehouse will make you think twice about how rough Peter Pan and the Lost Boys really had it. The home is a far cry from Peter Pan's Hangman's Tree home with farmhouse feels and exquisite décor. Captain Hook or Tick-Tock the Croc won't come anywhere near this house. The same can't be said for the usual White Mountain residents of deer, moose, and bear though.
If you're getting sick of your personal Lost Boys crew, you can always lounge underneath the treehouse while watching a game on the outdoor television. Or you can walk down to the community beach to have a little time away from the family. Just make sure to tell Tinkerbell where you're going.
Check Availability
Related Read: The 11 Best Cabin Rentals in New Hampshire
2. Cabins at Ogontz Resort
Why you should stay: all the resort amenities are included in the low price.
Nearest town: Lyman
Sleeps: 4 guests
Minimum Stay: 2 nights
Rates from: $75/night
Although it might just be a step above camping on a forest floor, the cabins at Ogontz Resort provide you with everything you truly need. When it comes down to a glamping vacation, you don't need much. You need a comfortable space to rest your head, a place to clean yourself after a long day of adventuring, and some sustenance to fill your bellies and energy levels for your next adventure.
This resort gives you all of that and then some. Included in the price of your stay, you have full access to the canoes, kayaks, and SUPs that you can use on Ogontz Lake. There's also a kids play area and swimming dock/beach. Plus, you also have the option to add on all-inclusive dining so you won't have to worry about a single thing while you stay there.
Check Availability
Related Read: 10 Terrific Tiny House Rentals in Massachusetts
3. Off-Grid Yurt
Why you should stay: there's a waterfall on the property.
Nearest town: Chatham
Sleeps: 6 guests
Minimum Stay: 1 night
Rates from: $95/night
Life is a lot simpler when you stay at this nature-infused yurt at Toad Hill. In this off-grid home, you're greeted to quiet and serenity. It's a fully off-grid home meaning there is no electricity in the yurt. The hosts do provide solar lights but you'll need to bring battery chargers for your phones or any other things you want to ensure doesn't run out of juice.
You can rent this place year-round but beware that the road up to the yurt is only accessible during the spring to fall months. During the winter, you'll need to snowshoe/ski into it — it's only about a mile. Luckily, it does have a wood-burning stove so you'll be nice and toasty on the inside once you arrive.
Check Availability
Related Read: 12 Charming Yurt Rentals in Maine
4. Plein Air
Why you should stay: there are goats on the property!
Nearest town: Plymouth
Sleeps: 2 guests
Minimum Stay: 2 nights
Rates from: $157/night
Don't be turned away when you see that Plein Air is a canvas tent because it's better than a hotel room. Not only do you have extreme seclusion, but you're literally surrounded by nature without a soul around. You'll be able to feel the fresh breeze and smell the morning dew by keeping the canvas wall flaps open (bug mesh is provided for you). When it rains, you'll be able to hear the pitter patter of drops on the tin roof over the covered porch.
In addition to the gifts from nature, you'll also get a plethora of things grown on your host's farm which includes fresh eggs and chamomile tea. You'll even get to use handmade mugs made by the matriarch on the farm. Insider tip: ask your hosts about a yoga package — remember, they have goats on the property!
Check Availability
Related Read: The Top 10 Best Campgrounds in New Hampshire
5. Huttopia White Mountains
Why you should stay: hone your foosball or beach volley skills while also learning what Petanque is.
Nearest town: Albany
Sleeps: 6 guests
Minimum Stay: 1 night
Rates from: $135/night
Whether you're a homebody or someone aching for adventure, Huttopia White Mountains is the place for you! It's got easy access to all the famed hiking trails, or you can simply stay and recreate on Iona Lake from Huttopia's beach. Head on out to the outlets in North Conway and pop into the many restaurants or grab a flatbread pizza from our on-site bistro located in a converted Airstream trailer!
You can take your pick between canvas huts or wooden chalets depending on your comfort level. No matter the place you rest your head, though, you can take full advantage of Huttopia's amenities. These include a heated, saltwater pool, private beach, live music, s'mores making, storytelling, magic shows, and so much more! There won't be a single minute of the day that you'll be bored.
Check Availability
Related Read: 8 Epic Camping Spots in White Mountain National Forest
6. Hub North
Why you should stay: live minimally to get the maximum out of your experience in the White Mountains.
Nearest town: Gorham
Sleeps: 6 guests
Minimum Stay: 1 night
Rates from: $98/night
While there is a lodge on the property, I suggest booking either the yurts or canvas bell tent when you stay at Hub North. Although, you can rent the whole shebang for a mere $75 per person per night if you've got 19 friends that want to come with you.
Use Hub North as the perfect basecamp to your White Mountains adventure no matter what season it is. The best trails for cross-country skiing and snowshoeing are mere steps away. If you're more of a wheeled adventurer, the mountain bike and fat bike trails aren't too far either! It's a choose-your-own adventure sort of stay.
Check Availability
Related Read: The Top 10 Winter Hikes in New Hampshire
7. Tiny Home at Trailside Stays
Why you should stay: small in space, big on everything else.
Nearest town: Dorchester
Sleeps: 4 guests
Minimum Stay: 2 nights
Rates from: $135/night
Immerse yourself in a true nature experience by staying in this charming tiny house at the newly established campsite Trailside Stays. The small space offers all the comforts you'll need but in micro size.
The one thing that isn't tiny is the wall-to-wall window on the far end of the home next to the sleeping area. You'll wake up to the wind whistling through the aspen trees that surround the home and close your eyes to the starry night above. It's the exact definition of nature therapy.
Check Availability
Related Read: 10 of the Best Romantic Getaways in New Hampshire
8. Lil' Red Caboose
Why you should stay: did you not see that it's an actual train car?
Nearest town: Lincoln
Sleeps: 4 guests
Minimum Stay: 1 night
Rates from: $103/night
Be the conductor of your own dreams and stay the night in a real-life caboose! This unique stay is located on one end of the Kancamagus Highway — one of the best scenic drives in the entire state. And there is no shortage of beauty when you stay in northern New Hampshire.
You can take a real train (technically a cog railway) up to the top of New England, aka Mount Washington and check out the sweeping views across the valley. Either way, your caboose rental won't be moving any time soon so you won't miss your train ride to a good night's sleep.
Check Availability
Related Read: 12 Best Hikes in the White Mountains For an Epic Adventure
9. The Adventure Cabin
Why you should stay: sweeping vistas without having to haul a 40-lb backpack up a mountain.
Sleeps: 5
Minimum Stay: 2 nights
Rates from: $112/night
Have you ever wanted to brag to your friends that you went to sleep under the stars and woke up with incredible mountains views? But it turns out you're not super excited to go camping or willing to risk a backache after a night on the ground. Instead, just stay at The Adventure Cabin where you can still brag to your friends but also have a comfy place to rest your head.
Choose from one of two bedrooms that are exquisitely appointed with Scandinavian-inspired décor. The comfy beds could prove to be problematic since you'll never want to get out of them in the morning. But the emerald green cabinets in the kitchen are a great pop of color for those who might have a hard time waking up to make your morning cup of joe. End the evenings either around the fire pit roasting marshmallows or around the wood stove sipping a dram of whiskey.
Check Availability
Related Read: 7 Magical Treehouse Rentals in New Hampshire
10. Luxurious Two-Story Treehouse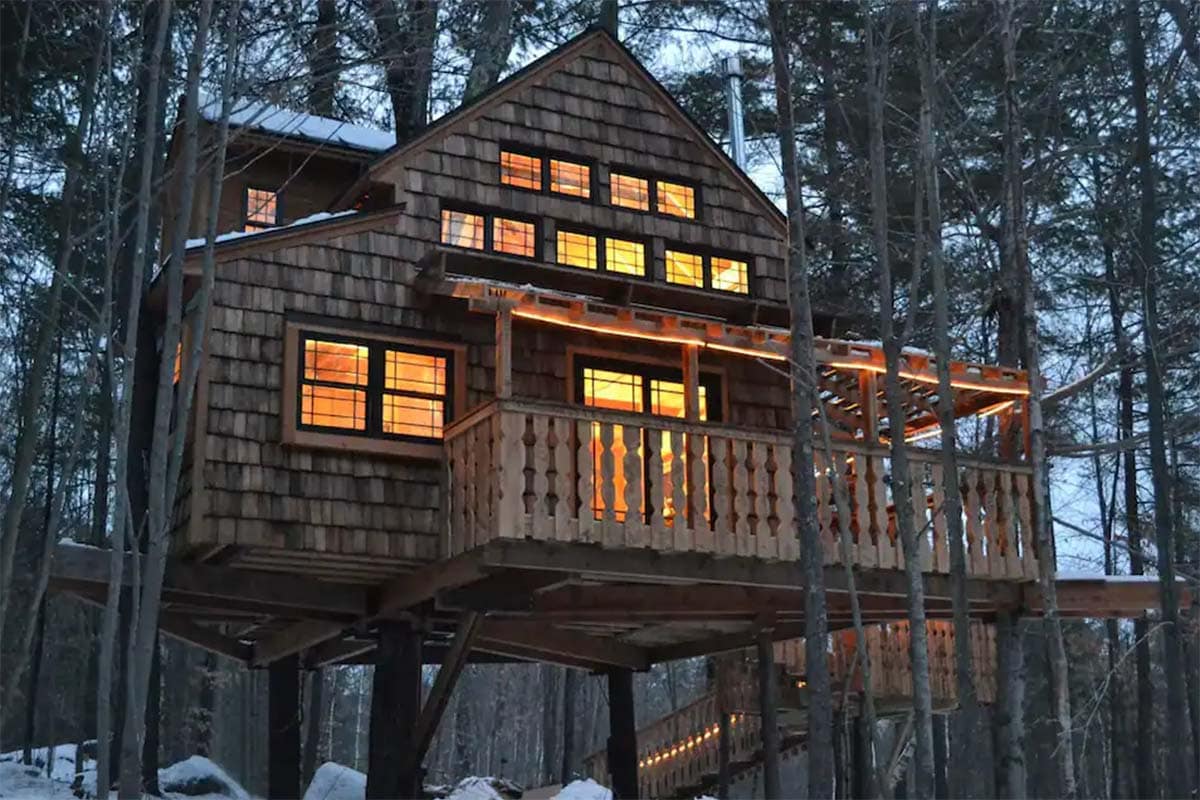 Why you should stay: it's not exactly your run-of-the-mill rustic treehouse.
Nearest town: Newbury
Sleeps: 4 guests
Minimum Stay: 1 night
Rates from: $351/night
Oozing with exquisite taste and refined ambiance, this elegant treehouse will leave your jaw dropped on the floor. Luckily for you, the floor also has radiant heating so your jaw will stay nice and toasty in the winter months. This upscale glamping rental might have the finest décor but it isn't afraid to use some good ol' historic tools either.
The pulley system can be used to hoist all your stuff up to the treehouse instead of bringing it up the stairs. There's even a tiny wash basin in the master bedroom upstairs overlooking the tree that goes up the middle of the house. But don't worry, there's an actual bathroom that has more than just a sink.
Check Availability
Related Read: 6 Backpacking Trips in the White Mountains That are Unforgettable
11. A Tent To-Go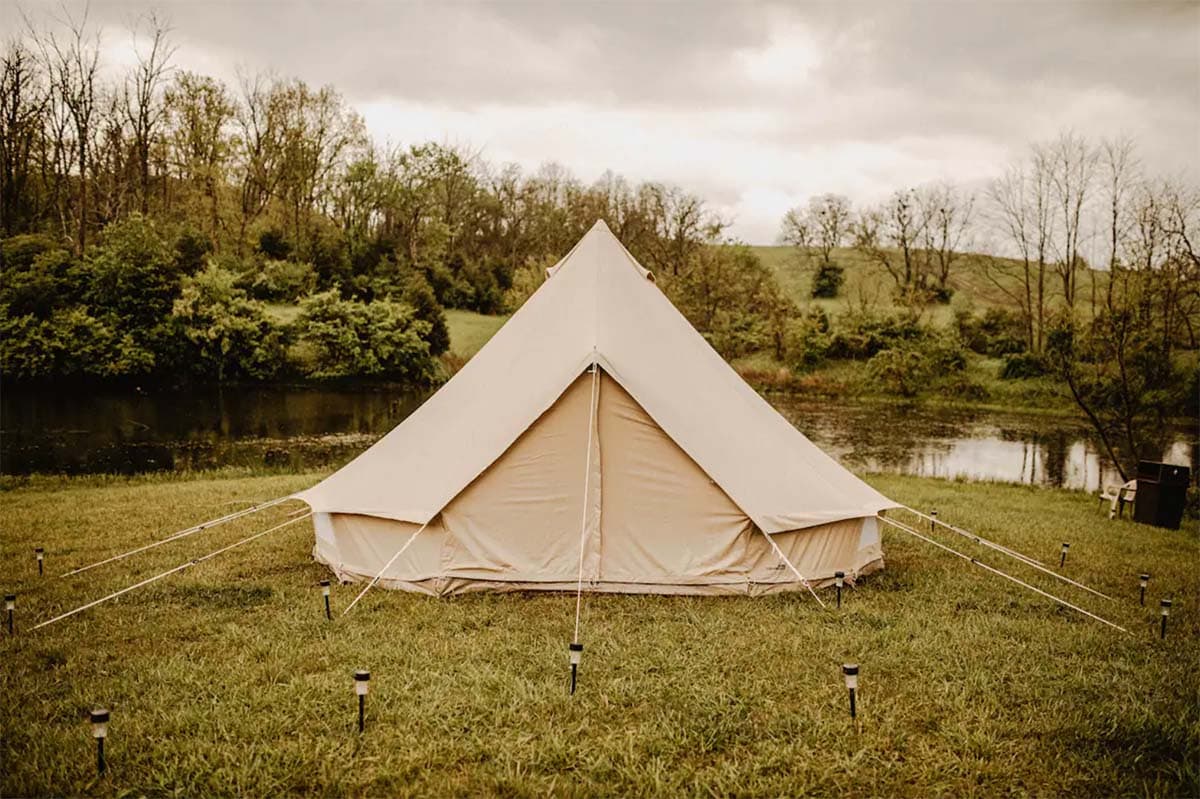 Why you should stay: the tent will be delivered to you wherever it is you want to camp.
Nearest town: Anywhere in New Hampshire
Sleeps: 16 guests
Minimum Stay: 2 nights
Rates from: $200/night
Have you ever driven around the Granite State and thought, "huh, that'd be a great spot to pitch a tent"? Instead of dusting off your personal tent from seven years ago, you can simply rent these canvas tents and plop them wherever you want!
The tents come with all beds, linens, furniture, and pretty much everything else you might need. If you're having trouble coming up with places to pitch the tent, the hosts will provide you with a list of potential areas once you book.
Check Availability
More New England Adventures
Get epic travel ideas delivered to your inbox with Weekend Wanderer, our newsletter inspiring more than 10,000 readers every week.
---