We research, evaluate and select travel destinations based on a number of factors, including our writers' experience, user reviews and more. We may earn a commission when you book or purchase through our links. See our editorial policy to learn more.
---
New York is more than one big city — much more. And as fun as the "Big Apple" can be, most of the state is less about Broadway and neon lights and more about fall foliage and beautiful forests.
Whether you're heading "upstate" for a weekend getaway or planning a longer trip from out of state, you may be surprised to see that there are way more New York cabin rentals than there are urban apartments. New York State is huge and covered in amazing places to stay.
Lucky for you, the list below includes the best remote getaways you can find within the wild nooks and crannies of The Empire State. A few of those listed below are but a short drive from the urban hubs of NYC and Philadelphia, while others lie much deeper in the forests and mountains to the north.
Related Read: 7 Coolest Treehouse Rentals in New York
1. Catskill Cabin
Why you should stay: Secluded river-view cabin in a wildlife-filled meadow.
Nearest town: Hancock
Sleeps: 5
Minimum stay: 3 nights
Rates from: $380/night
Nothing says "I'm heading upstate" quite like a trip to the Catskill Mountains along the Delaware River. This Catskill Cabin sits on several acres of rolling hilltop meadowland with a view of the east branch of the river at the property's edge. This is about as tranquil as life can get.
Resident deer and other wildlife often pass through the property at dawn and dusk. There's world-class fly fishing only a few miles away, as well as the popular performing French Woods Performing Arts summer camp. The home has a classic New York cabin feel, complete with deer-antler chandeliers and a river-rock fireplace.
Check Availability
Related Read: 10 Romantic Getaways in the Adirondacks for a Two-Person Stay
2. Starview Cabin
Why you should stay: End-of-the-road woodland privacy close to an adorable vacation town.
Nearest town: Margaretville
Sleeps: 5
Minimum stay: 3 nights
Rates from: $400/night
To highlight the Starview Cabin's stunning forest setting, every room in this house is loaded with windows. No matter where you decide to spend your time, inside or out, you'll be one with the nature of the surrounding area.
Wonderfully private yet close to town, you'll get the best of both worlds at this hidden retreat at the end of a dirt road. The happening town of Margaretville, with all of its cute shops and eateries, is just down the road. It's a cute little town and a hub for whitewater rafting. What more could you ask for?
Check Availability
Related Read: 12 of the Best Airbnbs in the Adirondacks
3. Lake Forest Lodge
Why you should stay: Acres of lakefront property and an exceptionally ornate log cabin.
Nearest town: Hammondsport
Sleeps: 10
Minimum stay: 2 nights
Rates from: $385/night
As its name implies, Lake Forest Lodge is more than a simple cabin rental in New York. This exquisite lakefront home is finely decorated and is equipped with every amenity you could need. You'll probably find yourself spending hours on the massive lake-view deck, furnished with patio sets and a built-in bar.
The expansive interior has plenty of room for a large family to gather. Outside, stairs lead down to the water's edge where a dock and boathouse will serve as the launchpad for all of your water-bound recreation. For 10 people, it's actually one of the most affordable cabins in New York, especially considering its waterfront location.
Check Availability
Related Read: 10 Glamping Spots Near NYC for a Wooded Escape
4. Glen Lake Cottage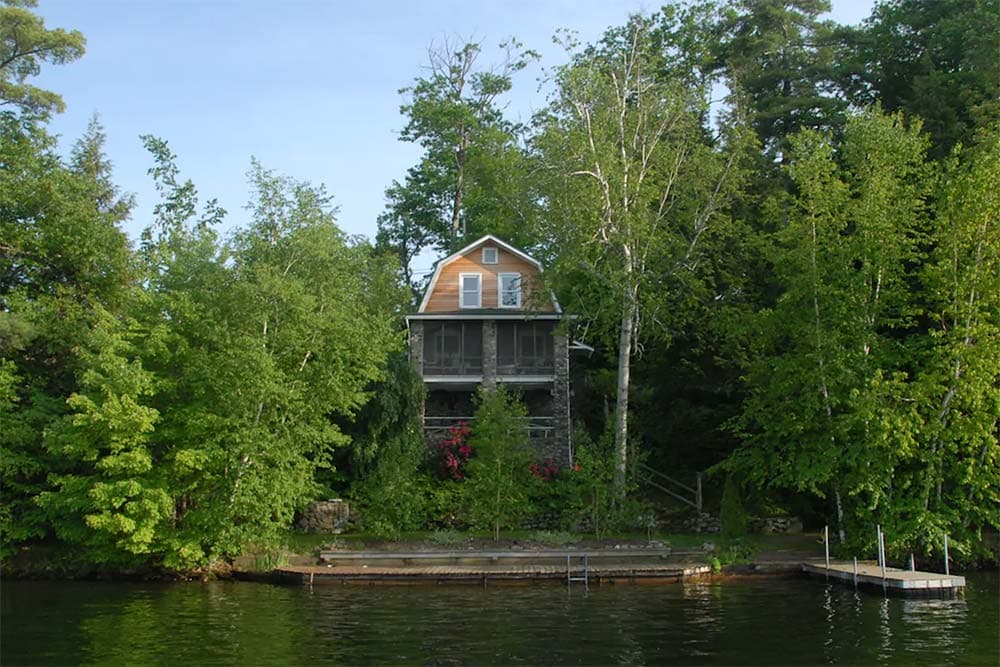 Why you should stay: A secluded stone cabin sandwiched between mountains and a lake.
Nearest town: Queensbury
Sleeps: 5
Minimum stay: 2 nights
Rates from: $230/night
Located on a dead-end road on the southern end of Glen Lake, this Glen Lake Cottage provides the utmost privacy while still leaving guests conveniently close to a number of attractions and towns. The Great Escape & Hurricane Harbor theme parks are a reason to visit the area all on their own.
This multi-level home rises high above the lake's edge for sensational views of the surrounding area. Not only is the lake great for fishing and boating, but the nearby wetlands are a sanctuary for both resident and migratory birds. It's a lovely cabin with a fantastic throwback feel – the kind of place families can return to every year.
Check Availability
Related Read: 11 Unique Places to Stay in New York State
5. Chautauqua Country Chalet
Why you should stay: Enjoy a 250-acre estate and an amazing custom-built home.
Nearest town: Chautauqua
Sleeps: 8
Minimum stay: 2 nights
Rates from: $250/night
There are many reasons to visit the Chautauqua Country Chalet. For one, the gorgeous home and lot are exceptional. You'll have sweeping views from every corner of the massive deck where a built-in gas grill and picnic table will ensure that you'll never want to leave.
Aside from the cabin itself, its location also puts you near popular snowmobile trails, the world-renowned Chautauqua Institute arts center, Chautauqua Lake, and Lake Erie. You'll never run out of things to do or places to visit during your stay.
Check Availability
Related Read: 9 Incredible Cabins with Hot Tubs in Upstate New York
6. Bearpen Lodge
Why you should stay: Panoramic views from a wraparound deck overlooking 125 private acres.
Nearest town: Fleischmanns
Sleeps: 8
Minimum stay: 2 nights
Rates from: $268/night
Bearpen Lodge is an outdoor adventurer's dream vacation rental (though it's ideal for someone who might want to sit and admire the breathtaking views, too.) The massive 125-acre property is like something out of a storybook, with undulating grassland, lightly forested hilltops, and mountain backdrop. It's stunning.
Nearby Bly and Bearpen mountains are also excellent sources for hiking, cross country skiing, and snowshoeing. Belleayre Ski Resort is close, making this a prime destination for downhill skiers and snowboarders, too. You can have up to four pets in the home, so it's one of the best cabins in New York if your crew travels with pets in tow. It's less than an hour to Poughkeepsie (which has tons of children's museums and the Franklin D. Roosevelt National Historic Site), or about 90 minutes to the Baseball Hall of Fame in Cooperstown, NY.
Check Availability
Related Read: 10 Best Spots for Snowshoeing in Upstate New York
7. Adirondack Hillside Chalet
Why you should stay: An affordable cabin rental in New York for a dozen of your nearest and dearest.
Nearest town: Granville
Sleeps: 12
Minimum stay: 3 nights
Rates from: $179/night
Bring the kids (and the grandparents or cousins) to this resort-like Adirondack Hillside Chalet. This massive home has everything a family could need during vacation including an in-house gym, a kid's playroom, and a fully loaded theater room. The granite-counter kitchen comes fully stocked and the outdoor grill makes outdoor cooking a breeze.
The front-facing windows open the entire chalet to the sunshine and the beautiful sights of the surrounding hills and valleys. The deck is the perfect place to soak up the sun on blue-sky days. You can head west for a day exploring the towns and waters of Lake George, or head east into Vermont for a day spent visiting covered bridges and country stores. It's also a steal at less than $200 a night for 12 guests.
Check Availability
Related read: 10 Beautiful Mountain Resorts in the Adirondacks
8. Catskills Log Cabin
Why you should stay: Escape deep into nature with this rustic log house near secret swimming holes.
Nearest town: Cornwallville
Sleeps: 6
Minimum stay: 2 nights
Rates from: $200/night
The hand-built Catskills Log Cabin is a true wilderness retreat where you can escape the civilized world (and maybe even gain some new perspective.) Its rustic and minimalist stylings will be a breath of fresh air for any visitor, especially those trying to get away from the big city for a spell.
Time Out magazine named this log house one of the best cabins to rent across the country, and it's plain to see why. There's an unmistakable charm about this cabin. It's surrounded by swimming holes and waterfalls, and it's one of the most remote cabin rentals you'll find in all of New York State.
Check Availability
9. New Kingston Cabin
Why you should stay: An epic kitchen plus a private swimming pond and clay pigeon launcher.
Nearest town: Margaretville
Sleeps: 5
Minimum stay: 1 night
Rates from: $400/night
It's easy to see that this New Kingston Cabin was designed and outfitted with love. It's an exceptionally well-appointed cabin with a decked-out chef's kitchen that comes equipped with loads of culinary goodies. Expect high-end appliances, a well-stocked pantry, and cast-iron cookware.
Additionally, this awesome abode has a lovely double-sided fireplace and a massive outdoor grill – cooks are going to have fun with this one. There's also a handy-dandy nursery, an on-site swimming pond, acres of forest of to explore, and a shooting range with a clay pigeon launcher. You're going to have a good time at this secluded respite.
Check Availability
10. Swinging Bridge Cabin
Why you should stay: A modern and refined cabin just a short drive from New York City.
Nearest town: Monticello
Sleeps: 6
Minimum stay: 3 nights
Rates from: $238/night
For some, taking the leap from the polished din of urbanity into a rustic log cabin in the woods can be a bit much. So if you're looking for a wilderness escape but would rather keep the finer things in life close at hand, this Swinging Bridge Cabin is your ideal escape from the city. It's the best New York cabin rental if you want a mix of hiking and Broadway shows while on vacation.
The brand-new cabin looks like a stylish NYC apartment, but instead of aged brick and metal, the windows showcase the cabin's lush green surrounds. You'll also find an enchanting babbling brook on the property, and the nearby reservoir is the perfect setting for your foray into outdoor recreation.
Check Availability
Plan Your Next Adventure
Sign up for Weekend Wanderer, our free email newsletter offering thousands of readers epic travel and airbnb ideas every week.
---