From barbecue to beer, from the wilds of the Ozark Mountains to the bustling streets of St. Louis, and from the theme parks of Branson to the historic Getaway Arch, Missouri is the perfect destination for someone who wants to dip their toes in all sorts of Midwestern experiences.
This is certainly more than "fly-over country," so don't make the mistake of looking over Missouri the next time you're planning a Midwestern trip. But where's the best place to stay while you explore the Show-Me State?
While you could book a roadside motel along Route 66 in Springfield or a luxury hotel room in St. Louis, a treehouse rental in Missouri is best for travelers who want a unique, out of the ordinary stay. These nine amazing Missouri treehouse rentals can be yours tonight with just a few taps of your smartphone.
Related Read: 10 Awesome Weekend Road Trips from St. Louis, Missouri
1. The Getaway Treehouse
Why you should stay: Rustic and romantic treehouse for two near the Ozarks.
Location: Cassville
Sleeps: 2
Minimum stay: 2 nights
Rates from: $142/night
This traditional treehouse swings and sways as the trees move while you (safely) enjoy your cozy hideaway. The treehouse is technically two buildings: the highest building is the main living area, outfitted with a miniature kitchen, wood stove, lofted sleeping space, and stained-glass windows.
The separate building is your bathroom, outfitted with a jacuzzi tub overlooking the tree limbs below. Private, peaceful, and with just enough room for two to enjoy, you'll wonder why you've waited so long to enjoy treehouse living. By the way, this Missouri treehouse rental books quickly, so make your plans as soon as possible.
Check Availability
Related read: 9 Must-Hike Trails in Kansas City, Missouri
2. The Barnyard Treehouse
Why you should stay: Eclectic stay for a big group with plenty of furry friends wandering about.
Location: Grubville
Sleeps: 9
Minimum stay: 2 nights
Rates from: $161/night
This is not your average treehouse. With room enough for nine to spend the night, this treehouse on a farm comes with the rustic amenities you might expect, such as an old-timey hot tub (a.k.a., a hot tub made out of tin) and some pretty lively neighbors like chickens, goats, ducks, and pups.
Inside the treehouse, the vibe is more like a colorful college dorm than a woodsy retreat, making it a great choice for a group of traveling friends or a family. There's a full kitchen with a stove and a full-sized fridge and ample sleeping space, including bunk beds and even handy hammocks.
Check Availability
Related Read: 11 Best Cabin Rentals in Oklahoma for the Ultimate Getaway
3. Sunset Tree House at The Cottage
Why you should stay: Light, airy and never far from civilization.
Location: Hermann
Sleeps: 4
Minimum stay: 1 night
Rates from: $246/night
The Sunset Tree House at The Cottage is part of a larger treehouse complex rather than being a standalone treehouse rental on a private property. While this might not appeal to every traveler, it certainly comes with its perks. The professionally-designed treehouse has lots of privacy with lots of leaves blocking you from view.
Inside, it's light and airy, with lots of windows, sleek white furnishings, and a full bathroom. Everyone on property has access to a common room with a small library and games. There are three treehouses on property plus a cabin, making it a great option for a treehouse rental in Missouri if you have a larger group.
Check Availability
Related read: 9 Surprisingly Free Things to Do in Kansas City, Missouri
4. Sundance KC Tree House
Why you should stay: Rustic treehouse with a private beach.
Location: Excelsior Springs
Sleeps: 2
Minimum stay: 1 night
Rates from: $165/night
Looking for a place where you can truly get away from it all? Need some serious privacy and seclusion? TheSundance KC Tree House delivers. Sitting on a 200-acre ranch, you're worlds away from just about everything, except the small town of Excelsior Springs, which runs several historical and paranormal trolley tours throughout the month.
One of the coolest features at this property? You get access to the ranch's 15-acre private lake, which also has its own beach. It's yours for your stay, whether you want to swim, sunbathe, kayak, or fish. When it's time to head indoors, the treehouse offers rustic cabin-style accommodations, with high ceilings, lots of windows, and outdoor living space via french doors off the bedroom. There's no shower and no running water, but there is an outhouse just outside the home.
Check Availability
Related Read: 12 Scenic Weekend Road Trips from Memphis, Tennessee
5. The Tranquil Treehouse on Table Rock Lake
Why you should stay: Unbelievably quirky treehouse with a vintage arcade game on Table Rock Lake.
Location: Eagle Rock
Sleeps: 4
Minimum stay: 1 night
Rates from: $165/night
The Tranquil Treehouse checks all the right boxes when it comes to style. Everywhere you look, you're treated to another accent or piece of decor that give this treehouse a shabby chic vibe worthy of any home decor magazine.
The side table made out of old suitcases, the bed frame made from vintage car parts, the stained glass windows, the gorgeous tile work around the fireplace and in the bathroom, the huge copper soaking tub, the record player in the living room — the amazing touches and details never end. Outside, you're only a few steps from the lake, but you'll have a difficult time leaving this treehouse for the great outdoors, especially once you try out the vintage arcade machine.
Check Availability
Related Read: 9 Fun & Free Things to Do in Saint Louis, Missouri
6. Almost Heaven Treehouse
Why you should stay: Live out your cottagecore dreams in a rolling field near Mark Twain National Forest.
Location: Bunker
Sleeps: 4
Minimum stay: 2 nights
Rates from: $89/night
If your getaway daydreams include lots of wildflowers and gently rolling fields of grass leading up to tree-lined waterscapes, then you'll love a stay at the Almost Heaven Treehouse. Rather than sitting in a forest, the way most treehouses do, this Missouri treehouse rental has only a few nearby trees. It's in a wide meadow dotted with flowers, water features, and other carefully curated landscaping choices.
Wade in the creek, watch the wildlife, cozy up next to a roaring fire at night, or play some lawn games like croquet or badminton — you have near-endless ways to leisurely pass the day away. Be sure to make time for stargazing, as the treehouse sits on a dark sky viewing area. If you do decide to leave the property, Mark Twain National Forest has tons of trails, including the beautiful Greer Spring Trail.
By the way, don't expect any cell phone service here.
Check Availability
Related Read: 10 Best Tiny House Rentals in Missouri for Big Adventure
7. Spring Lake Ranch Tree House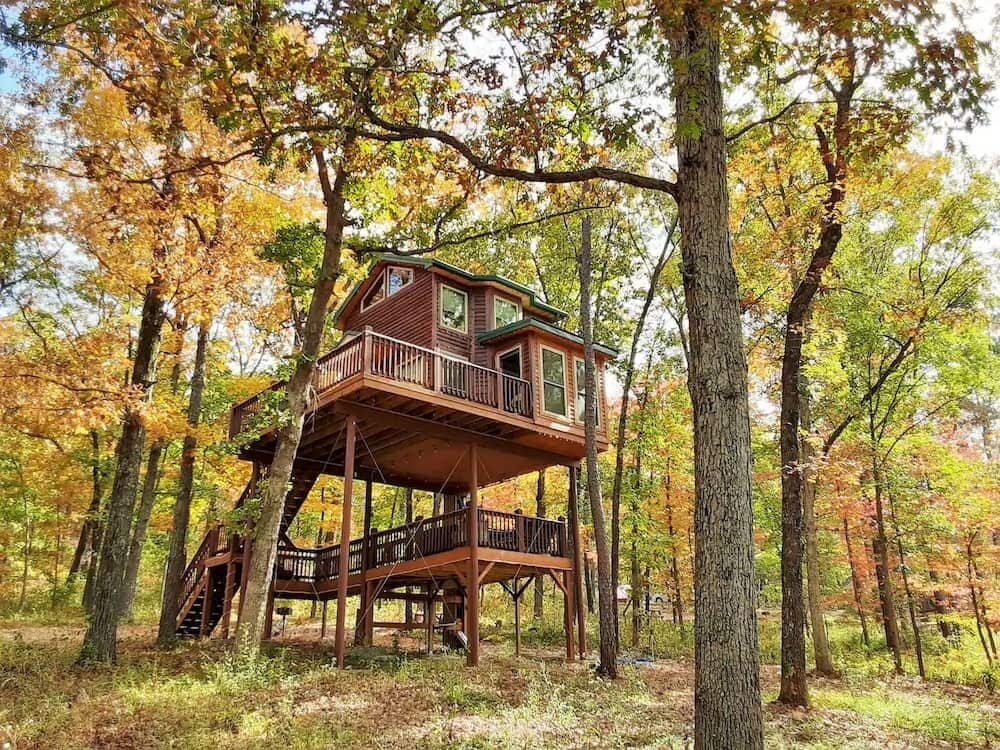 Why you should stay: Luxury living with a full bathroom and covered hot tub.
Location: Potosi
Sleeps: 2
Minimum stay: 2 nights
Rates from: $182/night
This luxurious treehouse doesn't even feel like a treehouse. The only way you'll even know it's a treehouse is by the fact that you have to climb a few stairs to reach the the deck.
The Spring Lake Ranch Tree House is all about the luxury amenities. Leather seating awaits in the small living area, the bathroom has a roomy shower, and the deck holds a private hot tub for year-round outdoor relaxation. Sleeping is in a lofted area with a rather steep and narrow staircase, so make sure that's not an issue. There's no Wi-Fi, but you can rent a hot spot from the owners.
Check Availability
Related Read: 6 Unique Places to Go Glamping in Missouri
8. Branson Treehouse Adventures
Why you should stay: Treehouse resort for room with huge groups near the entertainment in Branson.
Location: Branson
Sleeps: Up to 15
Minimum stay: 2 nights
Rates from: $219/night
Branson Treehouse Adventures isn't just a collection of treehouse rentals near one of Missouri's most popular attractions. It's a full-on park with 10 treehouses plus cabins and campsites. The treehouses range from huge hideaways that can fit up to 15 people to small cottage-style cabins built with couples and romantic retreats in mind. It's a great place to look for a treehouse rental in Missouri if you have groups of friends or multiple families traveling together.
The park offers lots of amenities for a variety of travelers, including a pool, tennis courts, a playground, and on-site hiking trails. There's a pavilion that you can reserve for events and laundry on site. And because it's in Branson, you'll have easy access to the cheesy-but-fun attractions in the area, like the Dolly Parton Stampede Dinner Theater and the Branson Aquarium, which may have the coolest building in the entire midwest.
Check Availability
9. Missouri Treehouse Cabins
Why you should stay: Treehouse resort with optional fly fishing and whitewater rafting trips.
Location: Dora
Sleeps: 2+
Minimum stay: 2 nights
Rates from: $239/night
Missouri Treehouse Cabins is part of a third-generation business, sitting on a 500-acre farm along Missouri's White River (a great fly fishing destination, by the way). There are more than a dozen cabins and treehouses to pick from ranging from small options for couples to big options for extended family vacations.
The property is more like a resort than anything else, with its own restaurant, conference center, event space, and even a lodge in case someone in your group wants more traditional digs. The team there will even help you schedule a massage, float or paddling trip, fly fishing experience or other activity, all of which are just minutes away from the resort.
Check Availability
Explore More in the Midwest
Sign up for Weekend Wanderer to join thousands of readers getting epic travel and gear ideas every week.
---