We research, evaluate and select travel destinations based on a number of factors, including our writers' experience, user reviews and more. We may earn a commission when you book or purchase through our links. See our editorial policy to learn more.
---
No matter what type of escape you're looking for, North Carolina offers something for just about everyone.
You'll find everything from lush mountains with cascading waterfalls to rich history and culture in the state. Add in a thriving wine scene, complete with wine trails and vineyards for touring and tasting, plus more than 300 miles of coastline, and you'll see why it's one of the East Coast's favorite getaways.
Of course, you'll need a great base to take advantage of all the state has to offer, so why not consider something unique? As a kid, there were probably few things better than having a treehouse (or at least a friend with one.) But these days, treehouses are definitely not just for kids.
In fact, you can even book your own luxury treehouse rental in North Carolina — or perhaps you'd prefer more of an open-air glamping experience? Either way, the Tarheel State offers dozens of epic treehouse stays.
Here are 11 of the best treehouse rentals in North Carolina to inspire you to get packing.
Related Read: 23 Incredible Treehouse Airbnb Rentals in the U.S.
Best Treehouse Experience
1. Asheville's Luxury Treehouse
Why you should stay: unique and luxurious getaway in a spectacular setting ideal for couples and families.
Location: Asheville
Sleeps: 4
Minimum stay: 2 nights
Rates from: $450/night
Whether you want to surprise the kids — who are sure to be thrilled with a stay in an actual treehouse — or you're looking for a romantic couples' retreat, Asheville's Luxury Treehouse should check all the boxes. There's a fire pit with wood, a tree swing, and a creek on the property to splash around in. And there are many more high-end amenities beyond that. Surrounded by magnificent scenery, trees weave right through the center of the spacious 360-degree deck, which provides the ideal place to relax or cook on the gas grill while enjoying the incredible setting.
The treehouse comes with all the comforts of home like a well-equipped kitchen with copper cookware and reliable Wi-Fi. You'll be close to the many shops and eateries in downtown Asheville, not to mention the bucket-list hikes within a short drive of the town.
Check Availability
Related Read: 10 Incredible Glamping Spots Near Asheville, North Carolina
Best Treehouse-Like Rental
2. The Treehouse (OBX)
Why you should stay: amazing home among the trees and gorgeous interior spaces.
Location: Southern Shores
Sleeps: 10
Minimum stay: 3 nights
Rates from: $400/night
The beautiful oak trees surrounding this vacation rental give the place its name, and although it's not technically a treehouse, you wouldn't know it from the view. Inside, you'll find an immaculately decorated home that feels personal and cozy — not like some of the cheaper rentals in the Outer Banks area.
Best of all, if you're traveling with kids, The Treehouse is as practical as it is well-designed. Toys, games and functional living areas make this the ideal treehouse vacation for larger families who like nice things and the space to enjoy them.
Check Availability
Related Read: 8 Epic Glamping Destinations In South Carolina
3. Creekside Treehouse
Why you should stay: over-the-stream treehouse where you can spend most of your days outdoors.
Location: Murphy
Sleeps: 4
Minimum stay: 2 nights
Rates from: $150/night
This glamping treehouse is ideal for those who want to relax to the sounds of nature as a gentle creek flows below them — literally. The treehouse is right above the water. Look forward to practicing yoga or meditating on the deck and taking advantage of a wide range of activities nearby like outstanding hiking and horseback riding, kayaking, whitewater rafting, and ziplining. You'll be just a short drive from the Blue Ridge Parkway, Murphy, and McCayesville, so you'll have plenty of options for beer tasting or dining out.
The treehouse includes an outdoor grill and a fire pit ideal for roasting marshmallows and setting the scene for stargazing after dark. Cozy comforts fill the home, including plenty of blankets and pillows, along with wonderful artistic touches. You'll even have a friendly horse for a next-door neighbor, too.
Check Availability
Related read: 6 Pet-Friendly Hotels in Wilmington, North Carolina
4. Babbling Brook Treehouse
Why you should stay: tranquil oasis that's close to the city but feels worlds away.
Location: Moravian Falls
Sleeps: 8
Minimum stay: 2 nights
Rates from: $90/night
The Babbling Brook Treehouse is a rustic glamping escape in the forests of North Carolina's Brushy Mountains. This off-grid spot has no electricity or running water — the perfect getaway if you're willing to rough it a bit but get some real decompression from modern life.
Come ready for outdoor exploration as there is a stream running through the property. Go for a wade, take a hike along the banks of the brook, or wander out into the dogwood forest surrounding the cabin. The hosts operate a working hobby farm on the property, so you can also mosey up to the corral and visit the farm animals.
If you have a larger group with folks willing to camp out, the hosts also offer some cool campsites on the property, like the Suspended Sanctuary Tentsile Tree Tent and the Happy Hillside Tent & Hammock Camp.
Check Availability
Related read: 8 Charming North Carolina Tiny Home Rentals
5. The Carolina Treehouse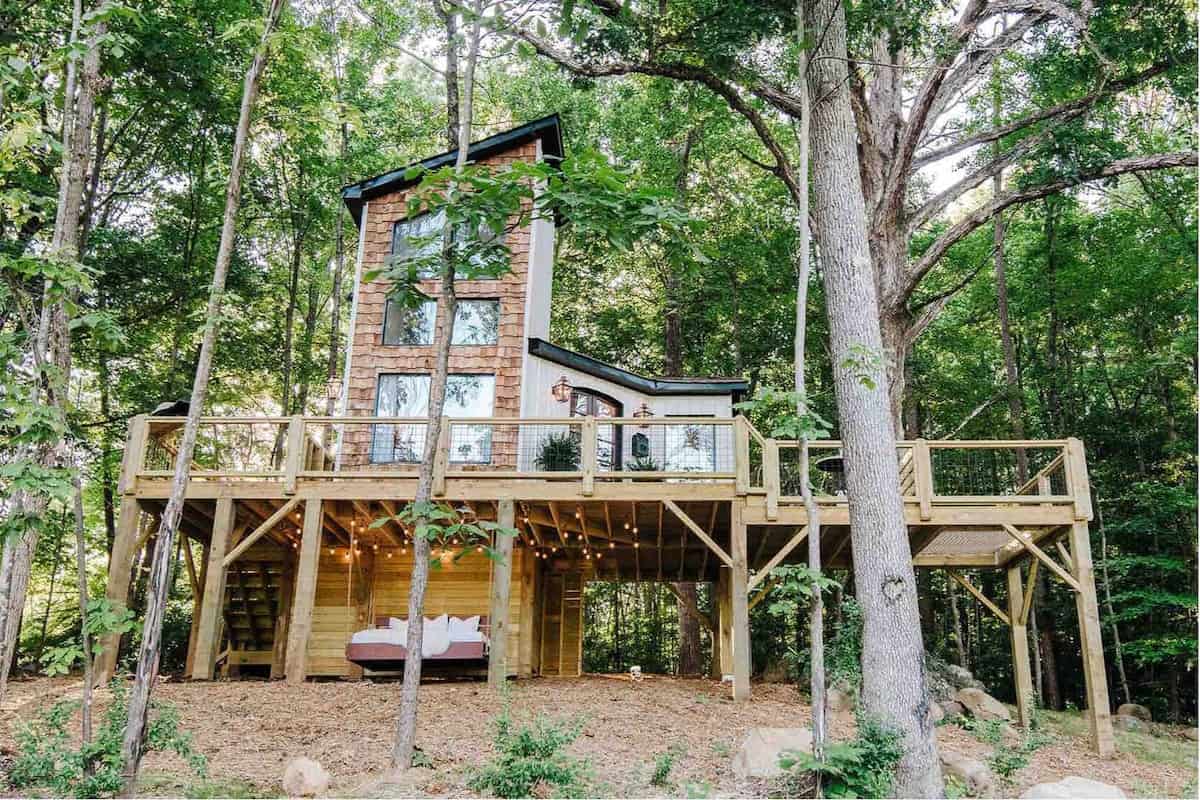 Why you should stay: tranquil oasis that's close to the city but feels worlds away.
Location: Charlotte
Sleeps: 2
Minimum stay: 1 night
Rates from: $261/night
The Carolina Treehouse sits just outside of Charlotte and is a hidden treasure made for dreamers and romantics. A luxurious oasis ideal for relaxing, recharging, and reconnecting, it comes complete with a swing bed overlooking a tranquil private pond. You'll have a cozy fire pit to that sits on the water's edge, an outdoor shower tucked in the trees, and a deck with a grill furnished for al fresco dining.
While you might want to keep those electronic gadgets unplugged and just enjoy your time in nature, the treehouse rental does include Wi-Fi. There's a small kitchen so you can cook up some snacks to take with you down to the private dock, and when you need to pick up ingredients, dine out, or enjoy other city attractions, Charlotte is just a short drive away.
Check Availability
Related Read: 9 Gorgeous South Carolina Treehouse Rentals
6. Secluded Treehouse
Why you should stay: high-end amenities in a unique treehouse close to hiking and town attractions.
Location: Old Fort
Sleeps: 2
Minimum stay: 1 night
Rates from: $275/night
You'll get the best of both worlds at this secluded romantic treehouse, since you'll be immersed in natural surroundings but still enjoy plenty of modern amenities. To enter the elegant oasis in the woods, stroll along a short path, cross the swinging bridge, and enter the cute home, which happens to be set on 14 acres.
You'll enjoy standout amenities like a comfortable bed with luxurious bedding, a fireplace, fast Wi-Fi, and a large deck overlooking the forest. There's also an outdoor shower and hot tub, perfect for relaxing after a day of hiking on one of the many scenic trails nearby.
While it may be hard to leave the tranquility of the treehouse, the renowned fabulous arts and craft brew scenes of Asheville are just a 20-minute drive away. And in 10 minites, you can reach Black Mountain, a charming town with Appalachian-style craft stores where local craftsmen demonstrate hand-thrown pottery, wood-bowl turning, and iron-working skills.
Check Availability
Related Read: 9 Chic Airbnbs in Charlotte, North Carolina
Best Treehouse for Groups
7. Tree Tops
Why you should stay: tall, sprawling treehouse with modern comforts.
Location: Asheville
Sleeps: 10
Minimum stay: 4 nights
Rates from: $425/night
Six bedrooms and three levels make Tree Tops an ideal treehouse getaway for families or large groups. Half the bedrooms have en-suite bathrooms and the entire home was recently spruced up with high-end amenities and décor, so you'll get quantity and quality here.
Multiple decks and tall, narrow windows in the living room make it easy to enjoy the surrounding scenery — you'll have a good view here inside and out.
Check Availability
Related Read: 10 Unique Places to Stay in North Carolina
8. Sanctuary at Treehouses of Serenity
Why you should stay: magical stay with enchanting views close to outdoorsy Asheville.
Location: Asheville
Sleeps: 4
Minimum stay: 1 night
Rates from: $300/night
The Sanctuary at Treehouse of Serenity is absolutely magical, providing enchanting views from a fairytale-like retreat nestled among soaring white oaks. You can spend your days unwinding in the rocking chair on the patio in the fresh air, then watch the sunset splash its glorious colors across the mountains. And, of course, the brilliant starry nights aren't too bad, either.
The treehouse comes complete with a kitchenette and a flat-screen T.V. with Netflix and Wi-Fi, if you really want to stay connected – but good luck not falling asleep in the cozy sleeping book halfway through your movie stream. This is one of the best treehouse rentals in North Carolina for traveling couples, but there are a few other rentals available on the property, too.
Check Availability
Related Read: 11 Most Beautiful Swimming Holes in North Carolina
9. Luxury Stone and Timber Treehouse
Why you should stay: tranquility on a 20-acre farm estate with a hot tub and pool.
Location: Concord
Sleeps: 2
Minimum stay: 2 nights
Rates from: $175/night
You'll be surrounded by the trees by booking this unforgettable glamping experience: a luxury stone and timber treehouse that sits on a 20-acre farm estate. Of all the treehouses on this list, this one looks the most natural and at home in its environment.
The one-bedroom space boasts handcrafted furnishings, a kitchenette area with a mini fridge, and a coffee and tea bar. You'll also have a deck overlooking the trees, a propane grill and area for al fresco dining, access to a fire pit, eight-person hot tub, and an above-ground pool.
The treehouse is just minutes from historic downtown Concord with its interesting galleries and museums, unique shops and restaurants, and colorful gardens. But you'll want to make time for doing nothing but relaxing – perhaps lounging in the hammock while enjoying a good book?
Check Availability
10. Blueridge Parkway Treehouse
Why you should stay: perfect location along the Blue Ridge Parkway.
Location: West Jefferson
Sleeps: 4
Minimum stay: 2 nights
Rates from: $176/night
Located along the Blue Ridge Parkway near the Cascades Waterfall, this fabulous treehouse cabin was built for an episode of Animal Planet's "Treehouse Masters." It's ideal for those who want to enjoy the region's many spectacular hikes and scenic drives while still being near a town (it's a 20-minute drive to Boone). If you make it there, try Proper, a restaurant in a historic jailhouse building that serves locally sourced southern cuisine.
While you'll want to spend some time sampling the nearby eats, the treehouse comes with a fully stocked kitchen for preparing your own meals. In the morning, wake up to gorgeous views in the upstairs, window-covered loft, then enjoy breakfast on your back deck. There's a heated outdoor shower, though you can ask to use the shower in the hosts' home when it's too chilly outside.
Check Availability
11. Woodland Chalet Treehouse
Why you should stay: peace and tranquility close to hiking, waterfalls and swimming holes.
Location: Barnardsville
Sleeps: 3
Minimum stay: 1 night
Rates from: $88/night
The "Taproot Sanctuary" is nestled within a lush tree canopy backing to Big Ivy Pisgah National Forest so you'll have opportunities for scenic hikes just outside your door. There's a swing beneath the house, providing the perfect place to reset and relax in serenity with only the birds as your neighbors.
The treehouse is on a 20-acre property with tranquil swimming holes and waterfalls nearby. And if you want to enjoy a heart-pounding thrill, you can be zip-lining with a bird's-eye view of the magnificent scenery at Navitat Canopy Adventures. It's just 10 minutes away.
This peaceful retreat includes Wi-Fi and a kitchen with spring water piped to the sink along with basics for creating a farm-fresh meal, including a french press, propane stove, toaster oven, and grill.
Check Availability
Watch on YouTube
Find Your Next Carolina Adventure
Get epic travel ideas delivered to your inbox with Weekend Wanderer, our newsletter inspiring more than 10,000 readers every week.
---