You don't have to be down for tent camping in order to stay the night at a Texas state park.
Just because you want to plan an extended stay in the outdoors doesn't always mean that you're interested in roughing it. A good number of the state parks across Texas also have cabins on-site that you can rent out with your friends or family for an affordable price.
The adventure comes with being surrounded by nature, while comfort, convenience, and coziness come from a sturdy, equipped shelter. It's a win all around, right?
What exactly that nature is totally depends on what kind of scenery you like. For instance, you can book a cabin in the forest, surrounded by stunning swampland, next to a serene section of coastline, or even right on the edge of an impressive canyon.
Itching to pack your bag and head out? Here are some of the best state parks in Texas with cabins.
Related Read: 10 Romantic Getaways in Fredericksburg, Texas
1. Palo Duro Canyon State Park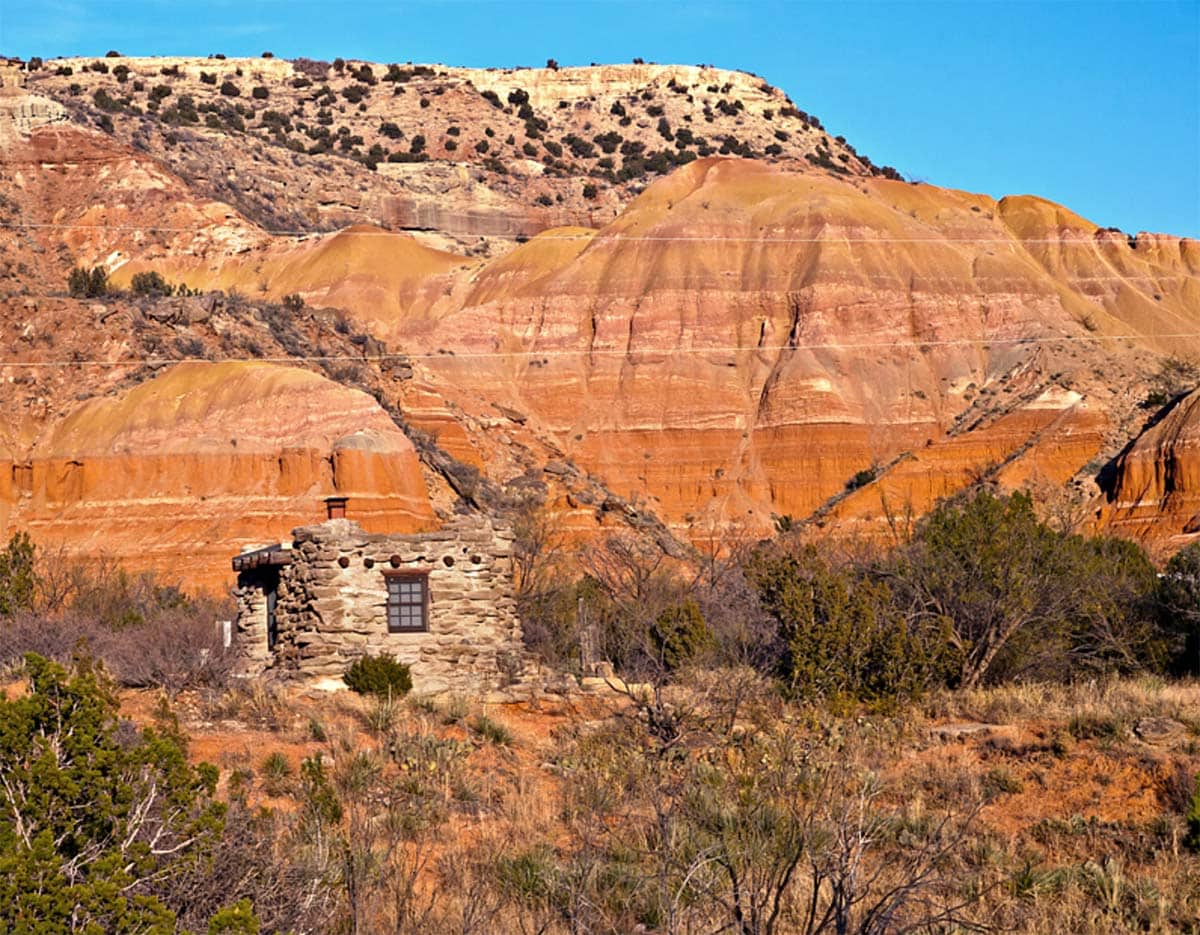 Why you should go: You can sleep right on the rim of the "The Grand Canyon of Texas."
Sleeps: 2-4
Minimum stay: 1 night
Rates from: $60/night
Palo Duro Canyon State Park might not be the landscape you're expecting from a state park in Texas. Coming in after the Grand Canyon, Palo Duro Canyon holds the spot as the second-largest canyon in the United States, spanning 30,000 acres. To visualize it another way, the canyon extends for about 120 miles and reaches a depth of up to 800 feet.
The state park has a few different cabin options with a range of amenities including electricity, A/C, heating, and a fridge. Of them all, the best cabins to stay in are the ones built by the Civilian Conservation Corps that are situated on the canyon rim, giving you spectacular views.
If you only have time for one hike while here, make it the Lighthouse Trail. It's the most popular hike in the park and leads to an iconic rock formation.
Check Availability
2. Garner State Park
Why you should go: Float the river in the summer or see some of the best fall foliage in Texas.
Sleeps: 4
Minimum stay: 2 nights
Rates from: $130/night
Garner State Park is well-known for how its cypress, oak, and other trees change color in the autumn, a colorful sight that isn't so common around the state. But it's worth visiting outside of that foliage time window too. For example, in the summer, there's endless fun to be had on the Frio River with paddle boat, kayak, and tube rentals available.
When choosing a cabin at this state park, the main decision will be whether you want one with a fireplace or without. The former are slightly more expensive and there are more of them available. Both have kitchens, bathrooms, A/C, and heating inside.
If you're traveling in a large group, consider reserving their Group Camp spot, which can house 40 people across five shelters.
Check Availability
3. Galveston Island State Park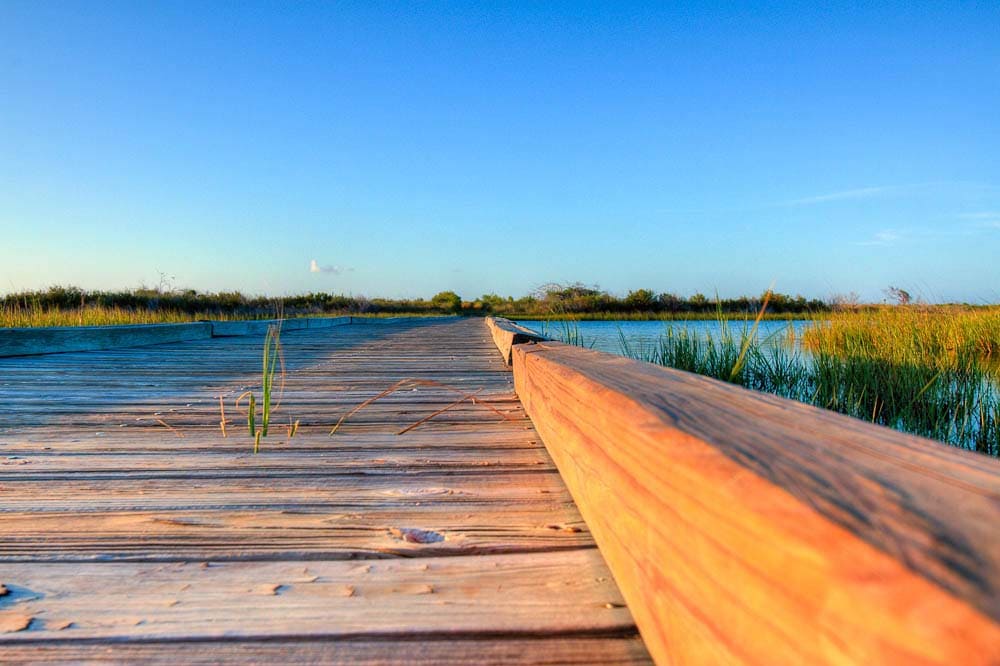 Why you should go: Go bayside or beachside at this state park on an island.
Sleeps: 6-8
Minimum stay: 1 night
Rates from: $200/night
If you love coastal adventures where the water is your playground, then Galveston Island State Park is calling your name. Located on Galveston Island but away from the busy tourist section in the east, the park has plentiful opportunities to enjoy nature, including swimming, hiking, paddling, and fishing.
The cabins at Galveston Island State Park are more of a lodge style, and there are two to choose from. One is the Ranch House, which can sleep six, and the other is Stewart House, which can sleep eight.
Both come with convenient amenities like a microwave, fridge, and stove. They also have fireplaces, but you need to remember to bring your own wood.
Interested in coming on a Friday or Saturday? For these cabins, the state park requires that both nights be rented together.
Check Availability
4. Sea Rim State Park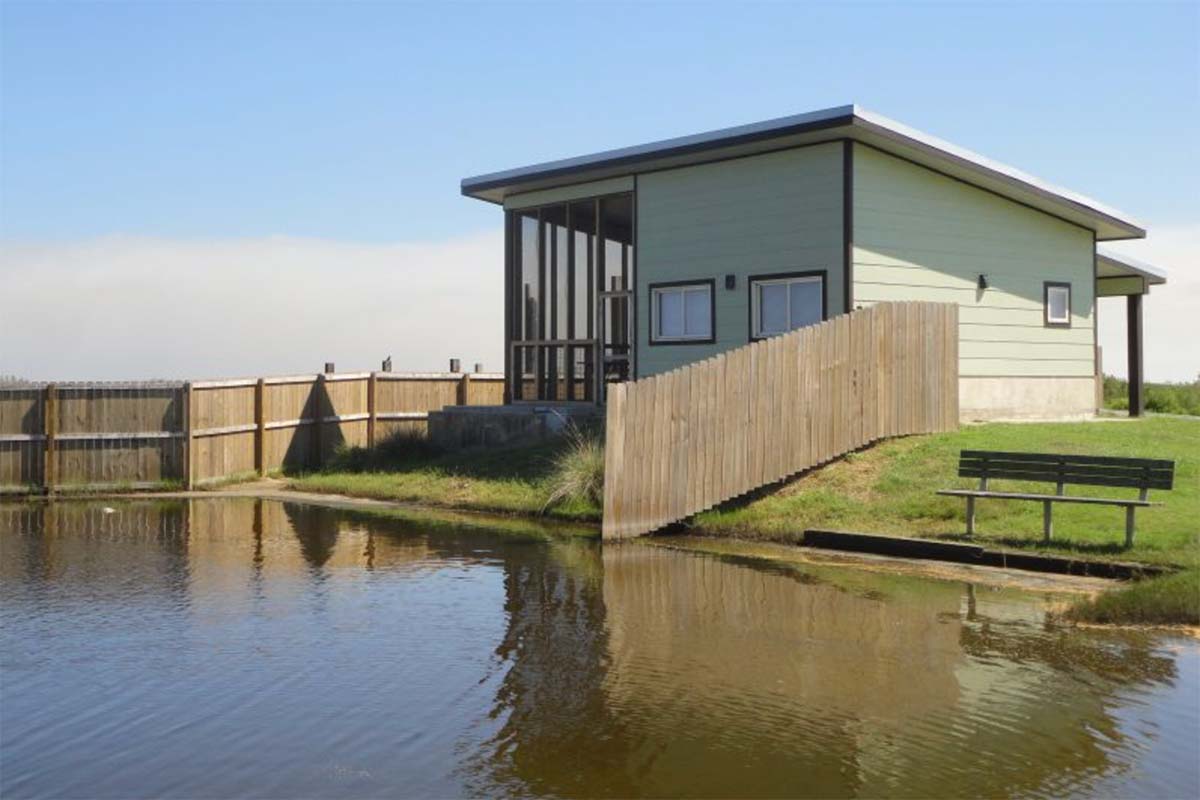 Why you should go: Avid paddlers and anglers will love this state park on the Gulf Coast.
Sleeps: 6
Minimum stay: 1 night
Rates from: $95/night
Located right on the shore close to McFaddin National Wildlife Refuge, Sea Rim State Park is a great place to set off on a paddling adventure, and there are a few different trails to choose from depending on if you want something easy or a little more advanced (the trails are named by their difficulty level).
For more to do, you can borrow some of the park's fishing gear, or try and spot some of the birds making their way across the Central Flyway migration route.
There's just one cabin available at this state park, and you can find it right by the boat ramp. Six people can stay here, spread out over two bunk beds with a twin-sized bed on the top and a full-sized bed below. Other amenities of the property include a fridge, stove, microwave, and A/C.
Check Availability
Related Read: 9 Incredible Cabin Rentals Near Austin, Texas
5. Caddo Lake State Park
Why you should go: Explore an otherworldly swamp landscape at this state park in the Piney Woods region.
Sleeps: 2-6
Minimum stay: 1 night
Rates from: $95/night
Made up of a web of channels, bayous, and mossy trees, Caddo Lake State Park proves how stunning the swamp can be. One of the coolest (and really best) ways to soak up the surroundings is to take out a canoe or kayak and explore the over 50 miles of paddling trails.
The cabins at Caddo Lake State Park range in size from those fitting two people to those that can house six. If you're traveling on a budget, you might opt for one of the cheaper cabins that don't have their own bathroom inside (don't worry—there are other restrooms in the vicinity that you can use).
A quick safety note: There are indeed alligators in the park, but as long as you follow the alligator safety rules, there shouldn't be any problems.
Check Availability
6. Palmetto State Park
Why you should go: At this state park surrounding a section of a river, you can get a taste of the tropics.
Sleeps: 6
Minimum stay: 1 night
Rates from: $65/night
Palmetto State Park is called what it is due to the numerous dwarf palmettos in the park, making it feel like you've been transported out of Texas and into somewhere more tropical.
The San Marcos River winds its way through the park, giving visitors the opportunity to get out on the water whether that be with a kayak, paddleboard, canoe, pedal boat, or hydro-bike. Land lovers can stay entertained by going for a hike or bike ride along one of the trails.
This state park has only one cabin on site, but it can fit six people inside plus up to two others in a tent on the property. Conveniently, the cabin is located by the river, and there's a path that leads you right down to the water. It's also important to note that the only cooking you're allowed to do in the cabin is with the provided microwave so pack accordingly!
Check Availability
7. Possum Kingdom State Park
Why you should go: Stay here and you'll have the pleasure of being by a beautiful, large lake.
Sleeps: 4-8
Minimum stay: 1 night
Rates from: $75/night
It's all about that lake life at Possum Kingdom State Park, which is about a two-hour drive from Dallas. The lake itself is massive, and the park sits on a section of shoreline on the southwestern side.
All of your favorite water activities are possible here from swimming (enjoy that clear water) to boating (there's a boat ramp in the park) to fishing (you have a great chance of catching white bass here). You can even scuba dive or snorkel if you want.
The state park has a few cabins for booking, and all of them have air conditioning so there's no need to worry if you're planning to come here in the summertime. There are also two cabins that follow ADA guidelines. These are reserved for ADA use, but if they haven't been booked by four weeks before check-in, then they're open for the general public to reserve.
Check Availability
8. Daingerfield State Park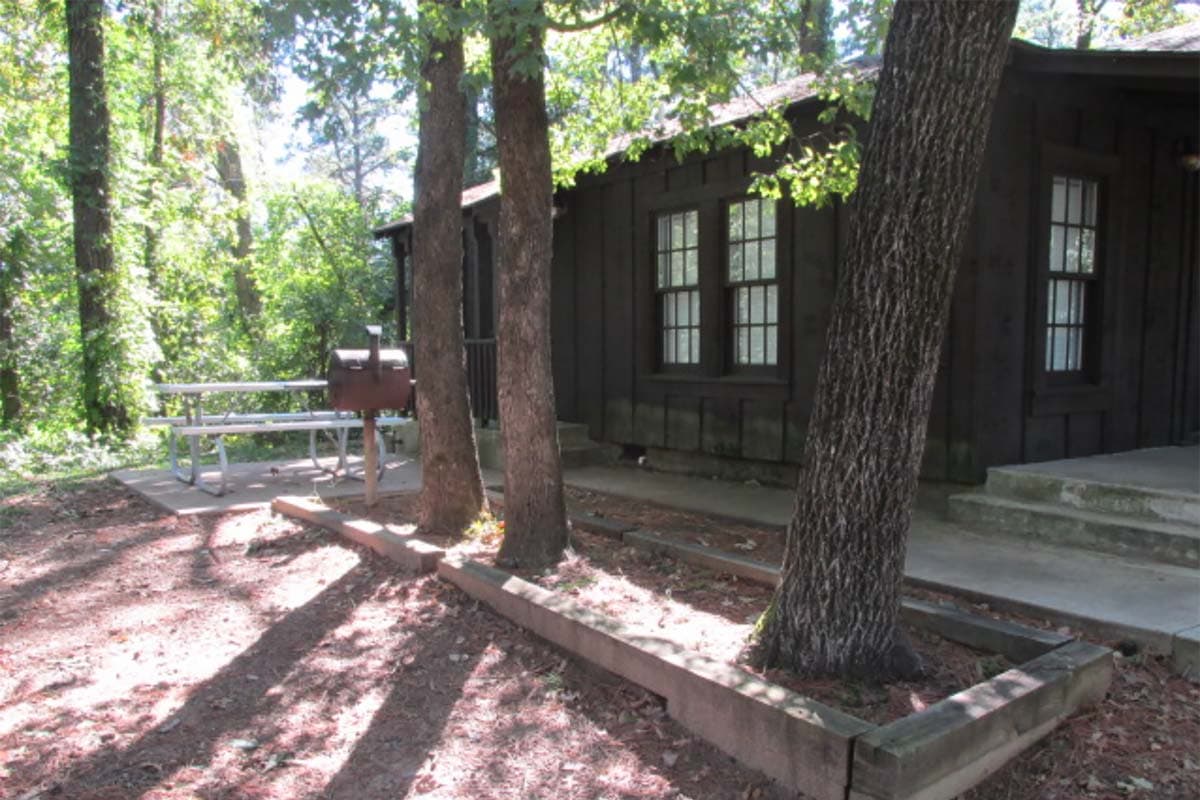 Why you should go: Smaller state park with lovely trees and a lake to enjoy.
Sleeps: 4-15
Minimum stay: 1 night
Rates from: $85/night
Come to Daingerfield State Park, and you can see what they call the "Cathedral of the Trees," towering trees planted by the Civilian Conservation Corps that surround the lake. To get a good view of the landscape, head up the Mountain View Trail. Aside from hiking, other fun things to do include renting a boat (or another type of available watercraft) to take out on the water, or doing some fishing.
There are three cabins (one of which is ADA accessible) and one lodge here you can book. The smallest cabin fits four people inside while the lodge can accommodate 15 across five bedrooms. While they may not have ovens, the cabins do have burner stove tops for you to do your cooking.
Booking the cabin during autumn? You're in luck because this state park is one of the best places in Texas to see fall colors.
Check Availability
9. Bastrop State Park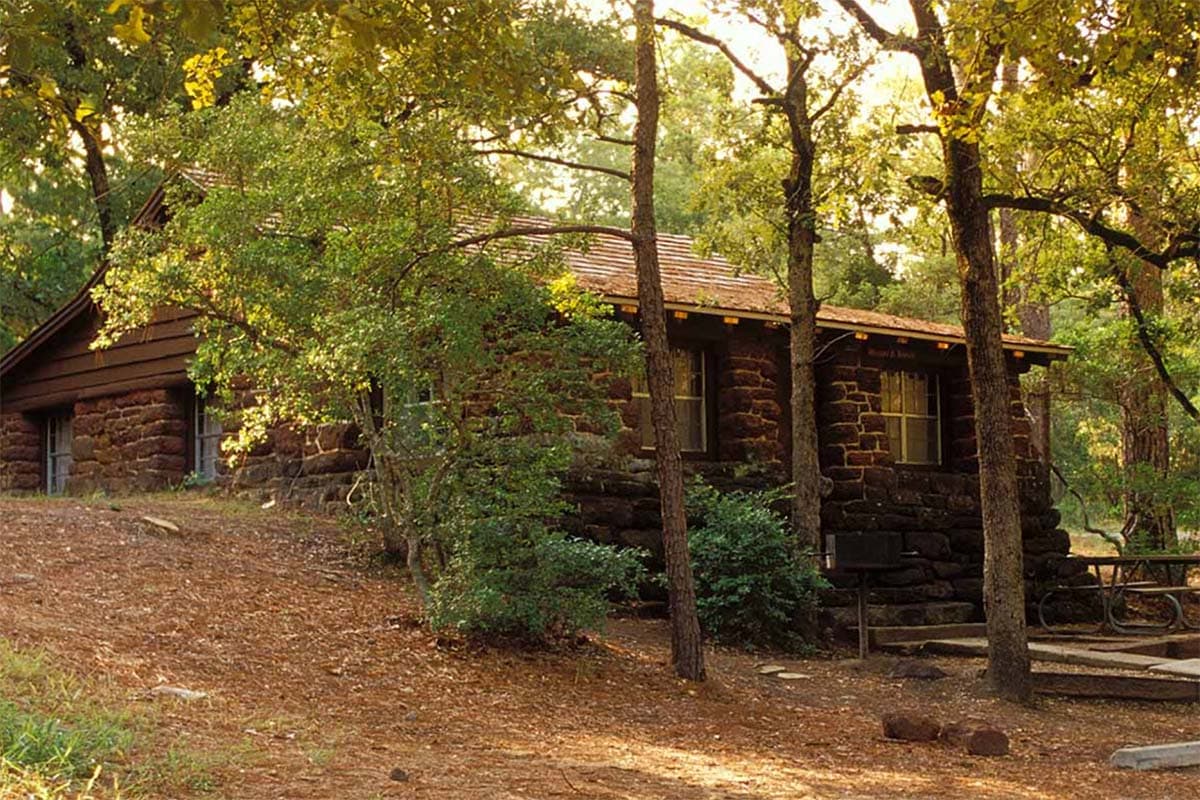 Why you should go: At this state park, you can see what a recovering forest looks like firsthand.
Sleeps: 2-8
Minimum stay: 1 night
Rates from: $110/night
Back in 2011, most of Bastrop State Park was burned down in a major fire. Thankfully, there have been significant efforts to restore the area, making it still worth a trip. Due to the work done here back in the day by the Civilian Conservation Corps, this state park is one of just a handful across the country with the title of National Historic Landmark.
Some of the CCC's previously mentioned work includes the picturesque stone cabins, which are available to book along with other newer builds. All in all, you have plenty of choices with lodging, and the various cabins can accommodate from two up to eight people.
If you like to hike, you'll have seven miles of trail at Bastrop State Park to explore. Along your way, you'll be able to see the new growth of the recovering forest.
Check Availability
Find Your Next Texas Adventure
Sign up for Weekend Wanderer to join 10,000+ readers getting epic travel ideas every week.
---