We research, evaluate and select travel destinations based on a number of factors, including our writers' experience, user reviews and more. We may earn a commission when you book or purchase through our links. See our editorial policy to learn more.
---
There's a lot to love about Idaho.
Positioned between the trendy outdoor destinations of the Pacific Northwest and the mega national parks of Montana and Wyoming, Idaho is often overlooked as a vacation destination. There are some spectacular places to see across the Gem State, though, and they're definitely not overpopulated.
There are many romantic and secluded cabins in Idaho, no matter where you are in the state. In the southwest, visitors can stay within sight and reach of the Tetons and Yellowstone. Central Idaho is home to the Sawtooths and Snake River, and up north is where you'll find vast stretches of remote mountains and the charming city of Coeur d'Alene.
Part of what makes Idaho such a great place to visit is that not many people know just how great it is. It's time to visit this potato in the – er, diamond – in the ruff before the masses catch on. Here's a list of the best secluded cabins in Idaho to help you get planning.
1. Crystal Peak Lookout
Why you should stay: An adventurous escape to astounding views a historic fire lookout tower.
Nearest town: Fernwood
Sleeps: 2
Minimum stay: 1 night
Rates from: $200/night
Crystal Peak Lookout is a retired, relocated, and remodeled fire lookout tower renovated to be the ultimate adventure rental. Perched atop Crystal Peak, the 360-degree views are mesmerizing at all hours of the day.
Due to its remote location, you'll need a 4WD vehicle to access the lookout during the summer and a snowmobile to reach it in winter. If you don't have one, you can opt to have the caretaker pick you up in a Sno-Cat, complete with hot chocolate. There are 13 acres of private land you can roam to your heart's content, as well as a number of nearby hiking trails. There's also a wood-fired sauna down at ground level, perfect for chilly nights.
Check Availability
Related Read: 7 Awesome Yurt Rentals in Idaho for a Rustic Getaway
2. I Bar Ranch
Why you should stay: Off-grid living at its finest in the Challis-Salmon National Forest.
Nearest town: Challis
Sleeps: 2
Minimum stay: 1 night
Rates from: $135/night
The I Bar Ranch cabin sits within a gorgeous valley surrounded by mountain vistas, hot spring pools, and herds of wildlife. Outdoor activities abound in the area, with everything from snowshoeing to backpacking and kayaking. There are even a few local ghost towns to explore. And it's one of the most dog-friendly cabins in Idaho with a meager $20 pet fee.
The timber-framed cabin itself is a visual delight. It's well-made and looks as if it's been standing strong for centuries. Though off-grid, it does feature a full solar-powered kitchen with a stovetop oven and a refrigerator. This is the type of rustic seclusion many cabins strive for but only a few achieve.
Check Availability
3. Jay's Place
Why you should stay: If isolation and outdoor activities are your idea of a good time.
Nearest town: Ashton
Sleeps: 14
Minimum stay: 3 nights
Rates from: $235/night
The hosts of Jay's Place couldn't have described this cabin's true remoteness any better when they said "You'll think you've made a wrong turn after 10+ miles of dirt road, but then you'll see your cozy destination tucked within the trees." This place is far off the beaten path.
And that's what makes it so special. Set beside a private lake and surrounded by untold miles of off-road OHV trails, Jay's Place is the type of cabin that you check in to and don't see people again until your check-out date. The point of this location is seclusion and privacy. You'll want to bring your crew out here and explore the surrounding wilderness for days (or even weeks) on end.
Check Availability
4. Teton Cabin
Why you should stay: Lux basecamp for journeys into Yellowstone and the Tetons.
Nearest town: Driggs
Sleeps: 4
Minimum stay: 4 night
Rates from: $199/night
This artfully designed and appealing Teton Cabin is ideal for adventurous souls. Just outside Driggs, you'll be within close reach to civilization when you want it.
But perhaps more importantly, both Grand Teton and Yellowstone national parks are within day-trip driving distance. And Jackson Hole is only 30 minutes away. And moose roam the property. There's a lot to like.
"Don't think twice, grab this one while you can! We anchored here for 8 days and used it as our base for both Yellowstone and Grand Tetons as well as Jackson and it worked out so well!"
Check Availability
5. Snake River Honeymoon Cabin
Why you should stay: Spend all day on the riverside deck birdwatching and barbecuing.
Nearest town: Hammett
Sleeps: 6
Minimum stay: 2 nights
Rates from: $200/night
If wildlife is your jam, then the Snake River Honeymoon Cabin is the bee's knees. The property butts up against the Snake River where you can fish, kayak, and spot wildlife all day long. The whole home is great, but the large back deck overlooking the beautiful Snake River canyon is a big highlight.
There's an Oregon Trail Interpretive Center nearby at Glenns Ferry, and Boise is a short trip north. The cabin itself is spacious and has a large fireplace to gather around at the end of the day. The wildlife viewing doesn't end once you're inside, though, as the home is decorated with trophy deer skulls, antlers, and taxidermied birds on every wall.
Check Availability
6. City of Rocks Cabin
Why you should stay: Pastoral solitude with enough room for your entire family (and then some.)
Nearest town: Almo
Sleeps: 16
Minimum stay: 2 nights
Rates from: $200/night
Far down at Idaho's remote southern end, the refined Rock City Cabin sits in the middle of miles of rolling grassland. This large cabin has sophisticated styling that uses natural wood and stone to complement the surrounding landscape. It's a luxurious home, and it's also one of the cheapest cabins in Idaho – even with only 10 guests, it's only $20 per person per night. The owners will even let you pitch a tent on the lawn if you have an bigger group.
The hamlet of Almo is the only sign of life in the vicinity, and it's home to little more than a smattering of ranches and a mercantile store. However, it does serve as the gateway to Idaho's City of Rocks Natural Reserve where hiking, biking, and rock climbing are all popular activities with the few intrepid explorers to venture out this far from civilization.
Check Availability
7. Cocolalla Log Cabin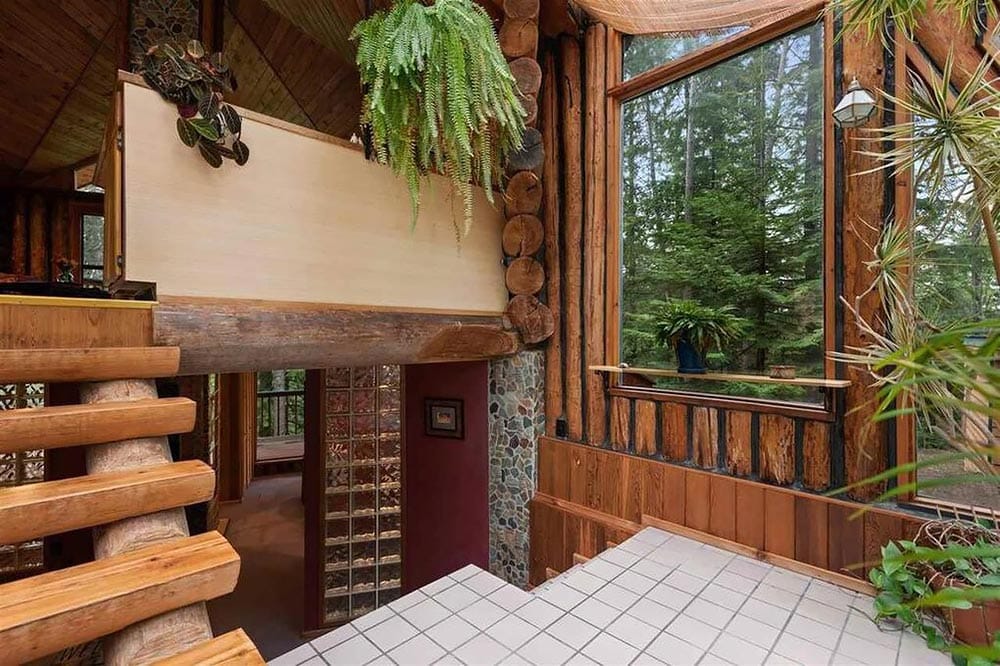 Why you should stay: Enjoy your own private forest in this cute and quirky cabin.
Nearest town: Cocolalla
Sleeps: 5
Minimum stay: 2 nights
Rates from: $250/night
The Cocolalla Log Cabin has a unique design that guests tend to fall in love with. Seriously, just click through those photos. It's surrounded by five private acres of forested land to explore and even has a second more rustic cabin to accommodate extra guests.
Cocolalla Lake is minutes away, and the much larger Lake Pend Oreille is nearby, too. Similarly, there are three ski resorts, a theme park, and the city of Coeur d'Alene all less than an hour down the road.
"The cabin is one of the most unique and interesting buildings I've ever stayed in – creative, stylish, comfortable, and spacious."
Check Availability
8. River Runner's Retreat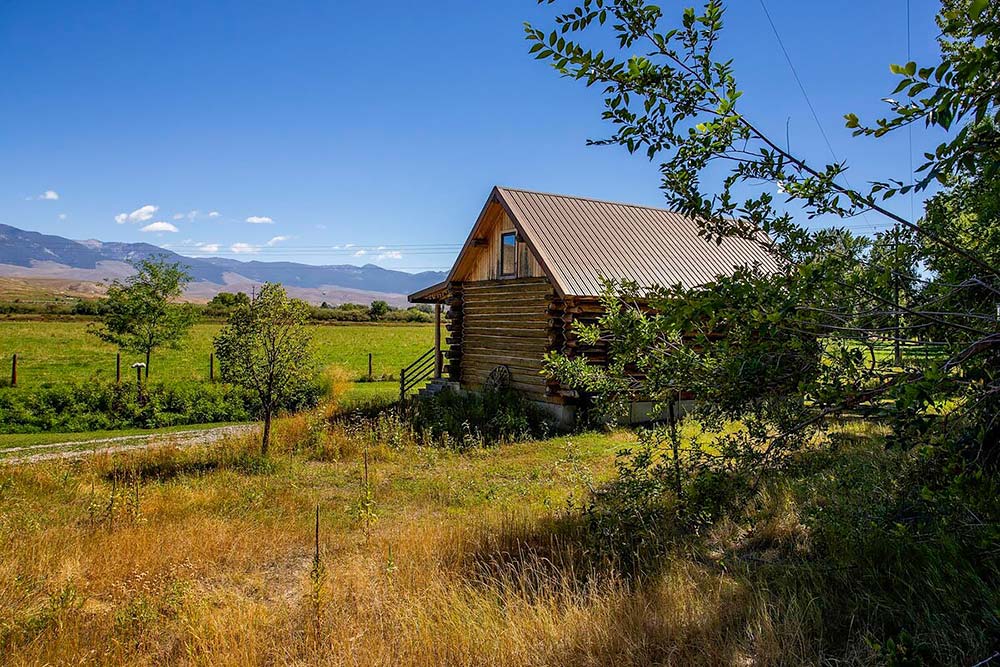 Why you should stay: A private and romantic riverside cabin that's far from remote.
Nearest town: Salmon
Sleeps: 4
Minimum stay: 1 night
Rates from: $110/night
Looking for privacy, but don't want to be far from town? To reach the River Runner's Retreat, you'll drive across a private railroad car bridge to the plot of land where this rental and the owner's home share an acre. The only things next to you are the Lemhi River and adjacent farmland, so you get a feeling of seclusion. And the open fields provide unobstructed mountain views.
The best part is that the small town of Salmon is a five-minute walk from the cabin. You can saunter over to downtown and spend an afternoon window-shopping or visiting the grocery store and then escape back to your private riverside oasis.
Check Availability
9. Taylor Mountain Cabin
Why you should stay: Off-grid opulence. Who said roughing it had to be difficult?
Nearest town: Firth
Sleeps: 8
Minimum stay: 1 night
Rates from: $129/night
Tucked away into the mountains southwest of Idaho Falls, the Taylor Mountain Cabin is a delightfully modern and pristine off-grid hideaway. Its landscaped grounds and simple log cabin exterior are a welcoming sight amid the dense forest surrounding it.
Inside, this immaculate cabin has bright, neutral colors, ample lighting, exquisite adornments, and a full kitchen. Solar power is the name of the game, but you'll hardly feel as if you're out in the middle of nowhere. There's no Wi-Fi, but that's a small price to pay for a cabin this cool. You're also close to Idaho Falls, a beautiful town with plenty of cool museums and restaurants.
Check Availability
Explore More
Sign up for Weekend Wanderer, our free email newsletter where thousands of readers get epic travel and airbnb ideas every week.
---