We research, evaluate and select travel destinations based on a number of factors, including our writers' experience and expertise, user reviews and more. We may earn a commission when you book or purchase through our links. See our editorial policy to learn more.
---
Feeling romantic? You'll have no trouble finding getaways across Texas that are perfect for setting the mood or lighting that special spark.
Maybe to you, a romantic retreat means being together in a secluded hideaway surrounded by expansive wilderness. Or maybe you think true romance is pampering each other at a classy resort in the heart of a bustling and exciting city.
Or maybe your dream escape falls somewhere in between those two. Whatever kind of ambiance you're looking for, these fun rentals across Texas make it easy to enjoy each other's company and turn the dial up on romance.
Related Read: 10 Unforgettable Glamping Spots Near Dallas, Texas
1. The Driskill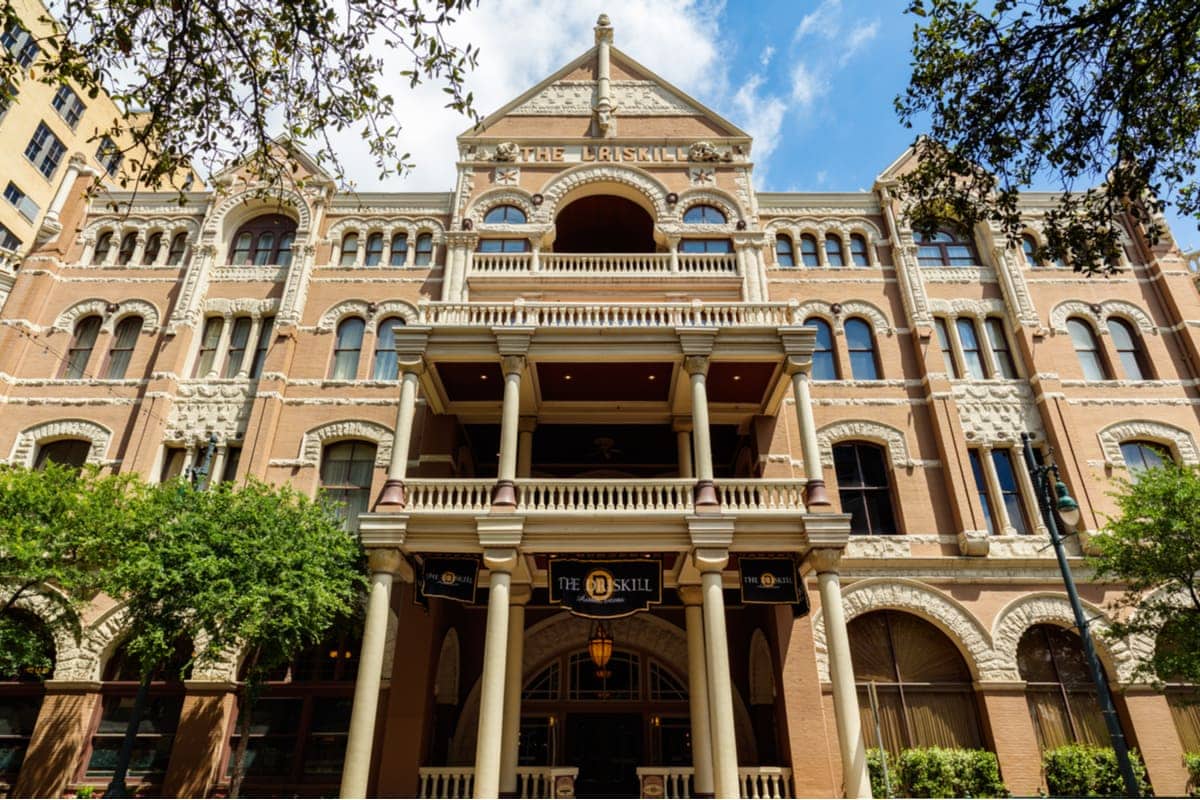 Why you should stay: Stay in the center of the action at this legendary, luxury hotel.
Location: Austin
Sleeps: 4
Minimum stay: 1 night
Rates from: $306/night
In terms of Austin hotels, it doesn't get much more iconic than The Driskill. Located in the heart of downtown, this hotel has a storied history dating back to its opening in 1886. Many Texas governors have hosted their inaugural balls here; former president Lyndon B. Johnson went on his first date with his future wife, Lady Bird, here; and it's considered one of the most haunted hotels in the whole state (many would say the whole country).
Don't let that last part put you off though — the Driskill also happens to be a gorgeous spot for a romantic getaway given its luxurious and sophisticated interiors. If you're celebrating a special anniversary, opt for one of the suites that have a clawfoot tub and a private balcony looking out onto the famous Sixth Street.
During your stay, there's a perfect date idea waiting for you right in the hotel: the Driskill's traditional afternoon tea where you'll enjoy three courses served alongside tea (of course!) and sparkling wine. Just be sure to reserve your spot in advance since they're known to sell out!
Check Availability
Related read: 12 Best Texas Lakes for Swimming, Sun & Shoreline Lounging
2. Collective Hill Country
Why you should stay: Trendy glamping tents with exclusive experiences for guests.
Nearest town: Wimberley
Sleeps: 4
Minimum stay: 1 night
Rates from: $409/night
Collective Hill Country is a sprawling retreat tucked in the Hill Country. While this property offers three different types of tents (all of which are beautiful), chances are you'll be most interested in the honeymoon suite for your romantic Texas escape. This accommodation offers even more seclusion and features a private deck overlooking the ranch.
During your stay, a cooked-to-order breakfast and artisanal s'mores are on the house, and for all your other meals, you can check out the gourmet culinary offerings on-site. If you're looking to fill your time with loads of couples activities, you're in luck because the property has tons of options from yoga to horseback riding.
Collective Hill Country may be on the pricier side, but with all its perks, it could be the perfect place to celebrate a special occasion.
Check Availability
Related Read: 9 Awesome Cabin & Cottage Rentals Near New Braunfels, Texas
3. Hotel Granduca
Why you should stay: Stay like royalty at this five-star hotel just across the road from a popular city park.
Location: Houston
Sleeps: 4
Minimum stay: 1 night
Rates from: $391/night
Hotel Granduca gets its name from Adalberto Malatesta, the Granduca of Monfallito, and its architectural inspiration from Malatesta's 16th-century palazzo. Throughout the hotel, there are 122 different rooms and suite — all of which offer a mixture of deluxe design and a dash of Italian flair.
If you and your special someone are in the mood to splurge, go for one of the suites. Of these, the Residenza Imperatore is the crown jewel with its private entrance, study, soaking tub, guest bedroom, and additional bathroom.
The luxury at Hotel Granduca doesn't just stop at the rooms. You can enjoy a decadent afternoon tea in the designated tea room, go for a dip in the pool, and savor the chef's famous Winter Black Truffle and Lobster dish at the hotel restaurant.
From the Hotel Granduca, you're in a prime position to explore local attractions such as Memorial Park, The Galleria, and the zoo.
Check Availability
Related Read: 12 Best Romantic Getaways on Airbnb Across the U.S.
4. Camp Lucy
Why you should stay: Lux and romantic getaway in Texas on a wine country ranch.
Nearest Town: Dripping Springs
Sleeps: 10
Minimum stay: 2+
Rates from: $289/night
Let your worries wash away with a stay at Camp Lucy. The rental is located on a bluff above Onion Creek on a 289-acre property in the Hill Country, so it feels like a real retreat from the hustle and bustle of normal life.
From single rooms to classy suites to standalone cottages, you can pick the accommodations that suit you and your beau best. Whichever you choose though, expect an inviting blend of sophisticated design and modern amenities.
During your stay at Camp Lucy, feel free to make use of the property's conveniences: a restaurant, bar, pool, communal fire pit, and hiking trails. You may also want to set aside some time to check out the resort activities, which include yoga, archery, fishing, and interactive animal encounters. It's a super romantic Texas escape whether you're into spas and chocolate or quiet time together in the woods.
Check Availability
Related Read: The Ultimate Houston to Austin Road Trip Itinerary
5. Hotel Emma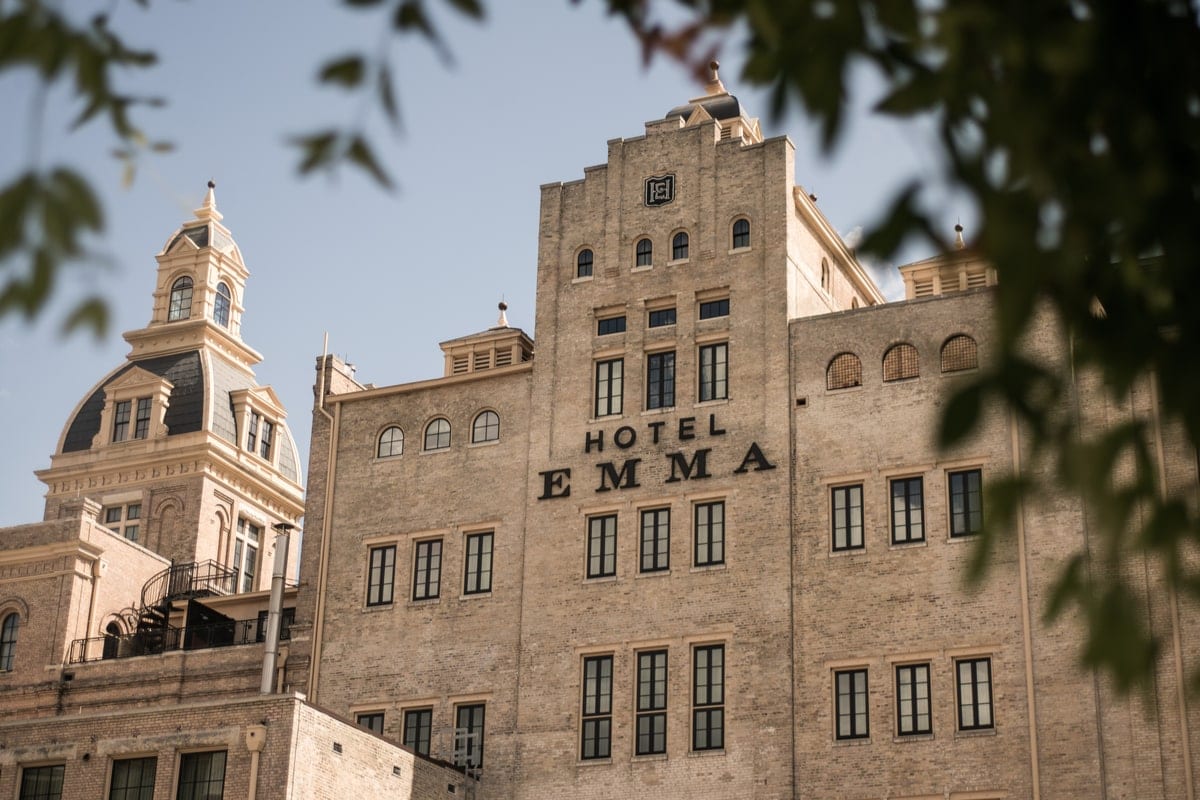 Why you should stay: This glamorous hotel was a brewery back in the 19th century.
Location: San Antonio
Sleeps: 4
Minimum stay: 1 night
Rates from: $595/night
Hotel Emma was ranked as one of the top hotels in the state in Condé Nast Traveler Readers' Choice Awards for the years 2019 and 2021. Needless to say, there's a lot to love at this historic spot found in the city's popular Pearl district.
From the classic rooms to the extravagant suites, the interior design here is refined and represents true Texas luxury. You and your partner will feel pampered from the moment you check-in thanks to the complimentary welcome margarita.
If you're looking for ideas for where to have some romantic dinners, just ask the culinary concierge. When the weather is right, head up to the rooftop pool or take out one of the cruiser bikes available for guests. You can also book a treatment at the Hiatus Spa and Retreat, or enjoy spa services in your own room.
Check Availability
6. Rosewood Mansion on Turtle Creek
Why you should stay: Enjoy a five-star stay at this sophisticated hotel that used to be a private mansion.
Location: Dallas
Sleeps: 4
Minimum stay: 1 night
Rates from: $555/night
Can't book a romantic European vacation at the moment? Come to Rosewood Mansion on Turtle Creek and pretend you're there amid architecture inspired by Spanish, Italian, and French estates. This hotel may be in the center of Dallas, but you and your loved one may just want to stay holed up given the beautiful accommodations and choice amenities.
Wellness-wise, you can enjoy the outdoor, 25-meter-long swimming pool. The water's temperature is controlled so you don't have to worry about the time of year. You can also book a massage service or spend some time in one of the therapeutic steam and sauna rooms.
Rosewood Mansion also offers additional guest experiences that would make for the perfect couples' activities. They range from a cheese-making class to in-suite meditation to a lesson in margarita-making.
Check Availability
7. Boca de la Roca
Why you should stay: Pure peace and solitude at this secluded cabin in Big Bend National Park.
Nearest town: Terlingua
Sleeps: 5
Minimum stay: 2 nights
Rates from: $309/night
Do you and your sweetheart want to go off the grid for a little bit? Then put Boca de la Roca on your radar. Here, you won't have to worry about any neighbors or city sounds killing your vibe.
Located at the base of a 4,700-foot-tall mountain in Big Bend, this remote cabin features 360-degree views of beautiful desert landscape. Hang out on the porch and you'll see it feels like the vistas go on for miles. Plus, it'll be hard to beat the sunrises, sunsets, and starry night skies you can witness while all the way out here. While the home is certainly one of Texas' best romantic getaways in its own right, it's very close to Big Bend National Park, which his one of the world's best Dark Sky parks. Get ready to snuggle under the stars
While you may be in the wild, there's no need to rough it seeing as this stylish stay comes outfitted with all the modern comforts you might need. When you're feeling up to explore, there's a trail right on the property that takes you up to the mountain peak.
Check Availability
8. The Houstonian
Why you should stay: A swanky downtown stay where you can indulge with deluxe amenities.
Location: Houston
Sleeps: 4
Minimum stay: 1 night
Rates from: $319/night
There's something delightfully indulgent about staying in a high-end hotel in the middle of the city. Embrace that feeling at The Houstonian, next to popular Memorial Park. Despite being in the heart of Houston, this four-star hotel feels like a little oasis seeing as it's located on a 27-acre wooded property.
From traditional guest rooms to fancy suites, each accommodation here offers a comfortable place to unwind. On the grounds, you'll find multiple pools, a walking trail, and tennis courts. A trip to the zen soaking pools and garden area will really make you feel like you're in paradise.
As a guest, you'll also get access to the exclusive Houstonian Club, a private health club where you can keep up your fitness even while on vacation.
Check Availability
9. Romantic Getaway with Private Hot Tub
Why you should stay: Relax in rustic luxury at a Hill Country ranch.
Nearest town: Fischer
Sleeps: 2
Minimum stay: 3 nights
Rates from: $235/night
At this romantic property, you can fully surround yourself with the beauty of the Hill Country since you're in the middle of it on a 100-acre ranch. Inside, you won't have trouble getting comfortable amid the decor's mix of posh furnishings and country living accents.
Who needs to leave the property when you have those expansive views from the floor-to-ceiling windows (and each other, of course?) It doesn't get much more romantic than sitting in the private hot tub underneath the stars.
If you do decide to venture away from your abode, you're just three miles from Canyon Lake where you can rent boats, kayaks, paddleboards, and jet-skis. For a unique night out, head to one of the honky-tonky dance halls in the quaint town of Wimberley, which is also just a short drive away.
Check Availability
Related read: 7 Epic Places to Go Glamping Near San Antonio, Texas
10. Moondance
Why you should stay: Life is good at this peaceful log cabin surrounded by nature.
Location: Wimberley
Sleeps: 4
Minimum stay: 2 nights
Rates from: $345/night
If all you want to do is snuggle up in a modern log cabin, then Moondance is just the place for you. Decked out in handcrafted furniture, this inviting stay has a king-size bed, a large soaking tub fit for two, and a private cedar sauna. It also has a wood-burning stove that's great for keeping you warm — or creating some ambiance.
Moondance is located on Cypress Creek, and you can appreciate the peaceful surroundings from your enclosed deck. As you recline on the rocking chairs outside, keep an eye out for the deer known to pay guests a visit.
While it may seem like you're far away from civilization, you're actually next to the town center where you'll find boutique shopping and tasty restaurants great for a date night out like The Leaning Pear.
Check Availability
Related Read: The 8 Most Amazing Yurt Rentals in Texas
11. The Octavia
Why you should stay: A charming cottage designed with couples in mind.
Location: Fredericksburg
Sleeps: 2
Minimum stay: 1 night
Rates from: $250/night
The Octavia is a cozy space perfectly set up for two. There are two inviting leather chairs in front of the fireplace, a double vanity in the bathroom, and even double showerheads. Sleeping wise, you'll be able to stretch out on the plush, king-sized bed.
During the day, you have your pick of fun activities from enjoying a tasting at one of the many wineries in the area to strolling down the shops along Main Street. Fredericksburg – i.e. Texas wine country – is a romantic Texas getaway all its own, making this an especially appealing weekend rental. But if you want to do something a little less romantic, the very interesting National Museum of the Pacific War is in town, too.
When you come home from your adventures, turn up the romance with a dip in the private hot tub bordered by a fence for extra privacy.
Check Availability
12. Hillside Boutique Hotel
Why you should stay: Leave the big city behind for this boutique hotel in the Hill Country.
Location: Castroville
Sleeps: 6
Minimum stay: 1 night
Rates from: $129/night
If getting to slow down and soak up each other's company is the kind of romantic getaway you're interested in, then consider Hillside Boutique Hotel. It's situated in a small Hill Country town known for its Alsatian culture, from food to architecture.
Hillside Boutique Hotel's rooms feature an attractive blend of rustic furniture and handmade, decorative touches. By the way, if you love the blankets, pillows, bath products, or other goods found throughout the space, talk to the front desk because most likely you'll be able to purchase them.
To really unwind, go ahead and book some spa services (you'll need an appointment), chill in a private cabana by the pool, or go all out and book a Hillside Wellness Retreat package. If you're dying to do something in the big city though, it's no problem seeing as you're just a 35-minute drive away from downtown San Antonio.
Check Availability
13. Lake View Haven with Private Pool
Why you should stay: Mediterranean-inspired getaway with its own pool.
Nearest town: Canyon Lake
Sleeps: 5
Minimum stay: 2 nights
Rates from: $375/night
Lake View Haven certainly delivers on its name. In the private outdoor living area, you have access to your own pool looking out onto Canyon Lake and the lush Hill Country. There's also a seating area with an outdoor stone fireplace where you can curl up when the sun goes down.
The interior of this stay is spacious and modern. In the downstairs living area, roll up the garage-style door to enjoy nice weather even from the inside, or challenge your partners to a round or two on the pool table or Pac-Man arcade game. Upstairs is another living room where you can Netflix and chill, so to speak, in comfort.
If those amazing views right outside your door inspire you to explore your surroundings, you'll be happy to know you're less than five miles away from the lake and Guadalupe River.
Check Availability
Related Read: 12 Best Beaches in Texas to Enjoy the Sun & Surf
14. One-of-a-Kind Casita
Why you should stay: Secluded stay for lovers – of beautiful design, that is.
Nearest town: Austin
Sleeps: 3
Minimum stay: 2 nights
Rates from: $210/night
Have a look around this casita sandwiched between Austin and Dripping Springs and you'll find gorgeous touches in every corner. The wall-to-wall french doors, large windows, and vaulted ceiling make the place feel roomy and bright. Then there are the attractive furnishings, which include vintage rugs, fine art, and antique imports.
From the bedroom, you can open the french doors and hop right into the hot tub, which is nestled under oak trees. Another fun way the outdoors and indoors become one at this casita is in the shower, which has an extra door leading outside. There's plenty of space for romance here, with porch rocking chairs, a hot tub, and swaying hammock.
Austin is only around 20 minutes away and while the city is known for its funky personality, it's also a romantic getaway unto itself with plenty of great places for couples to spend a day or evening together.
Check Availability
Related Read: The 9 Best Weekend Road Trips from Houston, Texas
15. La Casa de Joy
Why you should stay: Unique waterfront home with new-age and lux couples offerings.
Nearest town: Spicewood
Sleeps: 4
Minimum stay: 1 night
Rates from: $295/night
As the tallest straw bale home in the state, La Casa de Joy has made it onto HGTV and been featured in several design publications. This unique stay has plenty of charms, including a koi pond, sunken-level lounge, spiral staircase, fully equipped chef's kitchen, and – gasp! – gemstones embedded in the flooring. The outside is special as well, with a lovely covered porch that includes a swing and fireplace. And there's a private hot tub for your romantic canoodling, too.
One big plus location-wise is that you'll get private access to the Pedernales River so you can take a spontaneous dip any time. As if all of that doesn't have you hitting the "book now" button, La Casa de Joy even has special on-site amenities, so you can book everything from yoga and massages to energetic healing sessions.
Check Availability
More Getaways in Texas
Sign up for Weekend Wanderer to join thousands of readers getting epic travel ideas every week!
---