We research, evaluate and select travel destinations based on a number of factors, including our writers' experience, user reviews and more. We may earn a commission when you book or purchase through our links. See our editorial policy to learn more.
---
Alaska is enormous, and it's only of the last few places on Earth where you can find true solitude.
Despite covering hundreds of millions of acres, there are only a few metropolitan areas spread across Alaska, including Denali, Kenai, Fairbanks to Homer. Most everywhere else is undeveloped wilderness perfect for outdoor adventure and discovery.
As you might guess, most of Alaska in uninhabited. There are remote cabins spread across the state, but most are somewhat near the state's major attractions. Denali National Park, the Kenai Peninsula, and the capital of Juneau are among the most visited areas in Alaska.
Whether you're looking for complete solitude out in the Alaskan wilderness or a private place to stay near Alaska's greatest spectacles, there's a cabin for you on this list of the best cabin rentals in Alaska. No matter where you roam in the Last Frontier State, you're certain to find privacy and solitude — if that's what you're looking for, of course.
Related Read: The Best Time to Visit Alaska: A Year-Round Planning Guide
1. Alaska Aurora Adventures Cabin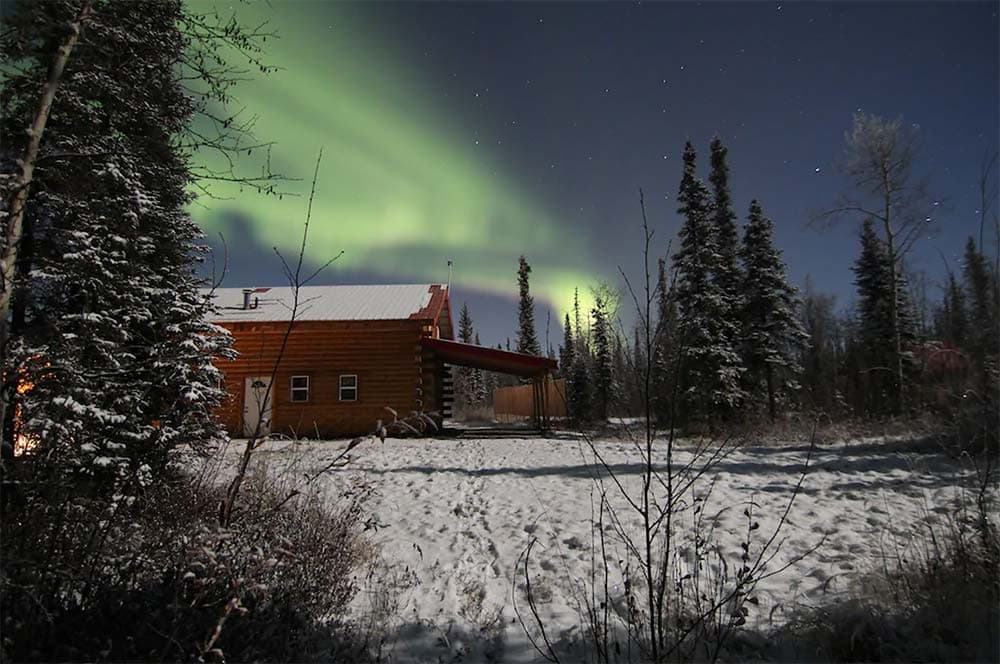 Why you should stay: It's right in the name: the Northern Lights are spectacular here.
Nearest town: Fairbanks
Sleeps: 8
Minimum stay: 2 nights
Rates from: $162/night
This adorable Alaska Aurora Adventures Cabin lies adjacent to the Tanana River and feels remote, but it's about 30 minutes south of Fairbanks. This puts it within reach of city conveniences but far out enough down a country road to be free of light pollution for a grand display of the Northern Lights.
Sitting on the front deck with a hot drink in your hand is the perfect way to experience the lights. You can see them all throughout the year; however, your glimpses of them will be far shorter in the summer, when Alaska is only dark for a short period of time each night.
Nearby, there are a number of lakes popular for fishing and swimming during the summer. Visitors will also be near to the Chena River State Recreation Area, Chena Hot Springs, and the Aurora Ice Museum.
Check Availability
Related Read: 9 Best Places to Stay in Alaska for the Ultimate Getaway
2. Oakley Inn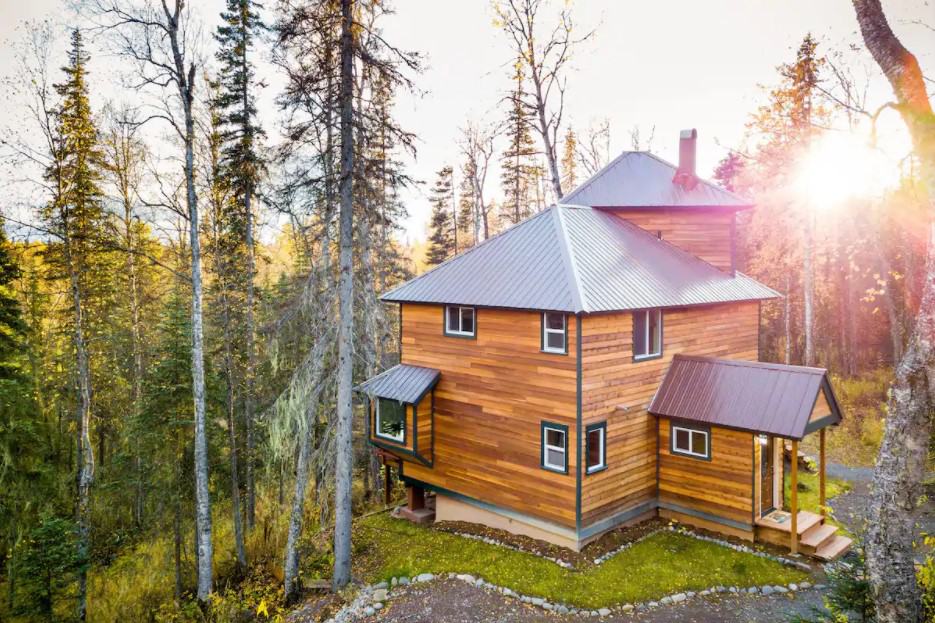 Why you should stay: Relax in a spacious home on a hillside above historic Talkeetna.
Nearest town: Talkeetna
Sleeps: 8
Minimum stay: 1 night
Rates from: $156/night
You get the best of both worlds when you stay at the Oakley Inn. It's a large private home set on a forested hillside with its own trail system, but it's only minutes away from the charming town of Talkeetna. It's also about halfway between the bustling city of Anchorage and the wild wonderland of Denali. Of course, there's plenty to do in Talkeetna without straying far, like ziplining, wildlife viewing, rafting, and panning for gold.
The cabin is adorned with pine, stone, and antlers, as any quintessential Alaskan home should have. The rental also includes tools for adventure, including fat-tire bikes that can be put to use right outside the front door.
The trail running past the house joins in with a half-day loop that travels to Christiansen Lake and the adjacent park system. These trails will also take you straight into town.
Check Availability
Related Read: 11 Best Resorts in Alaska Offering Unbeatable Outdoor Adventures
3. Cantwell Log Cabin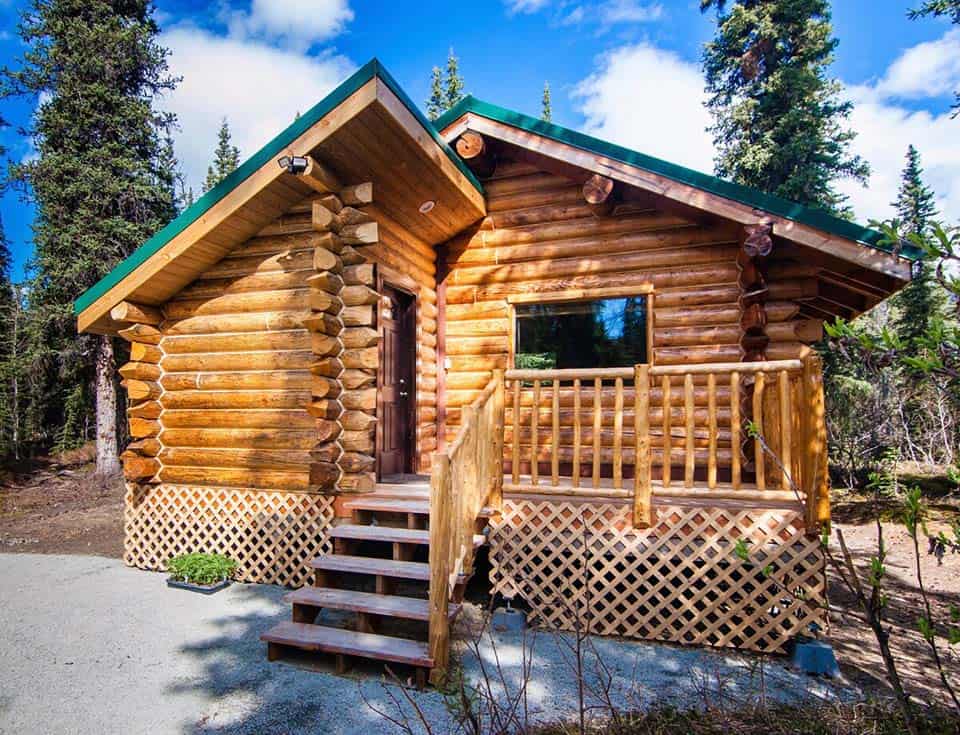 Why you should stay: A snug but luxurious guest house near the entrance to Denali National Park.
Nearest town: Cantwell
Sleeps: 4
Minimum stay: 2 nights
Rates from: $128/night
The Cantwell Log Cabin is a recently renovated studio cabin with a full kitchen and — wait for it — reliable Wi-Fi. Though it's on a property shared with the homeowners, guests will have absolute privacy, and the entire estate lies far away from Alaska's big cities.
The nearest full-service grocery store is 35 miles north in the town of Healy, and you'll pass by the entrance to Denali National Park on your way there. Once you're loaded up with groceries, though, this beautiful cabin will be complete with every necessity and convenience you could need.
"It's a luxurious cabin-in-the-woods experience and is one of the most unique spaces I have ever stayed in," said Airbnb guest Sam.
Check Availability
Related Read: 8 Breathtaking Alaska National Parks to Visit this Year
4. Silver Cabin at Montana Creek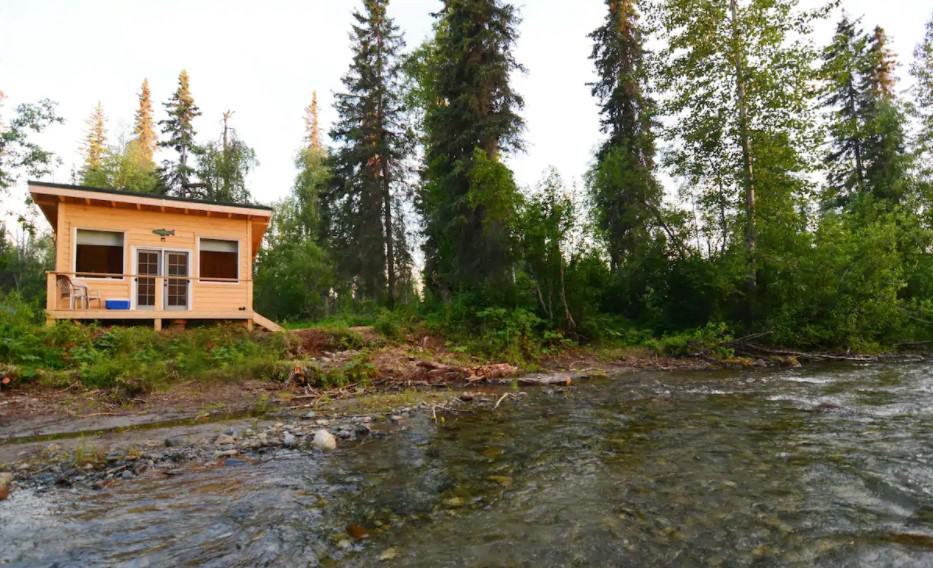 Why you should stay: Book it if sitting on the deck of your rustic creekside retreat sounds like the perfect way to relax.
Nearest town: Talkeetna
Sleeps: 3
Minimum stay: 1 night
Rates from: $73/night
Next to a fast-flowing brook, the Silver Cabin at Montana Creek sets the stage for a true Alaskan getaway. The owners used trees from the property to build the one-room cabin. It's warm and cozy, but you won't find much in the way of extras, including running water.
But you will have access to a wood-fired sauna to warm up after a long afternoon of fishing and hiking. Solar power provides electricity for a few base amenities, but you'll be off-grid living in the best way possible. There's no Wi-Fi, but if you have AT&T as your cell provider, you should have a few bars of service. But you probably won't need to stream anything – just sit back and watch the spawning salmon swim right past your front door.
Check Availability
5. Tiny Alaska Cabin
Why you should stay: Acres of open meadows for prime wildlife viewing with a Denali backdrop.
Nearest town: Nenana
Sleeps:

4

Minimum stay: 1 night
Rates from: $79/night
You might expect a remote Alaskan cabin rental to be smack in the middle of the woods, but The Tiny Alaska Cabin, however, is surrounded by many acres of open meadow. You can see for miles from your front deck or bedroom window. No passing moose will escape your sights — or coyotes, or deer, or any other of Alaska's abundant wildlife, for that matter.
The fields are covered with snow in the winter and wildflowers during summer. Either way, its a splendid landscape with Denali's silhouette far on the horizon. You'll feel one with nature here.
Check Availability
6. The Bear Cub Cabin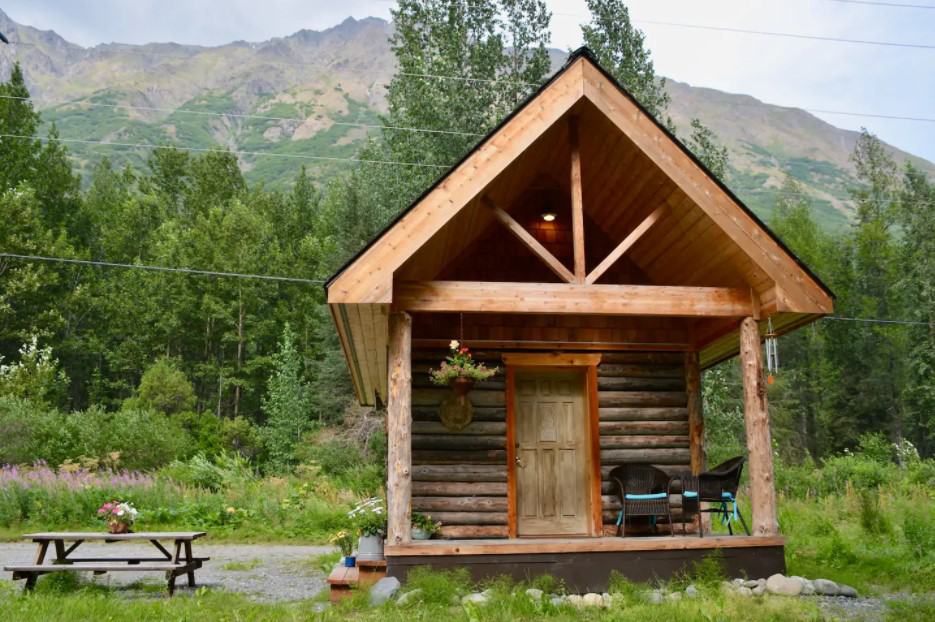 Why you should stay: A cozy cabin for two in the heart of the Kenai Peninsula.
Nearest town: Moose Pass
Sleeps: 2
Minimum stay: 1 night
Rates from: $130/night
The Bear Cub Cabin is a stylish and modern log cabin located in the forest lands north of Kenai Fjords National Park. Nearby is the quaint town of Moose Pass, and the seaside tourist town of Seward is only 50 minutes away.
This cute cabin may look adorably modern, but it is steeped with history. It was originally constructed well over 100 years ago during Alaska's early 20th-century gold-mining boom. The structure was completely remodeled in 2016 to give it contemporary conveniences and comforts, as well as to breathe new life into its ancient timbers. This is one of the most unique cabin rentals in Alaska if you love gold rush history.
Check Availability
7. Sweet Seclusions Cabin
Why you should stay: A fairly luxurious cabin (by Alaskan standards, anyway) near Denali National Park.
Nearest town: Healy
Sleeps: 2
Minimum stay: 1 night
Rates from: $94/night
Offering true solitude within a sparsely vegetated section of forest, the Sweet Seclusions Cabin is an ideal place for wildlife enthusiasts to look for animals right from their front deck. Guests will have wide-open views of the open forest which surrounds them that stretches out to the distant snow-capped mountains.
Though entirely off-grid, this cabin has power and hot water provided by solar panels and a generator; there's usually enough hot water for at least two leisurely back-to-back showers. In fact, there's even some cell service here, which may feel like a luxury after traveling through some of the state's more remote areas – though the outdoor Port-o-John will remind you you're still in the wilderness. You'll be situated about 40 miles north of Denali, making it easy to make an epic day trip.
Check Availability
8. Cozy Alaska Cabin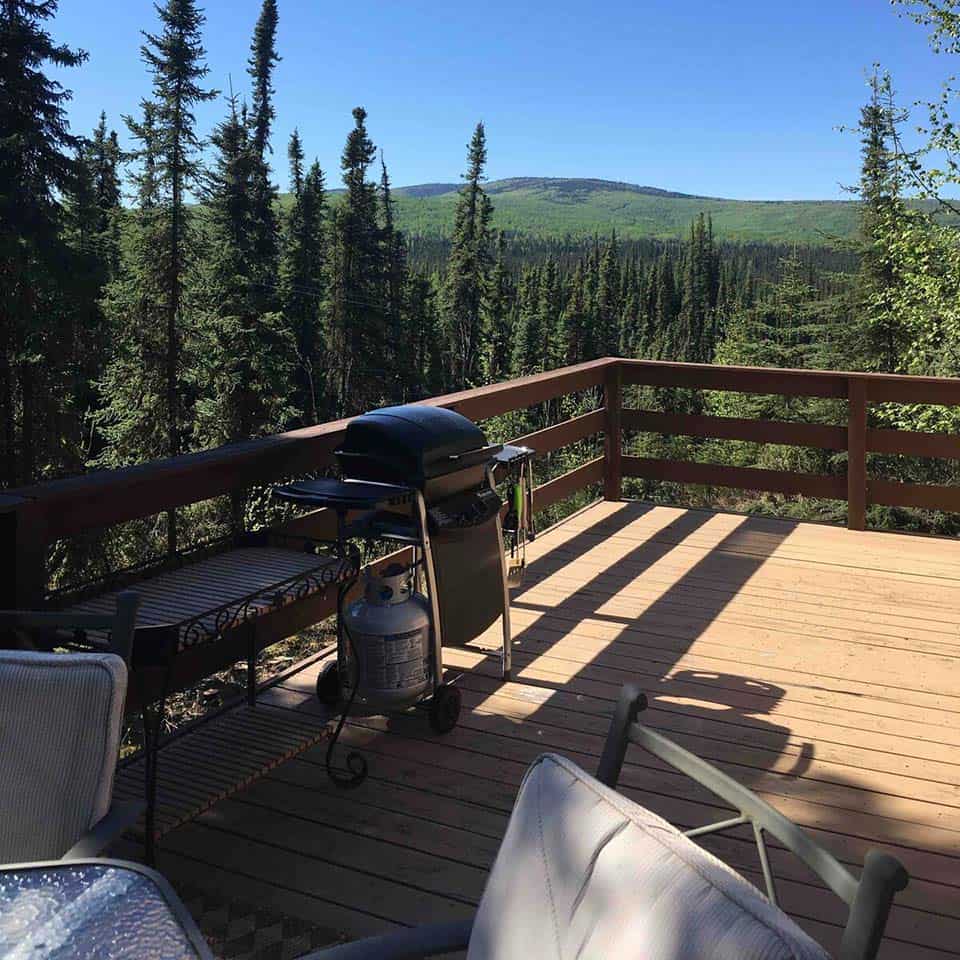 Why you should stay: Spot moose in the wilderness just outside of Fairbanks.
Nearest town: Fairbanks
Sleeps: 3
Minimum stay: 2 nights
Rates from: $80/night
You can have your cake and eat it, too, when you stay at the Cozy Alaska Cabin. It's a well-equipped and comfortable home that overlooks miles of Alaskan coniferous forest, but it's only minutes away from the city. The airport, downtown, and grocery stores a quick trip down the road — but in the same amount of time, you can also be even further into the wilderness.
The large private deck is something every vacationer will appreciate. An endless expanse of evergreen trees is your view during the day, and the Northern Lights are a nearly nightly show in the winter that seems to performing solely for you to enjoy.
Check Availability
9. Augustine Cabin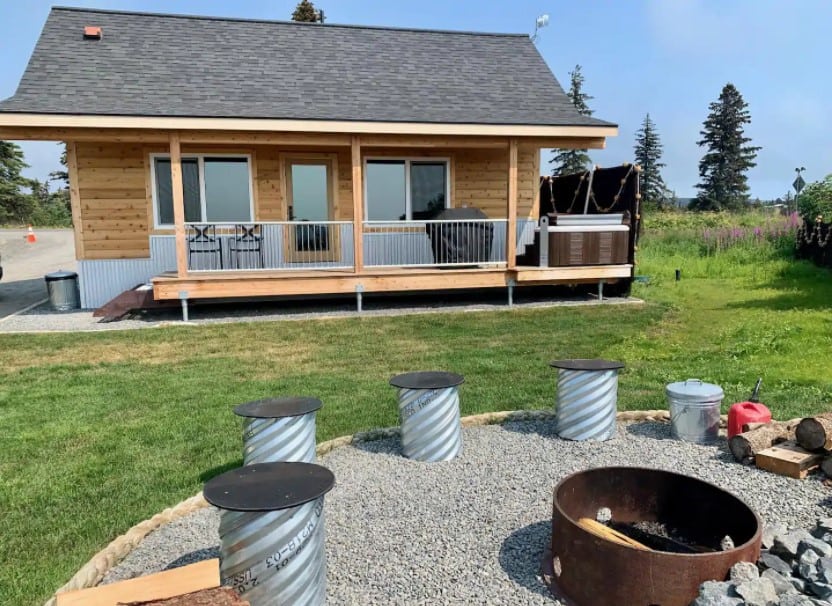 Why you should stay: A luxurious stay on top of the world overlooking Kachemak Bay.
Nearest town: Homer
Sleeps: 2
Minimum stay: 1 night
Rates from: $150/night
The Augustine Cabin is the type of place you have to see to believe. It's a beautiful home with a private hot tub and yard with unobstructed panoramic views of the surrounding waterways. On a clear day, you can see Kachemak Bay, the Cook Inlet, and Mount Augustine.
This is an excellent place to stay and relax the day away, just enjoying the beauty of Alaska. It'll be tempting to never leave this wonderful abode, but the town of Homer is just down the road, meaning all of the Kenai Peninsula is yours to explore. Though the home is private, it's near a major highway, so you can have both solitude and amazing views without having to go far to get to town.
Check Availability
10. Douglas Island A-Frame Cabin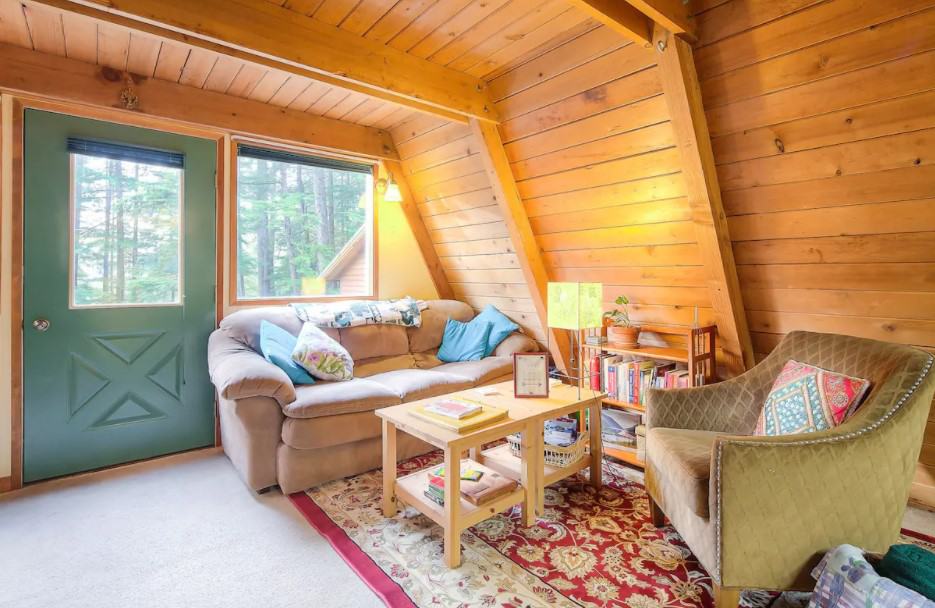 Why you should stay: Privacy in the woods near Alaska's most famous glacier.
Nearest town: Juneau
Sleeps: 4
Minimum stay: 2 nights
Rates from: $155/night
Rest during the evenings in seclusion at the Douglas Island A-Frame Cabin, and spend your days galavanting about Alaska's capital city of Juneau and all of the area's natural wonders. This cozy cabin in the woods feels utterly remote, but it's only 10 minutes from downtown. Ice caves, skiing, and art galleries are all at your disposal.
The like-new A-frame cabin is an interesting and cozy place to stay with access to surrounding forest and shoreline of Fritz Cove, where a pebble beach and awesome views await.
There are multiple wilderness locations and parks in the surrounding area to explore by boat or by foot. Most popular of all is the famous Mendenhall Glacier. You can explore it on foot or take a more luxurious journey on an unforgettable helicopter tour.
Check Availability
Explore More Amazing Retreats
Get epic travel ideas delivered to your inbox with Weekend Wanderer, our newsletter inspiring more than 10,000 readers every week.
---