Territory Supply is reader-supported and may earn a commission when you book or purchase using our links. Learn more about our editorial policies here.
---
Stretching more than 350 miles, the Oregon Coast is lined with countless beach towns, stunning ocean vistas, and exciting outdoor adventures.
The Oregon Coast has long been slated as a bucket-list worthy road trip destination in the U.S. It's often broken up into the north, central, and south regions, but travelers have fallen for the laid-back atmosphere and unique natural attractions to be found all along the water's edge.
If you're planning a trip to the coast, make time for special places like the Oregon Dunes National Recreation Area, Cannon Beach, or Yaquina Head. And be sure to book one of these incredible Oregon Coast cabin rentals and set up your trip to be the best ever.
1. Neahkahnie Nest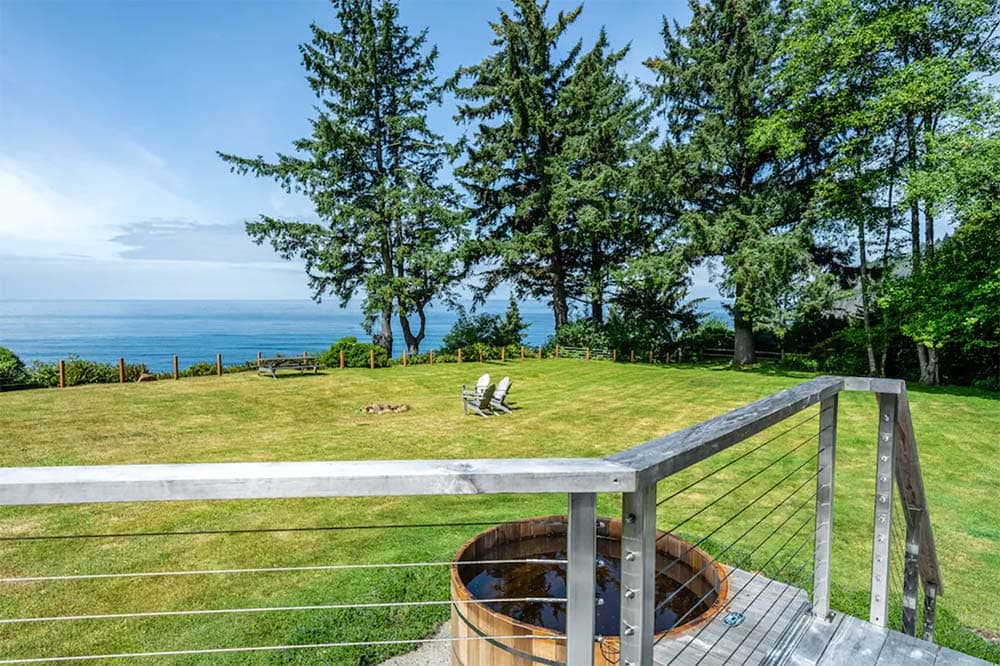 Why you should stay: A two-bedroom oceanfront cabin overlooking Neahkahnie Beach with a luxurious yellow cedar hot tub.
Location: Manzanita
Sleeps: 4
Minimum stay: 2 nights
Rates start from: $533/night
Perched on a bluff overlooking the ocean, the Neahkahnie Nest is a two-bedroom that welcomes guests to Manzanita. The home has a large and grassy yard furnished with a fire pit, picnic table, and a deck with a grill.
The interior is a bright and airy space with wide windows and homey touches. Find outdoor adventure on either side of the nest along the sandy shores of Nehalem Bay State Park or in the temperate rainforests of Oswald West State Park.
Check Availability
2. Oceanfront Modern Cabin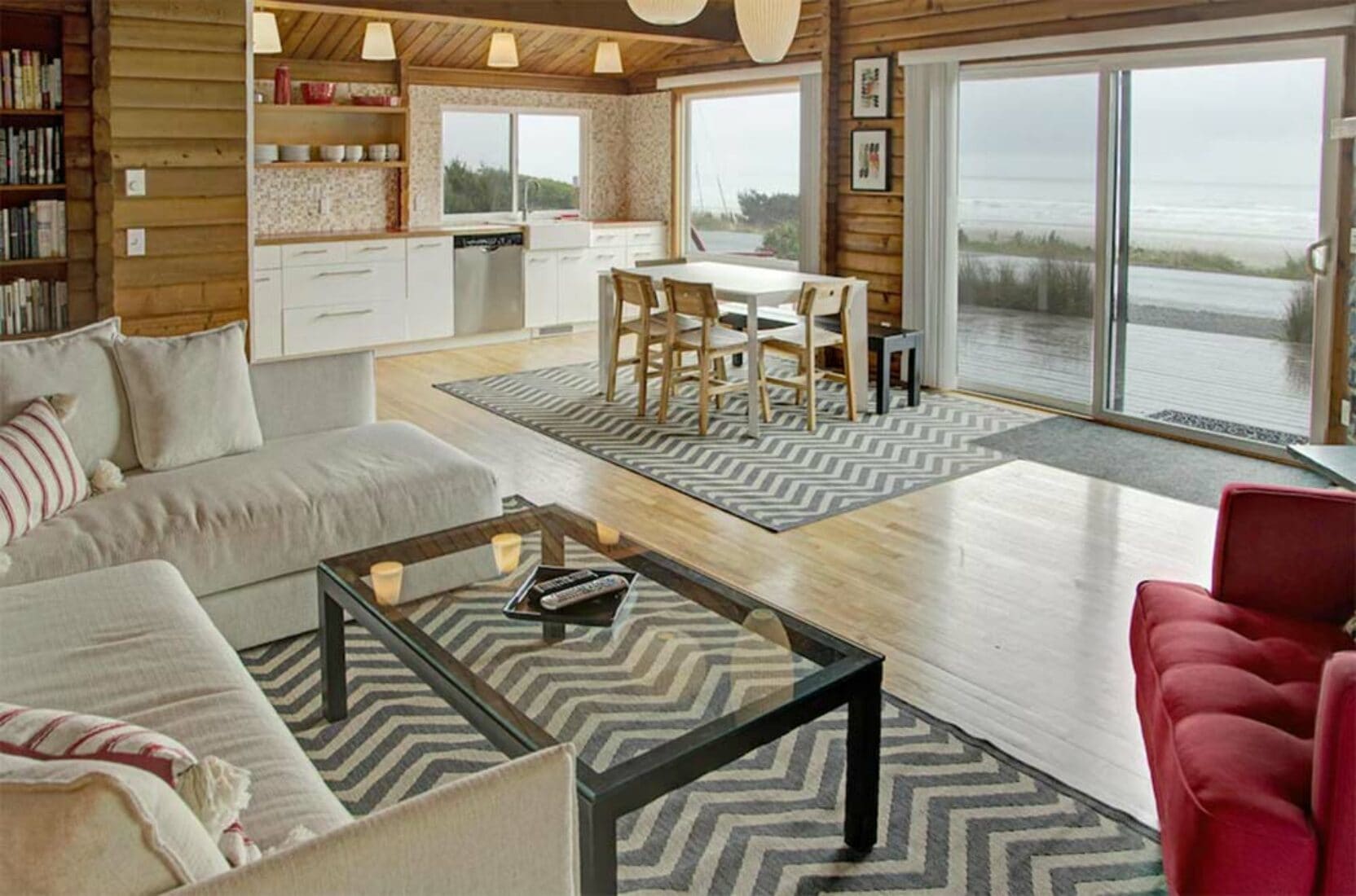 Why you should stay: Enjoy waking up in a charming little beach town just south of Cannon Beach near Nehalem Bay State Park.
Location: Manzanita
Sleeps: 10
Minimum stay: 2 nights
Rates from: $584/night
Nestled along Nehalem Bay, a premier spot for fishing along the Oregon Coast is a cozy oceanfront modern cabin. Featuring knotty wood paneling, a beachy interior, and views of the Pacific, this three-bedroom cabin is in a perfect spot to enjoy the seven-mile stretch of shore known as Manzanita Beach. Other noteworthy amenities include two spacious decks, two family rooms, and a room outfitted with three sets of bunks for large groups.
Check Availability
3. Cozy Cattail Cabin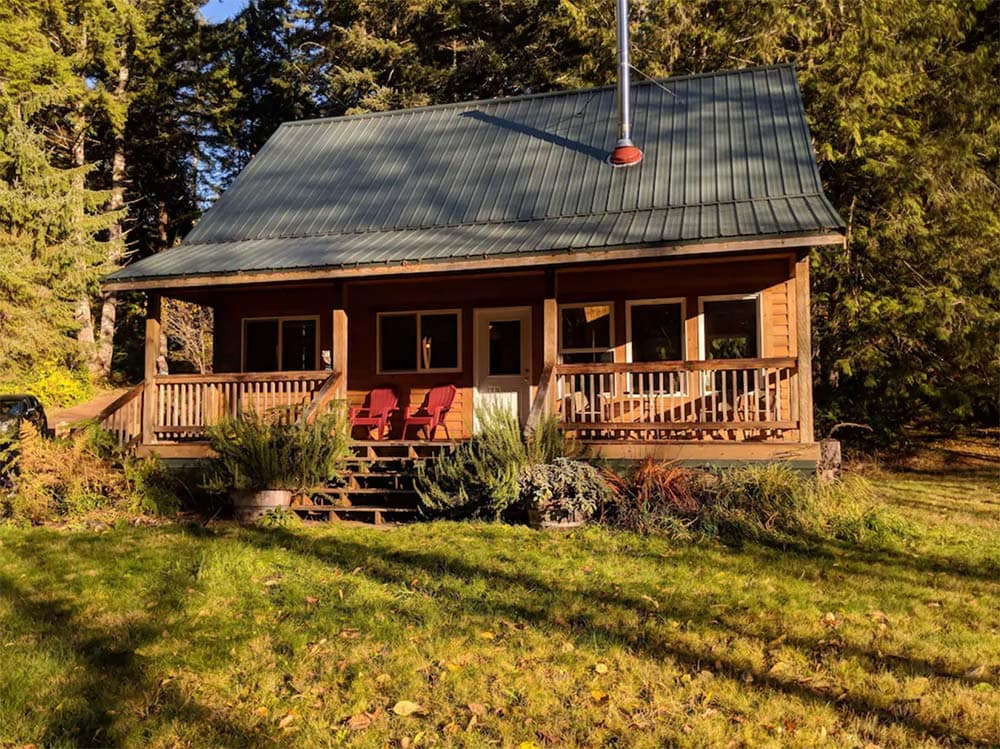 Why you should stay: An intimate cabin in the woods on a secluded property about seven miles from the Oregon Dunes National Recreation Area.
Location: Reedsport
Sleeps: 2
Minimum stay: 5 nights
Rates start from: $162/night
If seclusion on Oregon's coast is what you're seeking, look to the Cozy Cattail Cabin. This compact cabin is tucked in the forest not far from a peacefully flowing stream and out of range of strong cell service.
It's an ideal pick for couples visiting the area, and the pine paneling, front porch, and wood-burning stove up the cozy factor. The home has a lofted bedroom with a queen bed and outdoor laundry facilities. The coast and Umpqua Lighthouse State Park is about a 20-minute drive from the property.
Check Availability
4. Crown Bay Hideaway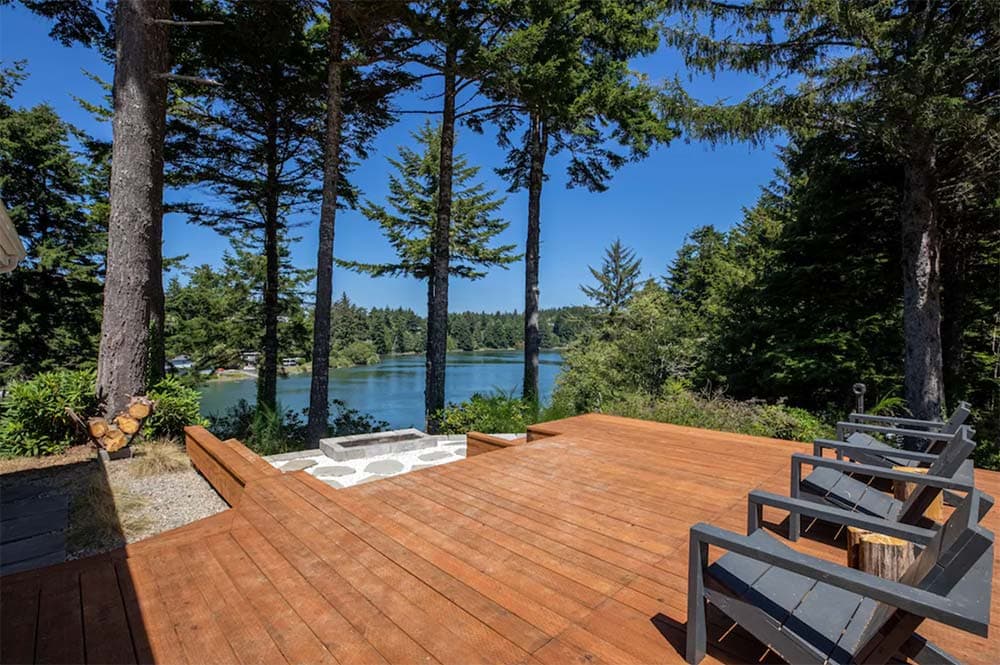 Why you should stay: A luxury cabin in the largest city on the coast, home to Shore Acres State Park and many local restaurants and shops.
Location: Coos Bay
Sleeps: 6
Minimum stay: 1 night
Rates start from: $388/night
The Crown Bay Hideaway is a renovated cabin with lovely views of surrounding waterways and access to a private beach and dock into Charleston Harbor. The home's yard features a wooden deck with a stone fire pit so you can sit next to a blazing fire while roasting marshmallows under the stars.
Inside, two bedrooms, a well-appointed kitchen with a coffee nook, and high-speed internet ensure you are as comfortable as can be during your stay. Coos Bay is part of the south coast, about 30-minutes from the Oregon Dunes Recreation Area.
Check Availability
5. A-Frame Chalet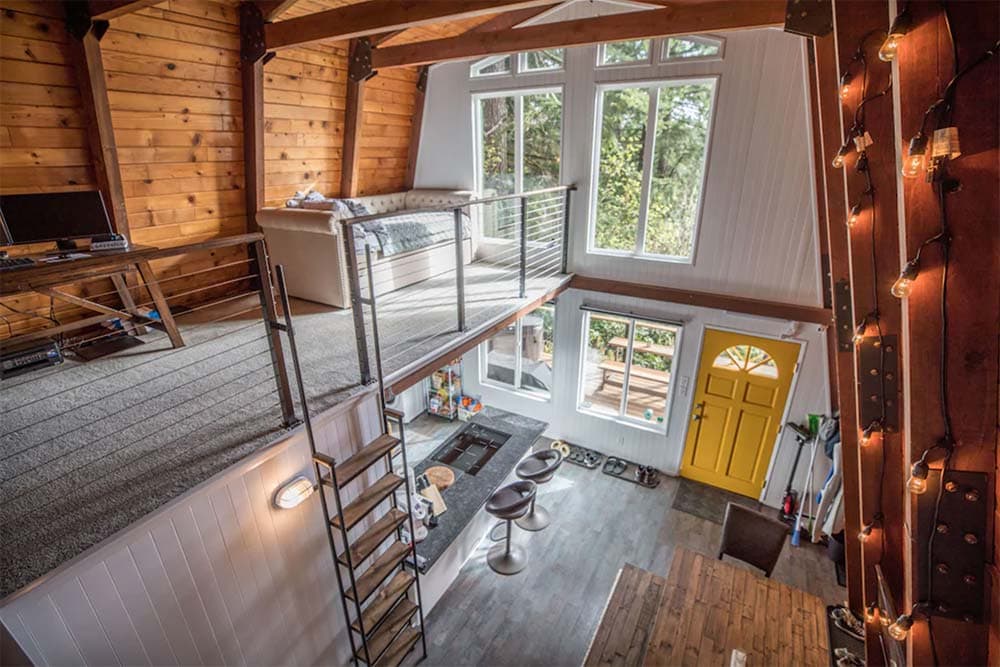 Why you should stay: A picturesque A-frame cabin that allows pets on 10-acres of wooded land laid with trails.
Location: Lakeside
Sleeps: 6
Minimum stay: 1 night
Rates start from: $368/night
This Oregon Coast A-Frame chalet is a unique vacation rental with a whole lot of forested privacy. Enter through the cheerful yellow front door and unleash your inner kid as you climb the ladder to kick back in the loft. The home is outfitted with minimalistic and comfortable amenities, including complimentary coffee supplies.
The outdoor spaces encompass an elevated back deck with a hot tub and a yard with a fire pit and tree trunk benches. Nearby landmarks include the Elliott State Forest, Oregon Dunes, and three lakes where water sports are allowed.
Check Availability
6. Blue Sea Oceanfront Cottage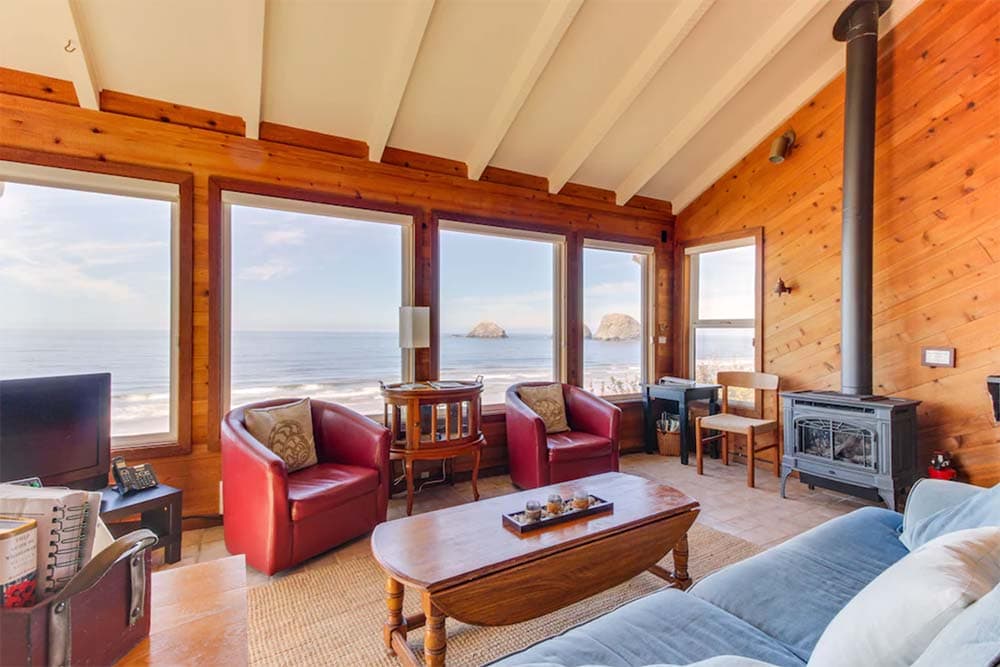 Why you should stay: A dog-friendly cottage with an elevated deck in a quiet beach town just 15 minutes from Tillamook.
Location: Oceanside
Sleeps: 6
Minimum stay: 1 night
Rates start from: $517/night
The Blue Sea Oceanfront Cottage is a two-bedroom vacation rental on a somewhat secluded property not far from exciting things to do like the Tillamook Cheese Factory. You can also spend your days on Oceanside Beach across from the home or soaking in the deck's hot tub.
Inside, enjoy unique amenities like the spiral staircase and wood-burning stove. On clear days, you can see from Netarts Bay all the way to Cape Lookout through the living room windows. The main streets of Oceanside are just three blocks away.
Check Availability
7. The Surfside at Short Beach
Why you should stay: Stylish decor and vibrant tones create a fun atmosphere at this oceanside chalet not far from Tillamook.
Location: Oceanside
Sleeps: 8
Minimum stay: 2 nights
Rates start from: $239/night
The Surfside at Short Beach offers guests pretty ocean views in the front and a calm forest ambiance out back. There's plenty of space for larger groups here with the home's four bedrooms and a roomy living room.
Mid-century modern furniture fills the home, complementing the exposed red brick and the walls painted with pops of bright turquoise. Guests also appreciate the side deck with Adirondack chairs and the four-person hot tub. During your stay, be sure to take the time to relax on nearby Short Beach.
Check Availability
8. Sunset Cabin
Why you should stay: Walk to the beach and Brookings Harbor from this serene cabin on a cliff.
Location: Brookings
Sleeps: 8
Minimum stay: 2 nights
Rates start from: $325/night
The Sunset Cabin makes visiting the beach a breeze via idyllic wooden steps that lead from the backyard to the ocean. The interior is also impressive with its inviting open floor plan, brick fireplace, and cathedral-style ceilings.
It's hard not to fall in love with the clear ocean views from the living room, master, and second bedroom. The home also features a family-friendly game loft, a small deck off the master bedroom, and a cozy breakfast bar.
Check Availability
9. Shelley Family Cabin
Why you should stay: Escape to a less crowded portion of the Oregon Coast at this tasteful and semi-secluded cabin for small groups.
Location: Yachats
Sleeps: 4
Minimum stay: 2 nights
Rates start from: $319/night
The Shelley Family Cabin has homey touches sure to make any visit to the central coast a comfy stay. The hosts have outfitted this one-bedroom home with amenities such as a swinging hammock, an outdoor fire pit, an interior stone fireplace, and a furnished deck.
The nearest town is Yachats where delightful shops and restaurants offer local dining. Nearby things to do include the Sea Lions Cave, Heceta Lighthouse, and beach access off of 10 Mile Creek.
Check Availability
10. Oceanfront Cabin
Why you should stay: An intimate little cabin across from the beautiful Yaquina Head Lighthouse encircled by thick woods.
Location: Newport
Sleeps: 2
Minimum stay: 2 nights
Rates start from: $150/night
Enjoy the added benefit of wooded privacy at this quaint oceanfront cabin for two. The cabin's interior is a studio that features a sleeping area, a small kitchenette, a dining area, and a loveseat sofa. Simple and clutter-free Scandinavian-inspired decor makes it easy to focus on the present. Added touches like the wood-burning stove and knotty pine also help make it a special place to stay.
Along the ocean-facing wall of the home, a deck offers fantastic views and a place to lounge in the sunshine. The Devil's Punchbowl State Natural Area is just down the road where hiking and unique rock formations amaze.
Check Availability
11. Sabala Cabin
Why you should stay: A bright-blue cabin with knotty pine and a wood-burning stove that's perfect for families and pets dying to explore the southern Oregon Coast.
Location: Bandon
Sleeps: 7
Minimum stay: 2 nights
Rates start from: $185/night
When you pull up to the Sabala Cabin, the first thing to catch your eye is the delightfully blue with red exterior set against the backdrop of lush trees. This Oregon Coast rental is conveniently situated a short drive from the shops in town and the beauty of Bandon Beach and the Bandon Dunes Golf Course. The home features a single bedroom with a large lofted sleeping space furnished with five single beds, as well as a grill and a spacious yard perfect for dogs.
Check Availability
12. Cove Cottage
Why you should stay: Find peace and quiet in an architecturally unique home near the Arch Cape and incredible Cannon Beach.
Location: Cannon Beach
Sleeps: 6
Minimum stay: 1 nights
Rates start from: $340/night
Floor-to-ceiling windows lined end to end set the scene at the Cove Cottage, a three-bedroom with a lot of character overlooking the water. Excellent ocean views aside, the home also features homey, eclectic accents, an attractive exposed brick wall, fireplace, and spiral staircase that leads to the upper bedrooms.
A deck outfitted with Adirondack chairs, a picnic table, a grill, and a hot tub stretches along the back of the home. This VRBO is an excellent pick for those planning to visit Oswald West State Park, Hug Point State Park, and the Haystack Rock.
Check Availability
More Cool Places to Stay
Sign up for Weekend Wanderer to join thousands of readers getting epic and gear travel ideas every week.
---