From the high desert to the lowland streams, Oregon is flooded with free camping.
Whether you're planning the ultimate road trip or vacationing on a budget, free camping is your ticket to truly experiencing the wonders of Oregon.
Free camping can be enjoyed practically anywhere on BLM or national forest land, and Oregon has an incredible amount of both. With 15.7 million acres of BLM land and 16 million acres of national forest, almost 50% of the state is covered by public land. In fact, Oregon is only second to Idaho when it comes to National Forest land.
Being the avid primitive campers that we are, we put together a list of the coolest free campsites throughout the state. Here's your guide to some of the best free camping Oregon has to offer.
1. Mt. Ashland Campground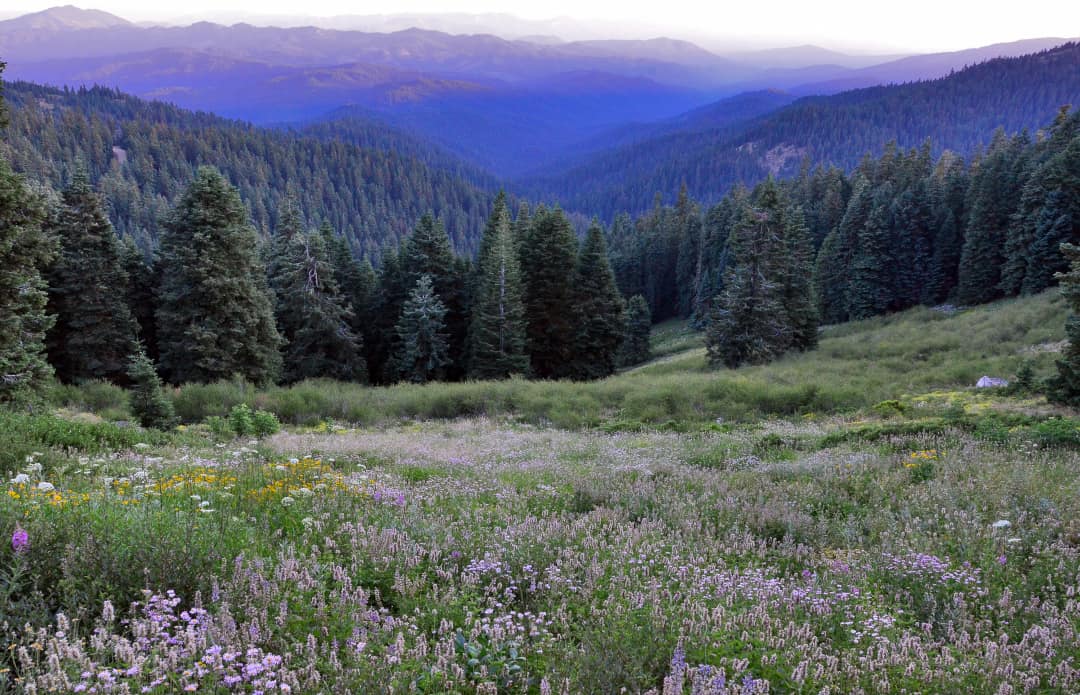 No. of free designated camp sites: 9
Ashland is an artsy town known for their famous Oregon Shakespeare Festival. If you're heading that way, you'll find a free spot to camp 18 miles south of town at the Mt. Ashland Campground. Nestled along the Siskiyou Crest, this is the camping spot for car campers and PCT hikers looking for something more remote.
The campsite is surrounded by the 800-acre Mt. Ashland-Siskiyou Peak Botanical Special Interest Area and accessible by forest road. You'll enjoy scenic views of Mt. Shasta and Mt. Lassen year-round. Plan your camping trip during late spring, though, and you'll be delighted to see the Mt. Ashland lupine in full bloom.
Car campers will find several spots scattered around the campground, each with parking. Two vehicles are allowed per site, but it can be a tight fit for larger vehicles. If you prefer to hike in, the sites are accessible via the PCT or along the forest road.
The Mt. Ashland Campground has some pit toilets, but there's no trash or water here. Whatever you pack in, be prepared to pack it out.
Campground Information
Rogue-Siskiyou National Forest
Craving water activities with a forest setting? Grab the gang and head out to the Rogue River-Siskiyou National Forest in southern Oregon.
This national forest is home to eight wilderness areas, three glorious mountain ranges, and several rivers, including the famous Rogue River. You'll find one of the world's most biodiverse ecosystems at the Siskiyou mountain range, while the Rogue River is known for its high-class rapids and floating trips.
Dispersed camping along with designated free campsites are available throughout the forest, albeit with limited amenities. For riverside camping, snag a prime spot along the Rogue River.
If you can't score a good spot by the Rogue River, try Oak Flat. This campground offers 15 campsites with fire pits and picnic tables along the Illinois River. Permits are required along the Rogue River Wild section, so plan ahead.
Official website
Umpqua National Forest
Camping, hiking, rock climbing, fishing, you name it — the Umpqua National Forest has it all.
Located in southwest Oregon on the western slopes of the Cascades, the Umpqua National Forest offers a beautiful scenic landscape. The forest features three wilderness areas, 350 miles of maintained trails, diverse wildlife, and stunning waterfalls.
With 192 acres of forest, you certainly won't be hard-pressed to find free camping here. For a waterfront view, check out out the Twin Lakes or Clearwater Forebay campgrounds. For a quieter weekend, try the Mineral Campground or Hobo Campsite. There's also an abundance of forest roads where you can find a pull-off to set up camp. Dispersed camping is allowed with some restrictions, read more.
During your visit, be sure to plan enough time to experience the highlights of the forest. You can soak in the Umpqua Hot Springs, approach some the many "problems" in the Umpqua Rocks Special Interest Geologic Areaor take a short hike to the 120-foot Toketee Falls.
When you're ready to hit the road, be sure to check out some of the spectacular spots along the 172-mile Rogue-Umpqua National Scenic Byway.
Official website
Sparks Lake
Located 25 miles west of town, Sparks Lake lets you explore the wonders of Bend, Oregon with the wilderness as your basecamp.
Once a brook trout fishery, this shallow lake offers scenic views of wetlands, wildlife, and several peaks, including Mt. Bachelor. Keep a lookout for bald eagles and river otters as they're known to be spotted in the area. With 360-acres of wetland, you'll feel at peace right outside the city.
When you're ready to pitch your tent, you can park along the forest road or find a campsite tucked around the lake. If you choose the lake, keep in mind that the majority of these sites are only accessible by boat. There's a 10-mph speed limit (yes, it's enforced) so kayaks and canoes are preferred.
Don't forget your fishing rod! You'll find excellent fishing spots all over this area.
Official website
Deschutes National Forest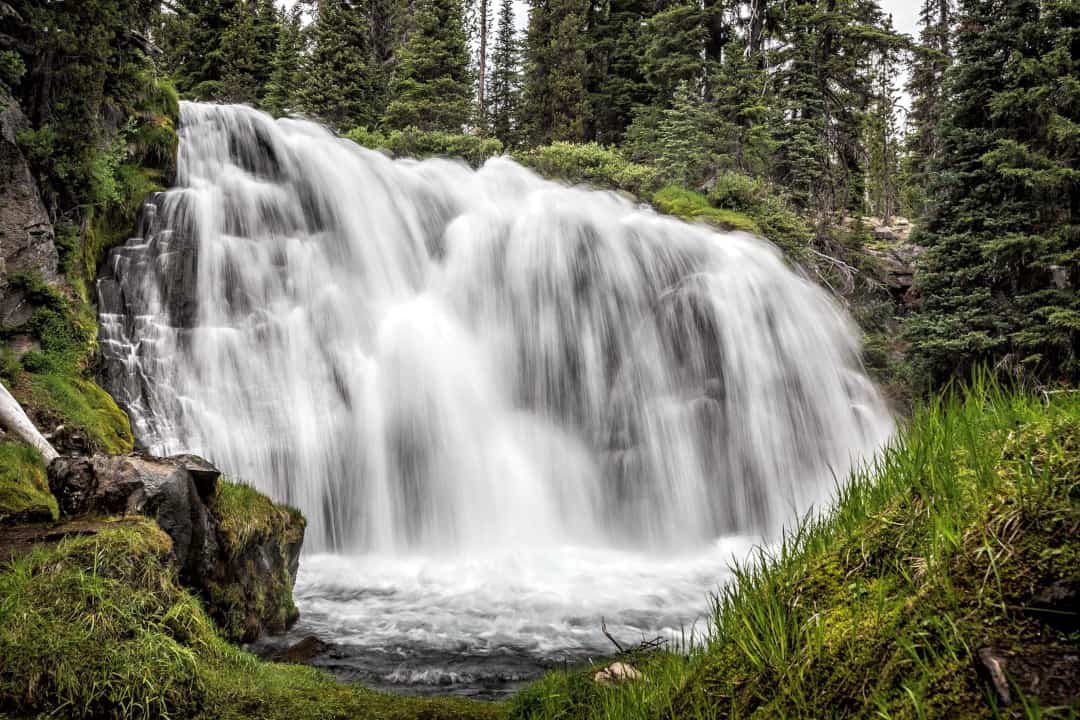 One of the best things about national forests is all of the free dispersed camping. With 1.6 million acres of land, the ever-popular Deschutes National Forest has plenty of that to go around.
Located in central Oregon, this is one of the most visited national forests in the state. By choosing dispersed camping, you can skip the over-crowded campsites and find solace during your stay.
Deschutes National Forest is nothing short of spectacular. Filled with dense forest, mountain views, trout-filled water, abundant recreational activities, and stunning geological formations, it's every camper's dream.
Don't miss the Newberry National Volcanic Monument on your visit. Here, you'll take a trip back in time with the lava lands and the still-active Newberry Crater.
Official website
Willamette National Forest
Another excellent national forest for free camping is Willamette National Forest. Encompassing 1.5 million acres, this forest is home to seven volcanic peaks, the Dee Wright Observatory, and the second highest waterfall in Oregon, Salt Creek Falls.
Alder Springs Campground is one of the most popular campsites in the area. Located along the McKenzie Pass Highway, this campground features sites with a fire ring, picnic table, and vault toilet. It provides easy access to the Lincoln Lake Trailhead, and isn't far from Three Sisters. Note that dispersed camping in Willamette National Forest is allowed with some restrictions.
With the third-, fourth-, and fifth-tallest peaks in Oregon so close, any alpine climber will be rearing to have a go at these epic volcanic peaks.
Official website
Priest Hole Recreation Site
If you're heading east, make a night or two of it at the Priest Hole Recreation Site. Situated on BLM land, this free primitive campground is located on the John Day River.
A gem nestled away far from town, Priest Hole is a favorite among the locals for fishing and swimming. You're welcome to camp anywhere here, but don't expect any campsite amenities. This campground is perfect for those who prefer roughing it with nature all around. Some of the best BLM camping in Oregon for sure!
Priest Hole is also a great camping location for experiencing all three units of the John Day Fossil Beds National Monument: Painted Hills, Sheep Rock, and Clarno.
The road out to Priest Hole is rough, so you'll want to bring a vehicle with high clearance. Fire restrictions are in place from June through September, and pets are allowed.
Official website
Three Forks Recreation Site
For a wild adventure, head on out to Three Forks. Located on the far-east side of the state on BLM land, Three Forks is one of the most remote camping locations Oregon has to offer.
The area is appropriately named as it's where the North, Middle, and Main Owyhee Rivers converge. Make your way into the canyon and you'll find five primitive campsites, a boat launch, and a vault toilet.
After a peaceful night in the canyon, head to the river for some fishing, swimming, and boating. Should you choose to venture off the river, you'll find hot springs nearby and plenty of day hiking.
Fair warning: descending into the canyon is no easy task. The rough road is not maintained, so you'll want a 4×4 vehicle. The road becomes impassable when it rains, so keep an eye on the weather. That said, as long as you come properly prepared and are willing to make the adventure, you'll find Three Forks is well worth the trip.
Official website
Page Springs Campground
Tucked away in the southeastern corner of Oregon is the Page Springs Campground. While it may be located in a seemingly desolate area, don't let the map fool you — there's plenty to do and see around here.
The Page Springs Campground borders the 170,200-acre Steens Mountain Wilderness and rests at the base of Steens Mountain itself. Remote and wild, the landscape here is nothing short of extraordinary.
Make the trek down here and you'll find rivers, glacier-carved gorges, a surprising diversity of plants and animals, and spectacular photo-worthy scenery.
Whether you're looking for basecamp or a place to stay during your visit to the high desert, Page Springs has you covered. This year-round BLM campground offers 36 spacious sites on a first come, first served basis. There's drinking water, several vault toilets, and a free covered picnic area for day use.
Official website
Know Before You Go
Camping on public land is one of the many joys we have when it comes to outdoor recreation. To properly enjoy this benefit while respecting the land and your fellow campers, it's important to follow the rules wherever you pitch a tent.
On national forest land, there are eight important rules you're expected to follow:
Stays are limited to 14 days (this may vary according to forest)
Camp at least 200 feet from water sources
Use existing sites or camp on bare soil when possible
Don't camp in the middle of clearings in meadows or dig tent pads
Practice proper fire safety
Use a self-contained toilet or burry humans waste 6-8 inches in the ground
Use biodegradable soap
Pack it in, pack it out
When you're camping on BLM land, there are nine rules you're expected to follow:
14-day limit within 28 days (must move at least 25 miles from original spot)
Quiet hours are 10pm to 6am
Most campsites are first come, first served
Camp at least 200 feet from water sources
Build fires in existing fire rings, stoves, or grills when provided
Groups of over 10 people or two vehicles in developed sites should use a group camp
Camp in marked sites in developed areas
Livestock is only allowed at designated facilities
Bury human waste at least 6 inches below ground
Wherever you choose to camp, be sure to check with the forest service for additional rules, regulations, and restrictions prior to departure. Ignoring these rules isn't just a party foul — you could face a fine and find yourself kicked out by a park ranger.
Looking for more great places to stay in Oregon? Try spending a night in one of these 8 Gorgeous Treehouse Rentals for the ultimate glamping experience , or find an Oregon Coast cabin rental for your basecamp.
More Oregon Camping & Cabins
Sign up for our free email to join 85,000+ readers getting epic travel, hiking, camping and gear ideas every week.
---