New Hampshire has awe-inspiring views and epic above-treeline excursions — but you'll have to venture beyond the standard road viewpoints to see them.
The Granite State might not be at the top of your list when you think of big mountains, but maybe it should be. It's home to the highest peak in the northeast (Agiocochook, a.k.a. Mount Washington) and the most prominent mountain east of the Mississippi River — it's an adventurer's playground (and it doesn't hurt that it's affordable and not too crowded). It has 48 mountains more than 4,000 feet above sea level, which may not seem very high, but it is when they all start at close to sea level.
White Mountain National Forest is home to many of those 4,000-footers (which we'll call 4Kers, for the sake of being cool) and is notorious for erratic weather. Mount Washington claims to hold the record for the world's worst weather. Yes — the world's worst! What might be a sunny day at the trailhead can be a socked-in summit with wind gusts well over 100 miles per hour.
If you plan to check out any of these hikes in New Hampshire, be sure to bring sturdy shoes with good grip — it's not called the Granite State for nothing. Seriously, many of the hiking trails in New Hampshire traverse large slabs of granite, which are natural slides with even the slightest bit of moisture on them. So tread carefully — literally — on these must-do hikes in New Hampshire below.
Related Read: 7 Magical Treehouse Rentals in New Hampshire
1. The Presidential Traverse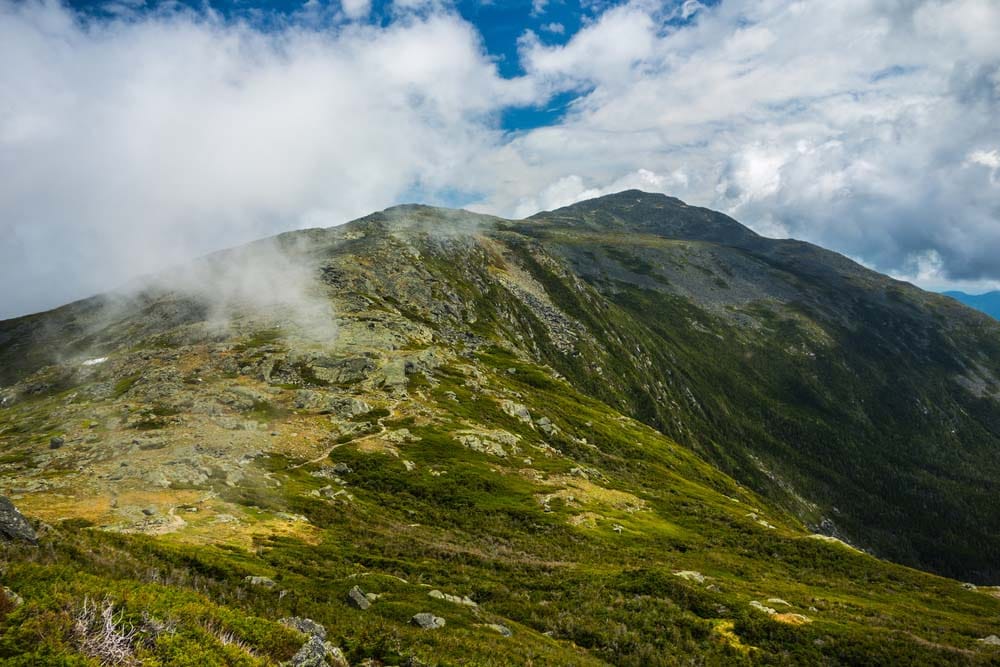 Why you should go: Knock out seven — seven! — 4Kers in a day.
Difficulty: Challenging
Length: 20.5 miles
Elevation gain: 8,200 feet
The "Presi Traverse", as the locals say, is one of the most iconic trails in the northeastern United States. The trail starts at the northern side of White Mountain National Forest and winds its way through the Presidential Range. It's named after (you guessed it!) former presidents of the US. The initial climb is brutal, with a 4,000-foot elevation gain in just four miles. It is the worst and a complete mind-game to keep putting one foot in front of the other. If you do manage to push through that first leg, though, it's mostly smooth sailing from there.
Once you reach the first summit (Mount Madison), you'll be above treeline for the rest of the trip until the final descent. You'll be rock-hopping for a large portion of the trail, so keep an eye on where your feet land. A broken or sprained ankle wouldn't bode well for this trek. After 20 miles, you'd have summited seven mountains, including the highest peak in the northeast: Mount Washington. Unfortunately, you can also drive up the mountain, so you'll see plenty of tourists who don't look like they've hiked a day in their life. You might also have to wait in line to take a photo at the summit marker. It's up to you to take the break or keep chugging forward.
Related Read: The Best Time of Year to Visit New Hampshire
2. Goodwill Conservation Trail
Why you should go: Like through a storybook, complete with a door in a tree to the 100-acre wood.
Difficulty: Easy
Length: 1.5 miles
Elevation gain: 150 feet
Take a stroll with Christopher Robin and his crew of characters around this peaceful forest in southeastern New Hampshire. The Goodwill Conservation trail takes you straight into the Hundred Acre Wood from the beloved "Winnie the Pooh" books, going past the homes of Tigger, Bunny, Owl, and Eeyore.
The trail culminates at Pooh's cave, where you may just find the friendly bear snoozing in the sun beside jars of honey. Warning: there's no actual honey in the jars.
Related Read: 8 Epic Camping Spots in White Mountain National Forest
3. Middle Sugarloaf Trail
Why you should go: Amazing fall foliage without the crowds.
Difficulty: Moderate
Length: 2.5 miles
Elevation gain: 900 feet
You can't say you've really seen New Hampshire if you haven't seen it in the fall. The beauty of the White Mountains during peak foliage is hard to describe. The purple, red, orange, and yellow hues are legendary and can really only be appreciated in person.
The best "bang for your buck" hike in New Hampshire for foliage is Middle Sugarloaf Mountain. The path opens to sweeping, panoramic views of the surrounding forest in less than a mile. You likely won't see a soul around if you visit midweek, but this trail is far less trafficked than the nearby trails on weekends, too. For more of a challenge, feel free to tack on North Sugarloaf, which adds about another mile to the trail. The views along the addition are equally stunning.
Writer's note: What's even nicer about this particular trail is how family-friendly it is. My 3-year-old did this on his own two feet (although I did have to carry him down the mountain after an epic summit meltdown). 
Related Read: 10 of the Best Romantic Getaways in New Hampshire
4. Mount Moosilauke
Why you should go: Hike a segment of a popular thru-hike without actually thru-hiking.
Difficulty: Challenging
Length: 7.5 miles
Elevation gain: 3,300 feet
Known as the "Gentle Giant", Mount Moosilauke is the westernmost 4Ker in the White Mountains. At 4,802 feet above sea level, it's ranked ninth in topographic prominence in New England. The trail has a gradual incline to the summit; hence the nickname "Gentle Giant." But don't be fooled: it's a steady incline for 3.25 miles.
The summit is bald and treeless — Moosilauke means "bald place" in Abenaki — so expect views for miles. You can see the Kinsmans Range to the north, New Hampshire's largest lake (Lake Winnipesaukee) to the southeast, and the Green Mountains and Adirondacks to the west on a clear day.
Related Read: The 9 Best Hikes Near Portland, Maine
5. The Flume Gorge
Why you should go: Is there anything more New England-y than a covered bridge?
Difficulty: Easy
Length: 2 miles
Elevation gain: 500 feet
You won't be alone on this trail as it is one of the most popular hikes in New Hampshire. But it's for good reason. The Flume Gorge is a jaw-droppingly cool natural phenomenon. The trail starts through an open forest and moves along a river with cascading waterfalls.
You may have a little space to yourself in the beginning, but when you start seeing more people you'll know you're close to the Gorge entrance. The boardwalk along the base of the 90-foot-high rock walls covers 800 feet at the base of Mount Liberty and is a lovely place for photos.
Writer's note: go in the winter. The boardwalk along the gorge closes sometime in October but you can still see the view from the edge. If you're lucky, you'll see some gravity-defying ice climbers making their way up the walls. 
Related Read: 11 Best Places to Snowshoe in New Hampshire
6. Piper, Belknap, and Gunstock Loop
Why you should go: Get views of the Lakes Region and Mount Washington.
Difficulty: Moderate
Length: 5 miles
Elevation gain: 1,800 feet
The first thing to know about this loop is to always go clockwise. Seriously – it's the better route even though AllTrails suggests going counterclockwise. But doing this hike in New Hampshire clockwise will put the bulk of the elevation gain in the first mile rather than spreading it throughout. It'll also save your knees on the way down. If you do decide to go counterclockwise, make sure to bring trekking poles.
This is a great hike for training to tackle some of your larger, more prominent mountains in the area. Luckily, the views don't disappoint from this hike, especially if you manage to catch a cool cloud inversion.
Related Read: 12 Epic Hiking Camps & Summer Backpacking Trips
7. Mount Major
Why you should go: If you want the very best views of New Hampshire's biggest lake.
Difficulty: Moderate
Length: 4 miles
Elevation gain: 1150 feet
This relatively easy New Hampshire hike brings you to the top of the Lakes Region. It's a great hike for all skill levels and you'll see as much on the trail; the path up Mount Major is well-worn from the boots of everyone from kindergarteners to retirees.
It's a gradual ascent if you take the long way around the loop. But if you're short on time, you can take the steeper route straight to the summit. Since the hike shouldn't take all day, you may want to head to nearby Meredith or Wolfeboro for some après-hike sustenance and small-town charm.
Writer's note: Do this as a sunrise hike. If you look east from the summit, you'll be able to see the sun tip over the horizon. I also recommend taking the long route to truly savor the experience.
Related Read: The Top 10 Best Campgrounds in New Hampshire
8. Welch-Dickey Loop
Why you should go: For early summer wildflower viewing.
Difficulty: Challenging
Length: 4.5 mile
Elevation gain: 1,800 feet
Most of the views along the Welch-Dickey loop are south and west facing, so it's perfect for a sunset hike (but be sure to bring a headlamp for the descent). On this hike, you'll summit Welch Mountain first, which has stunning views of the White Mountains. It's even more magnificent during peak foliage season, by the way.
From Welch, it's an easy half-mile to the Dickey summit, which is slightly higher and has even more dramatic views. Take this New Hampshire hike counterclockwise (as mapped on AllTrails) as the views going down from Dickey are indescribable.
Writer's note: The trail might not be best suited for smaller children as there are several ledges and rock scrambles that require all four limbs to ascend/descend. I'd suggest doing Artist's Bluff for those with smaller legs.
Related Read: 10 Best Hikes in Vermont for Woodsy Explorations
9. Lakes of the Clouds
Why you should go: Not one but two alpine lakes.
Difficulty: Challenging
Length: 4.5 miles
Elevation gain: 2,400 feet
The Lakes of the Clouds get their name from a constant presence of fog and clouds that make it difficult to know where the lakes send and sky begins. The lakes are about 5,000 feet above sea level on the saddle between Mount Washington and Mount Monroe. Climbing the 2,400 feet to the top in 2.25 miles is no easy task. Make sure your lung capacity and leg muscles are in top shape prior to giving this hike in New Hampshire a go.
When you make it to the lakes, make sure to pop into the Lakes of the Clouds hut for lunch. You can purchase soup and sandwiches between operating hours, though the lodge has full-service meals in the summer. For an even bigger adventure, add the 1.5 miles to reach the summit of Mount Washington.
Find Your Next Adventure in New Hampshire
Sign up for Weekend Wanderer to join thousands of readers getting epic travel ideas every week.
---