Portland might be Maine's most populated city, but there are plenty of green spaces nearby to escape the crowds.
When you first think of Portland, incredible hiking might not make it to the top of, let alone on, your list. But you'd be remiss to ignore this New England city as a perfect basecamp for your southern Maine adventures.
Sure, you could go to the more popular Acadia National Park — and do, if you have time, because it's wonderful. But Portland area hiking can give just as beautiful views without the parking woes or hefty entrance fees.
While you might be visiting Portland for other reasons — like the food scene is incredible — checking out any of the suggested hikes below shouldn't be missed. Whether you're a lover of beaches or mountains or perhaps prefer quick hikes with minimal elevation gain, there is something for everyone on the list below!
Related Read: 11 Stunning Airbnbs in Portland, Maine
1. Morse Mountain to Seawall Beach
View this post on Instagram
Why you should go: the best of both worlds — mountains and beaches.
Difficulty: moderate
Length: 4 miles
Elevation gain: 500 feet
Located just an hour north of Portland, this coastal hike brings you through the forest and out onto a sprawling beach. Hands down, it's one of the most beautiful beaches in Maine and well worth the two-mile trek to get there.
This also means that on hot, summer days the beach can get quite crowded despite the hike in. But the beach goes on for miles so you'll have no problem finding a bit of solitude when you reach your destination. This is a great family-friendly hike that ends with a nice dip in the ocean!
Related Read: 12 Epic Hiking Camps & Summer Backpacking Trips
2. Barrier Beach Trail
View this post on Instagram
Why you should go: brush up on your bird identification because this place is loaded with different species.
Difficulty: Easy
Length: 1.5 miles
Elevation gain: 75 feet
The Wells National Estuarine Research Reserve is listed on the National Register of Historic Places and home to an incredible education and interpretative center. There are several trails on the property but the hike to Barrier Beach is a great option if you can only choose one. It's a straightforward trail that easily accommodates strollers although those in wheelchairs might have a bit of difficulty with the elevation gain.
While you're there, hop on one of the several guided hikes or take a class about conservation. The Center is always hosting visiting scientists and doing in-house research as well. The 2,250-acre conservation area is home to ten types of habitats (including dunes and upland forests) and over 285 bird species!
Related Read: 14 Best Hikes in Maine for Exploring the Great Outdoors
3. Mackworth Island
Why you should go: it's the perfect trail for small kids and those who are kids at heart.
Difficulty: Easy
Length: 1.4 miles
Elevation gain: 45 feet
The trail around Mackworth Island is found by crossing a causeway from Falmouth (just north of Portland). The Island is currently home to the Portland School for the Deaf but the public can access the trails from dawn until dusk.
There are several reasons that this trail is a must for anyone who visits Portland. The first being that the very rare plant, Columbia Watermeal, can be found in the pond near the gatehouse. The second being there is a fairy village where local kids have constructed fairy houses using natural materials in the hopes they might get to finally witness one of the tiny folk.
And lastly, if you're feeling extra spooky, you can visit the Percival Baxter (the guy who donated the island to the state after his death) Pet Cemetery!
Related Read: 6 Road-Ready Campervan Rentals Near New York City
4. Pleasant Mountain via Ledges Trail
Why you should go: to remember that New England hiking can be really hard. 
Difficulty: Challenging
Length: 3.3 miles
Elevation gain: 1500 feet
Your lungs and your buns will be burning when you crest the summit of Pleasant Mountain. It gets its fame from being southern Maine's tallest mountain, sitting at just over 2,000 feet above sea level. You might be used to the fourteeners of the Rockies, but Maine hiking can also be quite difficult.
There are a few different ways up to Pleasant Mountain but the Ledges Trail is the most popular and for good reason. There are several lookouts and viewpoints along the way so you're never without magnificent views of the surrounding landscape. Be careful on this trail, though — it's called the "Ledges" trail for a reason. Hunting is also very popular in this area so make to wear orange during hunting season.
Related Read: 12 Glamping Escapes in Maine for Your Next Adventure
5. Burnt Meadow Mountain Trail
View this post on Instagram
Why you should go: there are wild blueberries along the trail all the way to the summit. 
Difficulty: Challenging
Length: 3.4 miles
Elevation gain: 1400 feet
For the first three-quarters of a mile of this hike, you'll be shaded by the typical Maine forest. But after that, the Burnt Meadow Mountain Trail opens to a few exposed ledges offering sweeping views of the surrounding mountains. Back in the late 1940s, this surrounding landscape looked a lot different.
The town of Brownfield was basically wiped off the map (at least 85% of the town) as a wildfire ripped through town. There were devastating wildfires throughout the area and almost 200,000 acres burned. This is where the trail gets its name although you can't see much evidence of the wildfire from those times. Nature has a unique way of healing itself.
Related Read: 12 Magical & Unique Places to Stay in Maine
6. Gisland Farm Trail
View this post on Instagram
Why you should go: officially a wildlife sanctuary but could also be a human sanctuary. 
Difficulty: Easy
Length: 1.7 miles
Elevation gain: 25 feet
The Gisland Farm Trail is located on the 65-acre Gisland Farm (they weren't exactly imaginative with the name). It's owned by the Maine branch of the Audobon Society, hence the whole wildlife sanctuary thing. Although there are only a few miles of hiking trails, you'll meander through forests, marshes, orchards, and meadows.
The diverse landscape creates a haven for wildlife including nesting grounds for Bobolinks and Meadowlarks. Don't forget your binoculars when hiking here! And make sure to download the Seek by iNaturalist app to identify those bird calls. For more suggestions on outdoor apps, check out our list here.
Related Read: 10 Scenic Oceanfront Campgrounds in Maine
7. Bradbury Mountain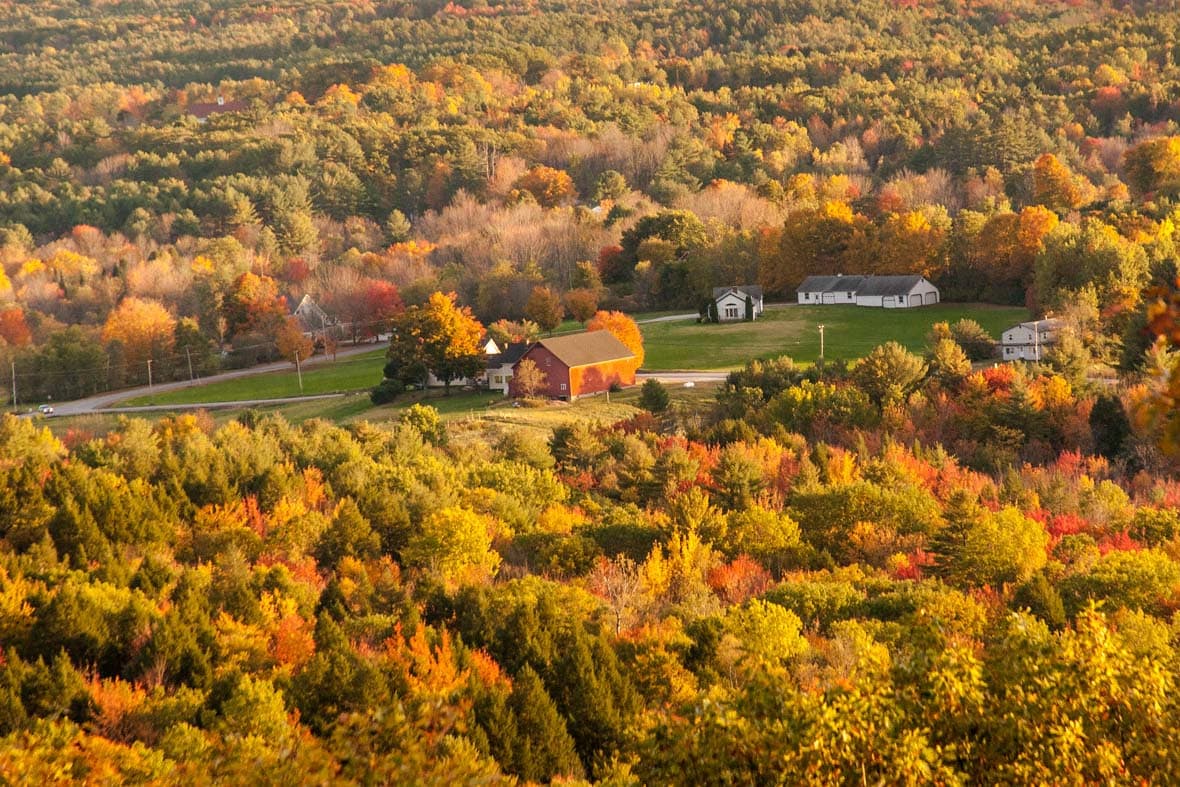 Why you should go: minimal effort for maximum views.
Difficulty: Moderate
Length: 2.2 miles
Elevation gain: 300 feet
Of the 21 miles of hiking trails within Bradbury Mountain State Park, the Park Boundary Trail is by far the best. The park is open year-round with winter being a much less busy time to visit. The Park Boundary trail is a favorite among cross-country skiers and snowshoers. It's a very gradual ascent up to the summit of Bradbury Mountain and one that can easily be done by those with various skill levels.
When you hike the Boundary trail, you'll get a glimpse into what the land might've looked like a hundred years ago. The trail follows old stone walls that were used to keep cows and our livestock off certain parts of the land. Much of New England has stone walls criss-crossing trails throughout. You'll reach the large, granite dome of its summit in no time at all where you can breathe in the fresh, mountain air!
8. Mount Agamenticus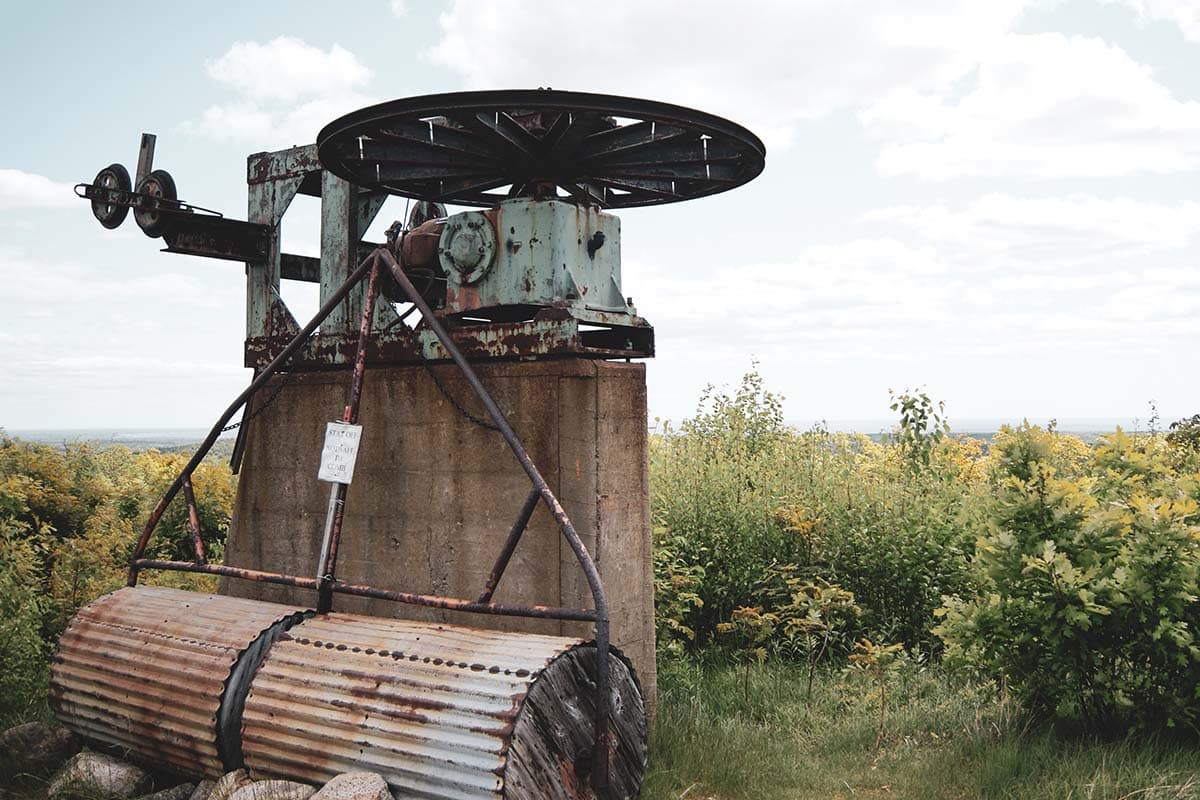 Why you should go: if your legs aren't feeling it, you can always drive to the top.
Difficulty: Moderate
Length: 1.7 miles
Elevation gain: 350 feet
The trail up to Mount Agamenticus (Mount Aggie to locals) brings you through coastal forests where you can enjoy some wild blueberries. The summit stands tall within the 10,000 acres of the Mount Agamenticus Conservation Region.
There are several trails throughout the region that are open to all types of outdoor recreation users including hikers, bikers, equestrian riders, and ATVers.
Related Read: 9 Must-Do Hikes in New Hampshire
9. Rattlesnake Mountain
View this post on Instagram
Why you should go: it's a sea of yellows, oranges, and reds in the autumn.
Difficulty: Moderate
Length: 2.5 miles
Elevation gain: 625 feet
Of the three trails to summit Rattlesnake Mountain, the most popular one is the Bri-Mar Trail. Due to its location and grandiose vistas, this trail can get crowded on the summer/autumn weekends. This is not the trail for you if you require solitude in nature. Or if you do, then go early in the morning.
Due to its popularity, the trail up Rattlesnake Mountain is clearly defined although not well-marked. There are a few spots where the trail splits but most of them are "social" trails (i.e., not official trails) and meet back up with the main trail anyway. Views start at around 0.8 miles into the hike and then just keep getting better!
More Maine Adventures
Get epic travel ideas delivered to your inbox with Weekend Wanderer, our newsletter inspiring more than 10,000 readers every week.
---