Home to the highest peaks in the northeast, large lupine pastures, and classic New England ski towns, New Hampshire is a dream destination any time of the year.
New Hampshire has the best of both worlds. What worlds, you might ask? Well, it's got seacoast and mountains. It also has decently sized cities and quaint small towns dotted with downtown green spaces, historic buildings, and old-timey general stores. In New Hampshire, you can summit the highest peaks on the East Coast and or go backcountry skiing in June in shorts at Tuckerman's Ravine. For a small state, there's a lot going on in New Hampshire.
So the best time to visit New Hampshire really depends on what world you'd most enjoy. Do you want to surf the day away? Hit the hill before joining your fellow skiers for some après-ski? Or perhaps you'd rather do the tourist thing and take a scenic drive past the state's incredible landscapes. The suggestions below will help you figure out the best time to visit New Hampshire based on weather, available activities, crowds, and more.
A note before you visit: the state's high peaks are known for some of the worst weather in the United States. It might be 80 degrees and sunny at the trailhead, but the summit might be socked-in with 50mph wind gusts. Make sure to layer up.
Related read: 8 Epic Camping Spots in White Mountain National Forest
The Best Time of Year to Visit New Hampshire
Each season in New Hampshire has its draws. The granite-capped high mountain ranges make for some dramatic ascents and striking photos whether they're covered in snow or sparkling in the sun. Here's what you can expect in each of the seasons, though remember that exactly when spring starts can change based on snowfall totals the previous winter.
Autumn: the Best Time to Hike During the Week
In my unbiased (well, let's face it, it's biased) opinion, autumn is the best time to visit New Hampshire. Unfortunately, many other people also know this, so don't expect the state to be desolate. Maybe it's normal if you live in a city, but in NH, an hour-long drive may take at least two because of tourists swarming the state's small towns. I'm not exaggerating with this, either. For example, North Conway's population can quadruple on the weekends from all the leaf peepers from the city.
Although there are some gorgeous scenic drives throughout New Hampshire, the best way to experience the fall foliage is on foot. Make sure to go during the week, though, as weekends are a mad house. Pretty much any trail within White Mountain National Forest will give you a spectacular show, but there are a few real gems around the state I usually recommend to friends coming to visit.
The North and Middle Sugarloaf trail gives a lot of bang for relatively little buck. The trail is only 3.3 miles long and both summits offer spectacular views of the red, orange, and yellow sea that covers the area. For a bit of a harder hike, I'd recommend the Welch-Dickey loop. It's only around four miles miles but climbs almost 2,000 feet, so be prepared to huff and puff. But I promise: it's worth it.
Pro tip: Avoid the Kancamagus Highway during peak foliage season. The "Kank" will be crawling with traffic, making the drive long and tedious rather than fun and relaxing. If you desperately want to drive the Kanc in the fall, do it on a weekday morning.
Related Read: 10 of the Best Romantic Getaways in New Hampshire
Winter: the Best Time for Visiting Small Towns
Winter can be bone-chillingly cold in New Hampshire since New England has relatively high humidity – unfortunately, the moisture in the air sticks around long after summer is gone. But there are ways around the cold (other than just down jackets). That said, if you don't mind the cold, this is your season! Check out Bretton Woods Ski Resort or Loon Mountain. But for non-skiers, winter is the perfect time to visit New Hampshire to check out the state's quintessential New England small towns.
Only a handful of roads close during the winter in New Hampshire, so you can drive around easily (assuming you have good winter-rated tires). Start in Hanover, the home of ivy-league Dartmouth College, which comes to life in the winter. Twinkle lights adorn almost every tree on Main Street and the town's small shops decorate for the season. Stay at the Hanover Inn while you're there to check out its famous gingerbread house.
A winter visit to New Hampshire isn't complete without a trip to the Canterbury Shaker Village. It's a museum showcasing the simple lives of the "Shaking Quakers": a religious group that believed in pacifism, communal ownership, and equality of the sexes, among other values. Their name comes from the lively traditional dance they did during worship services. It's a real treat to see this place come to life during their Christmas celebrations.
Lastly, check out the town of Meredith on Lake Winnipesaukee. If you can, go during the first week of February for the annual Pond Hockey Classic. There are hundreds of teams playing full-on frozen pond hockey. The beer will be flowing and the laughter non-stop. It's a very social, festival-like atmosphere and fun to attend, even if you don't know the first thing about hockey.
Pro tip: If skiing and snowboarding are your jam, convenient towns to base yourself in include North Conway, Intervale, Jackson, Lincoln, or Waterville Valley.
Related Read: 11 Best Places to Snowshoe in New Hampshire
Spring: the Best Time for Lupines and Waterfalls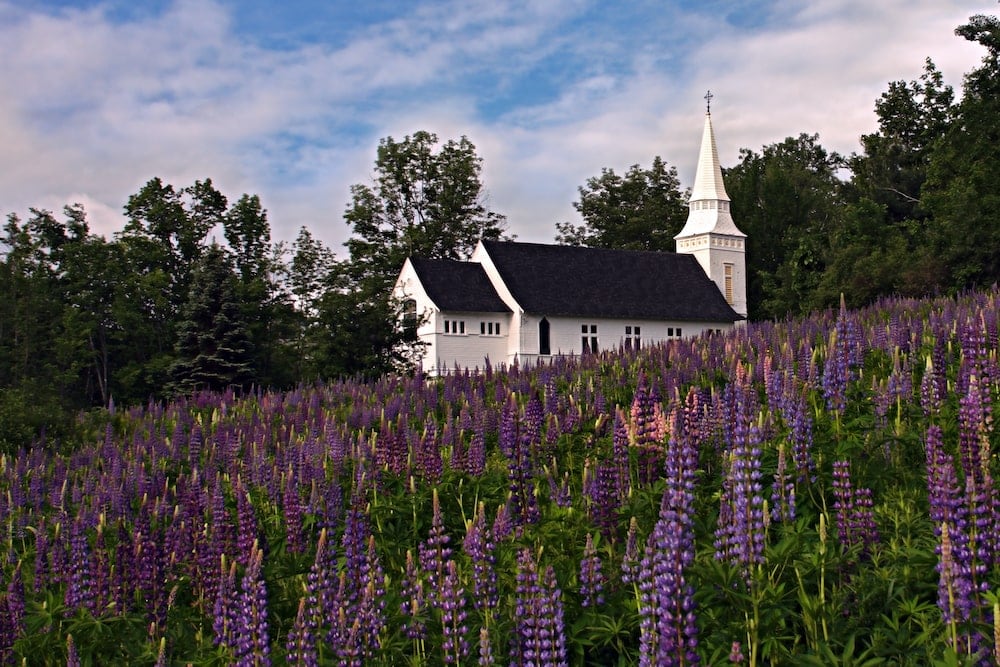 There's no shortage of fun things to during a New Hampshire winter, but spring truly makes the state start buzzing with a livelier hum. And some of that hum comes from the honeybees as they search for their next meal among the state's plethora of wildflower fields.
There are several places to view wildflowers along the state's trails, but the best show is by far in Sugar Hill. The Sugar Hill Lupine Festival usually happens in late spring; try not to miss it if you're nearby. With a simple white-steepled church as a backdrop, the views of the lupine-covered valley are unbelievable. Pops of purple and pink coat the green grasses in a welcome burst of color after a long, grey winter. Pop by Polly's Pancake Parlor for a meal to rival the gloriousness of the lupines.
Also, spring in New England usually means lots of moisture, which puts the state's waterfalls at their peak. And there are some real beauts when it comes to waterfalls here in the Granite State. The most famous one is Arethusa Falls — New Hampshire's tallest waterfall. But I'd argue the most picturesque waterfall is actually Sabbaday Falls. It meanders along a narrow gorge near Waterville Valley in White Mountain National Forest with several cascading pools and a boardwalk that skirts the water's edge. It's truly magical. Other notable waterfalls include Cloudland Falls, Diana's Baths, and Glen Ellis Falls.
Pro tip: Go to the lupine fields early in the morning if you're a photographer – the dewy mornings make for stellar photographs.
Summer: the Best Time for the Five Ss (Secluded Swimming Spots, Sunrises, and Sunsets)
Summer brings extreme humidity and annoying mosquitos. To get the best reprieve from both, I recommend the "Five Ss" – secluded swimming spots, sunrises, and sunsets. Both tourists and locals try to bag the state's 48 4,000-foot-high peaks in the summer, which means the trails get packed. You're rarely alone on the trails, which defeats the purpose if you were seeking solitude.
But one way to enjoy nature without the crowds (or the humidity or pesky biting insects) is to head out in the wee hours of the morning or late in the evening. The best trails for watching the sunrise are Mount Major, Artist's Bluff, and Mount Cardigan. For sunset, try Mount Pemigewasset, Black Cap Trail, or Mount Kearsarge. Whether you're a morning or an evening person, make sure to bring a headlamp for your trek up or down.
If you'd rather beat the heat with a swim, you'll be happy to know there are incredible swimming holes in New Hampshire; the best is Emerald Pool, near the Maine border.
You can also take a dip in the ocean. New Hampshire only has 18 miles of coastline, but there are five state-managed beaches along that small stretch. Odiorne Point State Park is the best for tidepool exploration, but be on the lookout for sea urchins and green crabs. Hampton Beach State Park is great for family beach days and sunbathing. And when you're tired of the sand and sun, you can stroll down the main drag for plenty of entertainment and dining options.
When visiting in the summer, just remember that thunderstorms are common. Always check the weather forecast before heading out, and always have a rain jacket with you, even on sunny days. Waterproof hiking shoes aren't a bad idea.
Pro tip: If you can, adventure during the work week. Weekends are super busy, which can create a lot of headaches. You'll also find cheaper places to stay and more availability among the state's home rentals and lodging options.
Find Your Next New Hampshire Adventure
Sign up for the Weekend Wanderer to join thousands of readers getting epic travel ideas every week.
---