No matter whether you love coastal views or are a total American history buff, there's a scenic drive made for you in the Granite State.
New Hampshire is home to 53 Scenic Byways, and that doesn't even include all the amazing highways not officially designated. These highways range from the northern wilds to the river valleys and seacoast.
While in the state, you can take a quick drive through them or stop at every single pull-off along the way. If you like history, take American Independence Byway. How about covered bridges? Then the Currier & Ives Scenic Byway is best.
Or what about getting winded as you climb up and up in elevation? Then the Mount Washington Auto Road is for you. There are so many sights to see along these scenic drives in New Hampshire that you'll likely want to budget more time than you think you'll need.
As always, make sure to check the status of the road closures. Some roads are only open seasonally due to snow or hazardous conditions.
Related: 12 Best VRBOs in New Hampshire for an Unforgettable Experience
8 Scenic Drives in New Hampshire
1. Kancamagus Scenic Byway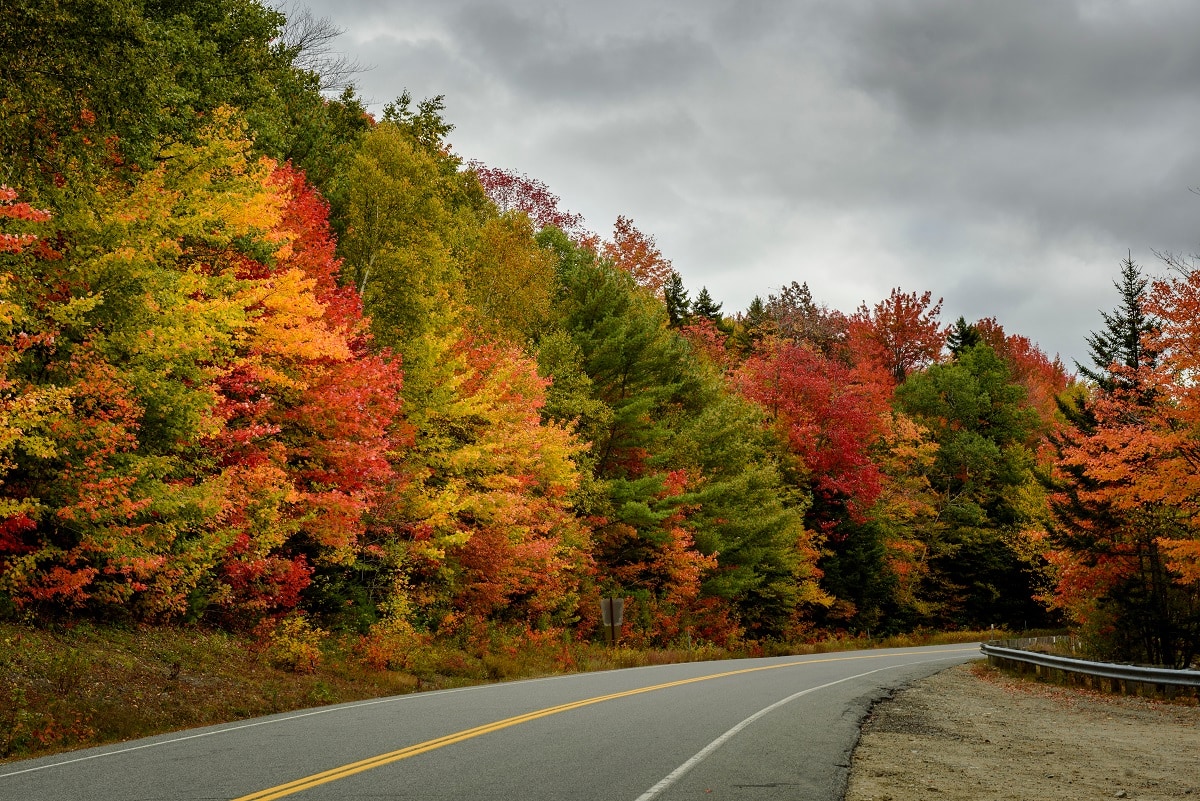 Why you should go: Outstanding fall foliage and dozens of trailheads.
Distance: 35 miles
Drive time without stops: 1 hour
A list of scenic drives in New Hampshire isn't complete without including the Kancamagus Highway, known to the locals as The Kanc (pronounced "Kank.") It is the scenic road for your gateway to White Mountain National Forest.
"Two of my favorite stops are Potash Mountain, which has views for days, and North Conway, where you can stock up on tasty road trip snacks or grab a New Hampshire beer to enjoy after the drive." 
Although the drive along Route 112 is well worth the traffic during peak autumn foliage weeks, to get a break from driving, take a quick stop over at one of the many trailheads to stretch your legs. You'll get a glimpse of the true beauty of the state.
Along the road, there are multiple pull-offs for waterfall viewings, a gorge, a homestead, and even a New England classic: a covered bridge. One end of the Kancamagus is just south of the quaint town of North Conway.
Related Read: 10 Best Spots to See Fall Colors in New Hampshire
2. The Connecticut River Valley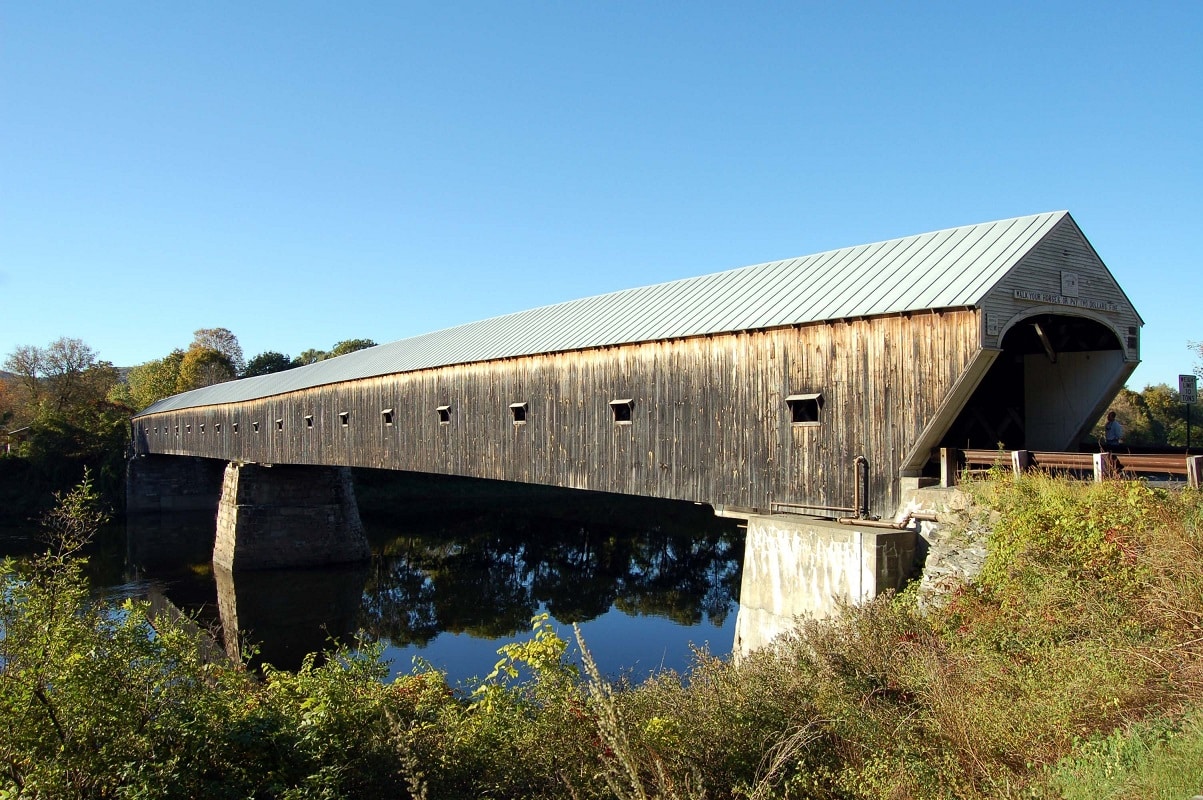 Why you should go: Drive through quintessential New England towns and visit the country's largest covered bridge.
Distance: 65 miles
Drive time without stops: 1 hour, 30 minutes
A drive along the Connecticut River can be as long or as short as you'd like. Start out in the quaint town of Charlestown and head north along Route 12A. Before too long, you'll reach the Windsor-Cornish covered bridge, which is the longest one in the country.
"I suggest crossing the bridge over the river into Vermont to head up Route 5 for a lunch stop at Harpoon Brewery. Don't worry – it's just a three-mile detour." 
Get back on 12A and head north past Saint-Gaudens National Historic Park. Route 12A turns into Route 10 as you pass through Hanover. Make sure to pick your jaw off the ground as you wind your way through the grounds of Dartmouth College (New Hampshire's only Ivy-league school.)
End your day in Haverhill and Bedell Bridge State Park to see the remnants of the Burr Truss covered bridge, which was destroyed by wind in 1979.
Related Read: 9 Must-Do Hikes in New Hampshire
3. Great North Woods Loop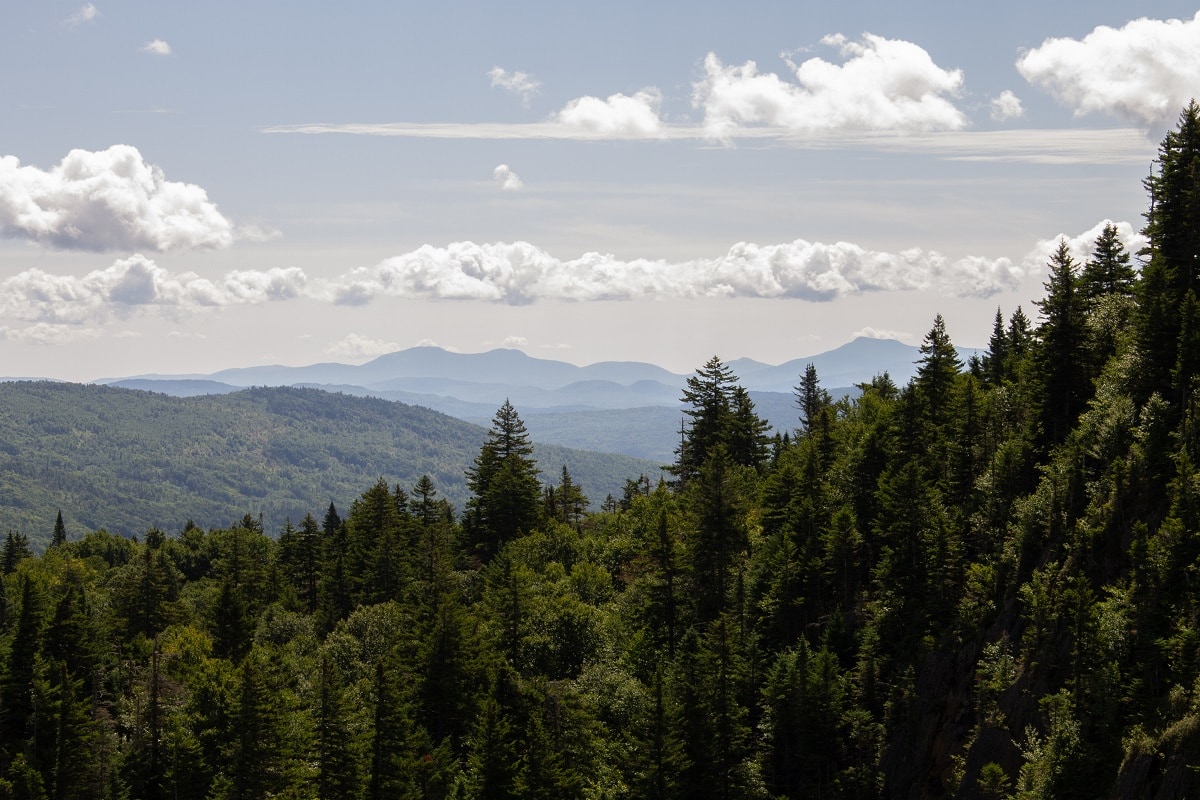 Why you should go: Your best chance at seeing wildlife like black bears and moose.
Distance: 115 miles
Drive time without stops: 2 hours, 30 minutes
Just north of White Mountain National Forest begins the unbridled territory of the Great North Woods. Starting in Gorham, head north on Route 16 to the town of Erroll. If you're hungry, grab some grub at Northern Exposure before heading west on Route 26 to stop and take in the breathtaking views at Dixville Notch State Park.
When you hit Colebrook, drive south on Route 3 through Moose Alley. If you've been dying to see a moose, this is your best chance. Towards the end of your drive, drive east on Route 110 to bring you back through the town of Berlin. Berlin offers dozens of trailheads and an abundance of adventure outfitters.
Related Read: The Top 10 Best Campgrounds in New Hampshire
4. Mount Washington Auto Road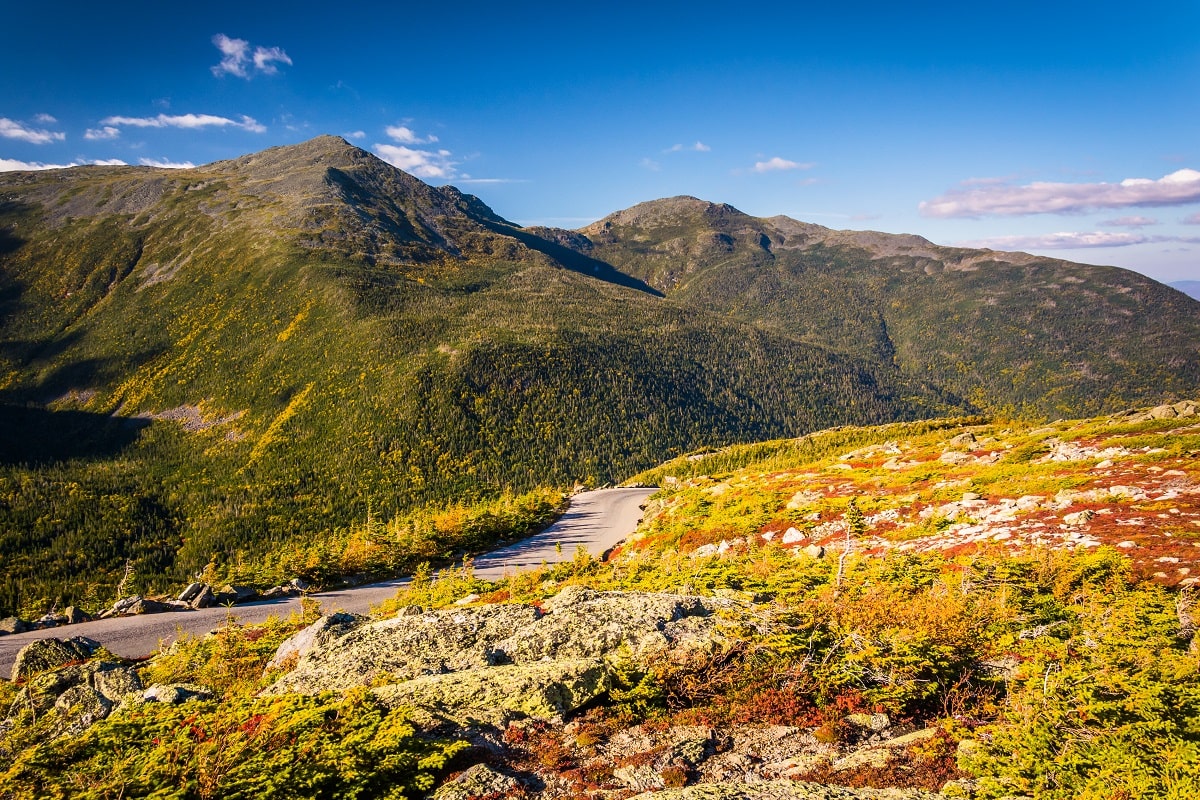 Why you should go: Stand at the tallest spot in the northeast at the summit.
Distance: 7 miles
Drive time without stops: 45 minutes
Stand at 6,288 feet above sea level by driving the Mount Washington Auto Road. Although it's only seven miles long, travel along this road is slow going. It's not only because of the traffic, but because of the treacherous conditions.
Storms can whip through at a moment's notice and blanket the summit in clouds. Lightning is dangerous above treeline, so seek shelter if you're caught in a storm. And remember that you're well-above sea level and far from where you started the trek, which means conditions are much colder and windier at the summit (even on a clear, summer day.)
Some prepared with quickly changing weather conditions and dress accordingly. It's an adventure you should make at least one time in your life given the amazing views from the top.
Related Read: 11 Relaxing Swimming Holes in New Hampshire
5. Lakes Region Scenic Loop
Why you should go: To cool off in the summer months or have some peace and solitude in the winter ones.
Distance: 82 miles
Drive time without stops: 2 hours, 30 minutes
Winding your way around New Hampshire's largest (and most popular) lake is a rite of passage for residents. Lake Winnipesaukee is the best New Hampshire scenic drive for anyone that lives for a good lake day. This drive starts in the town of Alton at the southern edge of the lake and heads northwest through towns of Glendale and Meredith.
Come summertime, these towns are flourishing (and maybe a little overrun) with tourists from all over. Luckily, the lake is so large that there's enough room for everyone. Grab brunch at Sunshine and Pa's diner and then continue on your journey.
When you hit Moultonborough, take a right to go southeast on Route 109 and fork left for Route 171. This will bring you to the majestic Castle in the Clouds mansion and museum. It's definitely worth the extra time to check out. From there, keep heading east into the town of Ossipee.
For another lake visit, head north to Ossipee Lake before rounding out your loop back in Alton.
Related Read: Top 9 Things to do in North Conway, New Hampshire
6. Currier & Ives Scenic Byway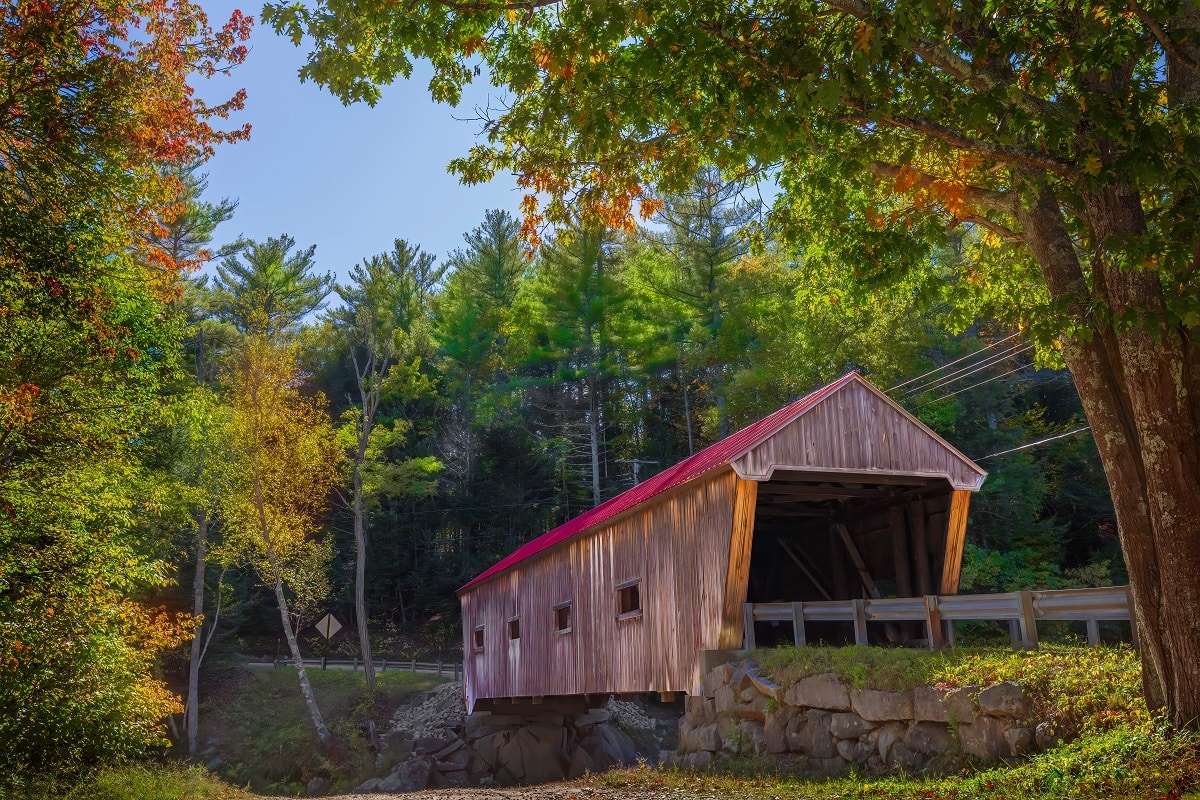 Why you should go: See more covered bridges than you can count (well, there are seven, but that's still a lot for one drive).
Distance: 40 miles
Drive time without stops: 1 hour, 30 minutes
This drive leads you through five picturesque towns in Merrimack County. The Currier & Ives Scenic Byway is named after Nathanial Currier and James Merritt Ives, popular artists in the late 1800s who took inspiration from this area to show the unique and dreamy landscape of New Hampshire. If art is what you're after, look no further than the New England College Art Gallery in Henniker.
Other highlights include the villages (and subsequent quaint and quirky shops) of Henniker, Contoocook, and Hopkinton. Along the way, you'll pass all seven covered bridges. There are 54 in the state, but this is the largest concentration along one byway.
Related Read: The 6 Best Scenic Byways to Fully Experience Massachusetts
7. Colonial Seacoast Drive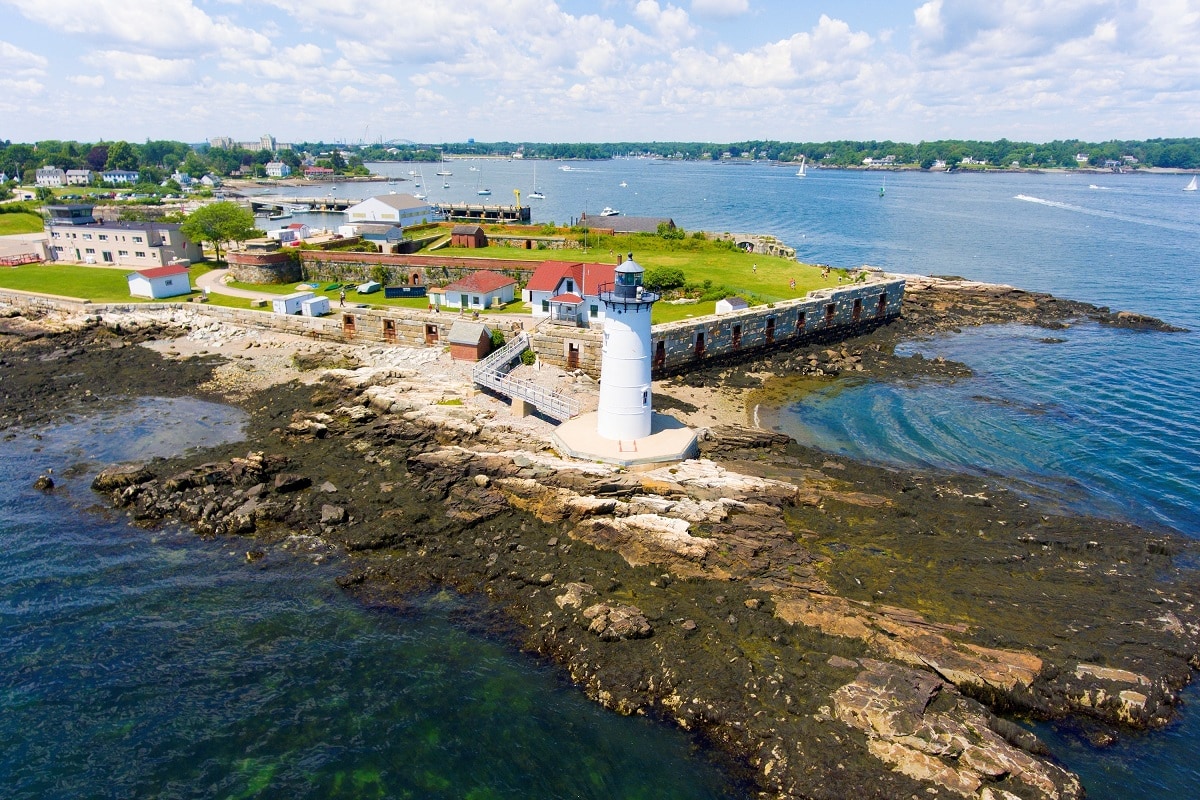 Why you should go: The only place you'll be able to see the ocean in New Hampshire.
Distance: 20 miles
Drive time without stops: 30 minutes
New Hampshire might only have 18 miles of coastline, but they are a glorious 18 miles. Sure, you could take the highway 95 all the way down to Hampton beaches, but it's much prettier along the coast.
After grabbing breakfast in Portsmouth's historic district, head out to the island of New Castle to view two historic forts: Fort Constitution, where the first aggressive act of the American Revolution took place, and Fort Stark.
After the forts, head south on Route 1A and you'll pass several state beaches. Bring your gear for a day in the sun and some picnic food to take in the views. End your day in Hampton, the town that houses the state's longest beach.
Take your chances at the Hampton Beach Casino or simply walk along the boardwalk to seek the perfect place for an après-beach dinner.
Related read: The Ultimate Fall Color Guide for the White Mountains, New Hampshire
8. The American Independence Byway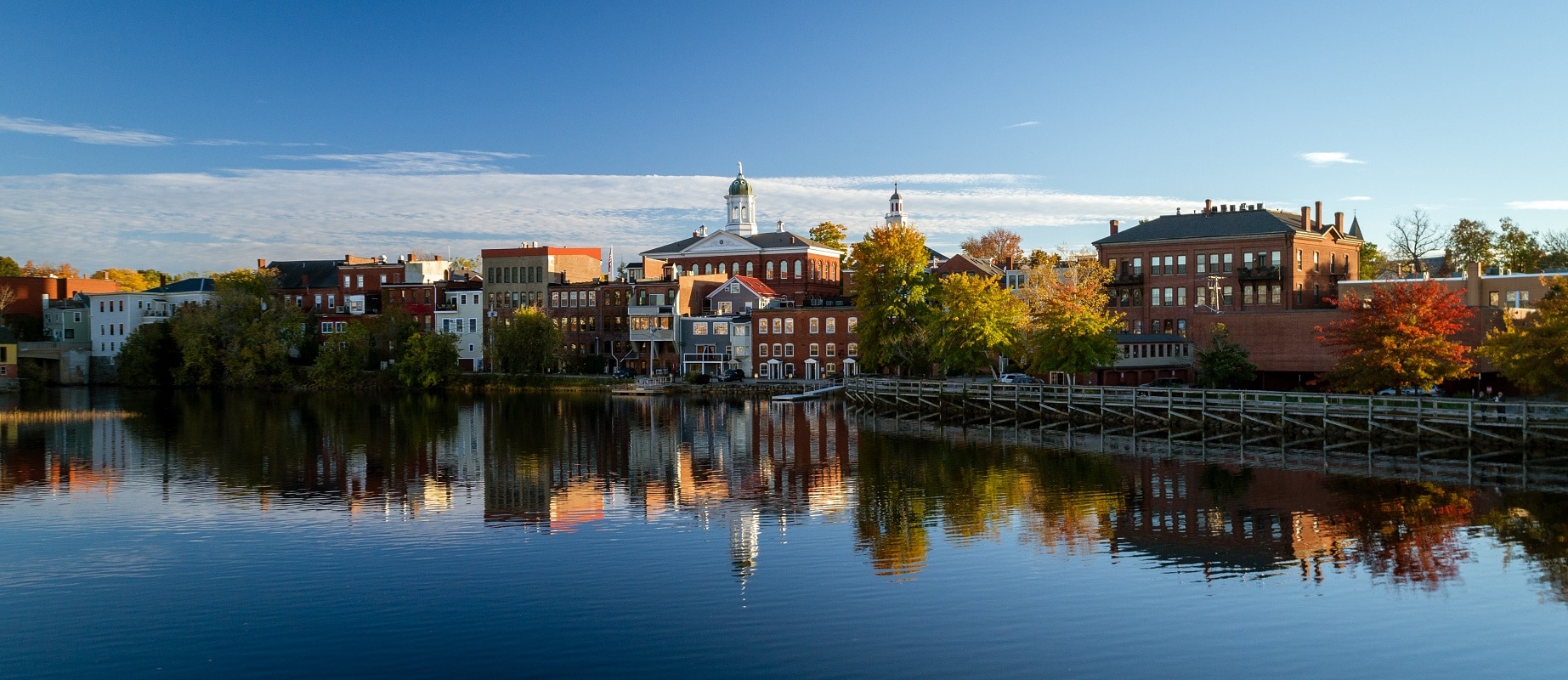 Why you should go: Relive your seventh-grade history classes with this lesson in America's founding.
Distance: 21 miles
Drive time without stops: 1 hour
If you've got a hankering for some good ol' American Revolution history, make sure to put the American Independence Byway on your list. The road brings you through the historic towns of Hampton, Kensington, and Exeter.
Pro tip: Go during the summer months as many of the historic homes are actually opened to the public.
Exeter is home to the American Independence Museum, which houses one of the first drafts of the Declaration of Independence. As you traverse the different communities, you'll get to see what life was like in colonial days.
Explore More in New England
Sign up for Weekend Wanderer to join thousands of readers getting epic travel ideas every week!
---