New Hampshire might be known for its gorgeous mountains and endless scenic drives, but the state also offers a plethora of unique swimming spots too!
Summers in the northeast are usually full of BBQs, fireworks shows, and beach bummin' days. Since New Hampshire only has 16 miles of coastline, residents and visitors alike must be creative to find relief on those hot, humid days. Luckily, the Granite State is full of waterbodies (over 1,000 lakes) to quench anyone's thirst. Although, if you are going to actually drink the water, it's recommended that it gets filtered. Safety first!
So whether you've just climbed 2,000 feet in elevation on rugged terrain or looking for a roadside swim next to a covered bridge, these are the 11 best swimming holes in New Hampshire. But sshhh — don't let the secret get out!
Related Read: 20 Honest Pros & Cons of Living in New Hampshire
1. Diana's Baths
Due to its short hike and easy access from town, Diana's Baths is a popular White Mountain spot especially on holiday weekends. It's just minutes from downtown North Conway (a must-see destination in and of itself!) and a perfect alternative to the resort pool. The littlest of swimmers will especially fall in love with this place. Parents can rest easy that their little ones won't go sliding down a waterfall.
But there IS a waterfall, several in fact. The area has a few tiers of wading pools and cascading waterfalls along its 75 feet of vertical height that satisfy pretty much any visitor. Just remember to pay the fee at the trailhead (it's $5/day) or use your American the Beautiful pass.
Related Read: 7 Magical Treehouse Rentals in New Hampshire
2. Mill City Park at Franklin Falls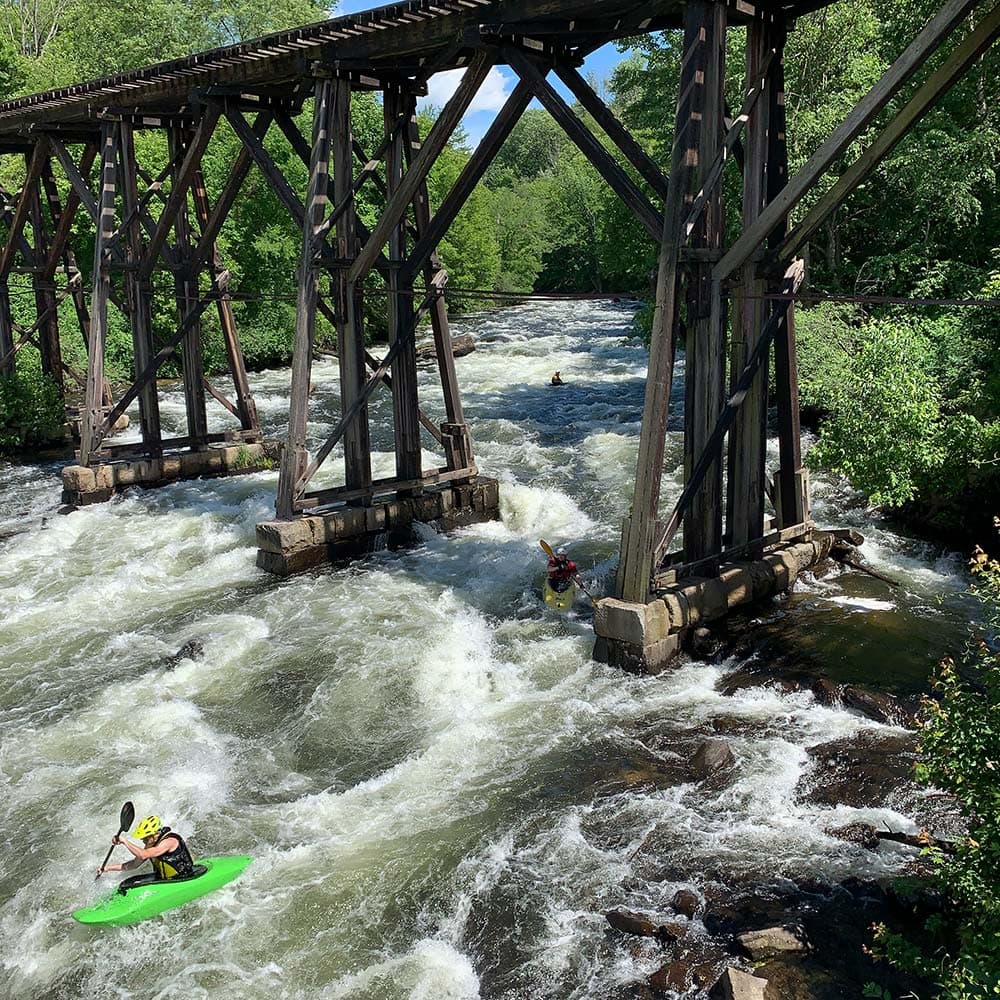 Okay, Mill City Park at Franklin Falls is only just undergoing construction, but it was worth putting on this list. It's set to open some later this summer, although the whole project will likely wrap up in late 2022. The Park is New Hampshire's (and New England's!) first whitewater park and is set in an old mill town. It puts New Hampshire on the map for kayakers and whitewater enthusiasts.
When all is said and done, Mill City Park will have wading pools and water play areas for kids. They'll have tent and cabin sites, bike tracks, an amphitheater, and hiking trails. And, yes, whitewater waves and features throughout the river.
Related Read: 10 Best Spots to See Fall Colors in New Hampshire
3. Emerald Pool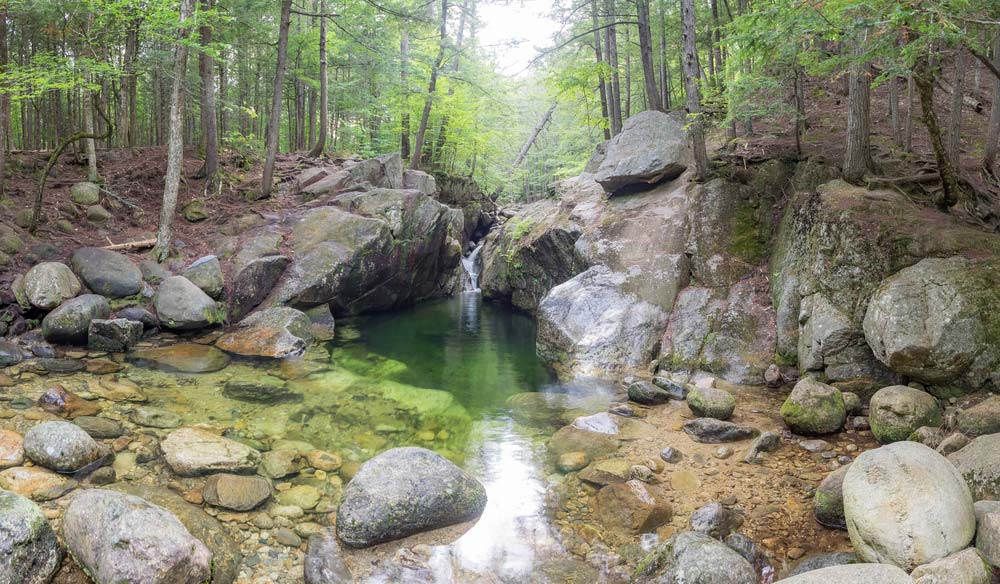 There has been arguments over the years as to what state Emerald Pool actually resides in, but it's pretty clear on a map: it's New Hampshire. Known for its striking emerald color (duh), the pool sits just 0.8 miles from the start of the Baldface Circle Trail. Since the pool is fed by winter runoff, the water is cold but oh so refreshing.
However, this area has been known in the past to be a "clothing-optional" swimming hole (it's illegal though). Due to its small size, you'll likely want to avoid this area on a busy summer day. Opt for a weekday or early morning swim to beat the heat AND crowds.
Related Read: 9 Must-Do Hikes in New Hampshire
4. Swiftwater Falls
Look no further than Swiftwater Falls as the quintessential New England swimming hole. It's got elegant, cascading waterfalls, a huge pool at the bottom, and a covered bridge as a backdrop. It just doesn't get more picturesque than this!
For most visitors, New Hampshire's waterways are cold! Almost too cold to spend any reasonable amount of time in. Fortunately, this area of the Ammonoosuc River has a southwestern exposure and easily warms up quickly from the hot, summer sun. To go full circle on this New England experience, make sure to bring some Fluffernutters for lunch — if you have no idea what I'm talking about, here's a little lesson.
Related Read: The Best Time of Year to Visit New Hampshire
View this post on Instagram
There's not just one, but several spots to swim along the Rattle River, which means you won't likely find the crowds. Plus, it's one of the lesser-known swimming holes on this list and yet just as beautiful as the others.
Regardless of if you are an Appalachian Trail thru-hiker or just headed out for the day, the banks of the Rattle River are perfect for a small picnic and a quick dive in the refreshing water.
Related Read: The Top 10 Best Campgrounds in New Hampshire
6. Lakes of the Clouds
View this post on Instagram
There's a reason these lakes are called "Lakes of the Clouds". They sit just 1.5 miles lower than the summit of Mount Washington which is known to be enveloped by clouds almost every day. There are two lakes that make up the Lakes of the Clouds with the smaller one being slightly warmer and shallower from the larger lake. But that's relative. It's still an alpine lake that is FOR SURE freezing.
But after hiking up the Mount Washington summit, you might just be in need of some waking up. If you'd prefer to stay dry, feel free to grab a snack (and maybe some caffeine) at the Lake of the Clouds Hut.
Related Read: 10 Best Hikes in Vermont for Woodsy Explorations
7. Falls on the Smarts Brook Trail
View this post on Instagram
You embark on your 1-mile journey to the Falls through a beautiful forest which never really opens up. The falls itself are mostly shaded but spurts of sun make their way through the leaves to light up the stunning, emerald water in the ten-foot deep pool.
There are several rope swings along the water's edge for thrill seekers. Just don't try sliding down the cascades; there are multiple jagged rocks at the base of the falls that could cause a lot of damage to your body.
8. Franconia Falls
View this post on Instagram
It takes a little more effort to get to this set of falls compared to many on this list. At just over three miles one-way, the trail to Franconia Falls ascends only 400 feet. So, although, it's a longer than usual hike to reach its destination, it's an easy stroll.
It's not the most epic of waterfalls, but what it lacks in style, it makes up for with utility. There are several smooth, carved slabs of rock perfect for sunbathing or viewing your pals in the water. Pools are scattered throughout the river varying in size and depth. There are even two perfect, natural waterslides — although the river has to be running low enough to see them. The best of these waterslides is near the base of the most significant falls and is roughly 20 feet long. You'll feel like you're glissading down a water chute so make sure to check your wedgie when you're done.
9. Jackson Falls
This is, by far, one of the best swimming holes in New Hampshire. This also means it gets bombarded with visitors. Luckily, the cascade at Jackson Falls is one of the longest in the states so there is plenty of room for everyone to fit.
There are various pools to wade in or rock slabs to enjoy basking in the sun. Or perhaps you need to dry out your clothes after your buddy just pushed you in. For a quieter experience, head to the Lower Falls by walking up the path across from The Wentworth Hotel.  Beware, though, these falls' current is usually stronger and can easily exhaust an experienced swimmer.
10. Sculptured Rocks Natural Area
View this post on Instagram
The Cockermouth River carved a narrow gorge over thousands of years and created a beauty unlike any other. Sculptured Rocks Natural Area will leave your jaw dropped for the entirety of your visit — just make sure not to swallow too much water.
Swimming in the water should only be done when the water levels are low. When water levels are too high, the current can be very strong and will push you against the narrow canyon rock walls. Swim at your own risk! This swimming hole is part of the NH State Park system, so a fee is required for entrance.
Saco River near Humphrey's Ledge
View this post on Instagram
While North Conway and its many swimming holes are overwhelmed by tourists, Humphrey's Ledge tends to be more off-the-beaten-path. There are several hiking trails to get you to the top of Humphrey's Ledge for incredible views. But it's the Saco River you'll want to spend the bulk of your time if it's a sweltering day in the White Mountains.
Bonus: hit up Diana's Baths first before the crowds come then make your way just up the road to Humphrey's Ledge Recreation Area.
Related read: Top 9 Things to do in North Conway, New Hampshire
Explore New England
Sign up for Weekend Wanderer to join thousands of readers getting epic travel and gear ideas every week.
Was this article helpful?
---