Home to the highest point in Vermont, Stowe provides visitors with endless views, friendly locals, and the best recreation opportunities in the state.
After you've had your fill of Ben & Jerry's, make your way north to the small town of Stowe. Most visitors recognize the area for its world-renowned ski resort and fall foliage, but Stowe is filled with more than just epic powder and auburn leaves. A charming downtown, great cideries, and rafting opportunities all make Stowe a well-rounded destination.
But with hundreds of miles of trails, the real treat in the region is its hiking. Like any other hike you may do, make sure to follow Leave No Trace principles and practice good hiking etiquette. Then, simply choose one of the hikes below and enjoy!
1. Sterling Pond
Why you should go: Walk the same path as smugglers from the early 1800s.
Difficulty: easy to moderate
Length: 2.2 miles
Elevation gain: 940 feet
Due to President Thomas Jefferson's insistence (and subsequent Embargo Act), Americans were not allowed to trade with Canada back in the early 1800s. This led many Vermonters to take matters into their own hands and illegally cross the border to carry goods and livestock to those up in Quebec. This same path was used during the prohibition era and is how Smuggler's Notch State Park gets its name.
This short but steep trail brings you straight through the heart of the State Park. Like many hikes in northern New England, the trail to Sterling Pond is filled with granite slabs, exposed roots, and unstable gravel. You'll briefly walk along the Long Trail before hitting the western end of Sterling Pond.
Related Read: 10 Autumn Activities in Vermont for a Full Fall Experience
2. Mount Mansfield
Why you should go: For the chance to sit on top of Vermont.
Difficulty: difficult
Length: 5.0 miles
Elevation gain: 2,775 feet
There are several paths to get up to the highest summit of Vermont, but the hike up to Mount Mansfield via the Long Trail is the most popular. No matter the path you take, though, prepare for a difficult and steep climb with little to no reprieve. The average slope across the two-and-a-half miles of ascent is just over twenty percent.
This means your legs (and potentially your lungs) will be hurting if you're not in shape. There is a large portion of the trail that is above the tree line, so keep an eye on the weather and turn around if you need to. Once you hit the treeline, the views are stunning and endless across the Green Mountains, so breathe it all in.
Related Read: 6 Backpacking Trips in the White Mountains That are Unforgettable
3. Wiessner Woods
View this post on Instagram
Why you should go: Less crowded than many other trails in the area, but still beautiful.
Difficulty: easy
Length: 2.0 miles
Elevation gain: 200 feet
A popular winter trail, the lovely jaunt through Wiessner Woods is beautiful no matter the time of year. You meander through a forest where the colors really pop in the autumn. It also provides a great shaded hike when the summer is at its peak and humidity is the bane of your existence.
Back in the 1800s, the woods was a sprawling farm and the remains of some of the stone walls can still be seen today. Keep an eye out for deer, fox, and coyote, as they can sometimes be seen scurrying across the trails.
Related Read: 9 Best Resorts in Vermont for Families & Couples
4. Barnes Camp Loop
View this post on Instagram
Why you should go: Accessible for any ability and any age.
Difficulty: difficult
Length: 1.3 miles
Elevation gain: 350 feet
If you want dramatic views of Smuggler's Notch State Park without a butt-busting hike, look no further. The Barnes Camp Loop provides a quick hike with only 350 feet of elevation gain. You start on the Long Trail, walking clockwise along the raised boardwalk. The boardwalk is only a quarter mile long but provides incredible views of Smuggler's Notch State Park.
After the boardwalk ends, it's a nice walk through the woods next to a wetland. Going clockwise allows hikers to have a steep ascent, but a much easier and more gradual descent. Your knees will thank you. Before the steep climb along the Barnes Camp Loop trail, you'll cross a stream. Most of the time you can rock hop, but during spring runoff or after a storm, the stream may be raging. Be prepared to potentially get your feet wet or turn around.
5. The Long Trail
Why you should go: it's the quintessential Vermont trail.
Difficulty: difficult
Length: 272 miles
Elevation gain: 65,370 feet
Technically, the Long Trail traverses more than just the town of Stowe. Its 272 miles run along the entire length of the state, but luckily, some of the most beautiful scenery happens in the Stowe area. The section between Butler Lodge and Sterling Pond Shelter is a great option for those wanting something a little less intimidating. You start out at the parking area on Stevensville Road and make your way northeast along the Butler Lodge Trail.
The Butler Lodge is only 1.8 miles from the trailhead. You can stay overnight here or chug along the trail up to Mount Mansfield. Going south from the Lodge, you intercept the Long Trail where you'll head left/north to summit Mount Mansfield. Another 2.5 miles brings you to the top and then you can stay at Taft Lodge, a half mile from the summit. You'll cross Route 108 through Smuggler's Notch State Park after Taft Lodge where you can get a ride back to your car or continue on.
Related Read: 10 Supremely Secluded Cabin Rentals in Vermont
6. Stowe Pinnacle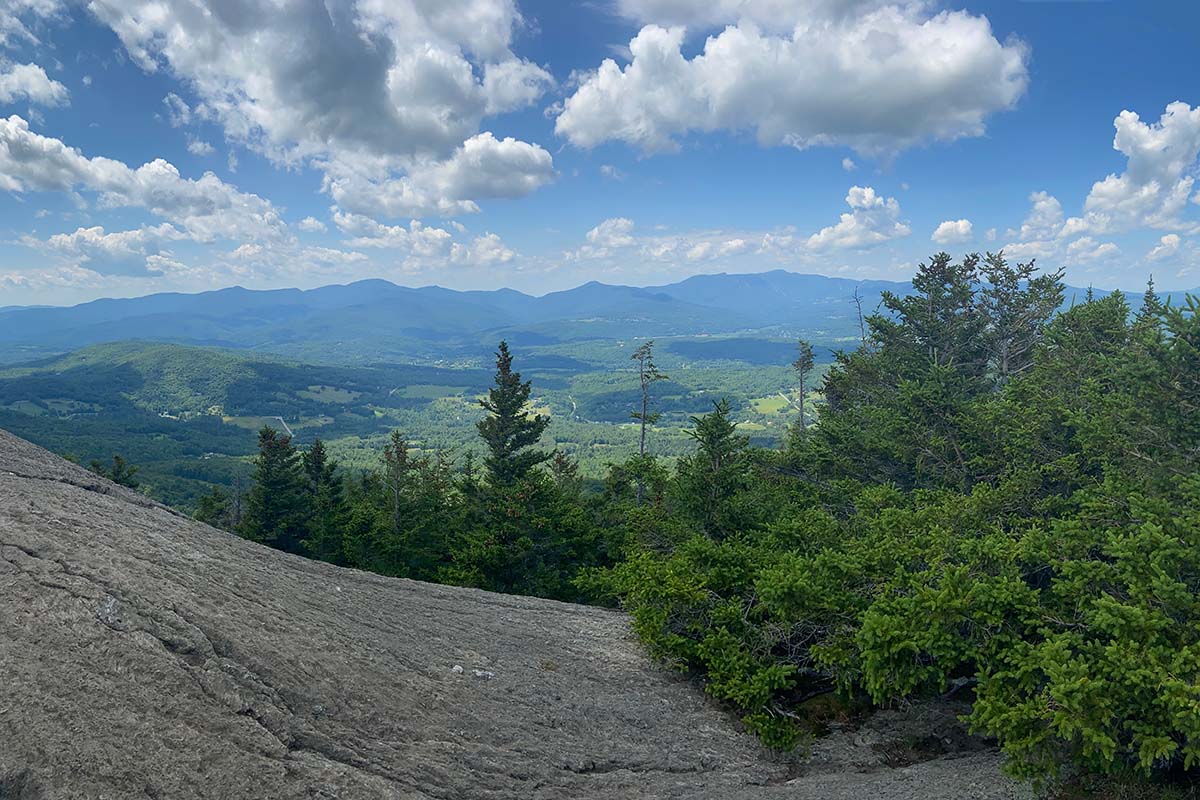 Why you should go: This trail boasts one of the best views of Mount Mansfield.
Difficulty: moderate
Length: 3.7 miles
Elevation gain: 1600 feet
You won't be alone on the trail to Stowe Pinnacle. If you're looking for peace and quiet, this trail won't be it. But with babbling brooks, summit views, gorgeous autumn colors, and a serene snowscape during the winter, the hike is well worth the crowds.
If you want to avoid the hordes of tourists, go early in the morning and complete the hike well before lunchtime. Once you make it to the top, the views are outstanding and you'll understand why the trail is so busy.
7. Bingham Falls
Why you should go: Cool off with a quick dip in the pool at the base of Vermont's prettiest waterfall.
Difficulty: easy
Length: 0.5 mile
Elevation gain: 150 feet
Don't forget to bring your bathing suit when you head out on the hike to Bingham Falls. It's a popular swimming hole, and for good reason. But the beautiful teal water (due to the granite on the pool's floor) is a great place to relax and unwind, or do some great people-watching.
This is another one of those all-season spots that make Vermont such a fantastic destination. Take a dip during the summer, snap some excellent photos of the pool surrounded by firey leaves in autumn, or check out the frozen falls during the winter – whenever you visit, Bingham Falls is a spectacle.
Related Read: The Top 10 Winter Hikes in New Hampshire
8. Mount Elmore Fire Tower
View this post on Instagram
Why you should go: The 360-degree view at the top will be the highlight of your trip.
Difficulty: moderate
Length: 5.5 miles
Elevation gain: 1460 feet
There are only twelve fire towers still open to the public in Vermont. One of those towers is within the boundaries of Elmore State Park, just a 20-minute drive from Stowe. The hike up Mount Elmore Fire Tower travels through a misty wonderland that is reminiscent of a fairytale.
The understory is blanketed with ferns, giving fairies and other small creatures a place to hide. There are several overlooks along the trail but the views at the top of the fire tower are unmatched. Be careful walking up the steps as they are rickety and could be tricky for some.
Related Read: This Charming Country Getaway Features the Best of Vermont
9. Sunset Rock
View this post on Instagram
Why you should go: The single best spot to watch the sunset, duh.
Difficulty: easy
Length: 1.0 miles (if going to the Upper Overlook)
Elevation gain: 350 feet
This is a great option for those with kids or who don't want to venture too far from town. You pick up the trail to Sunset Rock right from downtown, along the aptly named Sunset Street. There is no physical parking at the trailhead so make sure you find parking downtown and walk.
It's a gradual climb up to the rock, but it's doable for most. You can watch the sunset from the rock or continue on to view the glacial kettle hole. The hole formed more than 10,000 years ago when the glaciers receded, leaving behind these perfectly round bodies of water. You can also continue further and add another half mile to your hike by heading up to the Upper Overlook. This can also be accessed by car.
Related Read: Where to View the Best Fall Foliage in New England
10. Moss Glen Falls
Why you should go: It's a quick hike to an epic waterfall.
Difficulty: easy
Length: 0.6 mile
Elevation gain: 100 feet
There isn't much to the trail that heads to the base of Moss Glen Falls. It's just over a quarter mile from the trailhead, so most people with differing abilities can likely hike this. Although swimming is allowed in the pool at the base of the waterfall, it isn't ideal, so it's not recommended.
But don't worry, you'll be too busy basking in its beauty to want to swim anyway. Be sure to bring your camera and try to come on a sunny day to really be treated to a breathtaking scene.
Explore More in Vermont
Sign up for Weekend Wanderer to join thousands of readers getting epic travel ideas every week.
Was this article helpful?
---