We research, evaluate and select travel destinations based on a number of factors, including our writers' experience, user reviews and more. We may earn a commission when you book or purchase through our links. See our editorial policy to learn more.
---
New Hampshire is filled with dreamlike landscapes, so it's only fitting to choose a place to stay that looks like it's plucked from a storybook.
There's no shortage of majestic mountains or incredible views in the Granite State. If anything, the hardest part of your stay here will be to choose which view to wake up to every morning. But waking up in one of these amazing treehouses may give you a sense of superiority akin to soaring like an eagle over the landscape – so try not to brag too much to your friends when you get home.
Whether you're a Tolkien fan, a Shakespeare aficionado, a die-hard adventurer, or a forest-bathing wanderer, you'll be able to write your own story in any one of these treehouse rentals in New Hampshire.
Related read: The Best Time of Year to Visit New Hampshire
1. Hemlock Hideout Treehouse
Why you should stay: To live out you dreams as a fairy, of course.
Nearest town: Salisbury
Sleeps: 2
Minimum stay: 1 night
Rates from: $111/night
Heading up the steps into the Hemlock Hideout Treehouse is like entering into your own version of Shakespeare's A Midsummer Night's Dream. With its soft and muted color palette, this large lofted home has an air of whimsy and dreaminess.
The opaque roof allows soft light to meander its way through this dreamy space without showing the rest of the world what goes on within. And ivy and other greenery are scattered throughout as if the surrounding trees are trying their hardest to work their way into the cabin.
Twinkle lights hang along the ceiling for an extra dreamy effect. And speaking of dreams, plan to have a lot of them since you're unlikely to be disturbed by your phone — cell service is scarce and electricity is non-existent.
You'll really feel like a woodland creature here, so whether you consider yourself an elegant Tinkerbell or a trickster Puck, you'll fit right in. This treehouse in New Hampshire sells out quick, so check 90 days in advance of when you want to go.
Check Availability
Related Read: 10 Best Spots to See Fall Colors in New Hampshire
2. Lux Two-Story Treehouse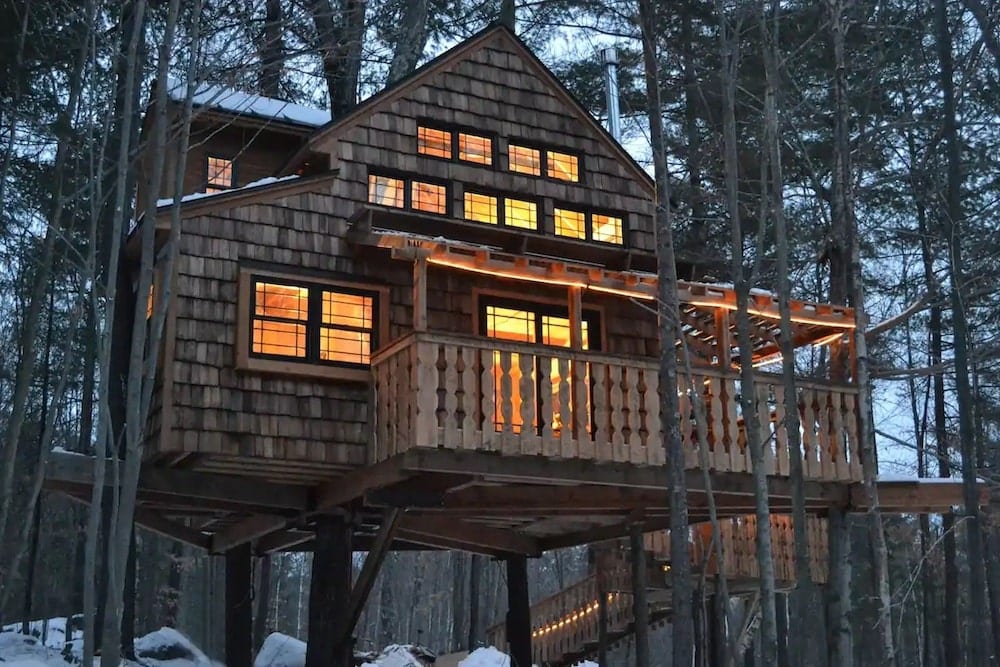 Why you should stay: Don't compromise on luxury or outdoor adventure.
Nearest town: Newbury
Sleeps: 4
Minimum stay: 1 night
Rates from: $365/night
Staying in a treehouse doesn't mean you need to give up the luxury of multiple bedrooms, electricity, and running water — or that you can't have a multi-tiered epic rental. And that's proved at this luxurious home in the woods near Mount and Lake Sunapee. Guests get two level of glorious living space, a wrap-around porch, and modern amenities. Aside from the fact that it's one of the most expensive treehouse rentals in New Hampshire, it's hard to come up with too many downsides.
And unlike so many other similar rentals, this treehouse is a four-season home. It's the perfect basecamp for long summer days at swimming holes or hitting the slopes in the peak of winter. With the treehouse's radiant-heat flooring, your footsies will warm incredible fast after skiing at Mount Sunapee.
But if the warmer months are more your thing, you'll be happy to know there are amazing mountain bike trails in the summer. You'll have the added luxury of having central air when you return after shredding the trail, hopefully without too many bruises. 
Check Availability
Related Read: 9 Must-Do Hikes in New Hampshire
3. Cozy Treehouse in Sanbornton
Why you should stay: On the off chance you get bored with the natural beauty, you can watch TV outside, too.
Nearest town: Sanborton
Sleeps: 4
Minimum stay: 2 nights
Rates from: $265/night
Set against a backdrop of breathtaking oak, maple, and beech trees, this quaint and cozy treehouse is marvelous in any season. You've got a kettle to make your own pumpkin-spiced tea as the surrounding hardwoods turn to vibrant yellows, reds, and purples, or you can cozy under a plush blanket for a winter movie night. Really though, a sunset drink with friends around the fire pit is pretty perfect no matter what the season.
Regardless of the time of year, you'll love all the amenities this New Hampshire treehouse rental has to offer. There's a rain shower in the bathroom and a breakfast bar perfect for those slow mornings — unless you have kids with you, in which case there's still no chance of a slow morning.
And speaking of kids: they'll love the loft with two twin beds and will probably love the novelty of watching a movie outside — definitely pack popcorn!
Check Availability
Related Read: The Top 10 Best Campgrounds in New Hampshire
4. Ling Treehouse: Soul's Retreat
Why you should stay: Even the views from the outhouse are amazing.
Nearest town: Newbury
Sleeps: 4
Minimum stay: 2 nights
Rates from: $311/night
A short, meandering wooden-plank path takes you to the front steps of the Soul's Retreat. If you get there at dusk, the mist along the forest floor will give a preview of the woodland magic you'll encounter during your stay. Pair that with the twinkling lights along the sides of the path and it'll feel like you're following Tinkerbell lanterns to the home.
This New Hampshire treehouse has a modern twist on Scandinavian and is loaded with massive glass windows so you'll feel like you're always outside. It's a serene and peaceful experience – one that comes close to a spiritual experience.
Funny enough, the outhouse does look a bit like a church with an arched window, though nothing comes close to the bliss of the watching sunrise off the deck. Make sure you wake up early at least one morning so you don't miss out on the spectacular show. Be sure to remember to pack your own linens or sleeping bags at this rental, too.
Check Availability
Related read: 8 Epic Camping Spots in White Mountain National Forest
5. Treehouse at the Shire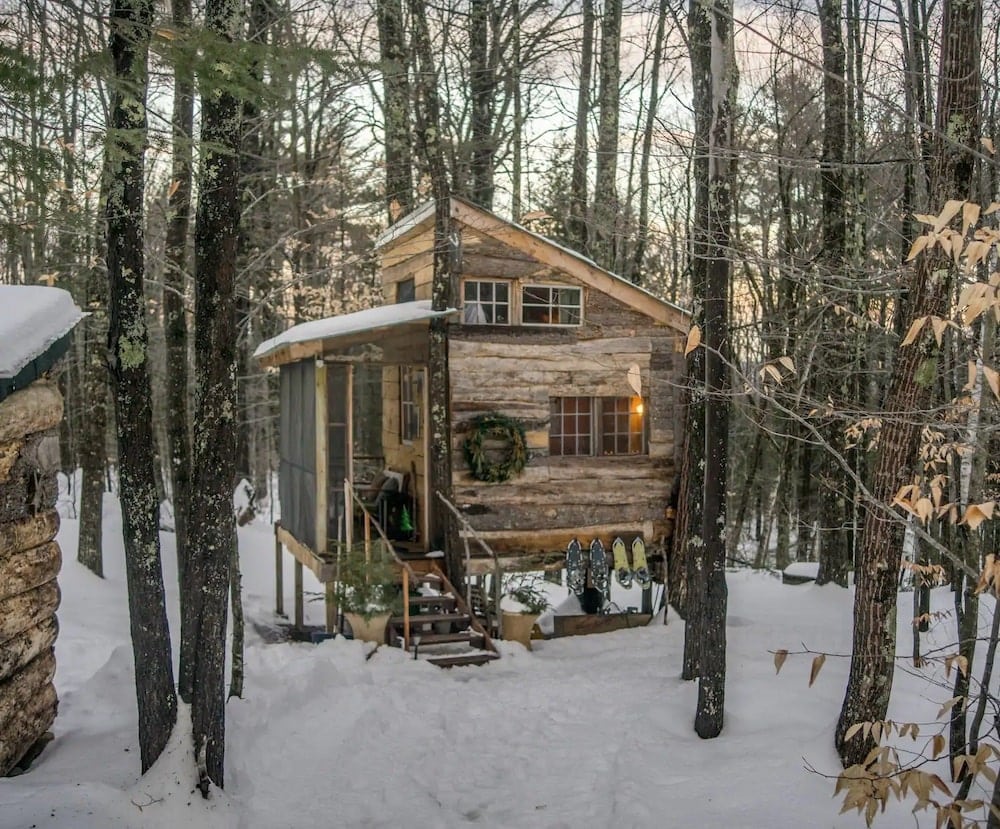 Why you should stay: Rustic treehouse cabin fit for a low-key elopement.
Nearest town: Conway
Sleeps: 3
Minimum stay: 2 nights
Rates from: $119/night
Hobbits unite at this Tolkien-inspired home fit for those with fantastical dreams. Although it's themed after the famed "Lord of the Rings" trilogy, you don't have to be hobbit-sized to rent it for a few days. It's got more than enough room for three people and lovingly blends indoor and outdoor living with an outdoor kitchen.
There's a screened-in porch to keep those pesky mosquitos away, as well as the all-seeing Eye of Sauron — any other literature nerds out there?)There's even an outdoor fire pit in case you need to cast a ring into the burning flames. And pups are allowed to be by your side all weekend with no pet fee.
But if you're going to be joined through a different kind of ring — say, a wedding ring — you're in luck. There's a small chapel on the property and one of the hosts is a justice of the peace. This is a popular spot for forest elopements in New Hampshire and Richie (the other host) is also a chef and can whip up a feast for a small group of guests.
Check Availability
Related read: 10 of the Best Romantic Getaways in New Hampshire
6. Treehaus
Why you should stay: The only treehouse in New Hampshire with a view of Mount Washington
Nearest town: Bethlehem
Sleeps: 2
Minimum stay: 1 night
Rates from: $96/night
Treehaus is the perfect White Mountain getaway for a couple looking to rekindle a flame — or perhaps keep the flame going. If you need help with the spark though, there is heating in the treehouse. The lofted bed area (where you might spend most of your time) has a circular window showcasing the Presidential Mountain Range.
The window will make you feel like you're peering out of a periscope in a submarine. But instead of seeing an ocean of cerulean blue, you'll see a sea of green — although it may also be red, yellow, and orange depending on the time of year. T
he wind through the trees will sound exactly like waves crashing onto a beach as you sit on the deck, but it's actually a little better than the beach because you have jaw-dropping views of the Granite State's most famous mountains in the distance. Oh, and it's one the more affordable treehouse rentals in New Hampshire, starting at under $100 a night.
Check Availability
Related Read: 10 Most Unique Places to Stay in New Hampshire
7. Treetop Sanctuary
Why you should stay: It's camping, but 30 feet off the ground, which is way cooler.
Nearest town: Dunbarton
Sleeps: 4
Minimum stay: 1 night
Rates from: $205/night
It might be the wreath over the door, the rainbow twinkle lights, or perhaps the walkway to the entrance, but this cute and rustic treehouse rental in New Hampshire is reminiscent of Santa's workshop (or maybe a New England covered bridge?) Fortunately, the vacation home is available in all four seasons, so Santa could actually stop by for a visit.
You'll have to bring some of your own tools though, including sleeping bags and cooking sets. There's electricity, a propane cooking stove, a mattress, a wood stove, and a fridge for guest use. Don't forget to look up through the clear roof for a chance to catch the stars (or maybe Santa's sleigh, if you're visiting in December.) The home doesn't allow pets, and guests need to be older than 10.
Check Availability
Related Read: 10 Supremely Secluded Cabin Rentals in Vermont
Explore More in New Hampshire
Sign up for the Weekend Wanderer to join thousands of readers getting epic travel and gear ideas every week.
---