We research, evaluate and select travel destinations based on a number of factors, including our writers' experience, user reviews and more. We may earn a commission when you book or purchase through our links. See our editorial policy to learn more.
Was this article helpful?
---
You don't have to be a beach-obsessed sun-worshipper to enjoy one of Maine's most famous oceanside towns.
It might be called Old Orchard Beach, but this town is way more than just beach (and not everything is old!) The Pier dates to 1898, though decades of harsh storms mean it's been almost entirely replaced. The pier you see today juts 700 feet into the Atlantic Ocean and is the place for entertainment and shopping.
For a kid-friendly option, you can always head to New England's only beachside amusement park: Palace Playland. It has dozens of rides for all ages and is super affordable, even by today's standards. You can choose between an unlimited day pass or single tickets, which makes it easy to fit in anyone's budget.
Not into rides? Eat your way through the town, since there are plenty of options to please even the pickiest of paletes. And unless you're a veg, be sure to try some seafood. It doesn't get much better than biting into a lobster roll made with lobster you know was caught just hours ago.
Of course, in order for you to play (and eat) all day, you'll need a place nearby to sleep. Fortunately, there are dozens of unique home rentals in Old Orchard Beach, making it very easy to find a stellar place to rest your weary head (and stomach).
Related Read: 11 Amazing Maine Swimming Holes & Swimming Beaches
1. The Serendipity
Why you should stay: Get space for four cars in a town where parking is very limited (and pricey!)
Sleeps: 8
Minimum stay: 7 nights
Rates from: $350/night
Enter into your own piece of paradise with a stay at this cozy A-frame only steps from the beach. Despite the town's bustling nearby downtown, you'll feel a world away on this dead-end street. While the house itself has everything you (and seven other friends) might need, the patio is where you'll likely spend most of your time. Need to chat about Descartes or Shakespeare over some wine? Use the cozy side-by-side chairs to nestle in close for a secret discussion. Or maybe you need to work on your tan some more? Look no further than the lounge chair. At the very least, you'll want to gather around the large outdoor table to sink your teeth into some good grub from one of the many incredible nearby restaurants.
Check Availability
Related Read: 12 Glamping Escapes in Maine for Your Next Adventure
2. Luxurious Beachfront House
Why you should stay: There's a butler's pantry, epic sunset views, and an elevator – for real. There's an elevator.
Sleeps: 10
Minimum stay: 7 nights
Rates from: $449/night
Who needs an all-inclusive hotel when you can play the role of multimillionaire in your own private escape? The retro-style counter stools in the kitchen are an ideal spot for a breakfast with ocean views, presumably made on the high-end stove or in one of the two ovens (this is the home rental in Old Orchard Beach for those who like to cook on vacation).
For happy hour, there's a wet bar with every possible cocktail glass – but make sure to know which drinks go in each glass, of course. The games room is ideal for any age if you don't feel like walking down to Palace Playland, or if relaxing is more your style, rest your weary muscles in the jacuzzi tub and enjoy feeling like you're in a private spa. Regardless of your preference, this luxurious home will suit anyone's needs, albeit at a semi-steep price.
Check Availability
Related Read: 12 Magical & Unique Places to Stay in Maine
3. Grand Victorian Condo
Why you should stay: Access to the lively downtown with soundproof deck doors and windows to drown out the lively downtown.
Sleeps: 6
Minimum stay: 3 nights
Rates from: $198night
You literally can't get any closer to the famous Old Orchard Beach Pier when you book your vacation in this incredible space. The dozens of eclectic shops and unique restaurants on the pier over the Atlantic Ocean will definitely woo you into emptying your wallet, so make sure your friends pay you back for their share of this Old Orchard Beach home rental.
If you aren't easily wooed by the pier's offerings, then the condo's wrap-around windows and view of the ocean will probably beckon you to the shore. The home's views go on for miles on a clear day, and your upper-level deck is perfectly positioned as the best vantage point. But as nice as it is to breathe it all in from the privacy of your own deck, you should still spend a little bit of time in the town (even if you're just buying some microbrews to bring back home).
Check Availability
Related Read: 11 of the Best Airbnbs in Bar Harbor, Maine
4. Oceanfront Family Cottage
Why you should stay: It's the quintessential beach cottage. Seriously – search "beach cottage" online. They look like this.
Sleeps: 8
Minimum stay: 7 nights
Rates from: $385/night
Warm hues, wicker furniture, and driftwood accents fill up this family-friendly home by the sea. A wooden piping plover watches over the living room from its home on the coffee table, while the exposed beams in the living room and kitchen look like they're begging for an Eastern phoebe to roost. And you'll probably find it just as welcoming, too, especially if you spend your evenings swapping stories and enjoying a glass of wine while lounging in the Adirondack chairs around the beach campfire.
"The design is sophisticated and spot-on for this gem of a cottage, tastefully appointed and with every amenity you could possibly ask for. There are Adirondack chairs thoughtfully placed halfway to the beach, which was a fantastic spot to sit and talk after a day on the beach. I cannot even imagine staying anywhere else in the future than right here – as close to perfection as possible!"
Check Availability
5. Oceanfront Three-Bedroom Condo
Why you should stay: If you love french fries (seriously. These are life-changing.)
Sleeps: 10
Minimum stay: 2 nights
Rates from: $300/night
Be sure to try the famous "pier fries" from Old Orchard Pier, since your home rental in Old Orchard Beach is this oceanfront apartment steps from the storefront. It's the best basecamp for a beach vacation with your kids, especially as the kids will have their own bunk-bed room just for them – and, again, the french fries. And with Palace Playland only a few minutes' away by foot, it's pretty easy to find places to have fun.
Luckily, the largest bedroom is quiet and serene with soft hues and hints of ocean-inspired decor. And one nice thing about booking this condo, rather than a house, is that you also get to use the private indoor pool instead of fighting the crowds of tourists on the beach.
Check Availability
Related Read: The 10 Best Pet-Friendly Cabin Rentals in Maine
6. Beachfront Two-Bedroom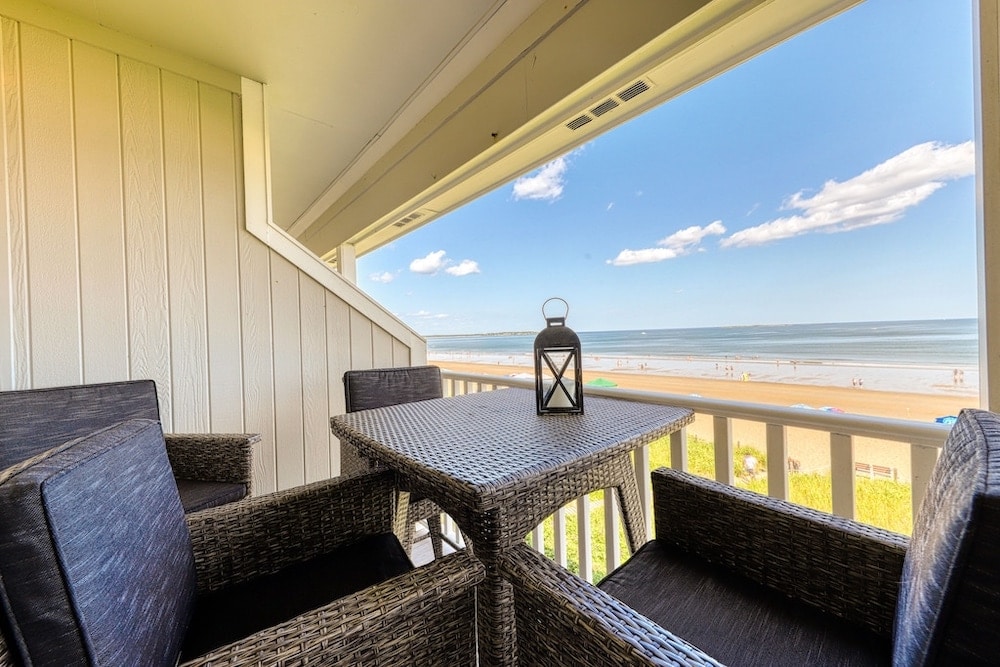 Why you should stay: "A Tale of Two Beaches", except it's always the best of times.
Sleeps: 6
Minimum stay: 2 nights
Rates from: $177/night
You'll learn what serene really means in the quiet, early morning hours as you wait for the sunrise from the deck of this calm and relaxing rental. And the comfortable and cozy sitting nook in the largest bedroom might as well be a waiting room at a private spa for how comfortable it is. So hopefully your significant other is a trained masseuse (or at least doesn't mind working out those tense muscles in your back). This home rental in Old Orchard Beach sleeps six, but it'd also be nice for just a couple.
The real winner of this condo, though, is the proximity to not one but two beaches. It's between Old Orchard and Surfside beaches, the latter of which is a good place for finding a bit more solitude to as compared to Old Orchard Beach's busy downtown area. It even has a boardwalk flanked by wild rose bushes and beach grasses that sway with the breeze off the ocean. This relaxing condo is the perfect place to recharge for a few days, and no, your beach read of choice doesn't have to be Dickens.
Check Availability
7. Casa Azul
Why you should stay: It has a large backyard – a rarity in Old Orchard Beach.
Sleeps: 6
Minimum stay: 2 nights
Rates from: $200/night
There may not be a more accurate name for Casa Azul, an Old Orchard Beach home rental easily recognized for its vibrant exterior color.
Though the outside makes a bold statement, the interior is filled with welcoming decor for a sense of calm. And as a perk, the hosts graciously offer all the accessories you'll need for a perfect day at the beach in case your suitcase space was limited. Beach chairs, a beach umbrella, a cooler, and even sand toys for the kids are included in the rental. And since the rental is only about .3 miles from the beach, you can quickly head home if there's a cranky kid (or, let's face it, a whiny adult) in your beach-going group.
Check Availability
Related Read: 14 Best Hikes in Maine for Exploring the Great Outdoors
8. Sunny Coastal Cottage
Why you should stay: With 2,500 square feet for six people, everyone can find space to themselves.
Sleeps: 6
Minimum stay: 3 nights
Rates from: $317/night
Warm, off-white cedar shakes adorn the exterior of this gem of a home just minutes from the beach. Light is a common theme throughout the house, so maybe skip this house if you like to laze around in bed all day – thanks to the large, open layout, the whole house is bright and airy.
The big spaces don't feel cold or industrial, though. Instead, there's a welcoming feel. There's even a dedicated work space, as unwelcome as the idea of checking your email on vacation may be. Note that one of the bedrooms is actually a loft open to the room downstairs, so take that into account if you're trying to decide how many guests to bring (or what to charge for each room).
Check Availability
9. Early Twentieth-Century Home
Why you should stay: Massive home for a multi-family reunion.
Sleeps: 16
Minimum stay: 2 nights
Rates from: $570/night
Bring the whole dang family to your beach vacation. And you might as well bring some friends and maybe some friends of friends, because there's so much space in this roomy rental home in Old Orchard Beach. The large-but-welcoming home has not one, not two, but three kitchens (though technically, one is a half kitchen), so book this one if you're planning on making everyone chip in with the cooking. There are other features for large groups, like two washing machines and two dryers, a big front porch, a third-floor hang-out room, and two dishwashers for the aforementioned potluck clean-up.
Check Availability
Plan your trip to Old Orchard Beach, Maine
Make the most of your stay in Old Orchard Beach by checking out these must-see stops.
Explore More in Maine
Sign up for the Weekend Wanderer to join thousands of readers getting epic travel ideas every week.
Was this article helpful?
---