We research, evaluate and select travel destinations based on a number of factors, including our writers' experience, user reviews and more. We may earn a commission when you book or purchase through our links. See our editorial policy to learn more.
---
If you're keen on wildlife sightings like wolves and moose, or traipsing through a snowy wonderland on skis or snowshoes sounds like your idea of heaven, then a winter visit to Grand Teton National Park needs to go on your calendar, pronto.
Tucked away in the stunning Teton Mountain Range, just north of legendary mountain town Jackson Hole, Grand Teton is one of those rare western U.S. parks that's just as good in the winter as it is in the summer, that is, if you know where to go.
Park roads close and become scenic jaunts for avid cross-country skiers, trails are free of grizzly bears (they're all hibernating), wildlife tours are better than ever, and those classic Teton panoramas are somehow more striking with a fresh dusting of snow.
Add to that the fact that steamy hot springs abound in the area and nearby Jackson Hole Mountain Resort offers miles upon miles of world-class downhill fun, and it's a no-brainer that a wintertime escape to Grand Teton is one for the bucket list.
Related read: How to Spend One Epic Day in Grand Teton National Park
Things to Consider
Though the main highways surrounding the park, Highway US 89/191 and Highway US 26/287, are plowed and open to private vehicles all year long, smaller Grand Teton byways like Teton Park Road and Moose-Wilson Road close due to snow and ice.
The National Park Service recommends traveling with snow chains or all-season tires during winter months, even on plowed roads, as storms can strike suddenly and without much warning.
Teton Park Road (from the Taggart Lake Trailhead to Signal Mountain Lodge) and Moose-Wilson Road are closed to vehicles and open for cross-country skiers and snowshoers to explore, beginning November 1 each year. They typically reopen in early to mid-May, depending on snow conditions.
Once the park road is snow-covered, bikes (including fat tire bikes) are not allowed on it.
Areas around the Snake River, Buffalo Fork River, and Kelly Warm Springs are closed to all public entry from December 15th to March 31st each year for wildlife protection.
Grand Teton is a remote, mountainous national park, and the closest gateway communities for dining and lodging are Teton Village, Wilson, and Jackson, Wyoming.
Related read: 11 Best Hikes in Grand Teton National Park, Wyoming
Wintertime Activities in Grand Teton
Yes, some fan-favorite national park activities like snow-free hiking and boating might be impossible during the winter season, and that might be a deal breaker for some travelers. But, for the intrepid snow lover, there are wealth of outdoorsy pursuits to explore at this majestic national park.
Wildlife Viewing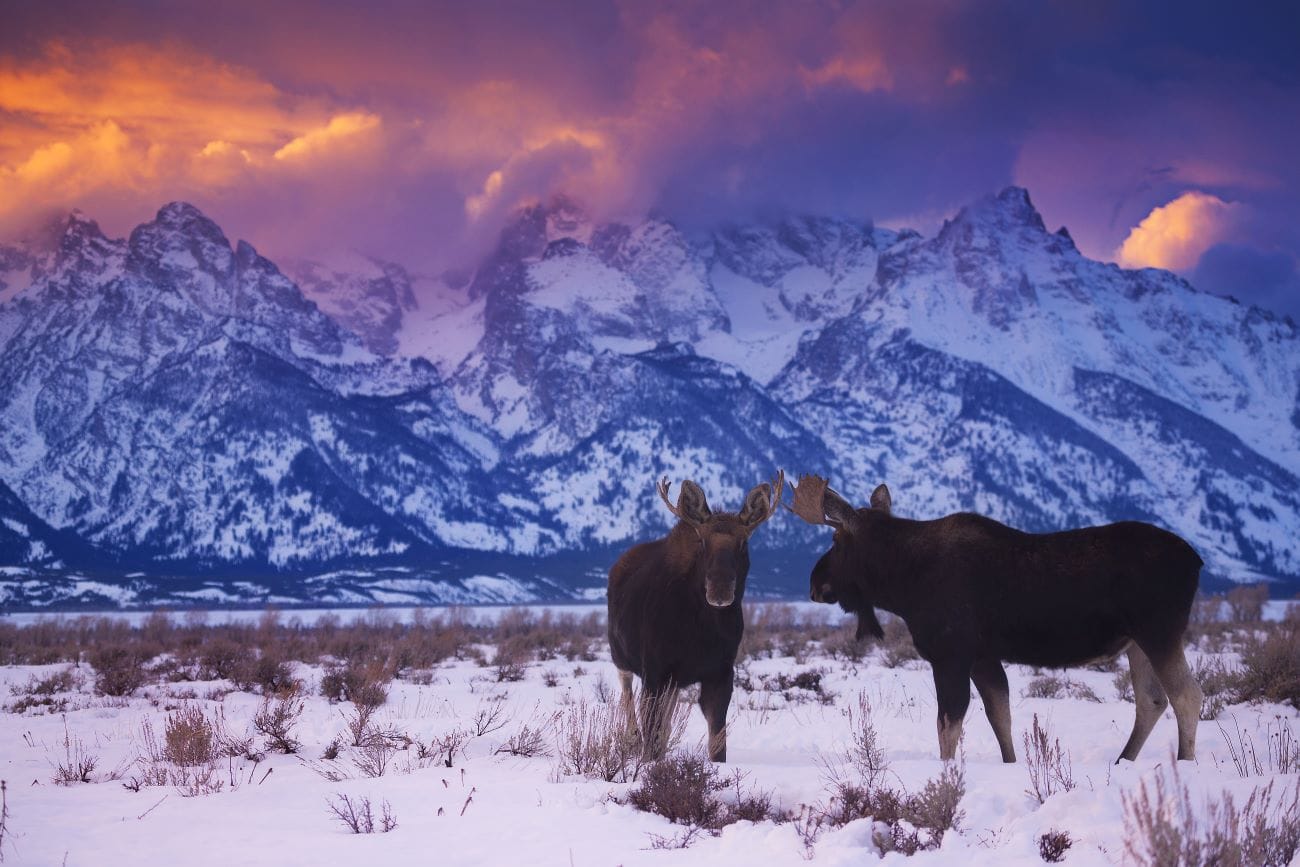 In stark contrast to most wintertime park experiences, wildlife viewing at Grand Teton is positively jumpin'. That's because large animals like moose, deer, wolves, and coyotes are easier to spot against a backdrop of fluffy white stuff. Plus, just outside of nearby Jackson, the National Elk Refuge becomes a snowy safe haven for its namesake 1,000-pound ungulates.
Visitors to Grand Teton from December through March can strike out on their own and go wildlife spotting along Highway US 89, where they're sure to spot the refuge's 5,000-strong herd, a few errant moose, and, if they're lucky, a coyote or two.
However, if you're looking to take the road less traveled (and nab some stunning wildlife photos while you're at it), venturing out with a reputable guiding company, like Jackson Hole Eco Tour Adventures, is a must.
Not only do they offer full and half day animal-viewing tours year-round, they also give back to non-profit conservation groups to help ensure that future generations can enjoy the wildlife of the Greater Yellowstone Ecosystem.
Related Read: Yellowstone National Park in Winter: Things to Do & Where to Stay
Snowshoeing and Cross-Country Skiing
We said it before and we'll say it again: with miles of avalanche-free lakeside trails and seasonal road closures, Grand Teton is a veritable paradise for those who like to break a sweat in the snow.
Starting November 1st every year, the 14-mile section of Teton Park Road from the Taggart Lake Trailhead to Signal Mountain Lodge is closed to private vehicles. Once the snow hits, the road is groomed on Tuesdays, Fridays, and Sundays with lanes for classic cross-country skiing, skate skiing, and multi-use (walking pets, snowshoeing, and hiking).
Some of the best views in the country are found along this stretch of road, from the craggy spires of Signal Mountain to the sky-high granite of The Grand. Skier-tracked trails typically exist around Colter Bay, Jenny Lake, and Bradley to Taggert Lakes as well, giving nature-loving snow seekers plenty of options to keep themselves busy.
Itching to go cross-country elsewhere in the park? The Moose-Wilson corridor road is also closed to vehicles and open to skiers, snowshoers, and dog-walkers from the Granite Trailhead and to the Death Canyon Junction.
The southern end of the park also has a phenomenal 5.2-mile out-and-back trail up to Phelps Lake Overlook with picture-perfect panoramas of snow-covered mountains and evergreens.
New to the sport? Jackson Hole Eco Tour Adventures offers both snowshoeing and skiing tours for beginners looking to meander through the park with a guide. Grand Teton National Park also offers its own ranger-led snowshoe tours.
Sleigh Rides
Though technically just outside the park proper, going on a sleigh ride through the National Elk Refuge is a wintertime rite of passage in Wyoming. There's no better spot to hang out and photograph the area's antler-clad, hoofed creatures, as 5,000 of them roam here every winter (the largest migrating elk herd in North America).
Along the way, visitors have the opportunity to see much more than elk. For the price of admission (starting at $20 for children and $35 for adults), there's also a good chance of spotting bald eagles, trumpeter swans, wooly bison, and even the area's notorious wolves.
Hot Springs
View this post on Instagram
Surrounding the Greater Yellowstone Ecosystem (and the Jackson Hole area) are a plethora of stunning natural hot springs that beckon to visitors all summer and fall. In winter, however, these steamy retreats are much more secluded (and harder to get to) but a handful of excellent guiding services offer tours for tired skiers and hikers to soak their weary bones.
Since the springs are only accessible via snowmobile or dog sled, we recommend going with Teton Tour Co. on a half-day tour to legendary Granite Hot Springs. Once there, travelers can unwind in a 1935-era pool built by Roosevelt's Civilian Conservation Corps.
Scenic Drives
Though the park's main road is closed to vehicles all winter long, there are still a few scenic stretches of road one can wind through when the weather's good. Highway 89 runs north-south between Yellowstone and Jackson (and eventually farther south into Utah) and is a wonderful plowed drive for spotting moose, elk, and epic vistas of the Teton range.
Highway 26 runs east-west and offers some beautiful creekside views, plus access to the towering rock escarpments at Togwotee Pass, just outside the park. Be on the lookout for wolves and coyotes sprinting out of the elk refuge if you make the journey.
Related read: 9 Best National Parks to Visit in December
Weather and Road Closures
Grand Teton's gateway town of Moose, Wyoming receives an average of 14 feet of snow every year, transforming the entire Teton range into a snowy winter wonderland. Packing extra layers and double checking the weather before you head out is imperative if you plan on a winter trip to this park, as days may be sunny and brisk, but nights are downright frigid.
From December through February, average temperatures in Grand Teton range from a high of 28 degrees Fahrenheit to a low of 2 degrees Fahrenheit. The NPS also warns that for every 1,000 feet of elevation you climb, you should expect temperatures to drop about 4 degrees.
Even in more temperate spring months (like April), the park receives, on average, 11 days with precipitation and average highs of 49 degrees. Dress warmly to enjoy this park outside of summer months.
The Jackson Hole Airport has instigated some truly massive construction projects in the last two years, fully reconstructing its runway, rebuilding its TSA security checkpoint, and placing a baggage claim marketplace full of food and drink options near the exit. In short, they are rapidly modernizing, and there's been no better time in recent memory to book a trip to the area, even though some surrounding roads may be closed.
If you're planning on driving into the park in the winter, you'll need to arrive from the south, via Highway US 89/191, or from the east, via Highway US 26/287. These highways are plowed, and scenic driving is permitted from Jackson to Flagg Ranch, just south of Yellowstone.
Smaller roads inside Grand Teton close during winter months to provide recreational opportunities like skiing and snowshoeing and to give wildlife safe corridors for travel.
Related read: 12 Best National Parks to Visit in October
Year-Round Lodging
The best part about Grand Teton being so close to a world-renowned ski mecca is that both hotels and vacation rentals abound, both in summer and winter months. Whether you want to stay just outside the park in Teton Village or a bit farther south in the glitzy cowboy town of Jackson, there's sure to be a perfect stay for everyone.
Related read: 10 Best Wyoming Cabin Rentals for a Secluded Retreat
Triangle X Ranch
View this post on Instagram
Not only is Triangle X Ranch the only in-park lodging that remains open all winter long in Grand Teton, it's also the only dude ranch in the country still operating within National Park Service boundaries.
Comprised of 20 distinct log cabins dating back to the 1800s, rooms here are mountain rustic, with oodles of charm and hearty dining options. After a day of snow play or cross-country travel inside the park, hit the property's large outdoor jacuzzi to wind down.
Two-Bedroom Jackson Condo with Loft
With fun bedding, Wild West-inspired art, and a wood burning fireplace, it's easy to see why this stunning condo situated between Teton Village and Jackson Hole has earned a 4.8 rating from guests.
With a full kitchen, trundle bed, gas grill, loft, and comfortable dining area, it boasts all the comforts of home, mere minutes from the park.
The Virginian Lodge
View this post on Instagram
Just reopened in 2022, The Virginian Lodge offers an elevated motor lodge experience that harkens back to the freewheeling road trip days of the 1960s.
The recent renovation has lent the property some serious style, with wood paneling on the walls, cozy wool blankets on the beds, and retro-yet-chic carpeting on the floors. It's a hip stay with its own saloon and restaurant right on site.
Related read: 8 Gorgeous Glamping Destinations in Wyoming
Teton Village Top Floor Suite
If you want to stay as close to the park as possible in a vacation rental, Teton Village is your answer, and this ski-themed one bedroom is dripping with personality — and views!
An open-plan kitchen moves into an airy seating area, complete with vintage ski posters and memorabilia on the walls and a flatscreen above the wood burning fireplace. A Murphy bed pulls out of a refined-looking cabinet, should you have extra guests. In the master bedroom, catch some Zs on the plush king-sized bed.
Cabin-Chic Condo with Fireplace
It's hard to believe that this log cabin-style two bedroom is a condo (the space is a roomy 1,250 square feet), but it's one of the most charming rentals on the market. Set a half mile from Snow King, this pet-friendly home is full of rustic timber, Southwestern textiles, and a fireplace for nighttime hang outs.
Draw straws to see who gets the loft, because this epic space sleeps up to seven, making it ideal for families and nature-loving close friends.
Explore More National Parks
Get epic travel ideas delivered to your inbox with Weekend Wanderer, our newsletter inspiring thousands of readers every week.
---