Territory Supply is reader-supported and may earn a commission when you book or purchase using our links. See our editorial process to learn more.
---
Airbnb offers plenty of unconventional places to rent in Arizona for travelers looking beyond the status quo.
When a basic home isn't adventurous enough for your next Arizona getaway, there are plenty of funky living options to give you an inside look at neighborhoods and areas that are uniquely Arizonan: the Coronado Historic District in Phoenix, Barrio Viejo in Tucson, the open prairies and hills hugging Flagstaff.
Here's a look at some of our favorite unique Airbnb rentals in Arizona for the best and coolest vacations in the Grand Canyon state.
1. Sky Suite @ Arcosanti
In the 1960s, architect Paolo Soleri sought a new way of living and an alternative to the rapid urban sprawl that now defines the Phoenix metro area. "The problem I am confronting is the present design of cities only a few stories high, stretching outward in unwieldy sprawl for miles," Soleri said. "My solution is urban implosion rather than explosion."
Arcosanti is the architect's real-life application of his ideas and theories on arcology (architecture plus ecology). Since 1970, it's been a community in constant motion. For guests and residents alike, day to day life includes learning, creation of art, and construction of buildings.
You can now stay in the Sky Suite, an open-concept dwelling with a living area, bedroom and kitchenette. Take advantage of on-site features like the hillside pool, café or plenty of events and workshops held throughout the year.
Architecture fans will appreciate the unique way Soleri built the community into the high desert, and those looking to explore will find a great base for day trips to areas like Prescott and West Clear Creek.
Check Availability
2. Airstream Dreaming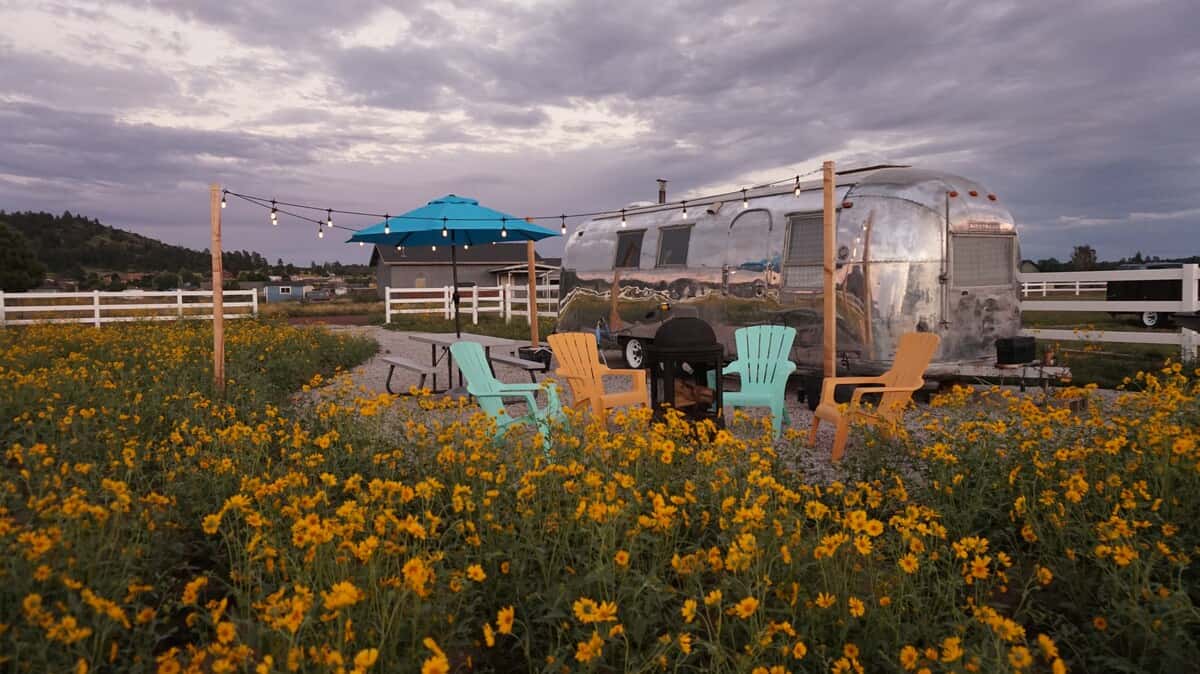 It can be tough to find a comfortable place to stay in Flagstaff, but Superhosts Josh and Robin make it easier with their renovated Airstreams available just outside of town.
One of those is a 1965 Airstream renovated with modern conveniences, fun décor and enough inside and outdoor living space to comfortably fit up to four guests. The Airstream and its counterpart sit on a half-acre lot out in a beautiful open stretch of land just 10 miles from downtown Flag and about 23 miles from Snowbowl.
The views here are spectacular, with sunsets framed by Mount Elden and the San Francisco Peaks looming large over Flagstaff. In summer you'll find plenty of wildflowers and walking areas to explore, and fall and winter are great times to huddle up by the outdoor patio and firepit.
The Airstream is 25 feet long and offers everything you'd need for a simple stay. Dining options are just a few miles away and the bustle of downtown Flagstaff isn't far. If you're looking to explore more of Northern Arizona, it's about 40 miles to Sedona and just over an hour to the Grand Canyon.
If the Airstream's booked and you need more ideas of where to stay in the area, check out our favorite cabin rentals in Flagstaff.
Check Availability
3. Adobe Libre
Adobe Libre was built in the 1880s and updated over the years for modern Arizona living — hello, air conditioning! It's a bright, beautiful one-bedroom located in Tucson's Barrio Viejo, considered by many to be the country's largest standing collection of original adobe buildings.
Clean lines, airy spaces, mid-century decor and high ceilings make this a welcoming place to spend time in Tucson, and it's conveniently located near downtown. There's a fireplace in the living room, a well-stocked kitchen and plenty of living space for up to four guests.
The hosts live next door and are available for recommendations, and if you're looking for something larger, they also rent out The Root Beer Adobe, a larger two-bedroom house nearby. This 1890s adobe was used as a soda shop in the 1950s and sports the faded remnants of a sign out front.
Check Availability
4. The Nest Tiny House
The Nest is a cozy tiny home previously located in Coronado Historic District, now lovingly rehomed in a beautiful neighborhood just off the 51. Its 260 square feet includes a living room, full kitchen, bedroom, full bathroom and patio.
Beautiful floor-to-ceiling windows create an airy, comforting space that's easy to sink into, and the clean décor and smart design makes optimal use of the home's footprint. Ten-foot ceilings, dimming lights and no-nonsense organization creates a surprising sense of space, making it a perfect landing spot for staycations and out-of-state travelers alike.
The home was designed by local architects Damon Wake and Hunter Floyd, a duo redefining what it means to make functional but environmentally-sound tiny homes and other residential buildings.
Check Availability
5. Lyman's Place
Lyman's Place is an old homesteading cabin on a sprawling 400-acre ranch just an hour from Zion National Park and 90 minutes from the North Rim. Built in the early 1900s, the cabin was recently restored with modern conveniences but still features original wood-plank floors, beams, paneling and hand-finished cob walls.
If you're looking to get away from it all, Lyman's Place will help you get there. It's located west of Fredonia in the Arizona strip, the remote swath of land south of Colorado, east of Nevada and north of the Colorado River. It's an ideal base camp for those looking to explore the north side of the Grand Canyon and Utah's stunning national parks.
The ranch is home to animals – penned and free-range – and includes a shared firepit, garden, treehouse and other things to explore. The hosts are on property but respect visitors' privacy and only visit if "it's like that," to use a popular phrase. They provide ample linens and essential supplies like coffee, tea and breakfast supplies. Shopping and eating options are close by.
This is one of the highest-rated ranch Airbnbs in Northern Arizona, with a perfect 5-star rating from more than 400 guests from around the world.
Check Availability
6. My Sedona Place
For an authentic stay in the red rock Mecca, check out My Sedona Place, a geodesic dome house in a quiet, secluded neighborhood in West Sedona. Its bright living space is punctuated by natural lighting, angular windows and dynamic, colorful décor that pops against white walls.
The spiritually-inclined traveler will enjoy the dome's positive energy: crystals adorn the home, and the patio's in a direct line "between the vortexes at Cathedral Rock and Kachina Woman." Its 1,500 square feet feel much larger, thanks to the well-designed dome roof that makes for high ceilings and an expansive living room.
The home offers views of Cathedral Rock and Thunder Mountain, and easy hiking and mountain biking access to nearby trails. It's off the main tourism drag, but still close to the action. If you haven't stayed in the quieter residential areas of Sedona, you'll have a new-found appreciation for the town and its beauty after visiting.
Check Availability
7. The Kiva
The Kiva derives its name from the rooms used by Pueblo Indians for rituals and ceremonies, and it's a fitting moniker for this mostly-underground home in Cave Creek.
Outside you'll find desert walking trails and an in-ground fire pit for barbequing and enjoying cooler months of the year. The desert's the focus here, and The Kiva blends beautifully into the surrounding Sonoran landscape. There's plenty to do in town, but you'll feel far removed from the hustle of the metro area.
The space is small but makes ample use of its circular design; a loft bed and pull-out couch sleep up to four guests and there's plenty of room to relax and enjoy the sunset. The hosts live nearby and offer plenty of recommendations for food and entertainment in the area.
Check Availability
8. Converted Shipping Container
You might expect a converted shipping container to feel small, but this home is remarkably spacious, a testament to the functional and comforting design of the apartment.
Located on Phoenix's Roosevelt Row, this one-bedroom shipping container home offers easy access to downtown dining and shopping and a clean, relaxing home base for exploring the city.
Locally-inspired décor and reclaimed wooden floors bring this "well-traveled" shipping container to life, and the exterior of the building is just as impressive. Inside, you'll find practical, inviting living spaces that are easy to make your own — one reason why so many travelers repeat their visit after the first time.
Check Availability
9. The Hogan at Shash Dinè
"It is not the Marriot. It is not a five star hotel. It is a five billion star in the sky hotel," says the listing for the Hogan at Shash Dinè Eco-Retreat just south of Page. You have our attention.
Shash Dinè, ran by Baya & Paul, is a working sheep ranch and B&B that offers unique homes to rent, including Hogans, canvas tents, a cabin and yes, a sheep wagon. The Hogans offer an authentic experience on Navajoland, where Baya's family has been for more than 15 generations.
The Hogan is a traditional Navajo-style home that's solar-powered and heated by a wood-burning stove. As the hosts mention, it's a nature-based dwelling that embodies the desert and landscape surrounding it, so if you're looking to get off the beaten path, you'll dig what they have goin' on.
Shash Dinè's been featured in magazines like Arizona Highways, Travel + Leisure and Phoenix Magazine, and it's a convenient place to set up shop if you're exploring the wild reaches of northern Arizona and southern Utah. It may lack the creature comforts of some Airbnbs, but it offers a genuine cultural experience that's difficult to find elsewhere.
Check Availability
Find Your Next Arizona Getaway
Sign up for the Territory Supply newsletter to join thousands of readers getting epic travel ideas every week.
---