Territory Supply is reader-supported and may earn a commission when you book or purchase using our links. Learn more about our editorial policies here.
---
As one of the 7 Natural Wonders of the World — and the best damn hole in the ground we've ever seen — Grand Canyon deserves a spot on everybody's bucket list.
Staying in an airbnb can make your experience even more memorable — especially if the alternative means staying a plain old hotel room in Tusayan or Williams. Of course, if you get the chance to book a room in the park at the historic El Tovar, Bright Angel Lodge, or North Rim Lodge, do it!
Like most National Parks, there aren't an incredible number of airbnbs directly adjacent the park, and most of the ones located in Valle (30 minutes from the South Rim gate) fall into the glamping category.
However, we've also included a few non-glamping properties in and near Williams (about an hour drive from the gate) to make sure there's something for everyone on this list of the Grand Canyon's best airbnbs — just be sure to arrive in a personal vehicle and plan to use it to get around.
Notes for glamping in Valle: there are no grocery stores nearby, so the best bet is to buy groceries in Williams, Flagstaff, or Grand Canyon Village. The glamping spots are off-the-grid so be prepared to use water and electricity sparingly. Winter nights are cold at 6,000 feet above sea level, so bring extra blankets, warm clothes, and consult with hosts about local conditions.
1. The Ultimate Stargazing Experience
Why you should stay: Literally fall asleep under the stars in this transparent-roof glamping tent.
Location: Valle
Sleeps: 2
Minimum stay: 1 night
Rates from: $168/night
If you come from the big city (any big city), you won't believe how dark the night skies are in Northern Arizona. Of course, this glamping dome located in Valle is the perfect spot if you want to fall asleep while looking up at the stars. The tent features a clear ceiling, and you can expect clear skies most nights — but no guarantees, especially during the summer monsoons.
Reading through the reviews, some guests commented that the heated mattress wasn't enough on cold nights, so either plan your stay during warmer weather or bring extra blankets and layers in winter.
Check Availability
2. The Grand Canyon Nugget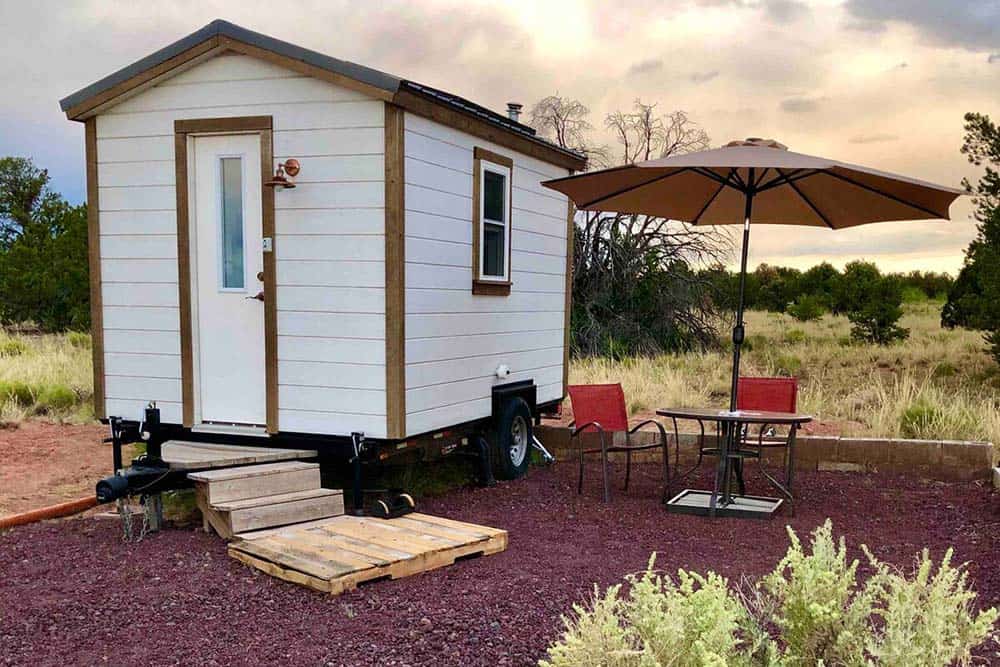 Why you should stay: A warm and cozy "glamping" stay that's not really roughing too much — just don't use all the water.
Location: Valle
Sleeps: 2
Minimum stay: 1 night
Rates from: $105/night
Located in Valle, this eco-friendly tiny home sits on an acre plot of pinyon-juniper woodlands. While still technically a glamping experience, the Grand Canyon Nugget feels a little more like a normal home — and there's an indoor bathroom! If you prefer to cook inside rather than on a grill or campfire, you'll like having the kitchenette as well.
Of the Valle glamping options, this is one of the better for wintertime since it's an actual home, so it gets warm and toasty inside if you turn on the heater — but it's a great stay any time of year!
Check Availability
3. The Love Hub
Why you should stay: Off-the-grid living in a super-cute vintage trailer.
Location: Valle
Sleeps: 2
Minimum stay: 1 night
Rates from: $113/night
Of the Valle glamping airbnbs, the Love Hub has the highest concentration of guest reviews using the word "cute." This retro trailer is fully renovated, and feels hip and modern on the inside. It's got all the basics you'll need, with a dedicated composting toilet and solar shower.
If you're down for an off-the-grid stay, this cute little camper won't disappoint — and the hosts offer the equally awesome Love Shack on the same property as well.
Check Availability
4. Road Runner's Roost
Why you should stay: Modern log cabin with expansive prairie views and easy GC access.
Location: Valle
Sleeps: 8
Minimum stay: 2 nights
Rates from: $250/night
Road Runner's Roost is likely your best option if you're looking to airbnb within 30 minutes of the park with a bigger group. This classic A-frame log cabin has plenty of modern amenities too, so it's a great close-to-the-park stay if you're not looking to rough it. You'll also enjoy the view, with wide-open spaces and the San Francisco Peaks towering above the distant horizon.
Inside the cabin you'll find rustic-modern decor, upgraded appliances, and even a washer and dryer (a rarity for Valle airbnbs). The Roost is still off-the-grid, so power and water consumption should be kept in-mind.
Check Availability
Related Read: 11 Unforgettable Things to Do at the Grand Canyon
5. The Wheel House
Why you should stay: Amenity-rich rustic cabin with plenty of gathering spaces — and a hot tub.
Location: Williams
Sleeps: 6
Minimum stay: 1 night
Rates from: $250/night
Located just north of Williams (about 50 minutes from the South Rim), the Wheel House is a great stay if you want an awesome cabin with all the amenities. Named for the old wagon wheel leaning on a column on the front porch, this modern-rustic is a real beauty.
Inside and out, you'll enjoy old west inspired decor, and then best part might be the hot tub — perfect to relaxing your muscles after an epic day hiking the Grand Canyon's rugged trails. If you're willing to stay closer to Williams, this airbnb should be at top of your list — and keep in mind the host's other property, the Grand Canyon Cabin, in case the Wheel House is booked up.
Check Availability
6. Sunset View Cabin
Why you should stay: Modern log cabin with porch overlooking sunset views and the Grand Canyon Railway.
Location: Williams
Sleeps: 4
Minimum stay: 3 nights
Rates from: $138/night
If you're sticking around for a few days, this modern log cabin near Williams is a great choice. Sitting happily on a one acre property amid the pinyon pines and juniper trees, you'll enjoy modern conveniences inside and great views outside.
The west-facing porch is a great place to sit in the evening and watch the sun go down, or watch the historic Grand Canyon Railway trains meander by. Located near the Wheel House, this cabin is about 50 minutes from the South Rim.
Check Availability
7. Grand Canyon Bungalow
Why you should stay: Stay as close to the park as possible and maximize your adventure time.
Location: Tusayan
Sleeps: 6
Minimum stay: 2 nights
Rates from: $129/night
Nestled among the Ponderosa pines in Tusayan, the Grand Canyon Bungalow isn't the sexiest accommodation on the list, but it boasts the most convenient location. It's just one mile away from Grand Canyon National Park's South Rim entrance, so you can maximize your vacation time without long commutes to and from the park each day.
The bungalow is also within walking distance of several hiking trails, including the popular Arizona Trail which leads north into Grand Canyon National park as well.
Check Availability
8. The Grand A-Frame
Why you should stay: Modern glamping digs that'll look amazing on your IG feed.
Location: Valle
Sleeps: 4
Minimum stay: 1 night
Rates from: $199/night
If you're looking for the hippest glamping experience near the Grand Canyon, look no further than this A-frame glamper. Inside an out, this bad boy is just straight up photogenic and modern.
It's bunk bed setup also means it can accomodate up four peeps, while other glampers nearby typically only sleep two. Also check out the host's other same-property glamping options — the Mahal Yurt (sleeps eight) and Lotus Yurt (sleeps four).
Like the other glamping options, it's fully off-the-grid and solar powered, and bring warm clothes and extra blankets in winter. The host also recommends an all-wheel drive vehicle to access the property for when there's wet weather.
Check Availability
Watch on YouTube
Explore More
Sign up for our free email to join thousands of readers getting epic travel, hiking, camping and gear ideas every week.
---