We research, evaluate and select travel destinations based on a number of factors, including our writers' experience, user reviews and more. We may earn a commission when you book or purchase through our links. See our editorial policy to learn more.
---
Ah, the Grand Canyon, or "The Big Ditch," as it's jokingly referred to … the name alone conjures evocative images of brilliant orange layers of sedimentary rock, plunging a vertical mile to the rushing Colorado River below.
The Grand Canyon is one of the great wonders of the natural world, an iconic American destination, and a fabulous place to plan a day hike. Unlike the canyon's more remote North Rim, the South Rim of the Grand Canyon is open year-round — perfect for summertime car campers and hardcore winter trekkers alike.
But with so many access points and so many trails of varying difficulty, choosing the ideal hike (with or without crowds) can feel like a daunting task. Below are our expert-picked favorite trails along the Grand Canyon's South Rim, ranging from mellow, stroller-accessible jaunts to full-on, leg-busting adventures.
Know Before You Go
The most common way that hikers get themselves into trouble at the Grand Canyon is by neglecting the fact that nearly every hike starts with a hearty downhill and finishes with an intense uphill slog back to the rim (when you're already tired from the day's exertion).
Add to that the fact that it's generally 20 to 30 degrees warmer at the bottom of the canyon than it is on the high-altitude rim (which sits at a peachy 7,000 feet), and it's easy to understand why more than 250 people need to be rescued from the canyon each year. Don't be that guy.
Bottom line: if you're hiking during the summer months, start in the early morning, bring plenty of water, and don't overexert yourself in the sweltering heat. If you've got extra time at the end of the day, you can always motor over to Desert View for an incredible sunset vista.
1. Rim Trail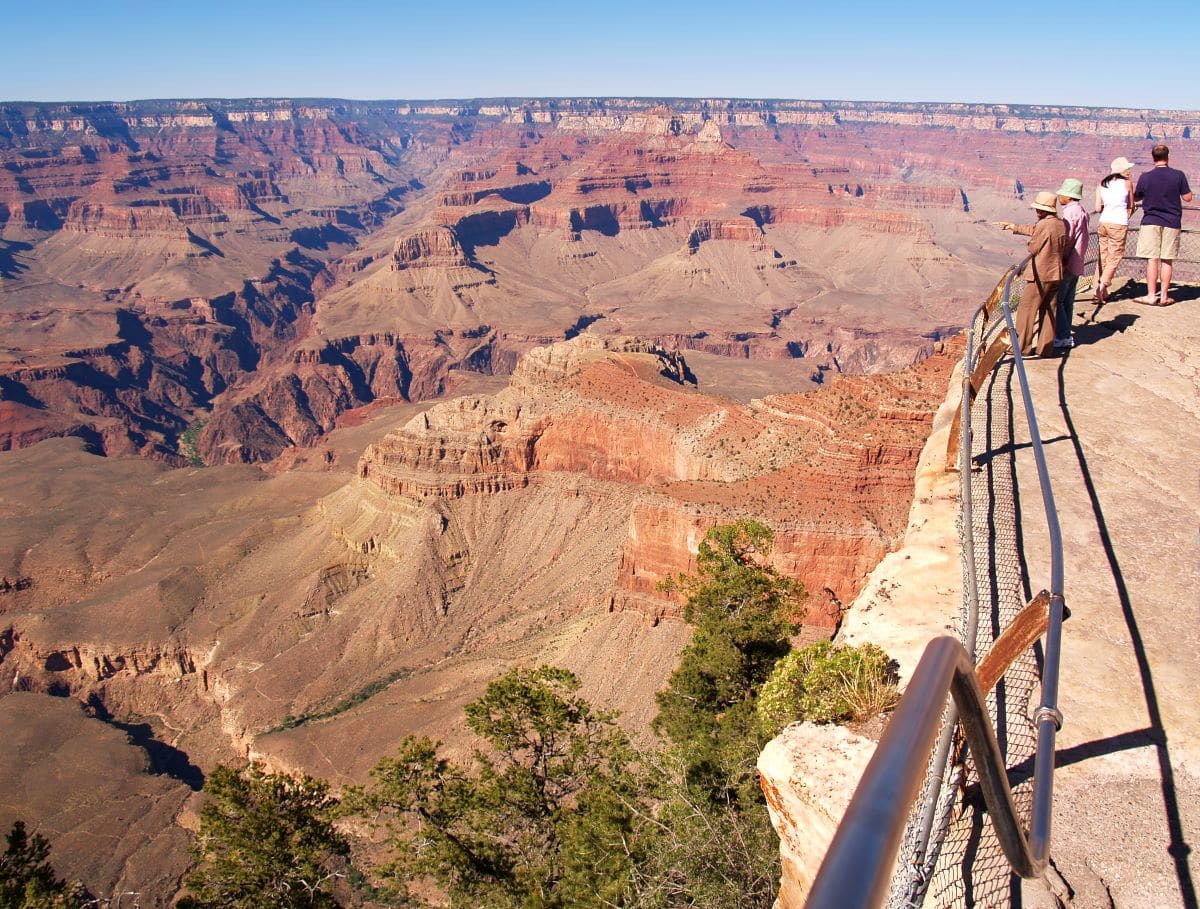 Why you should go: This family-friendly, mostly paved trail with free shuttle stops spans the length of the South Rim, offering incomparable, accessible vistas for every level of hiker.
Distance: 1–13 miles
Elevation gain: Negligible
Difficulty: Easy
Easily one of the best wheelchair-accessible trails in the entire U.S., Grand Canyon's Rim Trail is a spectacular 13-mile meandering multi-use path that winds its way through pinyon pines and crumbling vermillion sandstone, passing numerous marked viewpoints, a visitor center, and loads of free shuttle stops along the way (for when you're ready to head back).
Technically, the trail spans all the way from the gorgeous South Kaibab Trailhead to the historic stone buildings found at Hermits Rest, but we feel that the 4.3-mile bit from Grand Canyon Village to Hopi Point offers the best views, interpretive signs, and access points for first-timers looking to truly experience the wonder of the South Rim.
Related read: 11 Unforgettable Things to Do at the Grand Canyon
2. Bright Angel Trail to Three Mile Resthouse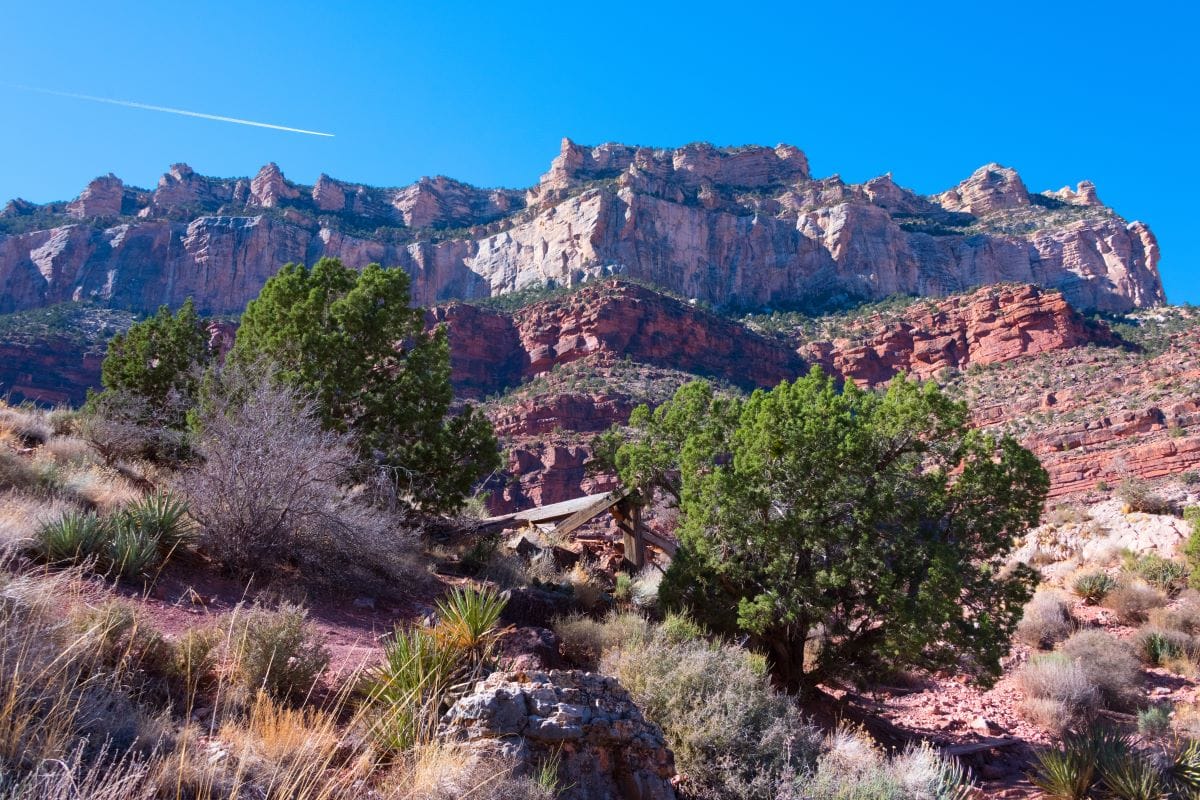 Why you should go: Trek a portion of the iconic Bright Angel Trail on this switchback-filled day trip that's full of red rock views.
Distance: 6.1 miles
Elevation gain: 2,112 feet
Difficulty: Challenging
A bucket list item for many Grand Canyon visitors is backpacking the entirety of the Bright Angel Trail or trekking the ravine rim-to-rim. But if you're short on time, couldn't nab a permit, or simply don't want to lug around a massive backpack, opt instead for this six-mile day trip along the storied and scenic Bright Angel Trail.
The path passes the historic Kolb Studio (reserve some time on your return trip to check out its fantastic photo and art gallery), then cruises through a tunnel that was blasted right into the edge of the canyon before switchbacking down, down, down to the Three Mile Resthouse, which has water available seasonally, should you need to resupply before the long hike back uphill.
3. South Kaibab Trail to Skeleton Point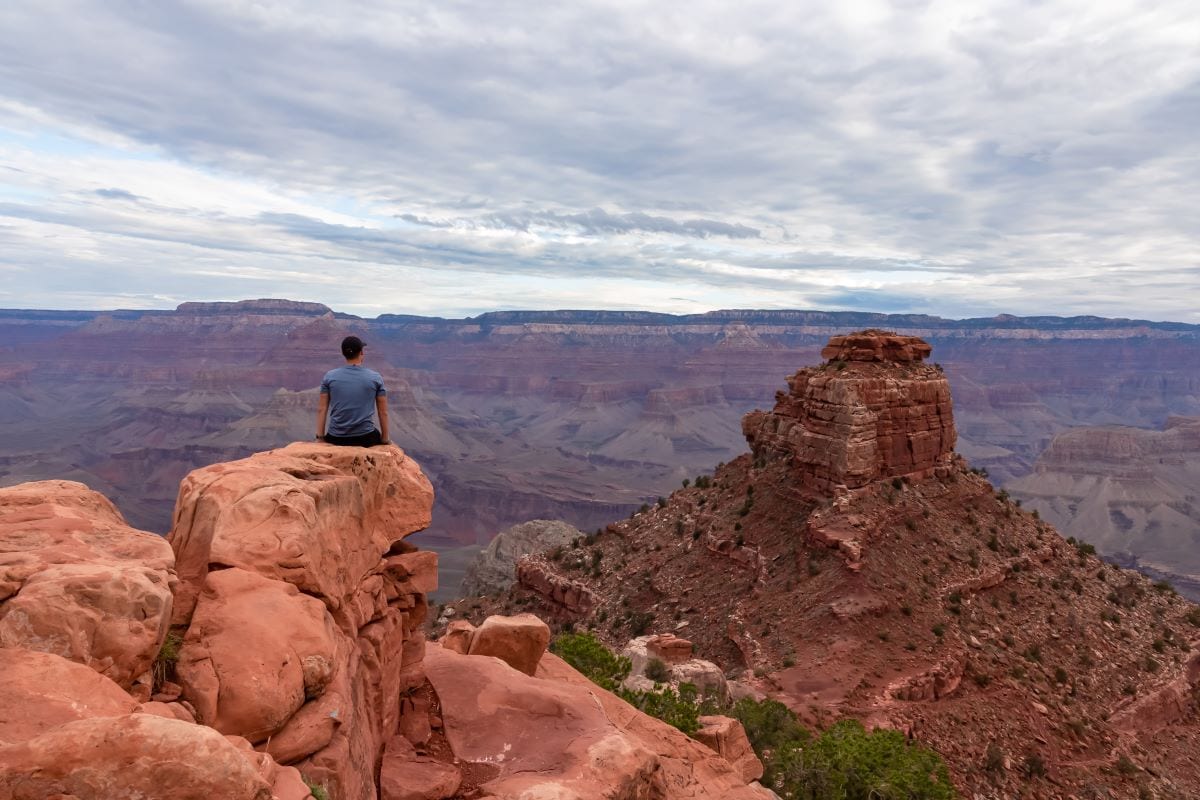 Why you should go: It's the best way to get phenomenal views with minimal effort. The South Kaibab Trail is a treasure for hardcore hikers and mellow day-trippers alike.
Distance: 6 miles
Elevation gain: 1,460 feet
Difficulty: Moderate
If you can comfortably hike up 1,500 vertical feet and you're looking for the best views in the park, this is the hike for you. Less crowded than the Canyon Village hikes, this excursion leaves from the striking cliff's edge panoramas at the South Kaibab Trailhead.
From there, it plunges past must-see viewpoints like Ooh Aah Point and Cedar Ridge, both of which showcase expansive craggy mesas freckled with conifers. However, unlike the Bright Angel Trail, there are no water stations along this path, so you'll have to pack plenty for your crew before heading down below the rim.
Related read: 13 Grand Canyon Waterfalls You Won't Believe are Real
4. Shoshone Point Trail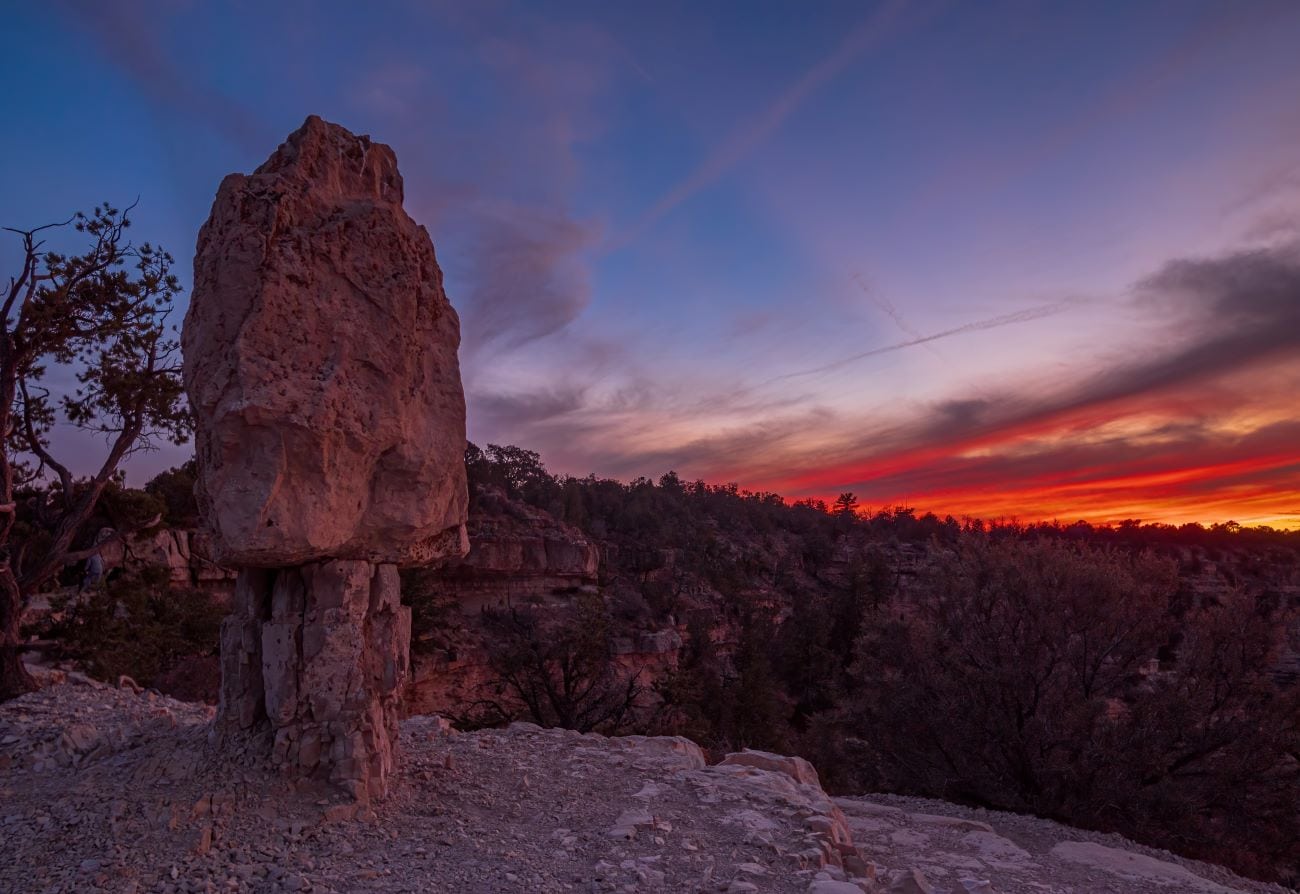 Why you should go: An easy trail shaded by ponderosa pines, this mellow jaunt to Shoshone Point is perfect for summer hikers and families alike.
Distance: 2.2 miles
Elevation gain: 130 feet
Difficulty: Easy
Less crowded than most of the trails on our list, the Shoshone Point Trail starts at an unmarked parking lot on the side of Desert View Drive. But don't let that deter you — behind this unassuming lot lies a fantastic vista and a great place to get away from the throngs of tourists on other treks.
There's no water at the trailhead, so pack in a liter or two and enjoy the flat, easy romp beneath towering ponderosa pines. At the turnaround point, revel in the expansive sight of myriad striped red protrusions of canyon rock, crumbling into the mighty river below.
5. Hermit Trail to Santa Maria Spring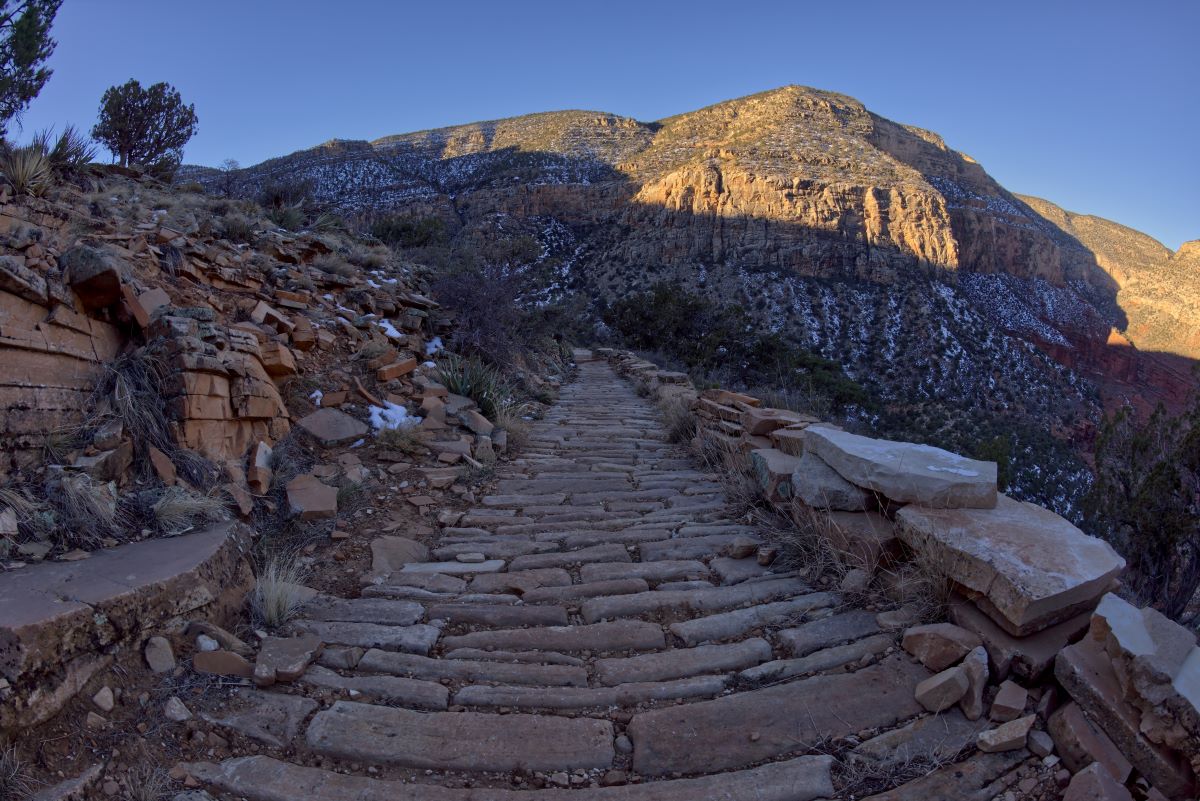 Why you should go: Set in the far west corner of the park, this steep, rugged trail offers a less-crowded glimpse of the canyon's massive rust-red mesas.
Distance: 5 miles
Elevation gain: 1,680 feet
Difficulty: Challenging
Beginning at the end of Hermit Road (free shuttle required from March 1 to November 30), this five-mile journey to Santa Maria Spring was built in 1911 and drops steeply throughout its first 2.5 miles, which lead to the old-school water tub at Santa Maria Spring (treat all water before drinking).
Because it lies at the end of a shuttle route, it's one of the less-crowded ways to hike down into the canyon, offering an up-close look at one of Mary Colter's historic "parkitecture" buildings and a glimpse of the Grand Canyon of yesteryear.
Related read: 8 Best Grand Canyon Hiking Tour Companies
6. Grandview Trail to Horseshoe Mesa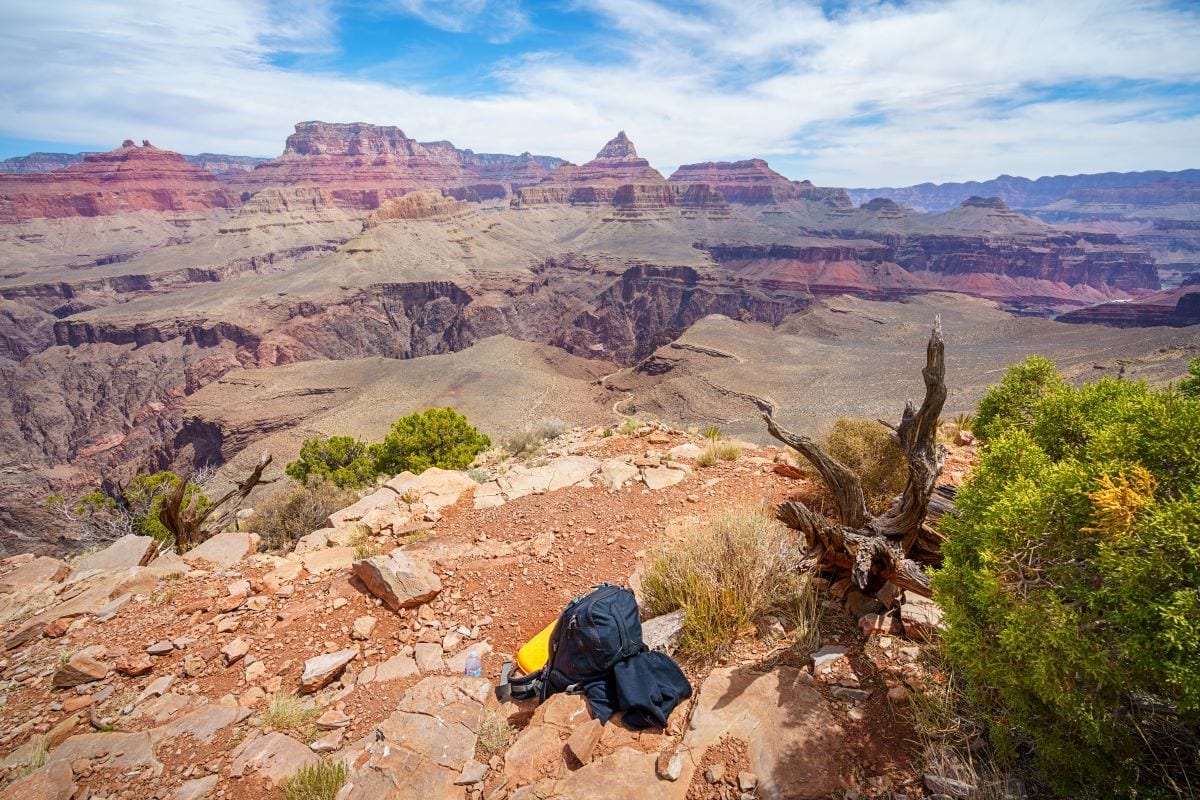 Why you should go: This strenuous trail is an excellent way for serious hikers to explore off Desert View Drive and escape the village crowds.
Distance: 6 miles
Elevation gain: 2,526 feet
Difficulty: Challenging
Want to experience a leg-busting day hike but want to avoid the Bright Angel crowds? Then the Grandview Trail is about to become your new best friend. Set just off the less-traveled Desert View Drive, this former mining path drops steeply for its first few miles and is not for the faint of heart.
Cliff edge views greet intrepid trekkers here, as they descend to the final turnaround point at Horseshoe Mesa, which boasts 180-degree views of fire-tinted sandstone in every direction.
7. South Kaibab Trail to Ooh Aah Point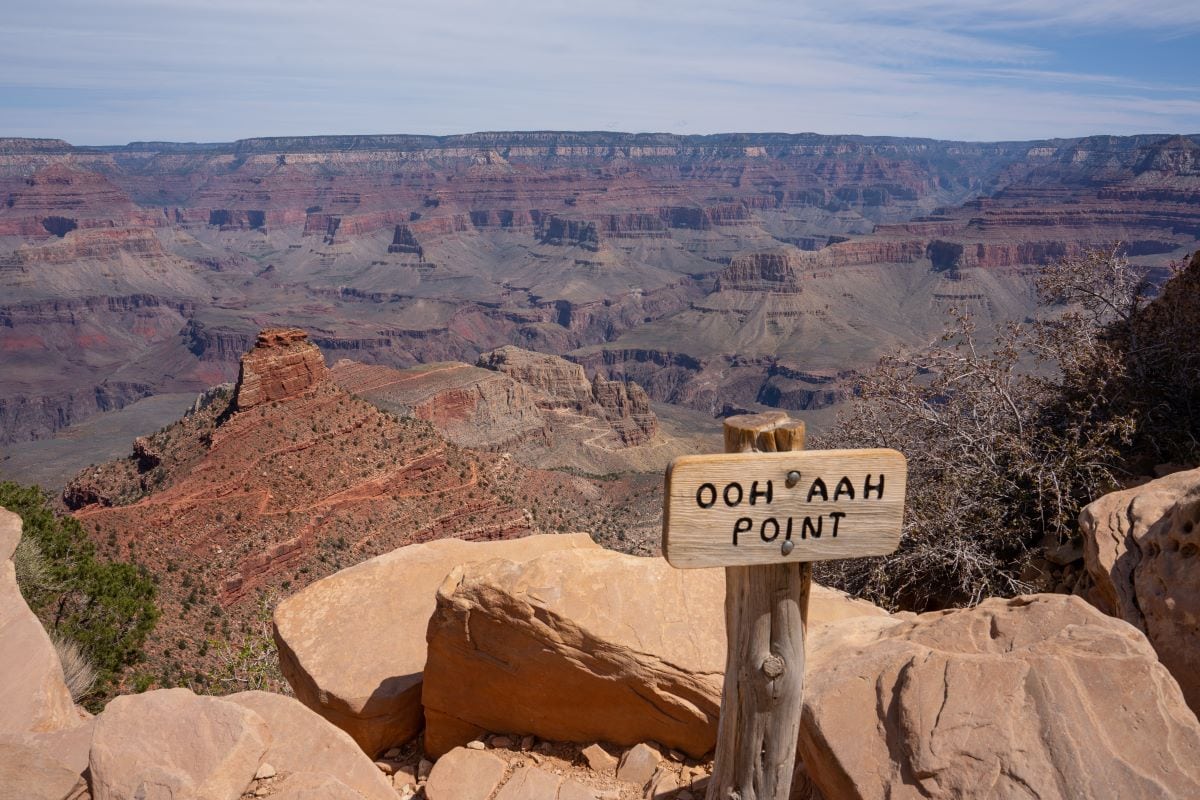 Why you should go: This short but sweet hike offers up some of the most jaw-dropping scenery in the entire park.
Distance: 1.8 miles
Elevation gain: 685 feet
Difficulty: Moderate
For hikers who want the experience of dipping below the Grand Canyon's infamous South Rim without the struggle of huffing and puffing too hard to get back to their car, the South Kaibab Trail to the aptly named Ooh Aah Point is one of the best "low effort, high reward" hikes in the area.
Take the free shuttle to the trailhead, then descend over 600 feet, past craggy layers of bronze-hued sedimentary strata. If you're lucky, you might even see a mule train trot past as they carry supplies down to Phantom Ranch. At the turnaround point, get ready to, well…ooh and aah at the view!
Related read: Visiting the Grand Canyon in Winter: Things to Do & Where to Stay
8. Bright Angel Trail to Plateau Point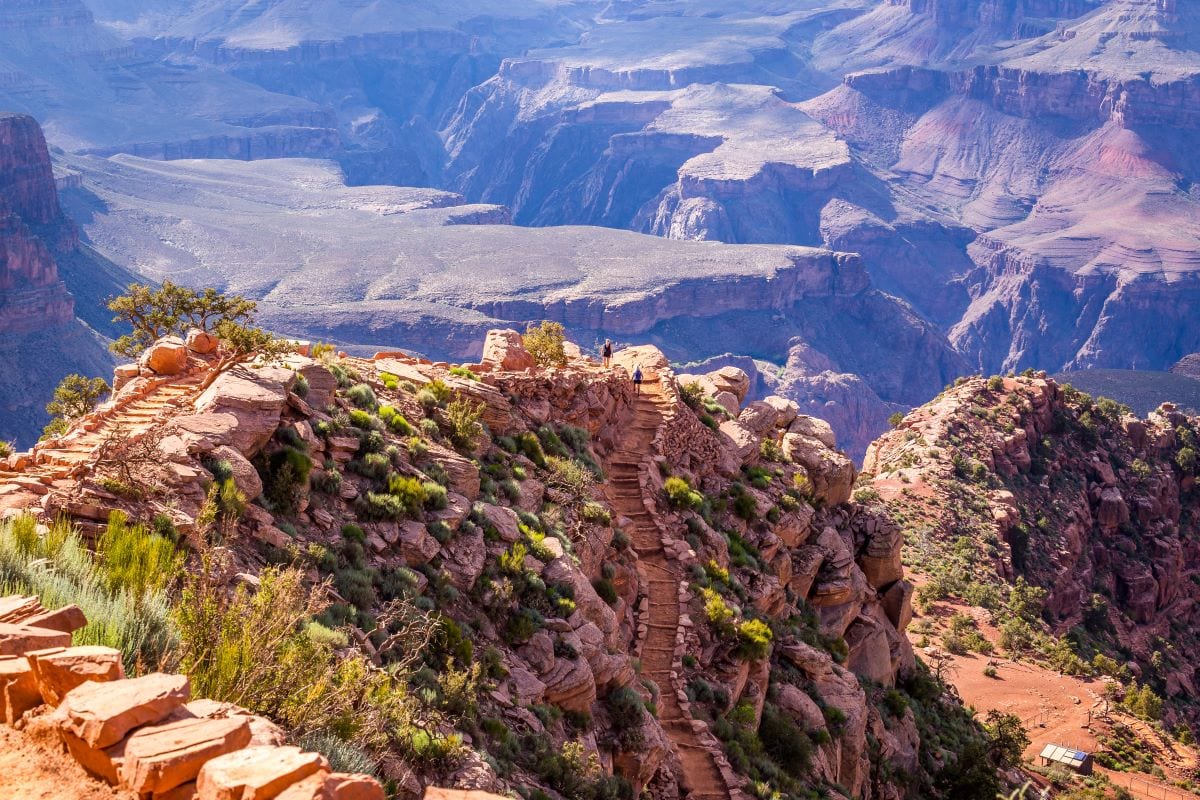 Why you should go: This strenuous, all-day affair boasts everything that makes the Grand Canyon great: historic buildings, cliff edge viewpoints, and Colorado River vistas.
Distance: 12 miles
Elevation gain: 3,244 feet
Difficulty: Challenging
One of my all-time favorite hikes I've taken at the Grand Canyon was a big twelve-mile journey along the legendary Bright Angel Trail, turning off at the junction for Plateau Point to soak up some seriously epic 360-degree views.
Sure, it's a strenuous day with over 3,000 feet of elevation gain greeting your tired legs…at the end of the day, but for experienced hikers who want an extended day hike with a little taste of everything the canyon has to offer, there's no better trail than this. Pack a picnic to enjoy on the boulders of Plateau Point and see if you can spot tiny river rafters down below.
Explore the Grand Canyon
Get epic travel ideas delivered to your inbox with Weekend Wanderer, our newsletter inspiring more than 10,000 readers every week.
---