Abiqua Falls is a hidden treasure within the forested trenches of the western Cascades.
The unsigned trail and rough road that lead to this spellbinding destination may deter some, but those who complete the journey are rewarded with an unforgettable experience.
Trail Details: Abiqua Falls Trail
| Details | Abiqua Falls Trail |
| --- | --- |
| Distance | 1 mile |
| Difficulty | Challenging |
| Duration | 1 hour |
| Trail Type | Out and back |
| Starting Elevation | 1440 feet |
| Elevation Gain | 225 feet |
| Seasons | Spring, summer, fall, winter |
| ADA Accessibility | None |
| Dogs | Allowed |
| Trail Map | Natural Atlas |
| Nearest Amenities | Scotts Mills, OR |
| Directions to Trailhead | Google Maps |
| Parking | Free. No permit required. |
| Road Conditions | Trip Check |
| Attractions | Waterfall, rainforest, creek |
| Activities | Hiking, swimming, OHV trails |
The Hike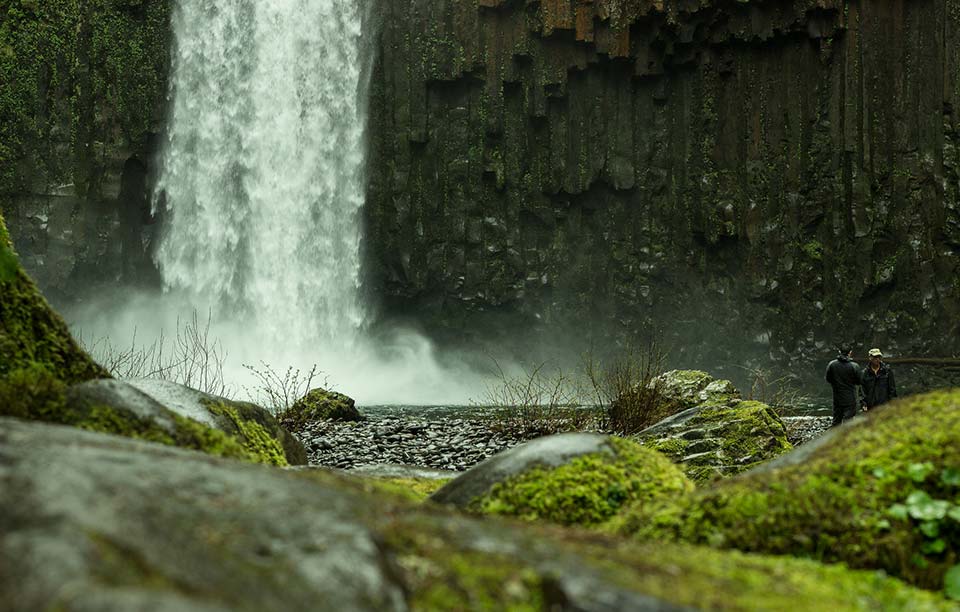 In a way, the rugged road serves as a test of adventurous spirit, and as a portent to the trail's own rough and difficult nature. If the road made you uneasy, you're not going to like this hike.
The surrounding land is privately owned by Mount Angel Abbey, a local monastery and seminary. The organization has made the area available for public recreation, but it has done little, if any, trail maintenance.
Though a short hike, traversing this trail can be slow-going and difficult. Starting out, the trail unassumingly meanders through the forest, but soon unveils the first of its several steep descents. Each of these descents is fitted with rope or cables that have been tied to trees to help hikers keep their footing.
Each progressive descent is steeper than the last, and more slippery, especially when slick with mud. You will certainly have to hang on to those ropes to keep your balance. There are also large fallen trees that must be scaled as you make your way down to the banks of Abiqua Creek.
Once at the bottom of the ravine you will be subject to the powerful roar of the waterfall, though you won't be able to see it yet. Another quarter-mile of creekside hiking remains, and it is yet another trial that can be difficult for those with weak knees, hips, or ankles. Large river rocks make for uneven footing along this section, and there are boulders to climb over and trees to duck under.
But once you approach the final bend, it becomes immediately apparent that the journey was worth it. Abiqua Falls is a soul-reviving spectacle. The towering waterfall shoots out over a cliff of columnar basalt that wraps around to form a natural fortress.
The columnar rock stretches in every direction, swirling and curving to create artistic displays that are adorned with sprinklings of moss and wildflowers and nesting birds. A consistent flow of whitewater pours into a large, transparent pool that's perfect for swimming when the weather is warm.
A side path can be followed to the waterfall's base, offering a unique profile perspective of the plunging water. It is truly an impressive place that is literally filled with wonders at every turn.
The return journey can be just as difficult as the descent, but you'll be doing it with a smile on your face. Note that this trail is only one-mile out-and-back, but if you have to park a mile up the road as I did you will be adding another two miles of road walking to the total length of the hike.
When to Visit
Each season has its pros and cons. Summer is great if you just want the most pleasant experience weather wise. Summer and fall are best for easy navigation of the rough road in. In the fall, the colors here are amazing, while in the spring, runoff makes this waterfall rage something extra powerful. Wintertime makes the road in a nightmare, and the steep hike in and out treacherous with snow and ice — but the falls become a frozen fairytale.
Directions to Abiqua Falls Trailhead
Google and Apple map apps get confused when routing to the Abiqua Falls Trailhead. Instead of plugging in the trail as your destination, set your app to guide you to the town of Scotts Mills. Once in town, you will want to take Crooked Finger Road NE which heads south past Scotts Mills Falls and County Park.
Follow Crooked Finger Road NE for 10.8 miles. This paved route turns into a well-maintained gravel road after 10 miles. Not long after hitting the gravel, you will want to turn right onto road CF-300 which is where things start to get hairy. Stay on this road for 2.5 miles until you reach the trailhead, if you can make it there.
CF-300 gradually degrades the further you travel along it. Vehicles with at least 8 inches of ground clearance are recommended, and 4×4 capability is a must in mud or snow. That's not to say that you can't get to this trail with your Prius, though.
On a rainy spring morning, I had to park my Volkswagen Rabbit about a mile short of the trailhead. There are numerous pullouts along the road, and, like me, several sedan drivers had made the safe decision to park this far out and walk to the trailhead.
The last mile of CF-300 is littered with jagged rocks, deep puddles, and wheel-lifting ruts. Walking the road is easy enough, and there is a short, unmarked side trail to Upper Abiqua Falls that would likely go unnoticed when driven past.
The trailhead to Abiqua Falls is also unmarked, though obvious, and it is adjacent to a small parking area that can fit about five vehicles. A number of high-clearance SUVs had made the full journey when I was there, but no compact cars had ventured this far down the muddy track.
Area Tips and Resources
Be prepared: A high-clearance 4×4 vehicle isn't required, but highly recommended. Trekking poles will make the trail descent much easier, especially if those ropes don't get replaced once they deteriorate.
OHV and Shooting Area: There are many popular ATV trails that cut across the road near Abiqua Falls, and there are several makeshift outdoor shooting ranges as well. Be aware of your surroundings at all times, especially while driving in the area.
Snacks and Amenities: Scotts Mills is your last chance to grab food or use a restroom. The Scotts Mills Market is open seven days a week, and Rollin Sandwiches is a great place to grab some lunch to take with you to the trail.
Other Nearby Trails: There are more great hikes in the vicinity too. If you have the energy, consider making it day and checking out the beautiful waterfalls on the Opal Creek Trail too.
Explore More in Oregon
Check out more of our Oregon guides for the best places to explore in the Beaver State.
Sign up for our free email to join thousands of readers getting epic travel, hiking, camping and gear ideas every week.
---