Territory Supply is reader-supported and may earn a commission when you book or purchase using our links. Learn more about our editorial policies here.
---
So you want to stay in a treehouse? Good news: these elaborate structures in the sky offer all the comforts of home with a birds-eye view.
Who doesn't love a treehouse? Adults looking for something different in a vacation rental are eyeing treehouses as a fun way to reminiscence about the carefree days of childhood while being able to make new memories in a treetop hideaway. And there's something extremely luxurious about having a crystal chandelier and soaking tub 15 feet above the earth.
And these aren't your grandfather's treehouses, by any means. You'll find posh perks such as outdoor decks and showers, floor-to-ceiling windows, and an elevator (yes, an elevator) at these treehouses in Florida. They're scattered around the state on farms, near theme parks, and in the heart of Miami itself.
So if you ever wanted to fulfill a dream of perching with the birds, here are some Florida treehouses for your vacation-planning pleasure.
Related: 12 Fantastic Glamping Destinations in Georgia
1. Danville Treehouse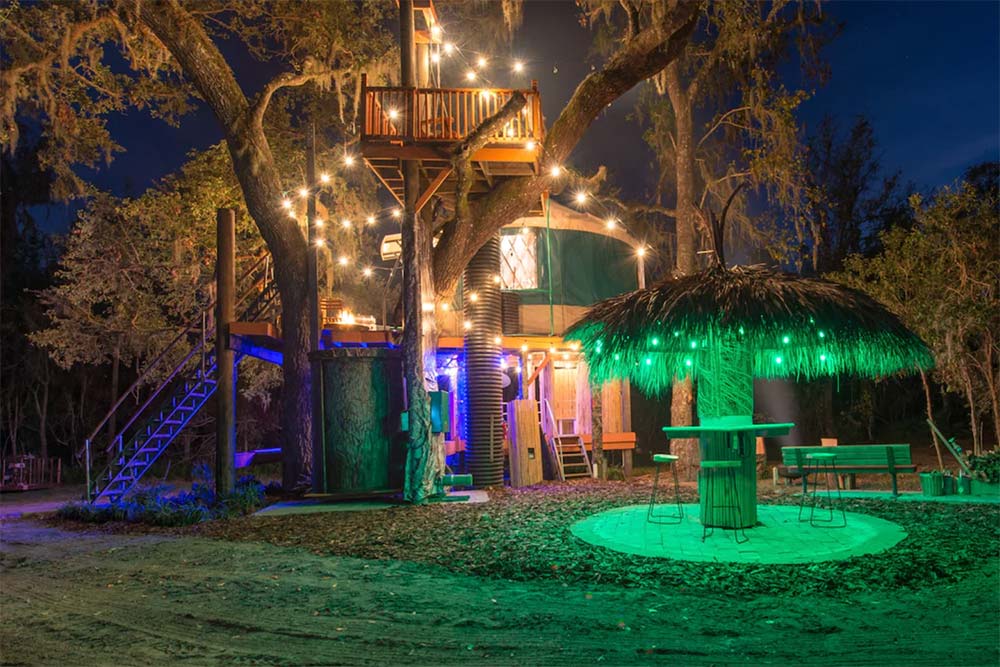 Why you should stay: Scared of heights? Fear not: this yurt treehouse has an elevator.
Nearest town: Geneva
Sleeps: 2
Minimum stay: 1 night
Rates from: $180/night
The Danville Treehouse goes beyond anything you'd ever expect in an ordinary rental, never mind one elevated 15 feet off the ground. It even has an elevator. Tucked among oak and magnolia trees, this yurt-in-the-sky is beyond spacious with a 14-foot ceiling, skylight, air conditioning, full bath, and a kitchenette. Ground-level, there's a tiki hut, fire pit, and jetted hot tub — it's literally a DC-10 jet engine converted into a soaker — along with a gas grill and elevated patio. It comes with a complimentary golf cart to help you get around the property.
Check Availability
2. Canopy Treehouse at Permaculture Farm
Why you should stay: Proof that an urban farm can thrive and succeed.
Nearest town: Miami
Sleeps: 2
Minimum stay: 2 nights
Rates from: $65/night
You'll see a lot of things in central Miami, but goats, emus, and tortoises? That's not likely unless you book this unique space. Located in Little Haiti, just 15 minutes from the airport and South Beach, it's hard to believe that this city space is a working farm with animals, a vegetable garden, and fresh eggs and honey at the ready. You'll share a kitchen and can rent kayaks and bicycles right on property. If you're looking for a treehouse in Florida but others in your party want air-conditioning, there are a few other rentals available nearby – just message the owner.
Check Availability
3. Lake Marion Treehouse
Why you should stay: Continue your whimsical Disney dream in a lakeside treehouse.
Nearest town: Haines City
Sleeps: 5
Minimum stay: 3 nights
Rates from: $61/night
Bring the kids and the boat! With a nearby boat slip and fishing, this lofted hexagon-shaped home has a lot to offer. And it's more than just an affordable, family-friendly spot close to Disney World and Universal Studios. The modernized two-bed, two-bath rental is a comfortable stay with activities nearby, like bike rentals to explore the nearby single track trails.
And the partial wrap-around deck, pool and facilities of the nearby country club, and reliable Wi-Fi should keep everyone happy when you're not at the parks. It's one of the more affordable treehouse rentals in Florida, too.
Check Availability
4. TreeHouse in the Cloud
Why you should stay:  A private country home outside of Orlando.  
Nearest town: Saint Cloud
Sleeps: 2
Minimum stay: 1 night
Rates from: $128/night
If you're visiting the parks in Orlando or the surrounding lakes area and want an exclusive escape, TreeHouse in the Cloud fits the bill. Draped in greenery, it's a private rental with a wraparound deck, floor-to-treetop windows, and a moonlight.
Inside, you'll settle into a cozy bedroom with a full bathroom and a kitchenette. Another perk awaits in the refrigerator: carrots to feed the four horses that share the property. It's equal parts romantic and rustic and would make a great couple's getaway for a long weekend.
"Unique, beautiful and a magic place. Full of wonder, a great experience, very romantic and peaceful."
Check Availability
5. Treehouse in the Woods
Why you should stay: New-age glamping in the treetops.
Nearest town: Kissimmee
Sleeps: 2
Minimum stay: 2 nights
Rates from: $112/night
This unique bungalow will blow your mind. Perched high in the trees and immaculately crafted by an expert woodsmith, it's like you checked into an upscale hotel. With ample space, a modern kitchen, and loft atop the shower room, this woodsy retreat is an ideal spot away from the crowds yet close enough to hit up Disney (a half-hour drive) or the shops and restaurants of Old Town Kissimmee.
"The treehouse was created with great imagination, thought and love! It's sparkling clean and stocked with all the comforts you should need!"
Check Availability
6. Jungle Tree House
Why you should stay: Stay above the canopy within walking distance of a wildlife refuge.
Nearest town: Melbourne Beach
Sleeps: 10
Minimum stay: 3 nights
Rates from: $275/night
The Jungle Tree House might be your sanctuary for a few days, but for the endangered sea turtles at the Archie Carr National Wildlife Refuge just outside the front door, it's home.
Narrowly sandwiched between the ocean and the lagoon, this spot on Melbourne Beach is a special space fit for groups or a large family. It sits along 21 miles of coastline dedicated to sea turtle conservation, protecting the nesting habitats of loggerhead and leatherback sea turtles. While it's near the refuge, it's also close to a mangrove swamp and beachside paths where you can surf and kayak or hop on either a paddleboard or bicycle.
Since the owners live nearby and are avid surfers, they're happy to give low-key lessons to guests. Just message them in advance if you want to schedule some beach time (or need advice with anything else nearby.) It's also one of the more affordable treehouses in Florida for a large group, especially give how close it is to the beach.
Check Availability
7. Tiny Tree Lake House
Why you should stay: Tropical escape perched over a fish pond near the Gulf.
Nearest town: Naples
Sleeps: 2
Minimum stay: 4 nights
Rates from: $157/night
Although small and secluded, this stilted two-story lake house has a lot of character. The cozy confines  are raised above a tilapia pond with a screened-in private porch and outdoor sitting area with a hammock, grill, jacuzzi and fire pit. The property is surrounded by lush gardens and close to beautiful beaches. It's equal parts surfer, tropical, and bayou, creating a really unique space that feels at home in Florida.
For a cool day trip, you can take the short drive to Sanibel or Captiva island, two laid-back, outdoorsy islands with great beaches and small shops and restaurants.
Check Availability
8. Coldwater Gardens Treehouse
Why you should stay: Solitude at a creekside resort with a variety of lodging options.
Nearest town: Milton
Sleeps: 4
Minimum stay: 2 nights
Rates from: $170/night
Pitched among the magnolias, this cubed cabin in the woods offers isolation despite being tucked into Coldwater Gardens, a compound of cottages, cabanas, and glamping sites. Elevated above the forest floor, the treehouse features a bright, all-wood interior with a curved sleeping space, and shaded outdoor sitting area.
Nearby, guests can take a cool dip in Coldwater Creek or set out on the more than seven miles of hiking and biking trails. This is one of the best treehouses in Florida for larger groups, as people who want adventure can opt for the treehouses while the rest of your group opts for a cottage or cabana.
Check Availability
9. Farm Glamping Treehouse
Why you should stay: Rural glamping on a farm in Northern Florida.
Nearest town: Live Oak
Sleeps: 2
Minimum stay: 1 night
Rates from: $79/night
If you want to take it slow, you'll find your dream Florida treehouse Kokomo Farms. The rustic, hand-built treehouse features a staircase crafted from the trunks and branches of nearby fallen trees. The space is somewhat small, but a grilling space and community fire pit and hot tub extends its footprint. The property is on a farm where you can feed both the chickens and horses.
The farm has a few different rental units available, and all guests get to make use of the complimentary bikes. The hosts can arrange cycle or kayak excursions, and you're only about 45 minutes from Osceola National Forest if you feel like getting in a day of hiking or fishing. It's one of the more affordable treehouses in Florida, especially in the peak of summer.
Check Availability
More Warm-Weather Travel
Sign up for Weekend Wanderer to join thousands of readers getting epic travel ideas every week.
---