We research, evaluate and select travel destinations based on a number of factors, including our writers' experience, user reviews and more. We may earn a commission when you book or purchase through our links. See our editorial policy to learn more.
---
The spirit of the midwest is alive in the sprawling natural spaces of Michigan – and glamping is the best way to take it all in.
Glamping is a fun and comfortable way to enjoy the short-lived good weather and the Great Lake State's fantastic forest scenery. Michigan lays claim to bucket-list-worthy natural attractions like Lake Michigan, Lake Superior, and a portion of the epic Northwoods plus some amazing National Parks.
With a well-appointed glamping rental, travelers can indulge in the beauty of nature without the stress of packing gear and setting up camp. Now, everyone can "rough it" in style while enjoying the comfort of hot running water, partial kitchens, or sparkling clean porta potties that outshine those found at public campsites.
Here are some of the best glamping spots in Michigan that'll elevate your camping expectations.
Related Read: Michigan National Park Guide: Everything You Need to Know
1. Luxury Yurt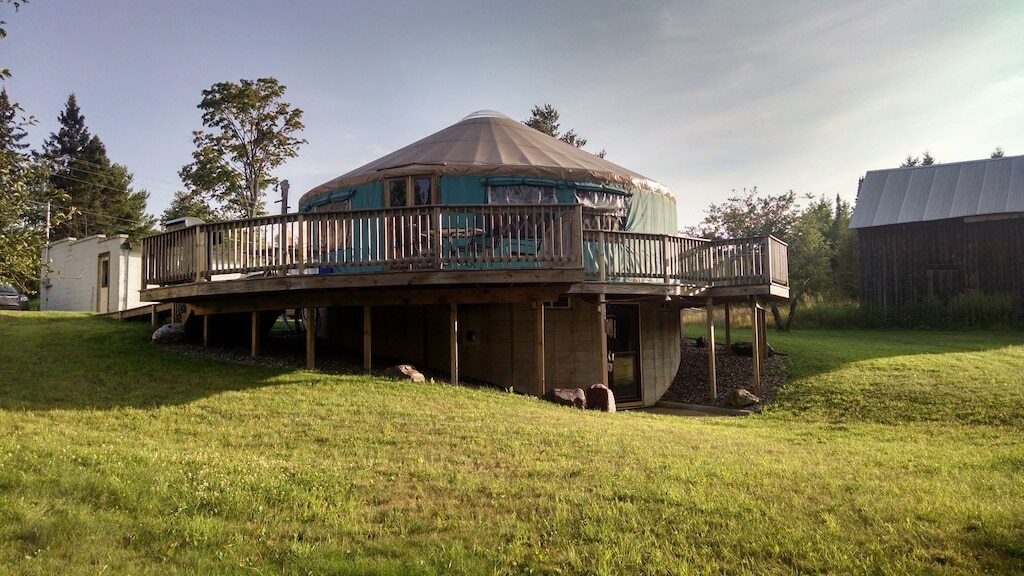 Why you should stay: An impressive yurt complex in Michigan's Upper Peninsula just 25 minutes from Marquette and the shores of Lake Superior.
Location: Ishpeming
Sleeps: 6
Minimum stay: 2 nights
Rates start from: $195/night
This luxury yurt offers a unique stay in a well-equipped and homey yurt in Michigan's U.P. The interior is broken up between two levels, with the upper yurt space featuring a soaring dome ceiling with a skylight and the fully-finished lower level equipped with plush seating and a private sauna.
Outside, a large wraparound deck encircles the yurt and is furnished with camping essentials like a grill and outdoor seating. This glamping spot is a prime location for exploring the Upper Peninsula's best attractions like Van Riper State Park, Presque Isle Park, and Pictured Rocks National Lakeshore.
Check Availability
Related read: 7 Idyllic Cabin Rentals in Michigan with Hot Tubs
2. Outpost Treehouse
Why you should stay: A treehouse-esque glamping getaway complete with s'mores supplies and a classic campfire circle in southwestern Michigan.
Location: East Leroy
Sleeps: 4
Minimum stay: 1 night
Rates start from: $132/night
Taking inspiration from traditional forest ranger cabins, the Outpost Treehouse is a tower glamping Airbnb located about 30 minutes outside Kalamazoo. The property encompasses a vast 65-acres of white pine forest and features a 12-feet by 14-feet platform tent for additional glamping space.
The Outpost's sleeping quarters are stationed in the upper level, where solar-powered, modern conveniences such as A/C and hot running water put the glam in glamping. This studio-style cabin is furnished with a queen bed, kitchen nook, and a private bathroom housed in the lower level. Guests can enjoy the complimentary light breakfast in the morning before venturing off to explore the forest or nearby attractions in Battle Creek.
Check Availability
Related Read: 7 Magical Treehouse Rentals in Michigan
3. Wanderhut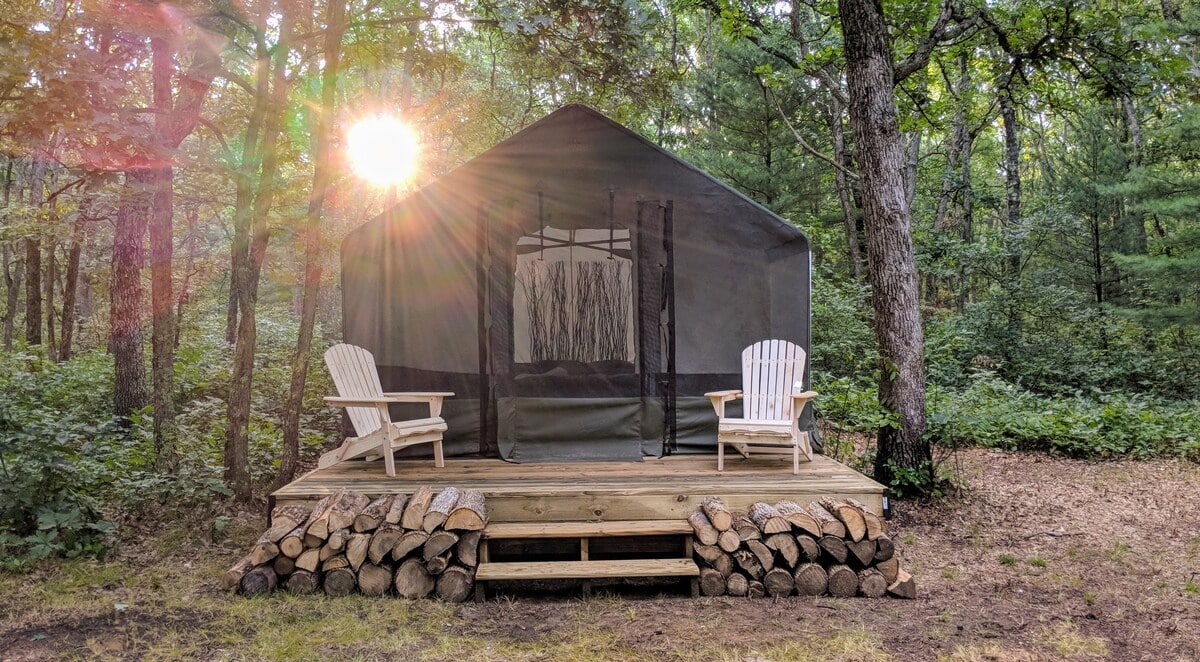 Why you should stay: A comfortable and semi-secluded tent not far from downtown Newaygo and just 45 minutes from Grand Rapids.
Location: Newaygo
Sleeps: 2
Minimum stay: 2 nights
Rates start from: $86/night
Revel in the joy of rugged camping at the Wanderhut, a cozy glampsite that takes the hassle out of setting up camp. The tent is set up with a queen bed on an elevated wooden deck to protect campers from the elements. You won't find showers or running water here, only a porta-potty. However, showers can be found at the campsite down the road for a small fee.
The hosts provide bedding and firewood for the fire pit and a small wood stove for added warmth in the colder months. The Wanderhut is an excellent place to stay for those looking to escape to the quiet of the woods, and it's conveniently within walking distance to the North Country Trail system and the Coolbough Natural Areas.
Check Availability
Related read: 9 Romantic Getaways in Michigan For Lovers (of Adventure)
4. Rippling Bluff
Why you should stay: Enjoy the comforts of home at a riverside tent where peaceful forest views and friendly hospitality make this a top-notch glamping spot.
Location: Kingsley
Sleeps: 2
Minimum stay: 2 nights
Rates start from: $135/night
Situated along the shores of the Manistee River's North Branch, the Rippling Bluff is a jolly bell tent that's furnished with colorful linens and everything else you need for a relaxing trip Up North. Aside from the camping basics, this glamping VRBO also has fun extras that include a blazing chimenea campfire area, hanging hammocks, a grill, and more.
Guests have access to a shared bathroom and kitchen space, where there's also a place to recharge devices. Don't forget to bring your kayaks, canoes, fishing supplies, or bathing suits to make full use of the Manistee River. National forest hiking trails are also nearby, as well as fun things to do in Traverse City nestled on the Grand Traverse Bay of Lake Michigan.
Check Availability
Related Read: 10 Secluded Cabin Rentals in Amazing Michigan
5. The Fields of Michigan
Why you should stay: A glamorous camping resort dotted with field tents that offer couples or small families a high-end escape to the wilderness.
Location: South Haven
Sleeps: 2 adults
Minimum stay: 2 nights
Rates start from: $329/night
The Fields of Michigan is a high-end glamping destination in the small yet bustling port city of South Haven. Surrounded by the natural charm of a local blueberry farm, guests can unwind and recharge in a part of Michigan that lays claim to exciting natural attractions like Lake Michigan, the Black River, and sprawling acres of national forest.
Each tent is immaculately clean and outfitted with stylish decor that includes a plush king bed, soft linens, a full bathroom, and electricity. Depending on the season, there's also air conditioning or a wood stove available for added comfort. The property is set to soon feature spa facilities and has a beautiful community space called the Willow where guests can dine, chat, and play.
Check Availability
Follow 'em: @thefieldsofmichigan
6. Grace's Glade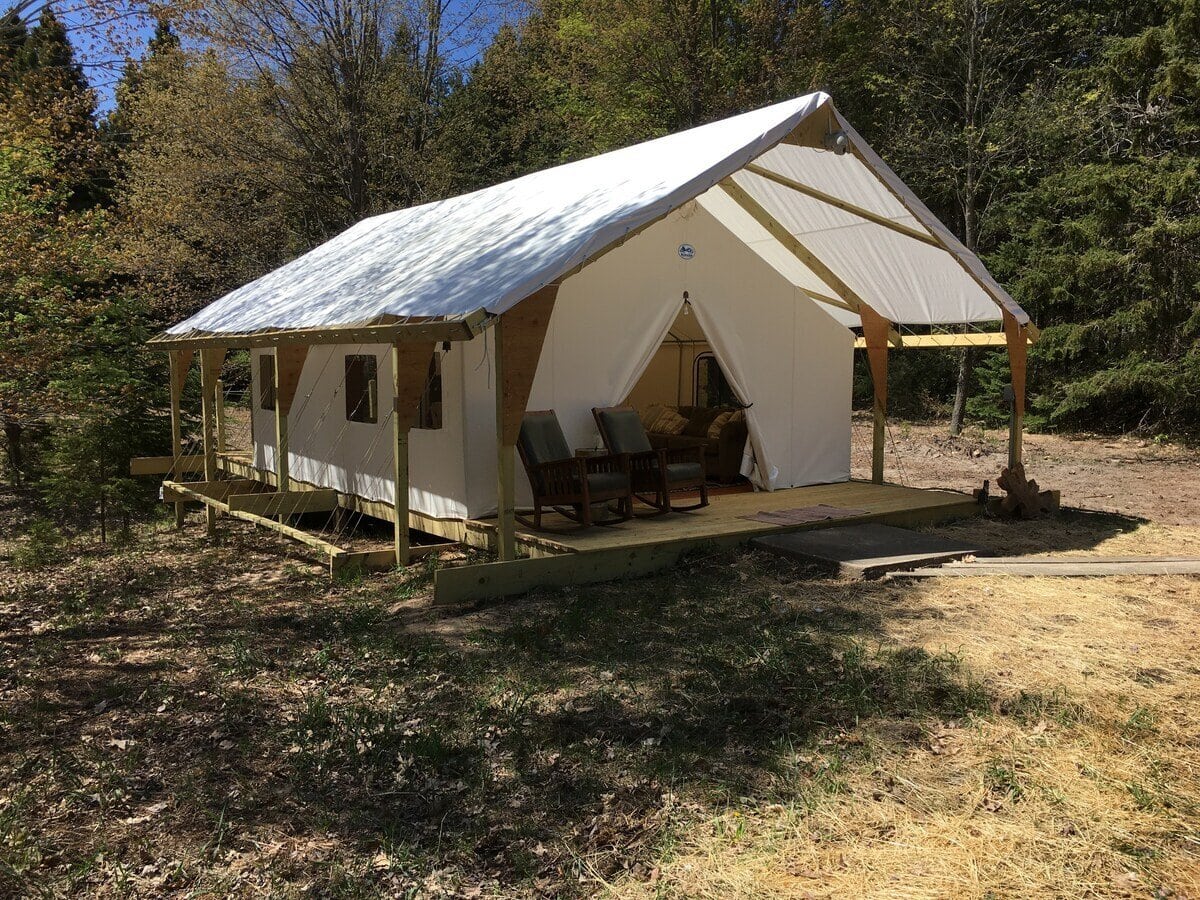 Why you should stay: A rustic canvas tent on a massive forested property in northern Michigan that makes for a great weekend trip from Grand Rapids.
Location: Cadillac
Sleeps: 4
Minimum stay: 2 nights
Rates start from: $110/night
Grace's Glade is a home in a tent and features a queen-sized bed, plenty of electrical outlets, a full kitchen, and a hot shower to boot. This spacious tent sits on an incredible 150-acre property that borders the Huron-Manistee National Forest, where guests can find even more space to roam and play in nature.
This Michigan glampsite also has a front and back porch with comfortable seating and a grill. A concrete path leads the way between the main tent and the kitchen and bath shed. The property is an hour from the Sleeping Bear Dunes and the bustle of Traverse City.
Check Availability
Related Read: 9 Unique Places to Stay in Michigan for an Extraordinary Escape
Best Retro-Inspired RV Glamping
7. Cozy Camper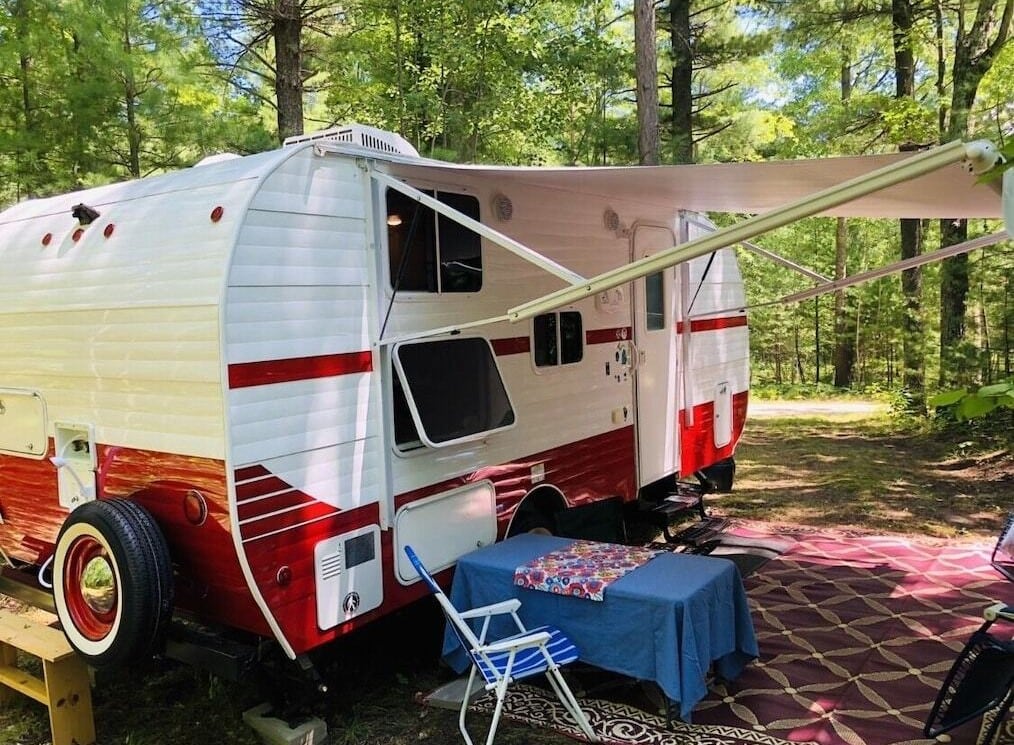 Why you should stay: An updated, vintage RV with full electrical and water hook-ups that allows guests to comfortably unwind in the beauty of Michigan's Northwoods.
Location: Williamsburg
Sleeps: 4
Minimum stay: 2 nights
Rates start from: $123/night
This cozy camper just outside of Traverse City is a blast from the past. Its vibrant red exterior and well-appointed, retro interior offers a comfortable place to disconnect. The hosts provide coffee supplies, outdoor seating, lighting, and other essentials.
There are fun activities available for booking during your stay that range from yoga classes, shamanic meditation, and Reiki held in a lovely screened-in porch with garden views. Hiking trails weave around the glampsite for those interested in local hiking.
Check Availability
8. Simple Lyfe Yurt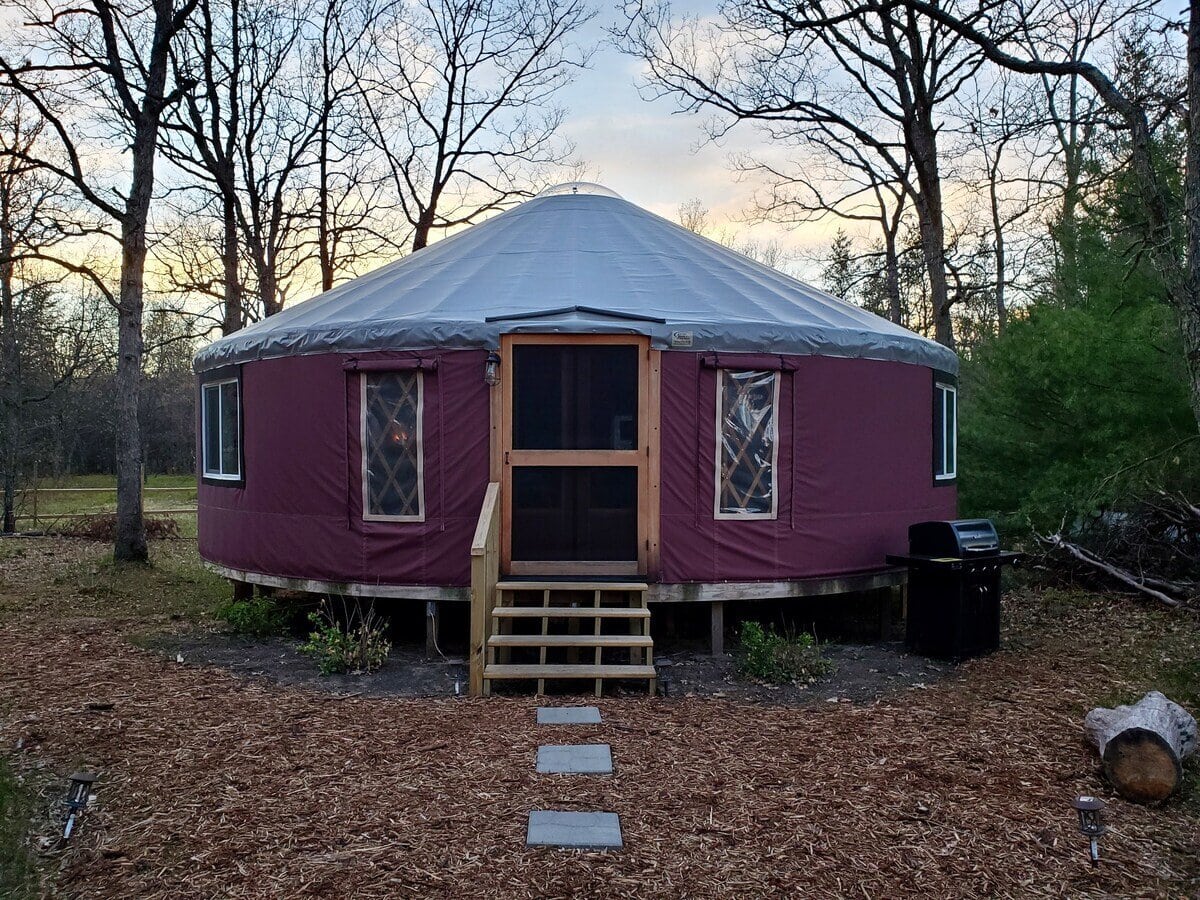 Why you should stay: Get off the beaten path with a stay in this remote yurt north of Baldwin and near Michigan's network of off-road vehicle trails.
Location: Baldwin
Sleeps: 6
Minimum stay: 2 nights
Rates start from: $165/night
The Simple Lyfe Yurt is a pet-friendly and spacious tent with gleaming wooden floors, an impressive full kitchen, a fireplace, and two bedrooms that can be sectioned off with curtains for added privacy. There's a separate bathhouse connected to the yurt via a well-lit path.
The yurt's 20-acre property borders the Manistee National Forest, where guests are free to explore, and it also has a fire pit for evening s'mores. The best things to do near the yurt include kayaking or fishing in the Pere Marquette River and hiking the national forest.
Check Availability
Related Read: 9 of the Best Cabin Rentals in Michigan
9. Sunset Place Rustic Glamping
Why you should stay: Relax in an open-air wooden cabin that embodies the outdoorsy spirit of camping with the comfort of a permanent wooden shelter.
Location: Mason
Sleeps: 2
Minimum stay: 2 nights
Rates start from: $125/night
This quaint cabin found at Sunset Place Rustic Glamping is a unique glamping rental with a screened-in front door. The wooden shelter shields you from the elements yet allows for a continuous circulation of fresh air to flow around the interior.
Guests are provided with a queen bed and a sofa bed, seating, tables, and other small touches. This campsite does not have running water or electricity, just a fire pit for cooking. Lake Lansing is a short 25-minute drive away, and the local shops and restaurants of Mason are also conveniently nearby.
Check Availability
Related Read: 8 Best Scenic Drives in Michigan for Dashboard Eye Candy
Coolest Airstream Glamping
10. Little Chick Farm's Airstream Dream
Why you should stay: A cozy retro Airstream on a local, organic farm less than a mile from charming mom and pop shops in northern Michigan.
Location: Central Lake
Sleeps: 2
Minimum stay: 2 nights
Rates start from: $125/night
The Little Chick Farm's Airstream Dream is an original 1969 RV that's been lovingly cared for and lightly updated. The interior boasts a single bed and a sofa bed, and a full bathroom with a tub and shower. The yard has a covered deck space with a hammock and cafe tables overlooking a fire pit and the farm's garden and hoop house.
There are grassy trails on the property that lead into nearby forested hills, lined with berry bushes and apple trees guests are free to nibble from when in season. Cute farm animals are known to wander around the property, including chicks, pigs, and goats.
Check Availability
Follow 'em: @littlechickfarm
Explore More Glamping Spots
Sign up for the Weekend Wanderer to join thousands of readers getting epic travel, hiking, camping and gear ideas every week.
---