We research, evaluate and select travel destinations based on a number of factors, including our writers' experience, user reviews and more. We may earn a commission when you book or purchase through our links. See our editorial policy to learn more.
---
The freeway is empty when I start my journey up the mountains to Getaway Big Bear.
Specifically, I am headed to "Gene," one of 40 tiny cabins that dot 59 acres of forested land in the San Bernardino Mountains east of Los Angeles. As I make the ascent, the air cools and the strip malls, gas stations and billboards all fade from view.
I am leaving city life, my family and my to-do list behind for three days and two nights on my own, a luxury that is not lost on me.
Related Read: 12 Unique Places to Stay in California for an Epic Escape
I roll up to an uber-modern black box, surrounded by a fire pit, Adirondack chairs and my own slice of the forest. I can see the cabin next door, but similar to a good campsite, it's plenty out of view. I feel giddy stepping inside the light and airy interior, thanks to the entire far end of the structure being a window. With the softness of the forest in full view, I feel like a bird perched in a tree. I'm going to like it here.
The Getaway website says that I'll find everything I need — and nothing I don't — at my stay, and I can't protest this tagline. I have a fully equipped kitchenette, a toilet and shower, a work desk, a lockbox for my phone and a delicious looking queen bed built directly into that fantastic window view.
Getaway cabins were conceived to encourage disconnection with our work, our routines, our technology and reconnection with ourselves, others and nature. With that in mind, the only thing I don't find is a Wi-Fi connection and a TV. This is fine by me.
I have creative writing projects to work on, books and magazines to read, stars to look at, naps to take and a beautiful forested scene to look out onto. Next to the bed are several books to peek through, including one called Getting Away: 75 Practices for Finding Balance in Our Always-On World by Getaway's founder, Jon Staff.
Jon started the Getaway concept back in 2015 with the idea to offer up an easily accessible escape out into nature. The company's start predates the pandemic, but the property feels specifically designed for our current situation.
Getaway House operates similar Outposts throughout the U.S., including Seattle, Atlanta, Chicago, Boston and New York. New cabins will soon crop up in Washington D.C., Indianapolis, Cincinnati, and Columbus, Ohio. The idea is to place Outposts within a two-hour radius of America's major cities.
After all, we are all in need of a break.
Although they are like tiny houses, Getaway cabins aren't exclusively for alone time. Both two-person and four-person cabins are available, so couples and families can get in on the action, too. If you're bringing your pup (a small cleaning fee applies for furry friends), you'll have dog bowls, a leash and even a treat waiting for you.
The beauty of this kind of respite is letting your mind roam and explore in a new setting. I'm not going to lie, I plan on doing some work during my stay, but I know I'll do plenty of mind roaming too. I get right to it when I arrive, teaching myself a new Solitaire game (thanks to the card game book next to the bed) and reading up on the names of constellations, just because.
My body needs a little roaming too. I want to stay local, so I walk the looped road through the property to see the evening activity at other cabins. Families are roasting s'mores (included in each cabin), couples are sitting together around their fires, and dog walkers are giving their furry friends a break.
Between two cabins I find a nature path and get lost for a bit in the woods. I marvel at the hoots of an owl as it echoes through the trees. Even though I know I need to get some extra sleep, I stay up late the first night in the excitement of being alone.
By lunchtime the next day I decide to roam a little further into town. Although the name of this Outpost is Getaway Big Bear, the lake and town of the same name are a good 35 minutes away. The cabins are actually located in Running Springs, half-way between Lake Arrowhead and Big Bear — two of LA's favorite woodsy mountain getaways.
This is a brilliant move, as the cabins are not in the thick of anything particular but a big patch of beautiful woodsy canyons and mountains. With two destinations, you have choice in your getaway from your Getaway cabin.
Lake Arrowhead is the closer option, and after I grab a morning bite at LuluBelle's Coffee House and Bakery, I head that way to for a walk in the woods at Heaps Peak Arboretum.
The peaceful .8-mile educational trail teaches you about the different trees found in the forest, fire dangers and the wildlife that lurks. I make a note to look out for the pinecones of the Sugar Pine trees — what I learn are the longest in the world.
Just a mile down the road is a retro Christmas Village-turned outdoor adventure park called SkyPark at Santa's Village — an all-day type attraction with mountain biking, rock climbing and archery and some North Pole vibes thrown in for good measure. For adventure types and families, this and a Getaway cabin would make a winning twofer, but I'm headed to the village.
Lake Arrowhead is a cozy mountain resort town, where celebrities like Marilyn Monroe, the Hilton family and Dick Clark got away from it all in the "Alps of Southern California" (they still do). The lake is private, so there isn't a chance to swim, boat or paddle, but you can take a narrated boat tour on the Lake Arrowhead Queen.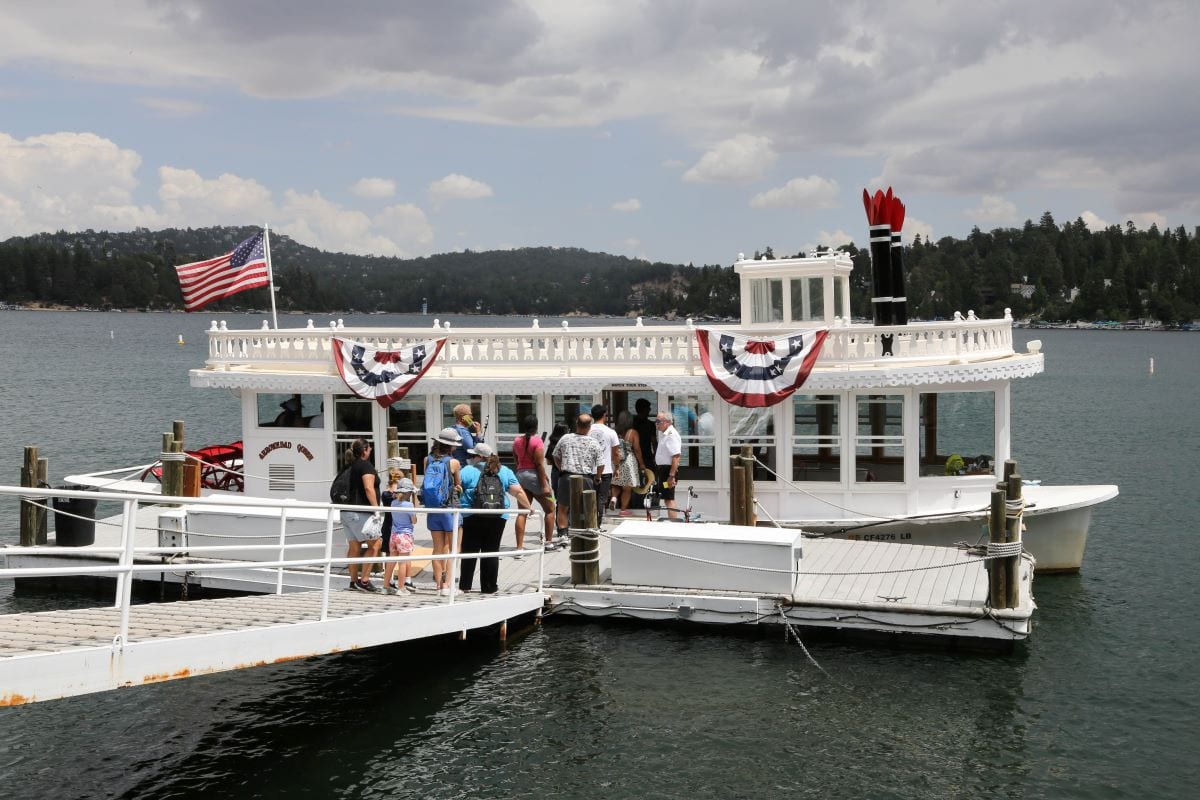 I buy tickets for a solo ride the next day before I head home to learn a little bit about lake's history, see some of the celebrity vacation homes and get some time on the water. I stop at shops like evergreen curated goods and Mag. Pi to do the type of retail browsing I have a hard time fitting into my schedule at home.
On the way back I hit Littlebear Bottle Shop for some afternoon snacks and an adult beverage for my planned dinner at the cabin. Although there is a local brewery to check out, the beloved Cedar Glen Inn (malt shop and burger joint), what one local calls "the best pizza in California" and a gastropub with a nice lake view, I'm looking forward to an evening on my own.
I write, I read, I make a fire and eat one too many s'mores. I walk to a lookout point where the hazy air makes the mountains fade into blue down the canyon. As a starry sky emerges, I once again head into my cozy abode and dream about the chance to do it all again soon.
Explore Southern California
Get epic travel ideas delivered to your inbox with Weekend Wanderer, our newsletter inspiring thousands of readers every week.
---