There are a lot of states you could visit within a short drive of Tennessee – but why would you, when Tennessee offers amazing places like these to stay for a weekend?
Home to Graceland and the Grand Ole Opry and known as the "Country Music Capital of the World," Tennessee is full of amazing places to see live music — but it's more than just that. It's also home to majestic views and incredible sights. On a clear day, you can see seven states from Lookout Mountain near Chattanooga. And, of course, you'll be near the country's most-visited national park: Great Smoky Mountains (which also happens to be the salamander capital of the world.)
Fortunately, you don't have to spend an evening in Nashville to hear live music. If you listen closely, the trees might just give you a symphony of their own. You just have to be willing to stop and wait for it.
If you're ready to fall asleep to the sounds of the leaves, check out the eight amazing treehouses in Tennessee below. Whether you're a Frank Lloyd Wright fan, a lover of waterfalls, or need a soak in an outdoor tub, you'll enjoy any one of these homes set high in the trees of Appalachia.
Related Read: 8 Best Resorts in Tennessee for Every Traveler
1. The Greenbrier Beechhouse
Why you should stay: Why settle for one lux treehouse when you can have two?
Nearest town: Greenbrier
Sleeps: 6
Minimum stay: 2 nights
Rates from: $252/night
When you hear "beach house", you might think of a coastal cottage near the sea. But The Greenbrier Beechhouse (with two Es) is instead named for the trees that poke up through its middle and support its frame. The luxurious Tennessee treehouse rental has cedar-wood walls, creating the sense (and scent) of sleeping in the middle of the forest. Which you are.
The main treehouse has small ceiling lights that look like stars in the night sky. So even on a cloudy day, you're able to get the feeling of seeing the Milky Way from the comfort of your couch. The home also has a second treehouse, called the Pod, which you'll get if you have more than four guests. Fortunately, there are plenty of fresh eggs available from the on-site chickens for parties of any size to whip up a hot breakfast.
Check Availability
Related Read: 8 Impressive Glamping Spots Near Nashville, Tennessee
2. Upper Stone Mountain Treehouse
Why you should stay: Two outdoor soaking tubs at the base of a waterfall. Enough said.
Nearest town: Unicoi
Sleeps: 4
Minimum stay: 2 nights
Rates from: $164/night
You won't want to turn on the television when you see the views from this treehouse living room. Oversized windows cover an entire wall of the two-story, luxury treehouse so guests can take in breathtaking views of the surrounding mountains. Although you've got plenty of channels to choose from, "outside" is the best show this home has to offer.
Not enough nature for you? There are railings made from live branches and air plants scattered around the home. But if you prefer to enjoy nature outdoors, there are several lounge chairs, a dining table on the deck, and an outdoor kitchen. Or you can relax your muscles in one of the two soaking tubs overlooking the waterfall outside (with a small privacy fence). Regardless of how you like to experience nature, this Tennessee treehouse has it all.
Check Availability
Related Read: 10 Can't-Miss Glamping Sites Near Great Smoky Mountains National Park
3. Sulfur Ridge Treehouse
Why you should stay: Unique vibes start with the antique Egyptian front door.
Nearest town: Bloomington Springs
Sleeps: 2
Minimum stay: 2 nights
Rates from: $325/night
Antique doors are definitely a running theme throughout this luxurious Tennessee treehouse. The front door dates to 1848 – how many people have opened that door in the almost two centuries it's been around? 300? 3000? 30,000? Now you'll be number 30,001.
And the antiques don't stop there. There's the pink Rococo bed frame, plus your very own jukebox but the 1960s. No need to bring quarters, though; the hosts will hook you up. Other notable details include chairs made from antique quilts likely made by someone's grandmother (like a cool grandma, not one of those uptight ones.) Even the small refrigerator looks like it's from the 1950s although (but don't worry: it's new.)
Not only does this treehouse have an indoor bathroom, but it's likely one of the most luxurious bathrooms you've ever seen. You'll feel like royalty at the golden swan faucets. Yes, you read that right – faucets in the shape of swans. The clawfoot tub is perfect for a romantic soak for two, as are the full-size bed swing and the large jacuzzi, if you know what I mean.
Check Availability
Related Read: 9 Incredible Kentucky Treehouses For a Southern Getaway
4. The Maple at Treehouse Grove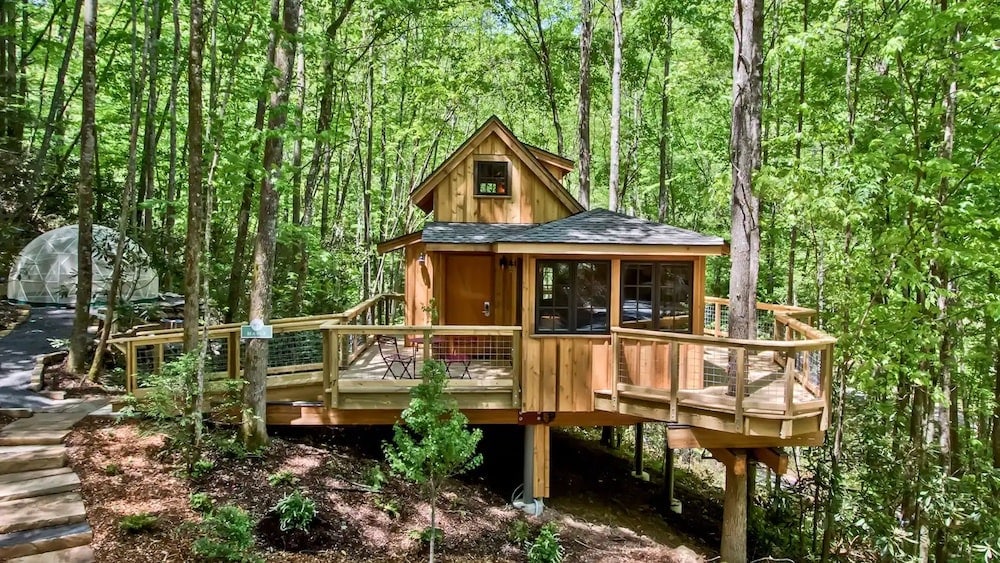 Why you should stay: Romantic treehouse complete with a clear stargazing dome.
Nearest town: Gatlinburg
Sleeps: 2
Minimum stay: 2 nights
Rates from: $406/night
The Maple is known as the "Honeymoon Treehouse" for the exact reason you might think. It's in a grove with a few treehouses but is certainly the most secluded and private. The 30-foot deck provides ample space to relax outdoors with a loved one.
But if it's romance you're after, the treehouse is full of small, shadowy places to sneak a midnight kiss or a special rendezvous. If you want to keep your muscles limber, do some yoga on the deck or find your meditative side in the geodesic pod outside (which is also great for stargazing). It's a great treehouse for recnnecting with yourself, your partner, and nature in a cozy, whimsical place.
Check Availability
Related Read: 11 Peaceful Cabins with Hot Tubs in Gatlinburg, Tennessee
5. The Bostonian
Why you should stay: A great price for a whimsical treehouse near Johnson City.
Nearest town: Johnson City
Sleeps: 4
Minimum stay: 2 nights
Rates from: $130/night
If you stumbled upon this treehouse while wandering a trail, it'd probably remind you of the witch's house from Hansel and Gretel. But fortunately, there are no evil-doers at this treehouse. However, it does have everything else you'd expect from a kid's fairy tale.
That includes walls plastered with colorful wood planks to bring some life into the interior, and a deck with at least a dozen trees poking through its floorboards. There are two chairs carved from tree trunks, lamps made from branches, and plenty of outdoor places to curl up with a good story. It's also near Johnson City, which has tons of live music and cool music festivals.
Check Availability
Related Read: 9 Unique Places to Stay in Gatlinburg, Tennessee
6. How Sweet the Sound Treehouse
Why you should stay: Take a dip in the babbling brook that runs under the house.
Nearest town: Pikeville
Sleeps: 4
Minimum stay: 2 nights
Rates from: $182/night
Move over, Frank Lloyd Wright: the How Sweet the Sound Treehouse truly integrates nature into its architecture. The house is set high into the trees with a natural brook running beneath. You can listen to the sounds of nature from the second-floor wraparound deck, or on the oversized couch on the lower deck.
Be prepared to leave your work at home as there's no Wi-Fi and very minimal cell service. It's an ideal spot for unwinding and taking in all that nature has to offer. Kids staying here need to be at least five years old, and there's an extra $20 fee per person for every guest past the first two.
Check Availability
Related Read: 12 Scenic Weekend Road Trips from Memphis, Tennessee
7. Serenity House
Why you should stay: Is is a treehouse Tennessee or a hip chalet in the Swiss Alps?
Nearest town: McEwen
Sleeps: 4
Minimum stay: 2 nights
Rates from: $170/night
What makes this quaint treehouse so wonderful is the property it sits on. There are miles of hiking trails, a fishing and swimming pond, dozens of horses and goats, and even a few highland cows. It's like having your very own zoo steps from your vacation stay.
And if a private zoo wasn't enough for you, how about a private farmer's market? The host provides garden-fresh veggies and fruit from the orchard, eggs from their chickens, and even beef cuts from their cattle for the omnivores out there. This is a dog-friendly treehouse in Tennessee, so bring your four-legged friends to accompany you on your hikes around the property. The host's family dog, LeeLoo, will likely join you regardless. And plan to spend a lot of time hiking as there's no Wi-Fi or television.
Check Availability
Follow 'em: @rocknrefuge
8. Tree House at Halo Hammocks
Why you should stay: Have your own private waterfall and second home for a big group.
Nearest town: Elizabethton
Sleeps: 10
Minimum stay: 3 nights
Rates from: $265/night
Grab your gaggle of friends (or your large family) and stay on this incredible property in the hills of Appalachia. Technically, this listing is two rentals in one as you can't rent the treehouse without also renting the home. The treehouse can sleep four and the main house sleeps another six, which makes the treehouse the perfect spot to send the kids while the adults socialize and relax in the main house.
To get all your energy out, hit up the connector trail to the Appalachian Trail and hike until your heart's content. Then rest your weary muscles in the large soaking tub at the main house or the two-person hot tub near the treehouse. Or hang out anywhere else you want – there are 33 acres on which to roam.
Check Availability
Related Read: 11 Exciting & Unique Places to Stay in Tennessee
Explore More in Tennessee
Sign up for the Weekend Wanderer to join thousands of readers getting epic travel and gear ideas every week.
---