We research, evaluate and select travel destinations based on a number of factors, including our writers' experience and expertise, user reviews and more. We may earn a commission when you book or purchase through our links. See our editorial policy to learn more.
---
Dude, where's the dude ranch?
Home, home on the range! You know how the classic cowboy song goes. Even if you don't call a ranch in Texas home, you can still experience the appealing mix of idyllic tranquility and rural adventure of one by booking a stay at a dude ranch. As a guest at a dude ranch, you'll have wide-open space to roam and a good amount of on-site activities that make it easy to live out your cowboy fantasies.
But don't expect all the dude ranches in Texas to look and operate the same way. From high-end ranch resorts with ritzy amenities to working ranches with family-friendly, cowboy experiences, there's quite a range (pun intended) of possibilities to meet the interests of all kinds of travelers.
Ready to giddy up and get going? Check out one of these awesome dude ranches in Texas.
Related Read: 10 Best Hikes in Texas for Top-Notch Lone Star State Scenery
1. Cibolo Creek Ranch
Why you should stay: Get wild in West Texas at this historic ranch with posh accommodations.
Nearest town: Marfa
Sleeps: 4
Minimum stay: 1 night
Rates from: $550/night
Spanning an impressive 30,000 acres, Cibolo Creek Ranch is proof that a luxurious getaway and a dude ranch experience aren't mutually exclusive. Decorated with antique furniture, the five-star rooms and suites here feature different special amenities like wood-burning fireplaces and jacuzzi tubs. There's also the option to book one of the three historic forts and haciendas if you're after something really out-of-the-norm.
You won't have much cell service while you're here, but who needs it given the many different activities at your fingertips. There's horseback riding, ATV tours, clay and long-range shooting, and mountain tours — just make sure you book your chosen activity at least 24 hours in advance!
An extra plus: Feel free to bring your fluffy, four-legged friend since pets are welcome in all of the rooms.
Check Availability
Related Read: 9 Best Texas Lavender Farms for Getting Your Fragrance Fix
2. Wildcatter Ranch
Why you should stay: Four-star hotel amenities meet welcoming, down-home vibes at this ranch resort with its own steakhouse.
Nearest town: Graham
Sleeps: 4
Minimum stay: 1 night
Rates from: $167/night
At Wildcatter Ranch, there's a good amount of variety in accommodations depending on what you're feeling like and how deep you're rolling. For something a little more romantic, why not book one of the king cabin suites? For something homey and a bit more family-friendly, the Homestead is a nice, spacious option.
When you're not in your room, you'll probably be out enjoying one of Wildcatter Ranch's many thrilling experiences. From sunset trail rides to jeep tours to tomahawk throwing, you and your travel companions definitely won't be bored here. You also won't leave hungry thanks to the on-site steakhouse, which serves up hearty Texan cuisine.
Check Availability
Related Read: 11 Best Texas Swimming Holes to Beat the Summer Heat
3. The JL Bar Ranch, Resort & Spa
Why you should stay: A private airport and upscale lodges are just some of what make this five-star ranch resort feel so luxurious.
Nearest town: Sonora
Sleeps: 5
Minimum stay: 2 nights
Rates from: $399/night
It's rustic elegance all around at The JL Bar Ranch, Resort & Spa, which has 16 cabins plus 16 guest rooms. Of course, much of the fun of a dude ranch comes from the experiences available, and boy, does this one have some interesting ones. Off-road UTV riding, karaoke, cooking classes, whiskey tastings, trap shooting, and horseback psychology are just a sampling of their offerings.
If you're a true jet setter, you'll be excited to hear that this ranch resort has its own private airport (just make sure you make the necessary arrangements beforehand). But, of course, that's not all this spot has. There's also the on-site spa where you can unwind with treatments like a deep tissue massage plus a restaurant with themed dining nights.
Check Availability
Related Read: 10 Best Weekend Road Trips from San Antonio, Texas
4. Cedar Cove Ranch & Resort
Why you should stay: It's less stress and more fun when you book an all-inclusive package at this lakeside ranch and resort.
Nearest town: Eustace
Sleeps: 18
Minimum stay: 1 night
Rates from: $145/night
Cedar Cove Ranch & Resort is home to a 25-acre private lake and three big lodges. When deciding where to stay in the latter, you can pick whether you want to be surrounded by trees or positioned right on the lake. Despite their various differences in layout and occupancy, you can expect to have a fire pit, grill, and plenty of coziness at each of them.
While you can certainly book activities like fishing and hunting "à la carte," Cedar Cove also offers all-inclusive packages that cover meals, your choice of guided activities, and access to on-site amenities like kayaks and paddleboats.
During your stay, keep an eye out for some cool animal residents like oryx, peacocks, and bald eagles!
Check Availability
Related Read: The 11 Best Small Towns in Texas To Visit This Year
5. Flying L Ranch Resort
Why you should stay: Located in the Hill Country, this family-friendly dude ranch offers its guests Western entertainment.
Nearest town: Bandera
Sleeps: 22
Minimum stay: 1 night
Rates from: $119/night
For something no-frills but still lots of fun, check out Flying L Ranch Resort, a family-owned and operated dude ranch outside of San Antonio. One of the more affordable options on this list, this spot was founded in 1947 and has played host to some famous guests like John Wayne and Willie Nelson.
If you want to fully lean into the Western experience, you definitely need to book a chuck wagon dinner and show here, which includes an all-out barbecue dinner, live country music, and dancing. If you're just after a low-key meal, don't worry — they have you covered there too with their restaurant, Branding Iron Bar and Grill.
Aside from food, Flying L activities include wagon rides, creekside fishing, putt putt, horseback riding, and more.
Check Availability
Related Read: 8 Awesome Cabin Rentals Near San Antonio for a Country Getaway
6. BlissWood Bed & Breakfast Ranch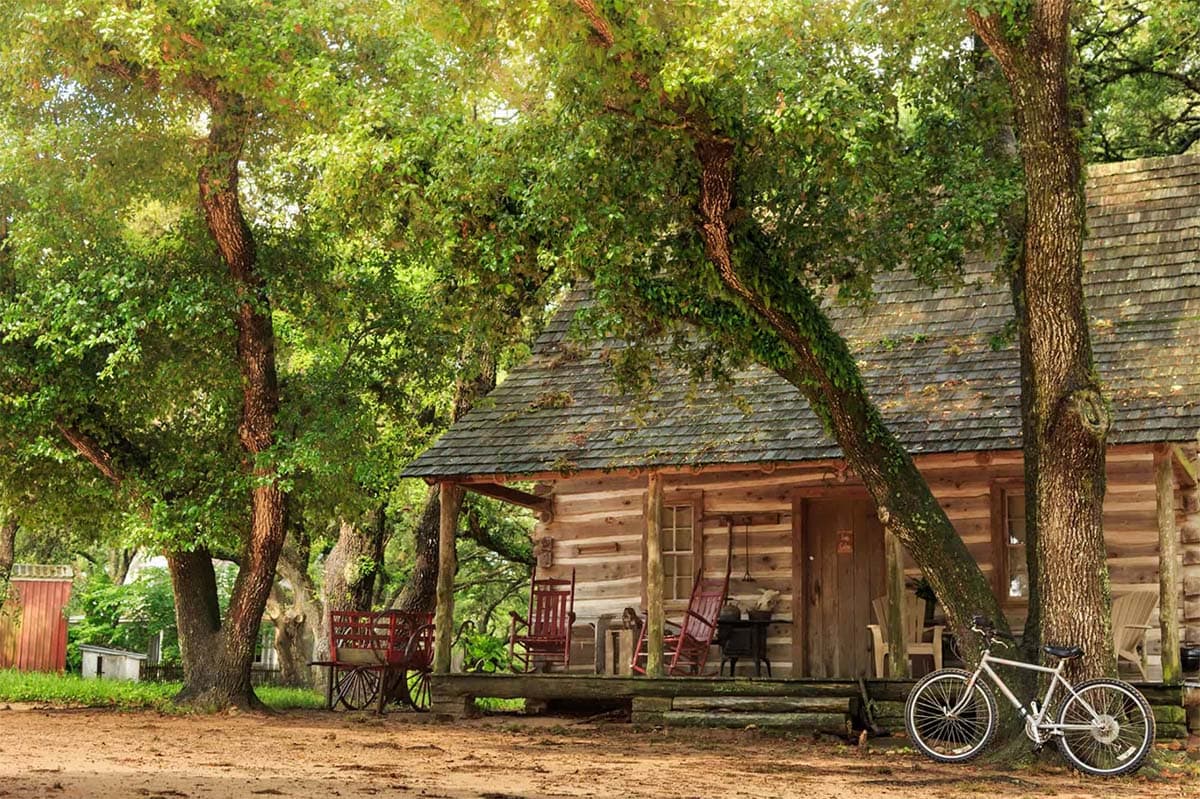 Why you should stay: From the romantic to the quirky, this dude ranch has different accommodations to suit varied tastes — and lots of different animals roaming the property.
Nearest town: Belville
Sleeps: 10
Minimum stay: 1 night
Rates from: $229/night
A stay at BlissWood Bed & Breakfast Ranch is what you make of it with diverse accommodation options that include romantic suites, a quaint farmhouse, a covered wagon, and a safari tent. You know what else is diverse? The types of animals you can find wandering about. Sure, there are the usual suspects like horses, cattle, and deer, but there are also some interesting characters like miniature donkeys, ostriches, and peacocks. Plus the ranch is home to a border collie rescue, so be prepared to see lots of cute pups too!
To get up close and personal with the animals, you can book a guided safari. Other on-site activities include horseback riding, catch and release fishing, and paddleboarding.
Check Availability
Related Read: Best Western Movies on Netflix Right Now
7. Beaumont Ranch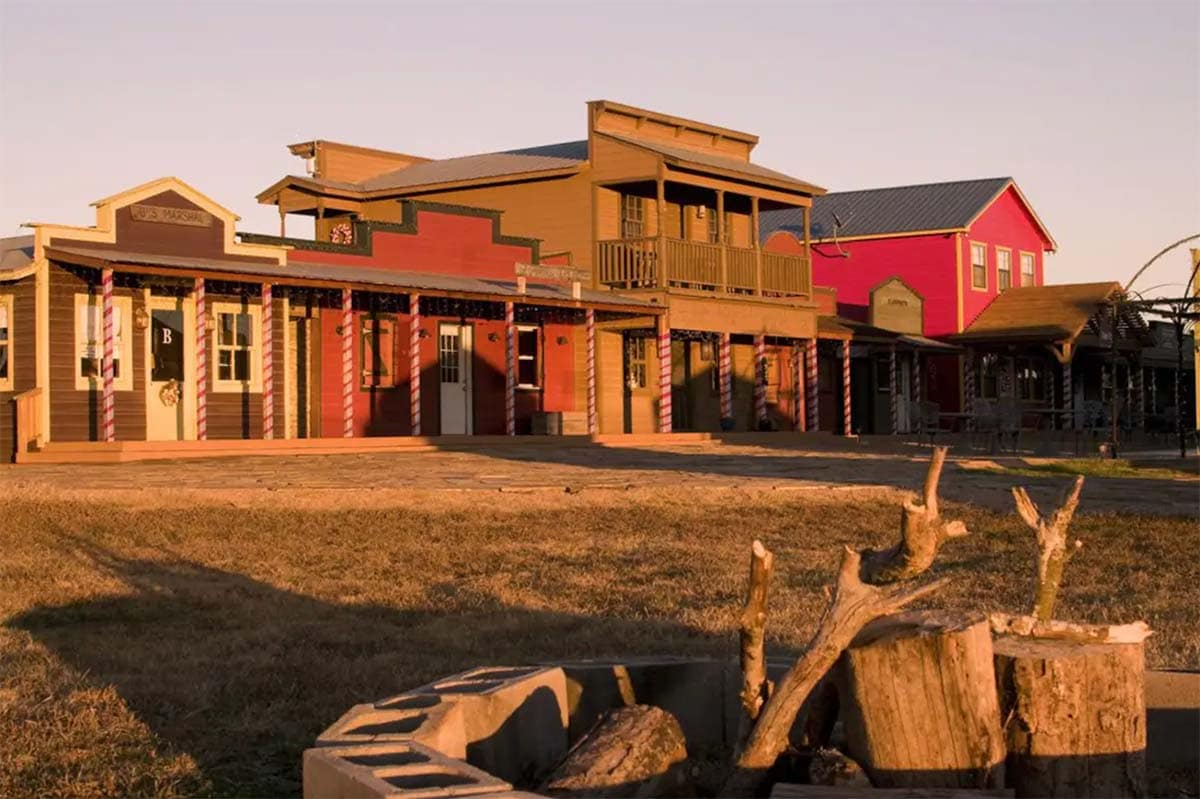 Why you should stay: Positioned on a historic cattle trail, this ranch is a more affordable way to get the full Texas ranch experience.
Nearest town: Grandview
Sleeps: 6
Minimum stay: 1 night
Rates from: $99/night
At Beaumont Ranch, you'll see that you don't need to be a big spender to get the dude ranch experience. The most budget-friendly place of the bunch, this 800-acre working cattle ranch offers a relaxing escape from the city. The accommodations are quaint and full of country charm, and it's pretty cool knowing that you're staying somewhere right on the historic Chisholm Trail (the route used to drive cattle from Texas to Kansas).
Activity-wise, you can try your hand at some sporting clays, or you can get on horseback for a trail ride. Be sure to reserve your activity at least 24 hours in advance though so that they can check the availability and secure your spot.
Check Availability
Related Read: 5 Must-Do Scenic Train Rides in Texas
8. Getaway Ranch Texas
Why you should stay: You'll have your peace and quiet at this small property by the Palo Pinto Mountains.
Nearest town: Mineral Wells
Sleeps: 4
Minimum stay: 1 night
Rates from: $229/night
At Getaway Ranch Texas, you may just be an hour from the big city of Fort Worth, where Big Jim Courtright once prowled, but you'll feel a world away thanks to its secluded nature — don't expect any WiFi here! The property boasts that it never feels crowded since there are only four units, each one a studio-like cabin.
Breakfast is covered as part of your overnight stay, and it'll come delivered in a basket to your door. For lunch and dinner, you're on your own but each cabin does have a microwave, toaster, and propane grill.
While enjoying the surroundings of your countryside paradise, you can fill up your day by taking an ATV tour, horseback riding, or hanging out by the ranch's pool. Another fun activity? A cruise around the area in a classic convertible.
Check Availability
Related Read: 15 Romantic Getaways in Texas for Adventurous Couples
9. Dixie Dude Ranch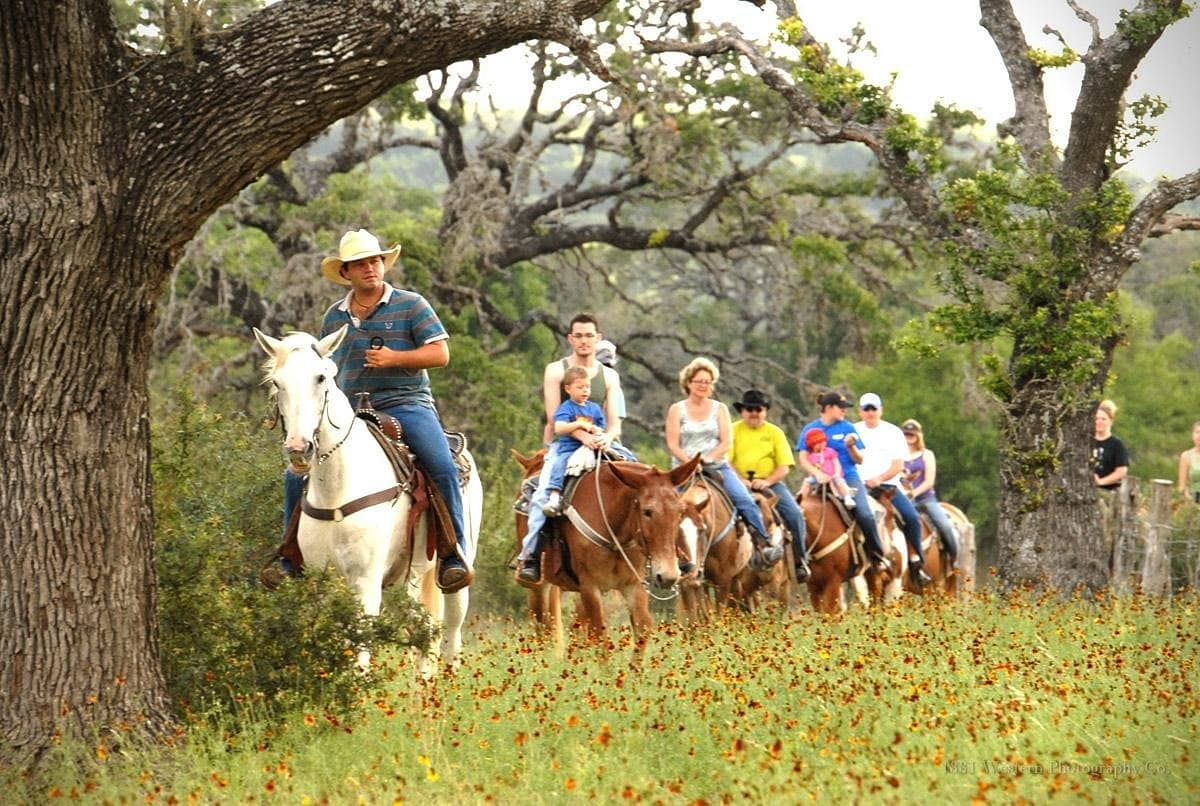 Why you should stay: Home-cooked, family-style meals and horseback rides are part of the package during your stay at this working ranch.
Nearest town: Bandera
Sleeps: 6
Minimum stay: 2 nights
Rates from: $175/night
Anyone looking for the real deal when it comes to a ranch getaway should consider Dixie Dude Ranch, a working ranch founded in 1901. You'll notice a bit of historic charm in some of the cabins, which were built back in the 1940s and 50s. There are other cottages, lodge rooms, and a two-story bunkhouse you can book too.
If you're here in the summertime, you'll appreciate that there's a swimming pool for cooling off in. And no matter what time of year it is, the hot tub is open. Sitting by the poolside is, of course, not the only activity to keep you entertained here. There's hiking, horseback riding, and fishing plus hayrides, ping pong, horseshoes, and more. In fact, the daily rate at Dixie Dude Ranch includes two horseback rides and three meals a day.
Check Availability
Related read: 12 Must-Visit Texas Hill Country Towns
10. Rancho Cortez
Why you should stay: Activities and meals are included at this ranch with its own wellness camp.
Nearest town: Bandera
Sleeps: 15
Minimum stay: 2 nights
Rates from: $165/night
Situated in the Cowboy Capital of the World, Rancho Cortez lives up to its location with its dude ranch activities like horseback rides and hayrides. If you're staying overnight here (there is the option to just do a day visit), your activities are actually included along with all your meals for the day. All-inclusive vacation you say? Yes please!
Rancho Cortez is also unique in that it offers two-week fitness programs for those who are trying to boost their health and fitness. We don't know about you, but getting your heart pumping by tackling a cowboy boot camp, obstacle course, and horseback riding sound a whole lot more fun than attending your average gym class.
Check Availability
Related read: Cowboy & Western Name Generator
Explore More in Texas
Get epic travel ideas delivered to your inbox with Weekend Wanderer, our newsletter inspiring more than 10,000 readers every week.
---