We research, evaluate and select travel destinations based on a number of factors, including our writers' experience, user reviews and more. We may earn a commission when you book or purchase through our links. See our editorial policy to learn more.
Was this article helpful?
---
The natural beauty of Michigan is an excellent place to frolic and play with your furry travel companion — you just need the right pet-friendly cabin to make it happen.
Michigan has a beautiful landscape that's pretty underrated as tourist destinations are concerned. Aside from the thousands of miles of Great Lakes shoreline, there are also impressive bluffs, dunes, islands, and forests for you and your pet to explore. Plus, these natural wonders change with Michigan's shifting seasons and offer a unique way to experience the Great Lakes state, no matter the time of year.
Thankfully there's no need to leave your fur babies behind with one of these incredible pet-friendly cabins in Michigan.
Related Read: 9 Unique Places to Stay in Michigan for an Extraordinary Escape
1. Northern Nights Chalet
Why you should stay: A spacious cabin in a luxury outdoor resort in northern Michigan.
Location: Custer Township
Sleeps: 20
Minimum stay: 4 nights
Rates start from: $767/night
The Northern Nights Chalet takes the amenities of a resort combined with the peace and quiet of a cabin stay. This five-bedroom is nestled in the woods 50 minutes from Traverse City, and boasts exposed beams and floor-to-ceiling windows. A second-story wraparound deck provides the perfect place to grill out and spend quality time in the fresh air. This pet-friendly cabin allows for one medium-sized dog.
As part of the Shanty Creek resorts, guests have access to the property's private stretch of beach on Lake Bellaire and the seasonal swimming pool. Golf enthusiasts will appreciate how near the resort is to noteworthy courses like Twin Birch Golf Club.
Check Availability
Follow 'em: @Wanderlust_Abodes
2. The Barn on the Bay
Why you should stay: A barndominium rental near Sleeping Bear Dunes National Lakeshore.
Location: Glen Arbor
Sleeps: 6
Minimum stay: 6-7 nights
Rates start from: $550/night
The Barn on the Bay is a modern dream boasting an open floor plan that allows maximum family time. Beautiful interior design touches fill the space, including mid-century modern decor, expansive windows, and a cozy electric fireplace.
But the real star of this home is the large deck furnished with a hammock, dining table, and grill. There's even an outdoor shower where you can rinse off after your day at Lake Michigan, which is walking distance away. Dogs up to 40 pounds are allowed inside this stylish getaway.
Check Availability
Related Read: 9 of the Best Cabin Rentals in Michigan
3. Island Cove
Why you should stay: A lakefront home with a private sandy beach and an excellent outdoor area.
Location: Hale
Sleeps: 12+
Minimum stay: 3 nights
Rates start from: $650/night
If you're itching for some quality time at the lake, Island Cove is ready to host you and your pup. The property boasts sandy frontage along Sage Lake, where you can swim, tan, and fish. Your booking includes the use of kayaks and paddleboards, plus there's a pontoon boat available for rent.
There's also a patio area with a grill, dining table, and a fun tiki bar where you can mix up delicious drinks. After the sun sets, roast marshmallows over the fire pit stationed lakeside. The sparkling clean interior of this three-bedroom is just as impressive and features seven beds to accommodate large groups.
Check Availability
Related Read: 10 Refreshing Michigan Swimming Lakes for a Summertime Dip
4. The Copper Cabin
Why you should stay: A remote, glamping cabin that allows pets in the far north of the Upper Peninsula.
Location: Delaware
Sleeps: 8
Minimum stay: 2 nights
Rates start from: $125/night
The Copper Cabin is a humble yet impressive abode that requires a short hike to reach. It's equipped with solar panels, a composting toilet, and a water catchment system, making it eco-friendly and a unique off-the-grid experience. Its beautifully handcrafted architecture and insanely cozy interior look straight out of a storybook. And as if that's not enough, there's a detached sauna room where you can relax after a long day of outdoor adventure.
The host describes the cabin as "a real wilderness destination that is not for everyone, but perfect for the adventurous spirit."
Check Availability
Related Read: 9 Amazing Places to See Fall Colors in Michigan
5. Large Log Home
Why you should stay: A stunning log home on Lake Huron, that's perfect for large groups, events, and even weddings.
Location: Lexington Township
Sleeps: 30
Minimum stay: 2-4 nights
Rates start from: $800/night
Treat yourself to luxurious accommodation with a stay at this large log home situated on ten sprawling acres. The massive chalet-style windows allow sunlight to stream inside, highlighting the beautiful log accents. The home's vaulted ceilings and stone fireplace are also sure to impress.
This five-bedroom, four-bathroom cabin is ideal for large gatherings and offers an incredible lake getaway in the summer. With its own private strip of sandy beach, as well as an elevated deck with lake views, and a shaded back porch, there's plenty of space for everyone. You can find this pet-friendly cabin just an hour and a half north of Detroit.
Check Availability
6. Tall Pines Escape
Location: Weldon Township
Sleeps: 16
Minimum stay: 2 nights
Rates start from: $295/night
The Tall Pines Escape is a family-friendly, pet-friendly cabin rental that has it all. There are four bedrooms and a spacious bunk room above the garage to comfortably sleep your entire party. In the basement, an indoor hot tub, a giant flat screen with streaming services, and an impressive game room will keep everyone happily entertained.
Outside, an expansive deck and hammock promise peaceful relaxation in the sunshine. Although fantastic anytime of year, thanks to its location near Crystal Mountain Ski Resort and the equipment storage area in the basement, this property is perfectly suited to wintertime visits.
Check Availability
Related Read: 10 Secluded Cabin Rentals in Amazing Michigan
7. Beautiful Wilderness Cabin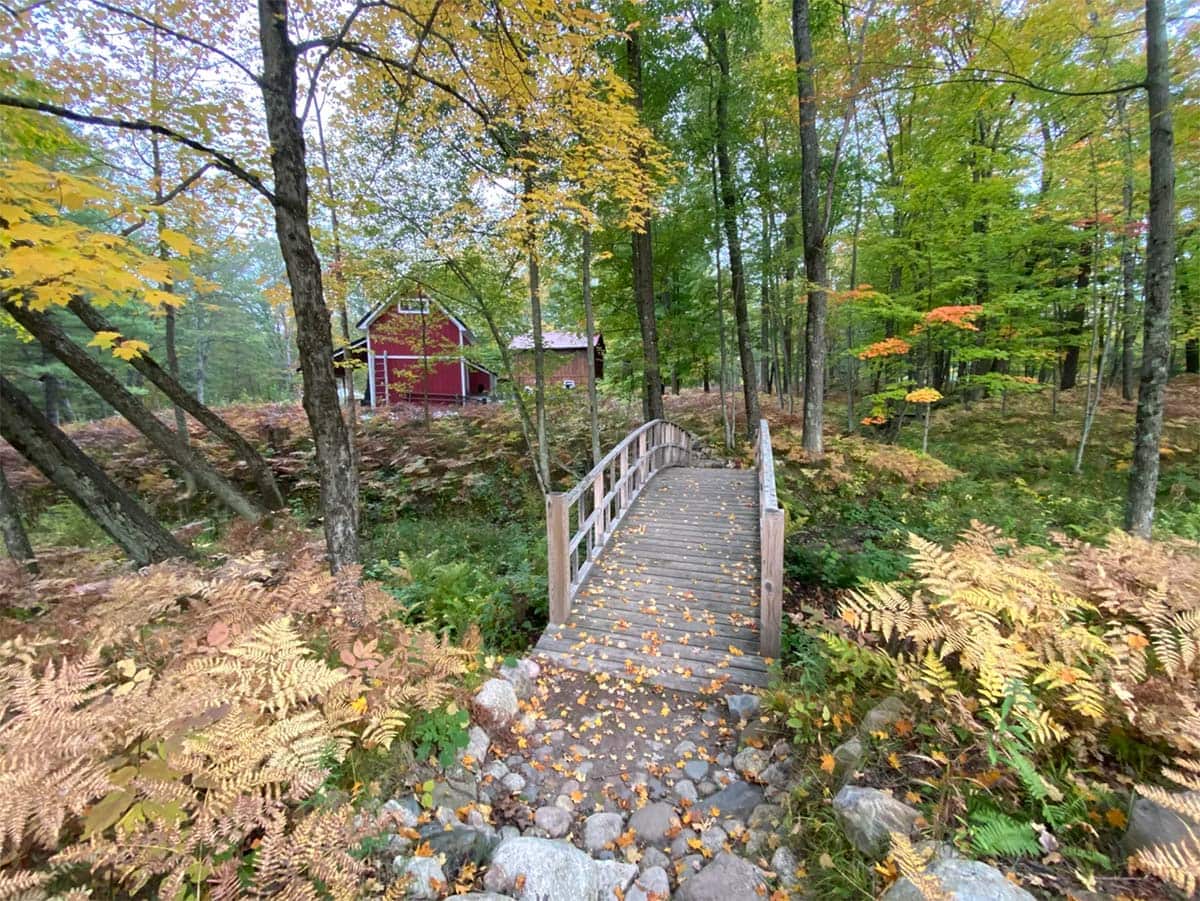 Why you should stay: A rustic cabin stay that offers a fantastic wilderness escape not far from Grand Rapids.
Location: Stanwood
Sleeps: 6
Minimum stay: 1 night
Rates start from: $113/night
For those who appreciate the eclectic, this beautiful wilderness cabin is a top choice. The property has unique amenities, including an outdoor clawfoot tub and a Japanese garden with two footbridges. The yard's fragrant apple orchard will capture your senses, as will the lush garden.
There isn't running water or electricity here, encouraging guests to power down and connect with the natural beauty that surrounds them. But there are shower facilities and WiFi in a separate building when in need of a quick refresh and recharge. Newaygo State Park is a short drive away, where anglers and picnickers can soak up the beauty of the Hardy Dam Pond.
Check Availability
Follow 'em: @LynxRunWilderness
8. The Royal Stag Lodge
Why you should stay: A luxurious lodge with impeccable decor and views of the passing AuSable River.
Location: Grayling
Sleeps: 16
Minimum stay: 2-3 nights
Rates start from: $1,000/night
Aptly named, The Royal Stag Lodge is truly majestic accommodation. One step into the great room, and you'll be swept away by the central stone fireplace, long dining table, and plush seating – all illuminated by two walls of windows. A pool table stands ready to host a bit of friendly competition.
This glamorous outdoorsy cabin features six bedrooms for the base price, plus additional spaces for rent like guesthouses and game rooms. Other add-on options you can take advantage of include massage sessions and fly fishing excursions. There's no need to leave your four-legged friend at home because dogs are also welcome to indulge in this incredible 1940s cabin!
Check Availability
Follow 'em: @TheRoyalStagLodge
9. Shadowland River Lodge
Why you should stay: A semi-secluded cabin that doesn't charge a pet fee or have a size limit.
Location: Traverse City
Sleeps: 6
Minimum stay: 2-5 nights
Rates start from: $336/night
At Shadowland River Lodge, the whole family, including your lovable puppers, can enjoy the exciting attractions that make Traverse City a popular destination. This historic log cabin dates back to 1929, and is brimming with original character. It features a central stone fireplace and classic cabin decor.
Around the home, a spacious grassy yard allows your doggo to folic and play freely. And for the humans, a fire pit and yard games set the scene for prime outdoor fun. While outside, the babble of the passing Boardman River creates a peaceful atmosphere.
Check Availability
Follow 'em: @Shadowland_River_Lodge
10. The Pond Cabin
Why you should stay: A quant log cabin without water or electricity on a remote property in the UP.
Location: Marquette
Sleeps: 8
Minimum stay: 2 nights
Rates start from: $68/night
Grabbing the attention of Midwest Living Magazine, The Pond Cabin offers glamping style accommodation away from civilization. The interior is uber cozy and features a wood-burning stove, a lofted sleeping space, and an idyllic front porch with forest and pond views. Pets are welcome here, and the hosts and neighbors have dogs themselves, that are known to pop over from time to time.
Nature lovers can rejoice, because this property isn't far from popular attractions like Sugarloaf Mountain and Lake Superior. Not to mention, the turquoise waters and dramatic bluffs of Pictured Rocks National Lakeshore are only about an hour away.
Check Availability
Related Read: 7 Magical Treehouse Rentals in Michigan
11. The Trembath Lake Cabin
Why you should stay: A pet-friendly cabin ideal for those looking to rough it in the beauty of the Upper Peninsula.
Location: Champion
Sleeps: 12
Minimum stay: 4 nights
Rates start from: $499/night
The Trembath Lake Cabin allows visitors to find solitude while immersed in the unique beauty of the Upper Peninsula. It's tucked away on a wooded 640 acres where walking trails meander around the property's private, 35-acre lake. Be sure to pack your swimsuit and fishing gear to take advantage of the sandy shore and the paddleboards the hosts provide. Other noteworthy features include the interior's wood-burning fireplace and a spacious floor.
Guest Trisha shares, "This cabin was amazing! We had so much fun on the trails and playing games in the spacious cabin. It was great that the cabin is pet friendly. Our dogs had a ball playing outside."
Check Availability
Explore More in the Midwest
Get epic travel ideas delivered to your inbox with Weekend Wanderer, our newsletter inspiring more than 10,000 readers every week.
Was this article helpful?
---