We research, evaluate and select travel destinations based on a number of factors, including our writers' experience and expertise, user reviews and more. We may earn a commission when you book or purchase through our links. See our editorial policy to learn more.
Was this article helpful?
---
Austin is great, but whenever nature calls — no, not in that way — you'll have your pick of attractive cabin escapes nearby.
The city of Austin is a bustling capital known for its famous live music venues, vibrant nightlife, and ever-booming tech scene, but you don't have to travel far from all of that to find a quiet cabin nestled in nature. After all, you are in the Hill Country, a beautiful expanse of green hills marked with lakes, rivers, and creeks. In less than an hour, you can find a dreamy spot to spend a few days and recharge your batteries amid a beautiful and relaxing landscape.
Need some inspiration for where exactly to stay? From lakeside retreats to woodsy hideaways, these are some of the best cabin rentals near Austin.
Related Read: 9 of the Best Day Trips from Austin, Texas
1. Cottage with Hill Country View
Why you should stay: Enjoy great views, a nearby trail, and resort access at this stay close to the lake.
Sleeps: 8
Minimum stay: 2 nights
Rates from: $275/night
Already from the outside, this cottage welcomes you in with its beautiful wood and stone exterior. Step through the door, and you'll find a cozy abode with touches of Southern decor.
Head out to the covered, raised deck in the back to enjoy an alfresco lunch with a side of top-notch views. For dinner, you can get the grill going and gather around the fire pit down in the yard's patio area. When you want to stretch your legs, there's a hiking trail just outside the back door, or you can head to the nearby Devil's Cove — a popular swimming hole known for its parties.
Staying at this cottage comes with even more perks: Guests are welcome to visit The Hollows Beach Club and American Grille, which is the neighborhood's private amenity center where you'll find pools, hot tubs, and a fitness center.
Check Availability
Related Read: 12 Outdoor Things to Do in Austin for Adventure Lovers
2. Casa de Esperanza
Why you should stay: It's all about the peace and quiet at this stone cabin right on the lakeshore.
Sleeps: 5
Minimum stay: 2 nights
Rates from: $250/night
At Casa de Esperanza, you're invited to slow down and enjoy your serene surroundings. Built in 1948, the cabin sits on nine acres, giving you plenty of privacy — except for visits from some deer. You'll also notice how quiet it is here, making it the perfect spot if you're in need of a break away from the city.
In for a little adventure? Feel free to wander around the property to see if you can find any arrowheads. Whatever you find, you're allowed to keep! Chances are with the lake so close by — literally right in front of the house — you'll also want to get out on the water, and there are kayaks and a canoe for you to borrow.
When it's time to relax for the day, rinse off in the outdoor shower and enjoy a beautiful sunset.
Check Availability
Related Read: 11 Best Resorts in Texas for a Rejuvenating Getaway
3. Sundance Lodge
Why you should stay: Located by a creek, this roomy log cabin delivers lots of luxuries.
Sleeps: 8
Minimum stay: 2 nights
Rates from: $795/night
Sundance Lodge is full of thoughtful additions that'll make your stay extra special, including a commercial stove, bathroom sinks made from petrified wood, and a rain shower. The outdoor kitchen here is also enviable with its large set-up complete with a smoker, grill, and sink.
When you're looking for something to do, go swimming or kayaking in the creek in the backyard. When you need a break, make your way to the hammock strung up on the live oak trees in the back deck. If that's taken, the front porch has some rocking chairs waiting for you.
While this stay isn't the cheapest, it does offer spacious accommodations, making it a good choice if you're traveling with your family or a large group of friends.
Check Availability
Related Read: The Ultimate Houston to Austin Road Trip Itinerary
4. Luxury Cabins
Why you should stay: You're walking distance from the lake at this cool property with two cabins.
Sleeps: 10
Minimum stay: 2 nights
Rates from: $425/night
You can take over not one but two buildings when you book these luxury cabins, both of which have modern, stylish interiors.
While the larger cabin has the main kitchen, dining, and living areas, the smaller cabin also conveniently has its own kitchenette and bathroom. But don't feel like you have to stay cooped up in either since you have the whole property all to yourself.
Speaking of the property: One of the highlights here is the outdoor space, which includes large, shady decks; a kids' playground, a fire pit, and a cornhole set-up. The fact that the lawn is actually recycled football turf (complete with yard lines) just adds to the fun. There are also six kayaks you and your travel buddies can take out during your stay. And you should take advantage since Lake Austin is just two blocks away.
Check Availability
Related Read: 10 Adventurously Romantic Getaways in Austin, Texas
5. Julie's Cabins
Why you should stay: It's a five-star glamping experience in an area famous for its many wineries and breweries.
Sleeps: 3
Minimum stay: 2 nights
Rates from: $175/night
Located about halfway between Austin and Dripping Springs, Julie's Cabins is a two-acre compound of cute cabins. While the homes may seem small from the outside, you'll see that they have everything you need and more, including a full kitchen, smart TV, and even a Google Nest system.
When you're not out exploring the Hill Country, it'll be hard to resist taking a dip in the jacuzzi spa. Since the grounds are so quiet, you may even find yourself taking a nap in the hammock under the trees. Then, when the sun goes down, there's no better place to be than at the firepit, roasting some s'mores (they provide all the wood you'd need).
Just down the road from Julie's Cabins, you'll find two popular drinking holes: Jester King Brewery and Last Stand Brewing Company. In general, this area is full of wineries, breweries, and restaurants.
Check Availability
Related Read: 10 Best Texas Dude Ranches for a True Western Experience
6. Cedar Vista
Why you should stay: You can spend hours enjoying the outdoor space at this cabin with prime Hill Country vistas.
Sleeps: 6
Minimum stay: 2 nights
Rates from: $325/night
At Cedar Vista, you'll feel like you're on top of the whole Hill Country given the elevation and far-reaching views.
It's easy to spend time soaking up these surroundings given the property's large outdoor space. On one side you have a hot tub, grill, and picnic table, and then on the other side, there's the cozy fire pit. Below the house, there's even more covered seating.
With a blend of rustic design and modern amenities, the interior of Cedar Vista is also something to appreciate. Picture a remote log cabin inspired by the comforts of a hotel and you'll have the right idea. While it may feel like you're totally isolated, you only have to drive 10 minutes to get to the town center.
Check Availability
Related Read: The 9 Best State Parks Near Austin, Texas
7. Cypress Creek Retreat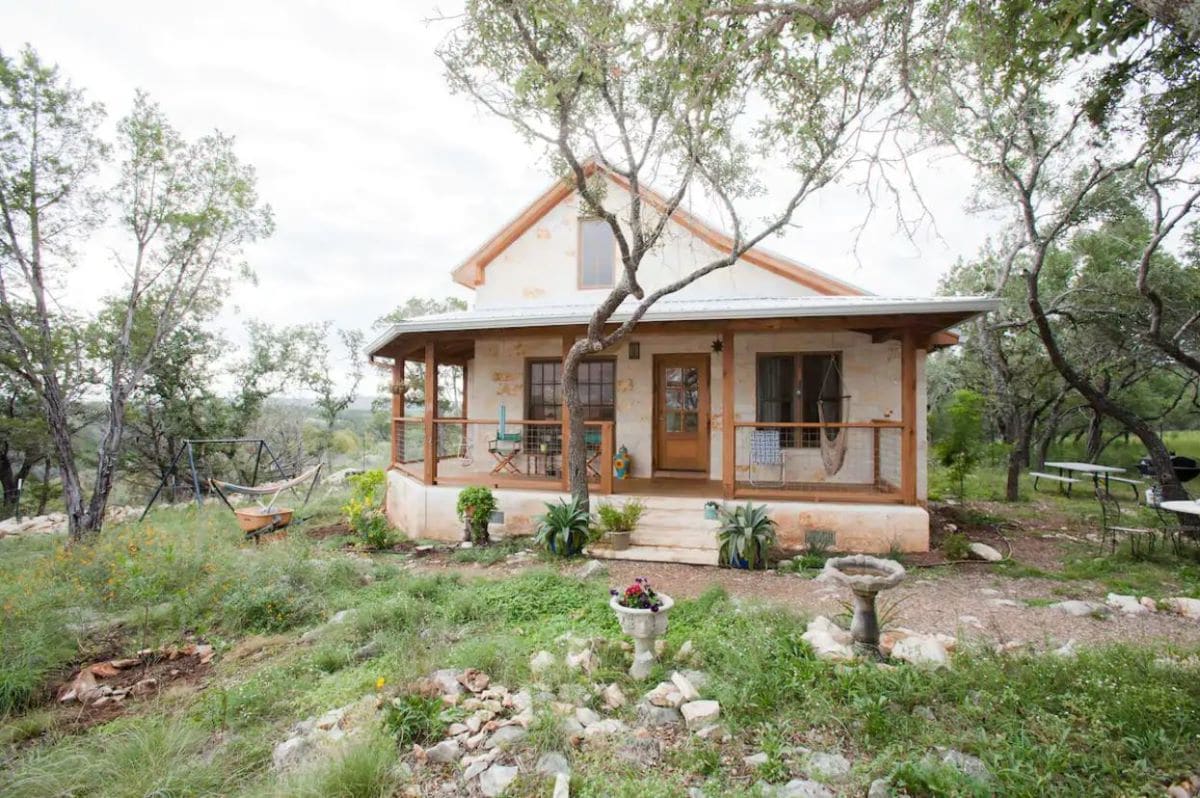 Why you should stay: Nature is all around this tranquil, secluded cabin.
Sleeps: 5
Minimum stay: 2 nights
Rates from: $145/night
Leave the stress of the city behind and come to Cypress Creek Retreat where instead of loud crowds, you'll be surrounded by peaceful nature. From the lower deck, you can look out onto Cypress Creek, and from the cabin's porch, you can see green hills all the way to the horizon.
Interested in a homemade breakfast during your visit? Ask the host and they'll provide biscuits, omelets, and hashbrowns at an extra charge. Once you've had your fill, take the hiking trail down to the creek, or do some birding (keep an eye out for hummingbirds and the golden-cheeked warbler).
If you have a mountain bike, you'd be wise to bring it along since there are miles of trails to ride at the nearby Reimers Ranch Park. Another local spot you have to see during your stay? Hamilton Pool — arguably one the most beautiful swimming holes in Texas.
Check Availability
Related Read: The Ultimate Dallas to Austin Road Trip: What to See Along the Way
8. The Log Cabin at Old Glory Ranch
Why you should stay: This authentic log cabin offers numerous outdoor adventures and direct river access.
Sleeps: 4
Minimum stay: 2 nights
Rates from: $241/night
The Log Cabin at Old Glory Ranch is just the place for people who prefer their cabin getaways to be a little more remote. The place is situated on a property spanning 2,200 acres, and it comes with private access to the Blanco River.
Just because the place was built back in 1850 and looks like something right out of a Western, don't assume that you'll be roughing it. The inside is cozy and colorful, and it has all the modern conveniences you could need, including a full kitchen.
During your stay, you'll have so much to see and do on the ranch with opportunities for hiking, swimming, kayaking, and more. You can also check what other guest activities might be available like winery tours and a mystery dinner party. For something more relaxed, head to the upper deck where stunning views of the Hill Country await.
Check Availability
9. South Austin Cabin
Why you should stay: You can roll up with a big crew at this large cabin on a three-acre property.
Sleeps: 14
Minimum stay: 2 nights
Rates from: $575/night
At this South Austin cabin, it's easy to pretend like you're somewhere deep in the countryside when you actually only have to drive 15 minutes to get to downtown. You may prefer to just hang around here though, since you have three acres to yourself.
When the weather is good (most of the time it is), chill on the wrap-around porch or stretch out on the hammock. For a rainy day, you can make use of the many board games available, or put on a movie with some surround sound.
While the price per night here might seem like a lot, if you end up maximizing the space with 14 guests then it ends up being quite affordable.
Check Availability
Find More Texas Getaways
Sign up for Weekend Wanderer to join 10,000+ readers getting epic travel ideas every week.
Was this article helpful?
---