We research, evaluate and select travel destinations based on a number of factors, including our writers' experience, user reviews and more. We may earn a commission when you book or purchase through our links. See our editorial policy to learn more.
Was this article helpful?
---
Arizona's rugged canyons, remote deserts, and sprawling mountain ranges mean there are no excuses for having a dull vacation.
It wasn't that long ago that the most interesting places to stay in Arizona were kitschy roadside hotels dotting Route 66 on the way to the Grand Canyon. Some of those places are still around, but today's travelers have no shortage of authentic, southwestern-inspired lodging options that complement their environments.
Here are nine of the most unique places to stay in Arizona, all of which will give you the full picture of what it means to experience the Grand Canyon State and its fascinating landscapes.
1. Shash Dine' Eco-Retreat
Why you should stay: Eclectic glamping on traditional Navajo land.
Location: Page
Sleeps: 2+
Minimum stay: 1 night
Rates from: $150/night
Diné Bikéyah — the Navajo Nation — is a sprawling 27,000-plus square miles of beautiful Southwestern land, mostly in northern Arizona. It's the largest Native American reservation in the country, and home to Shash Dine', an authentic sheep ranch located just south of Page.
Shash Dine's glamping options include traditional sheep wagons (the Diné have a storied sheepherding history), hogans (traditional Navajo homes), canvas tents, and more. The latest addition is The Kyo͞ob, an industrial tiny cabin that blends squarely (get it?) into its surroundings.
All the accommodations at Shash Dine' are off the grid, and the lack of light pollution here lends the place a fitting nickname: the five-billion star hotel. But take note: there's no running water anywhere on the property.
Check Availability
Follow 'em: @shashdineecoretreat
2. Saguaro Lake Guest Ranch
Why you should stay: Historic guest ranch with roots going back to the 1920s.
Location: Saguaro Lake (Mesa)
Sleeps: Up to 6
Minimum stay: 2 nights
Rates from: $153/night
When the dam that created Saguaro Lake on the Salt River was completed in 1930, a nearby family bought the work camp with the intention of turning the place into a public fishing resort. They did just that, and over the years, it became a haven for more than just fishermen — all kinds of folks sought respite from the sprawling desert city to the west.
Today, Saguaro Lake Guest Ranch retains much of its early charm: the cabins here are rustic, clean, no-frills options convenient for exploring the nearby hiking trails and chain of lakes to the east. And just like in the old days, riding is big here: horses, tubes, kayaks — you name it.
Although it's the perfect staycation spot for Phoenicians at less than an hour from downtown, the guest ranch is also one of the better destination wedding venues in the Valley. With the ranch's striking cliffs and meandering waterways, it's hard not to get a genuine Old West vibe out here. Of the unique places to stay in Arizona, this is the best if you want old-timey vibes but the convenience of nice restaurants just down the road.
Check Availability
Follow 'em: @saguarolakeranch
3. Forest Houses Resort
Why you should stay: Rustic serenity in the heart of Oak Creek Canyon.
Location: Oak Creek Canyon
Sleeps: 2+ (up to 10)
Minimum stay: 2+ nights
Rates from: $125/night
Here's a story for you: more than 90 years ago, two brothers took their pets (a monkey and a baby coyote) into the shadowed depths of Oak Creek Canyon and built the first of what would become a small collection of creekside cabins.
Over the years, they were influenced by architects like Frank Lloyd Wright (a family friend studied under Wright) and the natural beauty of the canyon, which hasn't changed all that much since the brothers first rode their Harley up north.
Today, Forest Houses Resort is one of the most unique places to stay in Arizona. It has 16 rustic mid-century cabins built from local materials with eclectic design schemes. The vibe here is purposely quiet and low-key — there's no Wi-Fi, no TVs and cell service is weak — which is why it's one of our favorite places to stay in the area.
The unplugged environment also makes it one of the best romantic getaways in Arizona, especially if your idea of romance is hitting nearby Sedona hikes or heading north to Flagstaff's best trails.
Check Availability
Follow 'em: @foresthousesresort
4. JTH Tucson
Why you should stay: Designer digs near an iconic — and underrated — National Park.
Location: Tucson
Sleeps: 2+
Minimum stay: 2 nights
Rates from: $196/night
Sara and Rich Combs are no strangers to life in the desert. Their first property, The Joshua Tree House, is one of the area's most iconic and popular short-term rentals. So the couples knew what they were doing when they set their sights on hosting in Arizona.
The result is JHT Tucson, a five-suite inn on the western outskirts of Saguaro National Park. The park is dedicated to the saguaro, which grows nowhere on earth other than the Sonoran Desert. The west section of the park offers more than 40 miles of hiking trails and more than 25,000 acres to explore. And fortunately, JHT Tucson is the perfect place to retreat after exploring the surprisingly diverse desert.
Each of the rooms sports a chic adobe-style design to compliment the surrounding landscape, yet each feels modern and comfortable. A pool, roof lounge, and other community spaces make this an intimate and unique place to spend a weekend under the sun.
Check Availability
Follow 'em: @thejoshuatreehouse
5. Phantom Ranch
Why you should stay: Rustic, hard-to-reach lodging at the bottom of the Grand Canyon.
Location: Grand Canyon
Sleeps: 2+ (up to 10)
Minimum stay: 1 night
Rates from: $62/night (dorm)
Phantom Ranch is the only lodging available below the Grand Canyon's rim and a bucket-list place to stay in Arizona if there ever was one. Reaching the collection of 1920's-era cabins just north of the Colorado River means hiking or riding a mule down the South Kaibab Trail (7.5 miles) or Bright Angel Trail (10 miles), though river rafting trips also stop here.
It's worth the effort, of course, especially if you arrive when the Phantom Ranch Canteen is open with meals, snacks, and beer. Mmm, trail beer.
The only downside to Phantom Ranch is the wait: you'll need to enter a lottery 15 months ahead of your stay to get a room. If you're looking to visit sooner, check out nearby Bright Angel Campground — you can walk the Phantom Ranch grounds, visit the cantina, and enjoy the wildlife viewing without having to shack up in the cabins. Backpacking down here requires a request four months in advance, so either way, you'll need to plan ahead.
Check Availability
Follow 'em: @gclodges
6. Royal Palms Resort & Spa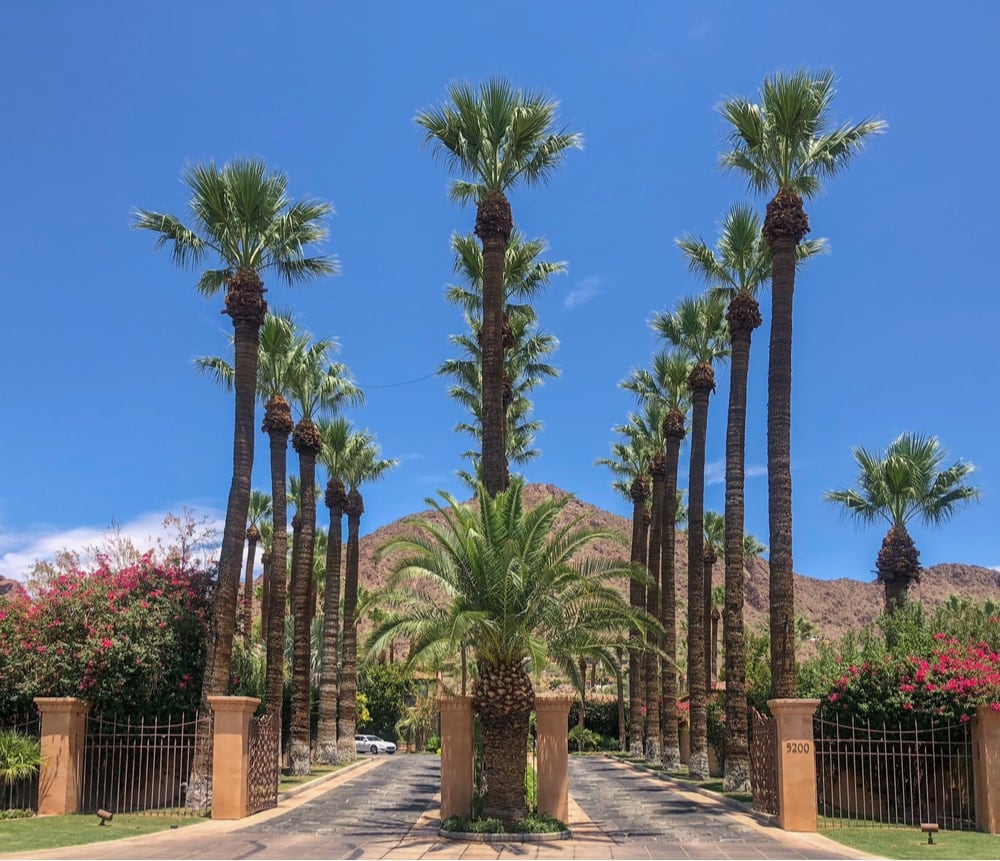 Why you should stay: Historic resort with up-to-date luxuries and cozy villas.
Location: Phoenix
Sleeps: 2+
Minimum stay: 1 night
Rates from: $339/night
Royal Palms is one of the best resorts in Arizona despite looking nothing like the state's typical landscapes. Here, you'll find luscious gardens and European-influenced grounds that pay homage to Tuscany, Spain, and other international hotspots frequented by the cruise ship magnate who built the place in the 1920s.
Between the scenery and first-class spa offerings at Alvadora Spa, it's easy to forget you're still in the heart of Phoenix. But a quick glance up to towering Camelback Mountain should be a dramatic — and welcome — reminder. If you're going to hike it, start early — there's no shade and it's a steep trek.
Check Availability
Follow 'em: @RoyalPalmsHotel
7. The Shady Dell
Why you should stay: Super affordable vintage lodging near a quirky pseudo-ghost town.
Location: Bisbee
Sleeps: 4
Minimum stay: 1 night
Rates from: $85/night
The Shady Dell is one of those kitschy roadside places that stuck around. Its roots date back to the time when U.S. 80 was another emblem of the open road, like Route 66 to the north.
Here you'll find a collection of mostly 1950's-era trailers — including an Airstream, Spartanette, and Royal Mansion — and the vintage vibes are in full effect, complete with bright lawn chairs, retro decor, and record players in some trailers. Next door is Dot's Diner, where you can grab classic Americana grub on the weekends.
The Shady Dell's closed in the winter and only accepts guests 15 and older, so it's best to check out their FAQs before planning your next trip down to Bisbee.
Check Availability
Related Read: 7 Tranquil Cabin Rentals in Strawberry, Arizona
8. Sedona Spa Studio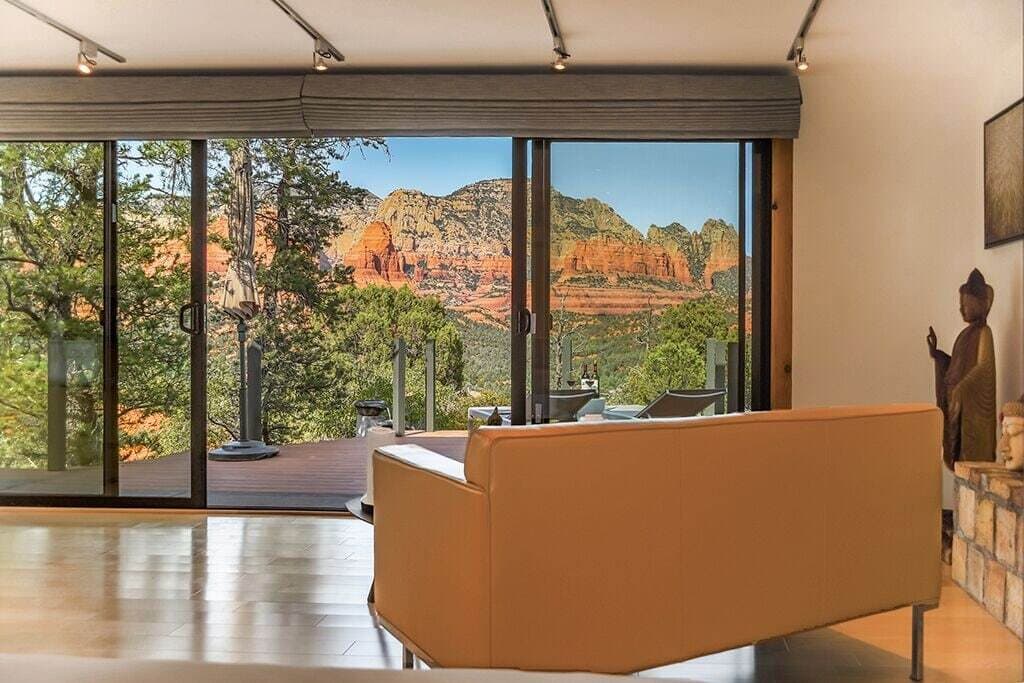 Why you should stay: Resort-level hospitality in a quiet West Sedona community.
Location: Sedona
Sleeps: 2
Minimum stay: 2 nights
Rates from: $731/night
If you've spent a summer weekend in Sedona, you know how congested it can get, especially when the out-of-town minivan in front of you is trying to snap pics of Bell Rock as they navigate the curves of State Route 179.
For less-peopled trip, stay in West Sedona, a residential area with fewer tourists and red-rock views that still impress. This home-turned-spa-studio rests on an elevated stretch of land with incredible views from the patio or pool areas. You won't get the resort crowd here, but you will get all the perks of being in a luxurious red rock setting that's also one of Arizona's best romantic getaways.
Check Availability
9. Grand Canyon Desert Dome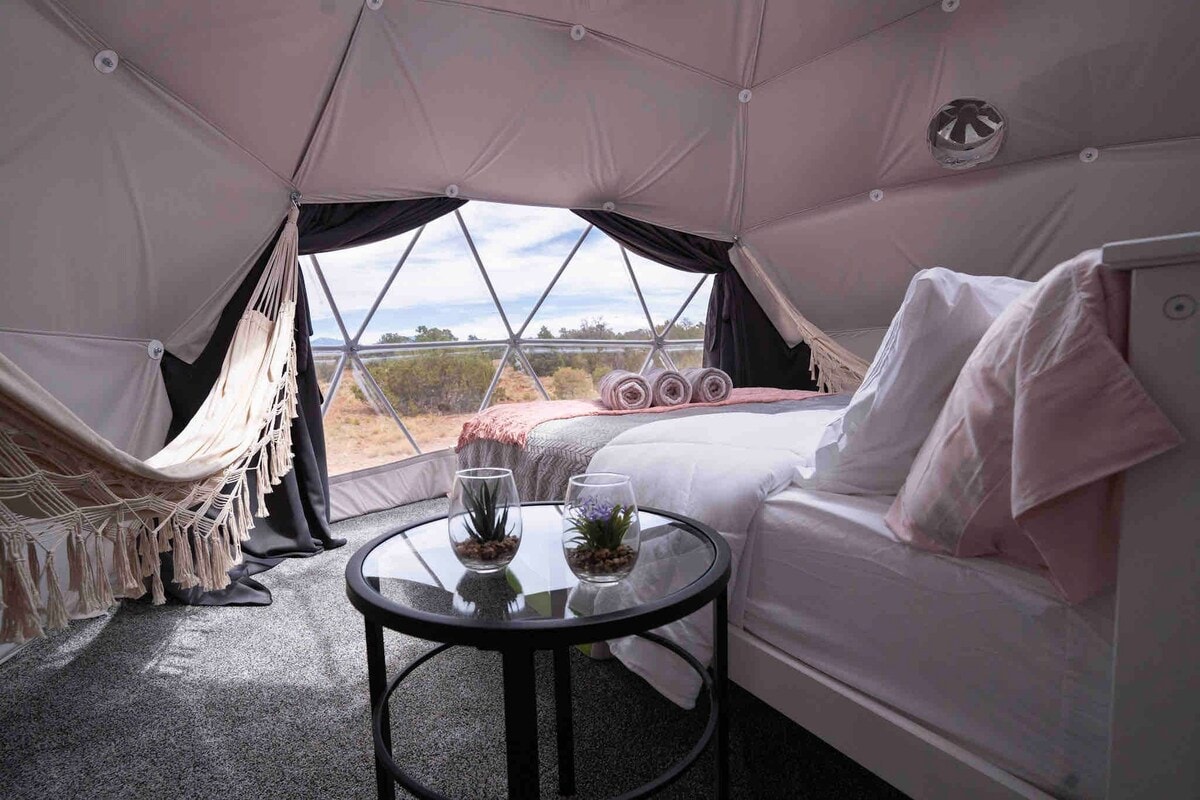 Why you should stay: Clear and quiet night views close to the Grand Canyon.
Location: Grand Canyon Junction
Sleeps: 4
Minimum stay: 1 night
Rates from: $180/night
Most of the five million tourists that flock to the Grand Canyon each year don't make it to the bottom, instead staying at or just below the rim. If that's your jam, consider a stay at the Grand Canyon Desert Dome some 35 miles from the South Rim entrance.
You'll get easy access to the Grand Canyon during the day and nights full of clear stargazing away from the hotel crowds. It's glamping, sure, but the private bathroom and shower and ultra-clean interiors put these domes securely on the the "glam" side of roughin' it.
Check Availability
More Unique Adventures in Arizona
Sign up for Weekend Wanderer to join 10,000+ readers getting epic travel ideas every week.
Was this article helpful?
---