There's lots to love about San Antonio — there's no denying that — but every now and again, you may feel the urge to road trip to someplace new for a day or two.
Given its pretty central location in the state, San Antonio offers fun weekend escapes in every direction. In just a few hours, you could be sipping some Cabernet Sauvignon in Texas Wine Country, soaking up the sun by a sandy beach, or living large in another one of the state's bustling metropolises. Basically, whatever kind of experience you're looking for, you'll be able to find it within easy driving distance.
Pick one of these popular road trip destinations, time your drive to start outside of the peak rush hours, and get ready for a weekend of memorable adventures. Don't stress too hard about which place you should visit.
Remember, there are 51 other weekends in the year to check off all the rest!
Related read: 8 Awesome Cabin Rentals Near San Antonio for a Country Getaway
1. New Braunfels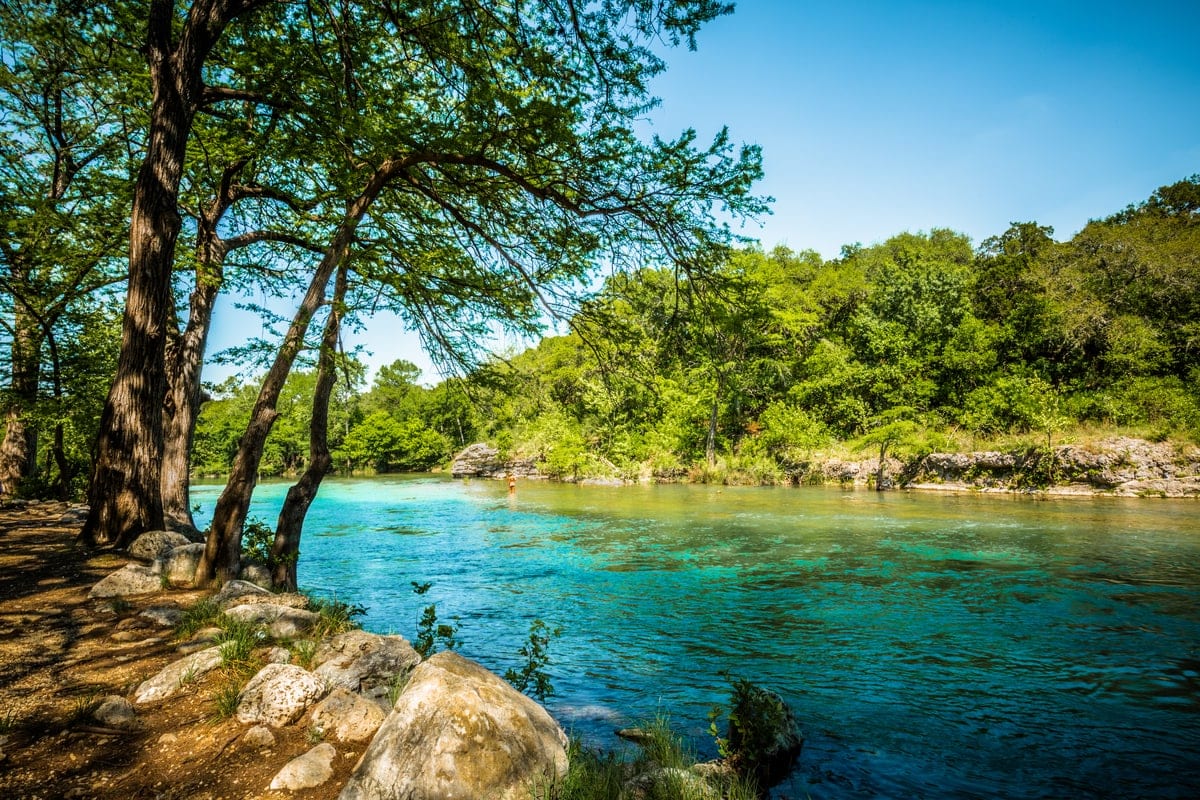 Head up I-35, and in less than an hour you'll arrive at New Braunfels, a small city with some big attractions to call its own. First up is Schlitterbahn Waterpark, where you kids and adults alike can run wild across 70 acres of attractions.
Another great way to shake off the infamous Texas heat is to go float the river. Two rivers, the Guadalupe River and the Comal River, intersect in New Braunfels, and it's a beloved pastime to rent a tube and float your way down them.
Another local attraction that welcomes tons of tourists each year is Gruene Historic District. This area's history dates all the way back to 1845, and you can feel like you've stepped back in time with a visit to Gruene Hall, the oldest continually operating dance hall in Texas. For more to do in this quaint area, check out the boutique shops or grab a truly Texan meal at Gristmill River Restaurant and Bar.
Distance from San Antonio: 33 miles
Drive time without stops: 36 minutes
Related read: 9 Awesome Cabin & Cottage Rentals Near New Braunfels, Texas
2. Canyon Lake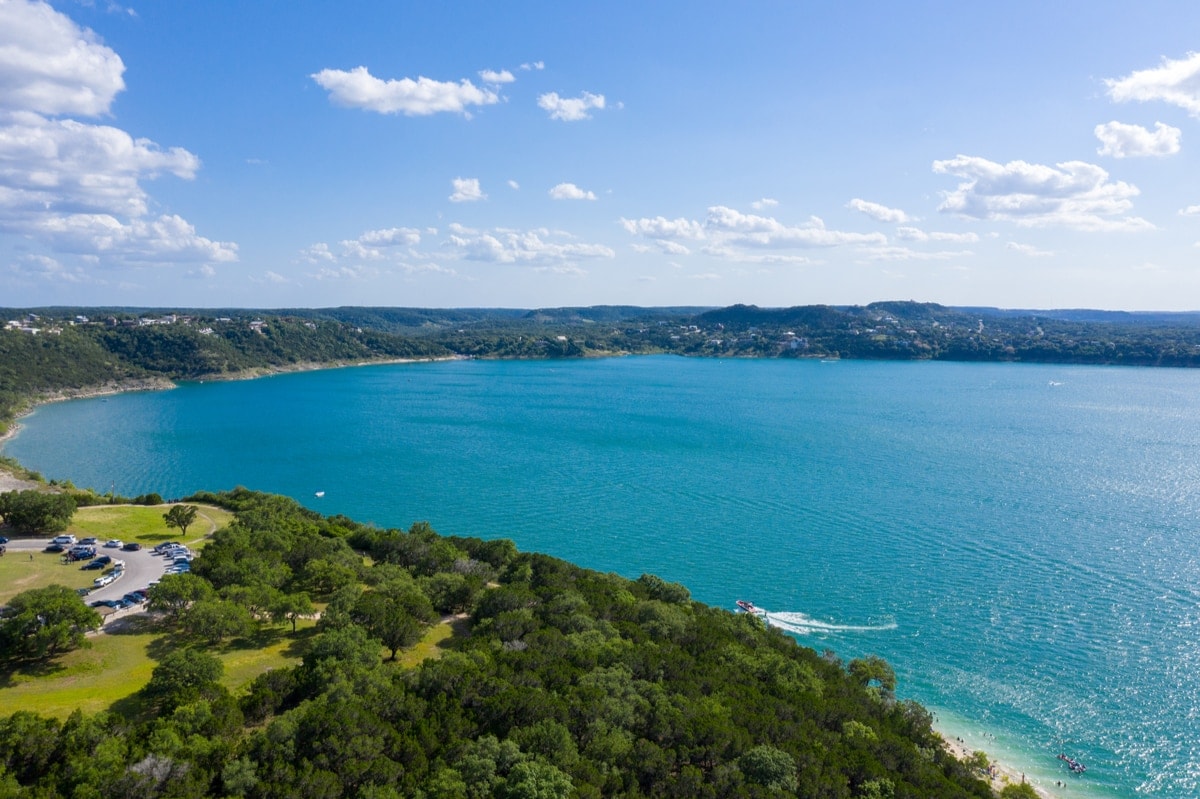 What could be better than a weekend spent at the lake, swimming, boating, and hiking? You only have to sit in the car for an hour to reach Canyon Lake, a reservoir on the Guadalupe River with around 80 miles of shoreline.
There are a few different parks, boat ramps, and beaches to choose from around the water. Overlook Park, Comal Park, Jacobs Creek Park, and Potters Creek Park are some of the most popular spots to hang out.
There are campsites around the lake, but you don't have to rough it if you don't want to. You can also find comfortable accommodations nearby at establishments like The Lakehouse Bed and Breakfast and Canyon Lakeview Resort.
Distance from San Antonio: 44 miles
Drive time without stops: 57 minutes
Related read: 5 Must-Do Scenic Train Rides in Texas
3. Fredericksburg
In Fredericksburg, it always feels like it's wine o'clock — probably because this charming city stands as the heart of the state's wine country. With so many vineyards and tasting rooms in the area, you can spend most of your weekend sipping the efforts of local producers. If you don't have a designated driver in your traveling crew, opt for one of the wine tour shuttles so you can drink up safely.
Fredericksburg has far more than great-tasting wine to offer. For history lovers, there's the National Museum of the Pacific War and the Pioneer Museum.
For foodies, there are various popular restaurants inspired by the area's German heritage like Otto's and The Auslander. For outdoorsy folk, Enchanted Rock State Natural Area is close by for some scenic hiking.
Distance from San Antonio: 70 miles
Drive time without stops: 1 hour, 8 minutes
Related read: 10 Romantic Getaways in Fredericksburg, Texas
4. Wimberley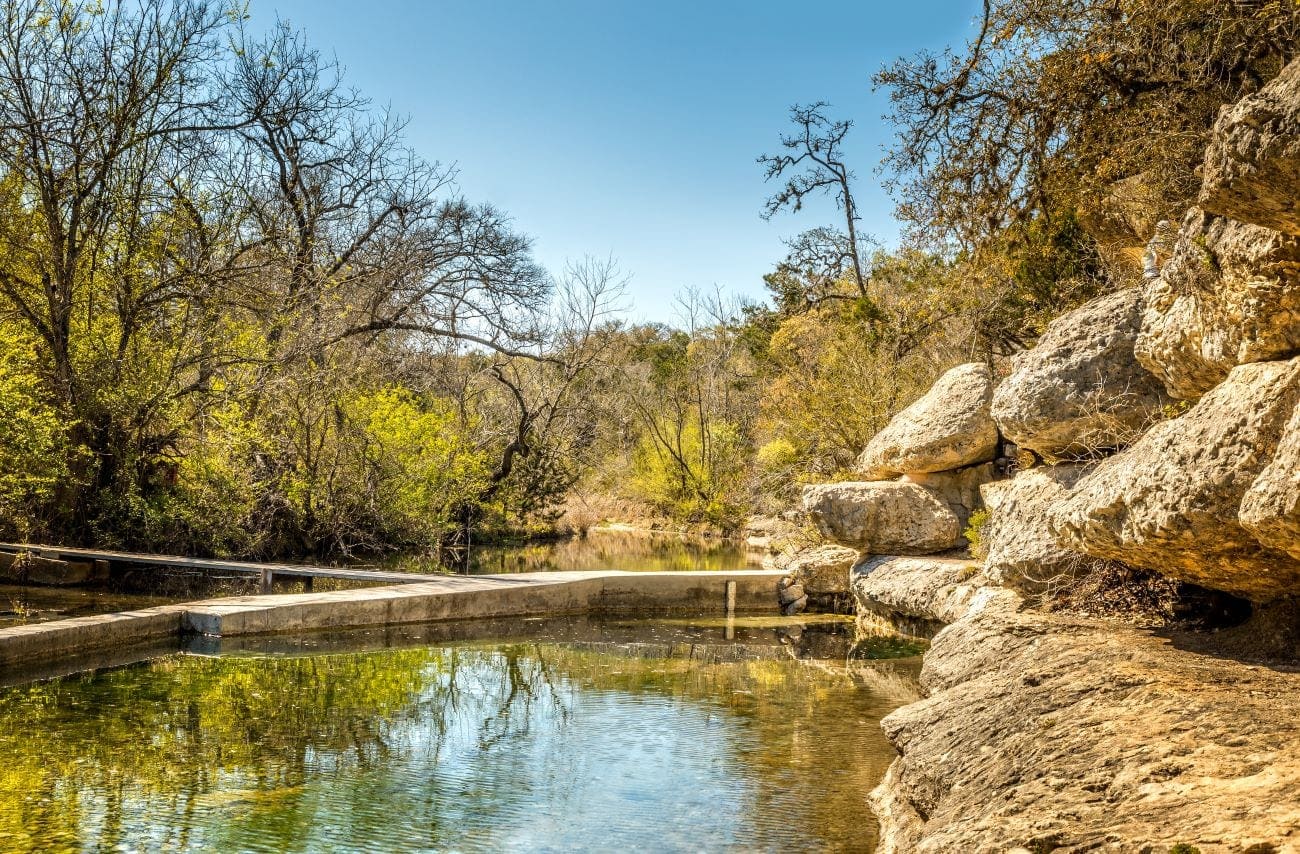 With its small-town charm and beautiful surroundings, Wimberley is one of the gems of the Texas Hill Country. It's where you'll find a couple of the best swimming holes in Texas: Jacob's Well and Blue Hole Regional Park. The former is a stunning natural wonder as the spring reaches deep underwater, leading to a complex cave system. The latter is a tranquil place to take a dip, surrounded by acres and acres of forest.
Before you're done with the outdoors, consider a hike up Old Baldy. Another reason many people make their way to Wimberley is to experience the Market Days on the first Saturday every month from March through December. With over 450 vendors selling their wares, it boasts of being the second-largest flea market in Texas.
Distance from San Antonio: 63 miles
Drive time without stops: 1 hour, 7 minutes
Related read: 10 Best Hikes in San Antonio for Getting Out Into the Sunshine
5. Austin
It can be easy to forget just how close the state capital is to San Antonio. Over in Austin, your adventures are only bounded by your imagination. Anyone who has never previously visited the place where people like to famously keep things weird should try and hit all the cultural hot spots: the Texas Capitol, The University of Texas at Austin campus, the Bullock Texas State History Museum, and the shops and restaurants along South Congress Avenue.
If you've seen all of that, then why not spend your time enjoying the city like how many of the locals do: paddleboarding on Lady Bird Lake, hiking the Greenbelt, bar hopping in one of the distinct neighborhoods downtown (like Sixth Street or Rainey Street), or catching some live music at once of the countless venues across the city. It is the so-called "Live Music Capital of the World" after all.
Distance from San Antonio: 80 miles
Drive time without stops: 1 hour, 20 minutes
Related read: 9 Incredible Cabin Rentals Near Austin, Texas
6. Garner State Park
Maybe the reason for your road trip is because you want to get out of the city and get into more nature. Garner State Park would be a great option for you then. Whether you're coming with a tent or a camper, you can set up here to enjoy days spent hiking 16 miles of trails, and relaxing on the Frio River (swimming, canoeing, kayaking, and tubing are all doable here).
By the way, the state may not be known for fall foliage but this state park does show off a pretty amazing display of colors in the autumn. The summer here is special too since that's when you can attend the Summer Dance, which has been going on since the 1940s.
Distance from San Antonio: 91 miles
Drive time without stops: 1 hour, 34 minutes
7. Lost Maples State Natural Area
Not too far from Garner State Park is Lost Maples State Natural Area, another destination for those who want to surround themselves with the great outdoors. Sabinal River and Can Creek run through this park, offering opportunities to reel in bass, catfish, and more. For more to do, you can go for a hike along over 10 miles of trails, or do some birding (if you're lucky, you'll catch the endangered golden-cheeked warbler).
Like its neighbor, Lost Maples is another one of the top places to visit if you're dying to see fall foliage in Texas. Another thing the park is known for? Stargazing! Every now and then Lost Maples hosts star parties, but you don't need an officical scheduled event to enjoy the beautiful night skies you get out here.
Distance from San Antonio: 90 miles
Drive time without stops: 1 hour, 43 minutes
Related read: 7 Best State Parks Near San Antonio, Texas
8. Corpus Christi
While San Antonio is land-locked, it doesn't take long to get to the coast, specifically Corpus Christi. This seaside town has a few local beaches where you can lay out and swim among the waves, including Whitecap Beach and McGee Beach. You can also take your outdoor excursions up a notch with a trip to Padre Island, the longest barrier island in the world, or Mustang Island State Park.
Aside from beach time, the city has some other noteworthy attractions. One is the USS Lexington, an aircraft carrier from World War II that they transformed into a naval aviation museum. Another is the Texas State Aquarium, where you can see bottlenose dolphins, sharks, and more.
Distance from San Antonio: 145 miles
Drive time without stops: 2 hours, 6 minutes
9. Houston
Houston is so large, the largest city in Texas in fact, that you can spend all of your weekend touring around and feel like you still haven't made a dent in all there is to see and do.
Just tackling the museum scene is a tall task with there being over 150 museums and cultural institutions, many of which stand in the aptly named Museum District. Other popular activities include strolling around Discovery Green, shopping at The Galleria, and eating your way through the diverse food scene.
There is one thing that first-timers to Houston absolutely shouldn't miss though. Here's a clue: "Houston, we have a problem." Hopefully you won't have any problems touring Space Center Houston, NASA's official visitor center. Here, there are out-of-this-world exhibitions that appeal to all ages.
If you're watching your spending, be sure to check out the plethora of free things to do in Houston as well.
Distance from San Antonio: 197 miles
Drive time without stops: 3 hours
Related read: 10 Best Camping Spots Near Houston, Texas
10. Dallas
Keep on driving past Austin to get to Dallas, another one of the state's bigg est cities. If you're into sports, then maybe you'll want to plan your trip to align with a Dallas Cowboys or Mavericks game. History buffs will want to see The Sixth Floor Museum, which tells the story of JFK's life and assassination (which occurred right in this area). Other top-tier institutions you may consider visiting include the Dallas Museum of Art, Perot Museum of Nature and Science, and Nasher Sculpture Center.
To get some fresh air and enjoy some green in the middle of the bustling city, make your way over to the Dallas Arboretum and Botanical Garden, Klyde Warren Park, and White Rock Lake.
Distance from San Antonio: 273 miles
Drive time without stops: 4 hours, 16 minutes
Related Read: 15 of the Best Free Things to Do in Dallas, Texas
Explore More in Texas
Get epic travel ideas delivered to your inbox with Weekend Wanderer, our newsletter inspiring more than 10,000 readers every week.
---