Searching for a cool state park to visit close to San Antonio? You're in luck.
There are over 80 state parks and state natural areas across Texas, and San Antonio has quite a few within easy reach. In fact, you won't have to drive more than an hour and a half (traffic pending) to get from the city to some choice nature spots, so it's easy to plan a quick day trip or an extended getaway.
Whether you're on the hunt for some new hiking trails or you want to go camping away from all the hustle and bustle, these are the best state parks near San Antonio for every time of outdoor enthusiast.
Related Read: 12 Unique Places to Stay in Texas
1. Guadalupe River State Park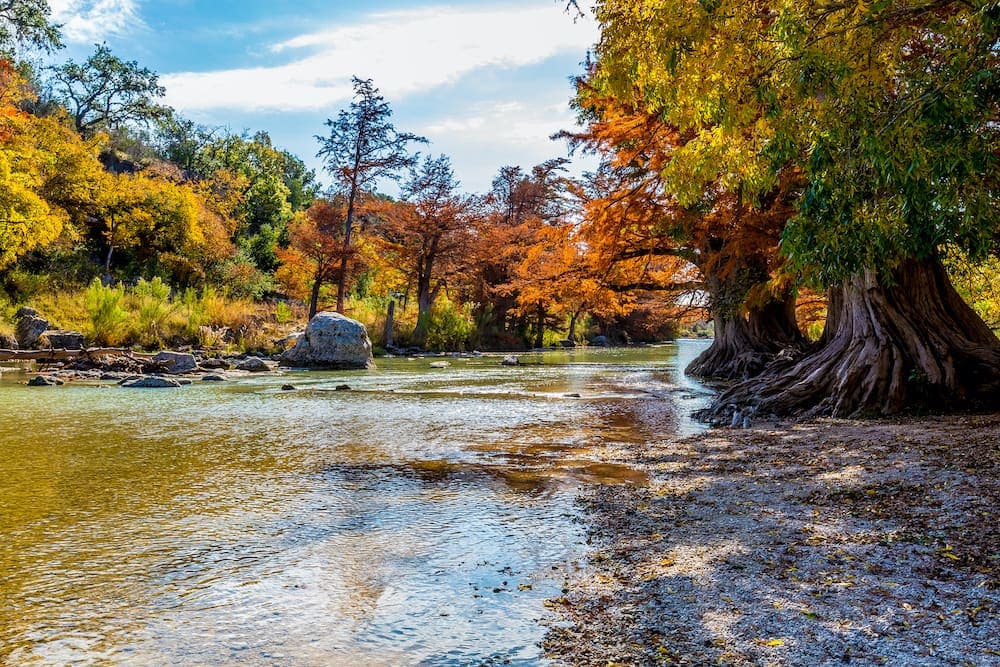 The best thing about Guadalupe River State Park, which lies just north of San Antonio, is that four miles of the Guadalupe River run through it. This makes it a particularly great spot to visit during the summertime for some swimming, tubing, and canoeing. From this park, you can actually set off on a five-mile paddling trail on the Guadalupe River through the Hill Country.
If you're interested in some land-based activities, there are 13 miles of trails to explore on foot or by mountain bike. There's also horseback riding and fishing (you can rent gear within the park.) Anyone looking for a "wilder" experience should head to the Bauer Unit, a more isolated area of the park that's popular with birders.
Camping-wise, Guadalupe River State Park has 85 campsites (most with both water and electricity) plus nine walk-in tent sites. To make things even easier, you can get your camping equipment rental and setup all taken care of by Texas Park Outfitters.
Guadalupe River State Park is open daily, and there's a $7 entrance fee for adults. Since they're known to reach capacity often, it's safer to make a reservation to visit or camp ahead of time.
Distance from San Antonio: 37 miles
Drive time without stops: Approx. 45 mins
Related Read: The 6 Best Islands in Texas for an Unforgettable Vacation
Close to Johnson City, Blanco State Park is on the bank of the Blanco River. Interestingly, Blanco was one of the first four parks in the state to welcome the Civilian Conservation Corps (CCC) with a company arriving to work here in 1933.
Blanco State Park isn't the biggest park near San Antonio, but that's made up for by the fact that you can jump into the river anywhere you like for a swim. The most popular spot is the Falls Dam, where the water comes cascading down and there's a shallow wading pool.
For more fun, rent a tube or kayak at the park store. You can also bring your own canoe, kayak, or electric-motor boat. If you're into fishing, you can try your hand at catching some bass, catfish, or trout. There are rods and reels available for borrowing at the park headquarters, and if you're fishing from the shore within the park you don't need to have a license.
Open every day, Blanco State Park has full hookup campsites, sites with electricity, and screened shelters. The daily entrance fee is $5 for adults and free for kids 12 years old and younger.
Distance from San Antonio: 50 miles
Drive time without stops: Approx. 55 mins
Related Read: 10 Best Weekend Road Trips from San Antonio, Texas
3. Old Tunnel State Park
There's something quite unique about Old Tunnel State Park: the bats! At this park near San Antonio, millions – literally – of Mexican free-tailed bats emerge from an abandoned railroad tunnel every night during bat season (May to October.) It's truly a sight to behold as the bats rise into the air in a column as high as 10,000 feet.
To see it for yourself, you'll need to get a permit online in advance. Otherwise, you won't be allowed to stay in the park after 5 p.m. for the viewing. There are two upper viewing areas and a lower viewing area, which costs a bit more. Don't forget to bring your binoculars!
Since it's all about minimizing the disturbance to the bat colony here, you're not allowed to camp, bring pets, or veer off the designated trail. Don't think about approaching the tunnel either. If you're not here to watch the little guys do their thing, then you can enjoy the half-mile nature trail from sunrise to 5 p.m. There's no entrance fee to Old Tunnel State Park.
Distance from San Antonio: 61 miles
Drive time without stops: Approx. 1 hour
Related Read: The 9 Best State Parks Near Austin, Texas
4. Palmetto State Park
A tropical oasis in the middle of Texas? That's kind of what it feels like at Palmetto State Park, which has a mix of forest and swamp. East of San Antonio past Seguin, this state park gets its name from the many dwarf palmettos you'll find on the grounds. You can see a good number of them by hiking along the appropriately named Palmetto Trail.
As the San Marcos River runs through the park, plan to enjoy the water, whether that means swimming, tubing, canoeing, or fishing. If you'd like to rent a kayak or stand-up paddle board, you can do so with Paddle EZ, and if you want to borrow some fishing equipment, check with the park headquarters.
It's $3 for adults to enter Palmetto State Park. Campers have their pick from a variety of sites including tent sites, RV sites, a secluded group site, and even an air-conditioned cabin. Word to the wise: you'll want to make reservations at least two or three weeks in advance if you're planning on camping here during the busy season (March to November.)
Distance from San Antonio: 65 miles
Drive time without stops: Approx. 1 hour
Related Read: 8 Awesome Cabin Rentals Near San Antonio for a Country Getaway
5. Lockhart State Park
In between Austin and San Antonio, the town of Lockhart is famous for barbecue – but that's not all it has going for it. The city also has a pleasant place to escape into nature: Lockhart State Park. At this park, trails range from easy to challenging. Depending on which route you choose, you'll come across points of interest like the dams built by the CCC to create fishing holes throughout the park. If you're into fishing, the best spot is Clear Fork Creek. Along this creek is the aptly named Old Fishing Hole, which is a deep spot and as good a place as any to try your luck.
Lockhart State Park may be particularly interesting for golfers since it has a historic, nine-hole course built over 80 years ago, also by the CCC.
The park has a few full hook-up campsites as well as a few campsites with water and electricity. It's just a $3 entrance fee for adults, and if you want to play golf, it's $11 for nine holes or $16 for 18 holes.
Distance from San Antonio: 67 miles
Drive time without stops: Approx. 1 hour, 15 mins
Related Read: The 8 Best Campervan Rentals in Austin, Texas
6. Lyndon B. Johnson State Park & Historic Site
Okay, history buffs, this one's for you. Lyndon B. Johnson State Park & Historic Site in Stonewall gets its name from a hometown legend. Any guesses who it is? Easy answer: Lyndon B. Johnson, the 36th president of the United States.
This state park is not to be confused with LBJ Ranch, which is right across the Pedernales River and where the former president was born, lived, and died. He's also buried here in the family cemetery. If you want to go on a self-guided tour of the ranch though, you can pick up a map and permit at the state park's visitor center. You may have heard of the ranch referred to as the "Texas White House," since LBJ spent a good portion of his presidency working here.
Aside from LBJ-related things, Lyndon B. Johnson State Park has a living history farm where you can see what it might've been like living out here in the late 19th century and early 20th century. Other fun activities include walking down the Nature Trail (which takes you by longhorn cattle and bison), swimming in the Olympic-sized pool, and fishing in the river. Bonus: there's no entrance fee at the state park.
Distance from San Antonio: 69 miles
Drive time without stops: Approx. 1 hour, 20 mins
Related Read: The 8 Best State Parks Near Dallas for a Natural Escape
7. Pedernales Falls State Park
If it's scenic vistas you want, then Pedernales Falls State Park is the place to go. This park near San Antonio is just east of Johnson City and is famous for its smooth, massive slabs of limestone over which water flows. There's something a bit prehistoric about it all as you walk over the impressive bedrock. Swimming is allowed in other places of the park, but not in the falls area specifically, as the water can quickly change from placid to turbulent.
Hikers have a few different, mostly moderate-level trails to choose from. Mountain bikers can enjoy a technical, single-track trail that runs 10 miles and comes with enough obstacles to make for a fun challenge. There's also a 10-mile equestrian trail for horseback riders (just make sure your horse has shoes).
Pedernales Falls State Park costs $6 for visitors 13 years and older. There's a good number of campsites with electricity and water hookup (make a reservation), but there are also a handful of primitive backcountry campsites. It's at least a two-mile hike to reach even the closest backcountry campsites, so come prepared if that's your game plan.
Distance from San Antonio: 76 miles
Drive time without stops: Approx. 1 hour, 30 mins
Related Read: 10 Fun Outdoor Activities in San Antonio, Texas
More Outdoor Fun in Texas
Sign up for Weekend Wanderer, our free newsletter offering thousands of readers epic travel and gear ideas every week.
Was this article helpful?
---