Forget about planes and automobiles…all aboard on one of these Texas train rides!
If you've ever traveled around Texas, then you know that the car is king. Just look at that one infamous section of I-10 in Houston that has 26 lanes if you need any further proof.
Driving may be the most common way to get from destination to destination and city to city, but that's not to say that it's the only way to explore what the state has to offer. How about a cool train ride, for example?
While Texas doesn't have nearly as extensive of a rail network as say the East Coast, it does have a handful of tourist train rides that offer fun journeys for the whole family.
And while the trains may be more for entertainment than for actually traveling from point A to point B, they offer far more than those mini train rides you see at zoos and amusement parks.
Whether you're a local looking for something to do in your home state, a visitor interested in a unique experience, or an avid locomotive enthusiast, you won't soon forget your time on one of these train rides in Texas.
1. Austin Steam Train
View this post on Instagram
Based in Cedar Park, the Austin Steam Train Association is putting in work to preserve the experience of historic railroad travel and offer that experience to the public.
It all came together after this one steam locomotive, Southern Pacific No. 786, was retired from operation and donated to Austin in 1956, and then two decades later, Southern Pacific sold miles of track through the Hill Country to the city.
Some rail aficionados with a vision of recreating historic passenger railroading put two and two together and thus the Austin Steam Train Association was born.
Currently, ASTA has three historic locomotives: two of which are in the process of being restored and one which is currently in use for rides. It's not just the locomotives that are worth nothing though. The vintage train cars are something special—each with a distinct personality and story.
For example, there's the Nambe, an adults-only, first-class lounge passenger car, which dates back to the 1930s and has seating arranged like a diner with tables and chairs. Then there's the Buckeye Lake all-ages coach, which was built in 1949 for operation in New York and has funky blue seats.
The ASTA's signature ride is the Hill Country Flyer which takes you through the Hill Country with a two-hour layover in Burnet and then returns you to their Cedar Park Depot.
For a fun family activity, consider joining the North Pole Flyer ride where Santa makes an appearance. For a unique date idea, there's the Speakeasy Train during which you can pretend it's the 1920s while drinking champagne and enjoying live entertainment.
Related read: 12 Unique Places to Stay in Texas
2. Texas State Railroad
Running between the cities of Rusk and Palestine over in East Texas, the Texas State Railroad offers a trip back in time—a scenic four-hour long, 50-mile round trip to be exact.
In one of their refurbished train cars, which date back to the early-1900s, you'll make your way through the countryside of the Piney Woods region. Settle in as you listen to fun facts about the railroad's history and lore and old-timey tunes.
Throughout the journey, you'll cross over 24 bridges, and in the middle, there's a one-hour layover for lunch at the depot. Getting peckish before the lunch stop? Just pick up some snacks in the concession car.
If the Christmas season is your favorite time of year, then you'll want to climb aboard the Texas State Railroad's Polar Express ride.
It's easy to get in the holiday spirit as you're served hot chocolate and cookies while listening to someone read out the classic The Polar Express. There's also some Christmas carol singing too, so this is one experience that young kids are sure to love.
Attention campers: You actually have the chance to set up camp near the Rusk train depot, which itself butts up against a 15-acre lake with loads of different fish to try and catch.
Not only does that mean you get the experience of staying by a historic railroad but you'll also get access to the depot's amenities (there's a movie theater!).
Related read: 9 Best Texas Scenic Drives for Enjoying the Lone Star State Countryside
3. The Grapevine Vintage Railroad
Make your way over to Grapevine near Dallas, to check out the Grapevine Vintage Railroad. Depending on the day, you'll either be pulled along by a steam locomotive from 1896 or a diesel locomotive from 1953, and the cars are 1920s Victorian coaches, so it's history all around.
The train's main route, the Cotton Belt Route, starts in downtown Grapevine and then takes passengers through a few different cities in the county until the Fort Worth Stockyards. You'll get a couple of hours to wander around for a bit, and then it's back on the train to return to Grapevine.
All in all, it's about a six-hour experience. If that's too long for you, consider doing the 30-minute Grapevine Bear Creek Short Line ride or the 45-minute Trinity River Train Excursion instead.
When booking a ticket, it's up to you how classy you want to ride. There's the economy class with wooden benches for seating, the touring class with floor-to-ceiling windows, first class with gorgeous upholstered seats, and the ambassador class where there's extra roomy table-style seating and complimentary snacks.
The train runs 10 months out of the year (there's a break in January and February for maintenance), and throughout that time, you can catch different special event trains. Love wine? Go fo the Jazz Wine Train, which features live jazz music onboard and tastings from local wineries.
And seeing as Grapevine is called the Christmas Capital of Texas, you know it's going to be a good time on the North Pole Express where Mrs. Claus will be your host for all the festivities. Wearing your holiday pajamas is encouraged!
Related read: 13 Awesome Things to Do in Lubbock, Texas
4. Historic Jefferson Railway
Have you ever been on a train ride that includes an alligator feeding as part of its journey? Say hello to the Historic Jefferson Railway.
Chugging through the woods and wetlands, this train ride, powered by a gas locomotive, takes about 40 minutes and includes a stop at the Diamond Don Gator Pit where you'll get to watch a feeding. Unlike the other trains on this list, this train features open compartments so you can feel the fresh air and better take in the scenery as you go along.
You can catch a ride every Saturday either at 12:30 pm or 2:30 pm, and along the way, you'll be treated to some interesting facts with the onboard historical narration. Along with that regular Saturday schedule, the railway does have various special events throughout the year.
In the past, they've done a spooky Friday the 13th train in the evening, which takes you through the dark woods. They've also done a special Mother's Day Express and Father's Day Express where the mom or dad being celebrated gets a 10% discount.
While you're in the city of Jefferson, keep the train-themed fun going by heading a few blocks down the road from the railway to the Jay Gould Railroad Car that's on display outside.
This historic train car was the private parlor car of the railroad magnate and is just across the street from the Excelsior House Hotel, which opened in 1858 and is the oldest continuously operating hotel in the state.
Related read: 8 Beautifully Secluded Cabin Rentals in Texas
5. Bonus: Amtrak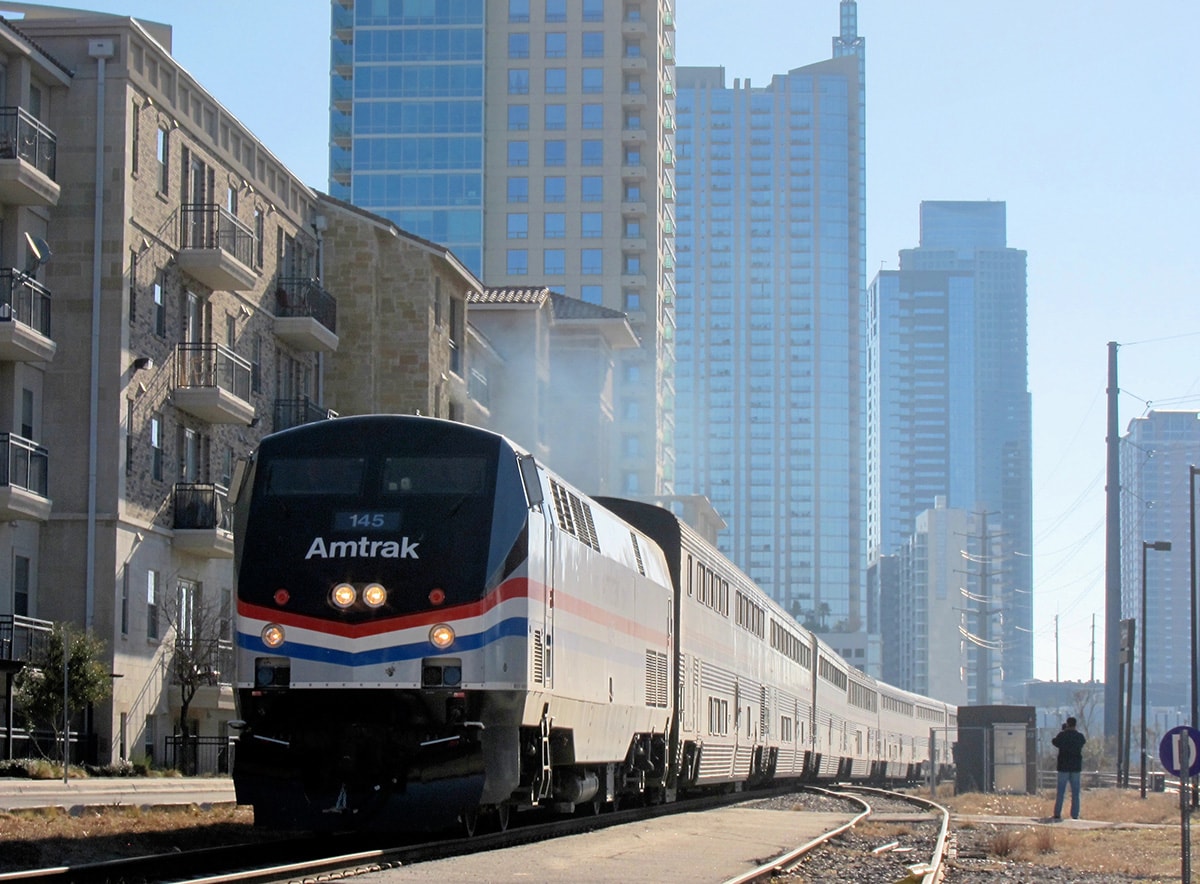 Okay, we know Amtrak isn't necessarily a tourist train ride like the others we've mentioned here, but we'd be remiss not to include some mention of it when talking about train rides in Texas.
If you've ever spent time traveling around New York City, Boston, Washington, D.C., or Philadelphia, then Amtrak service may be old hat to you, but it's not something your average Texas makes use of (remember what we said about car being king).
It is, however, good news for anyone who's not into flying or driving, since Amtrak does offer some options for traveling through Texas with its passenger railroad service.
There are three Amtrak routes in the state and 19 Amtrak stations, including all the major cities of Austin, Dallas, El Paso, Houston, and San Antonio.
One of the routes is the Texas Eagle, which get this, is the longest train route in the whole country! It runs from Chicago to San Antonio, and if that's still not long enough for you, you can connect to Amtrak's Sunset Limited in San Antonio to get all the way to Los Angeles.
Wondering how comfy or not you can get on such a journey, which takes between 30 to 32 hours? Well, pretty comfy if you decide to book a bedroom suite where the seats convert to beds and you have an in-room bathroom with a shower.
Anyone traveling in a private room gets additional perks like complimentary meals and lounge access. Now that's some modern-day train travel for you.
Related read: 11 Stunning Texas Treehouse Rentals for a Sky-High Getaway
Explore Texas
Get epic travel ideas delivered to your inbox with Weekend Wanderer, our newsletter inspiring thousands of readers every week.
Was this article helpful?
---