Believe it or not, there are pockets of fall foliage across the Lone Star State — you just have to know where to look.
Let's address the obvious: Texas isn't one of those states that lures droves of avid leaf peepers with its vibrant autumnal landscape. In fact, it's a common sentiment that most of the state doesn't even have four distinct seasons.
But all hope isn't lost if you long to see some fall foliage in Texas. There are more than a couple of places around the state where you can walk beneath trees shining in beautiful shades of red, orange, and yellow.
Your best bet for changing colors is between mid-October to early November. The timeframe is a little later than most states' peak fall foliage windows, but it should come as no surprise seeing as the notorious Texas heat often likes to hold on well into September.
Here are the best places to check out fall foliage in Texas.
Related Read: The 7 Best State Parks Near San Antonio, Texas
1. Lost Maples State Natural Area
Why you should go: Peak Texas fall foliage in a park with canyons and a section of the Sabinal River.
Nearest town: Vanderpool
Peak foliage: Early November
Lost Maples State Natural Area is one of the most popular places for some leaf peeping, if not the most popular. Almost two hours west of San Antonio, the park has a notable group of Uvalde bigtooth maple trees as well as oaks, elms, and sycamores, which come together to create a beautiful chorus of red, orange, and yellow in the fall.
To make sure you time your trip to Lost Maples just right, check the park's Fall Foliage Color Report online. It's updated weekly during the season with photos to give an on-the-ground perspective. When you're at the park, hit the East Trail or Maple Trail to get some of the best views of the autumnal colors.
Since Lost Maples is a fall foliage hotspot, it's highly recommended that you reserve a park pass (for camping or day use) online ahead of time, and go midweek if your schedule allows. Otherwise, you may be faced with a park at full capacity and have to make other plans. If you do have a trip booked in the fall, be prepared for some crowds.
Related Read: The 6 Best Islands in Texas for an Unforgettable Vacation
2. Garner State Park
Why you should go: Lakeside views of fall foliage in Texas, plus tons of hiking options.
Nearest town: Concan
Peak foliage: Early November
Many people come to Garner State Park, around 40 minutes from Lost Maples, to go swimming or float the Frio River in the summer. But come a little later in the year, and you'll be treated to a fall spectacular thanks to the transformation of the cypress, and oaks, among other trees.
Two prime spots to take in the views here are at the Old Entrance Road Overlook or up the Old Baldy Trail, both of which gaze onto the Frio Canyon. Down by the river, the reflection of the trees on the water makes for another gorgeous perspective.
This state park is heavily visited during Texas foliage season and closes to day visitors when it reaches capacity, so it's a good idea to book your trip ahead of time with an online reservation.
Related Read: The 9 Best State Parks Near Austin, Texas
3. Daingerfield State Park
Why you should go: Have a picnic or see the famous "Cathedral of the Trees" from on the water.
Nearest town: Daingerfield
Peak foliage: Late October to Early November
Tucked in Texas' northeast corner by the borders with Arkansas and Louisiana, Daingerfield State Park is a little more than two hours from Dallas by car. It's in the "Piney Woods" region of the state, so yes, there are plenty of evergreen pine trees. Some trees there are more than 100 feet tall, giving the area around the lake the nickname "Cathedral of the Trees." You'll also find oak, maple, and sweetgum, all of which burst into color during autumn.
To get an elevated view, head up to the appropriately named Scenic View Point of Interest. Alternatively, you can stay down by Little Pine Lake, walking around the Rustling Leaves Trail. This looping trail is 2.4 miles long and generally fairly easy and flat. It's a good spot to see Texas' fall foliage, even if you're not in the mood for an arduous hike. You can also rent a boat, canoe, or kayak if you'd like to spend time on the water.
Related Read: 10 Best Hikes in Texas for Top-Notch Lone Star State Scenery
4. Tyler State Park
Why you should go: Experience the changing of colors at a peaceful park with (probably) smaller crowds.
Nearest town: Tyler
Peak foliage: Early to Mid November
Tyler State Park is between Dallas and the Louisiana border. When you come this way during fall, you'll be treated to a stunning show of brilliant yellows, oranges, and reds as the maples, oaks, and sweetgums change their colors. Also located in Texas' Piney Woods region, this park has numerous pines as well, many of which are between 75 and 100 years old.
During your visit, carve out some time to hike along the easy Lakeshore Trail so you can see the reflection of the colorful leaves on the 64-acre lake. Another fun way to take in the fall foliage is to rent watercraft at the park store (they have canoes, paddle boats, and kayaks), and make your way around the lake. Just note that from Labor Day to Memorial Day (a.k.a. leaf-peeping season), there are no boat rentals available on Tuesdays and Wednesdays.
Related Read: The 14 Best Places to Visit in October in the U.S.
5. Guadalupe Mountains National Park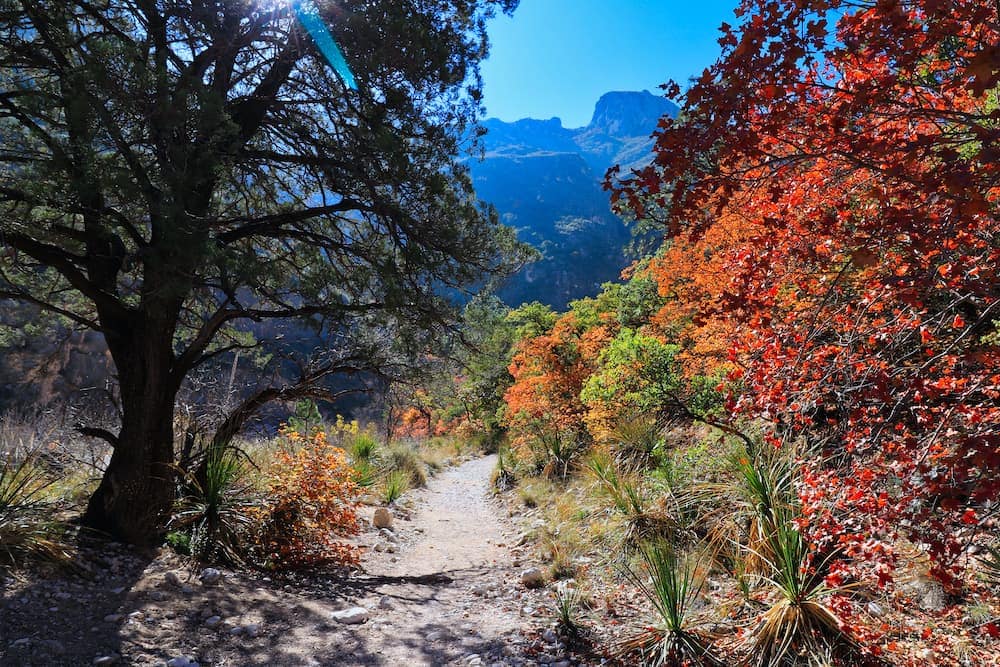 Why you should go: Take an overnight leaf-peeping adventure to escape from civilization.
Nearest town: Salt Flat
Peak foliage: Early November
Since West Texas is known for its expansive desert, it may come as a surprise to know that it also has an option for anyone craving the sight of fall colors. At Guadalupe Mountains National Park, the many bigtooth maples turn into a vibrant display of fall colors. You can keep an eye on the foliage status at the park's Fall Colors Report page.
As El Paso is almost two hours away and there's no lodging available within the park, so the best way to enjoy Guadalupe Mountains National Park is to camp. Pine Springs Campground has spaces for both tents and RVs, as does the smaller Dog Canyon Campground.
If you want to backpack overnight at one of the designated wilderness campgrounds, you'll need a wilderness use permit. You can get one at the Pine Springs Visitor Center up to 24 hours before your trip, and the permits are given out on a first-come, first-served basis.
Related Read: 10 Best Places to Visit in the Fall Across the U.S.
6. Lake Bob Sandlin State Park
Why you should go: This park next to a 9,000-acre lake is a great spot to both fish and find fall foliage in Texas.
Nearest town: Pittsburg
Peak foliage: Early November
Thought you were done with eastern Texas? Think again! Drive almost two hours from Dallas toward the Arkansas border and you'll arrive at Lake Bob Sandlin State Park. Here, oak, hickory, maple, dogwood, and more put on a gorgeous presentation of fall foliage.
There are a variety of trails through the woods to explore by foot or on a bicycle, but to gaze at the most colorful and plentiful leaves, take the Dogwood Trail. It's by far the longest trail in the park and considered "easy," so you can wander peacefully without getting out of breath.
Aside from the Texas fall foliage, many come to the park for its fishing opportunities. If that's your cup of tea, head to the fishing pier on the lake (illuminated for nighttime anglers), the Trout Pond, or the Brim Pond. If you don't have or didn't bring your own fishing pole, you can borrow one from the park.
Related Read: 8 Incredible Spots to See Fall Foliage in Arkansas
Find Your Next Texas Adventure!
Sign up for the Weekend Wanderer to join thousands of readers getting epic travel ideas every week.
---