We research, evaluate and select travel destinations based on a number of factors, including our writers' experience and expertise, user reviews and more. We may earn a commission when you book or purchase through our links. See our editorial policy to learn more.
---
For a romantic escape in the Texas Hill Country, plan your trip to Fredericksburg.
With its numerous local wineries and picturesque, hilly landscape, Fredericksburg is a popular destination for those looking for a romantic getaway in Texas. Better still, this small city in the Hill Country is chock full of one-of-a-kind accommodations — from quaint bed and breakfasts to historic cabins to a real-life treehouse. All this country charm makes Fredericksburg a perfect choice for a couple's retreat.
If you're interested in a relaxing, romantic trip to the Hill Country where you can slow down away from a big, bustling city and snuggle up with your special someone, then consider one of these attractive spots.
Related Read: 9 Incredible Cabin Rentals Near Austin, Texas
1. Contigo Ranch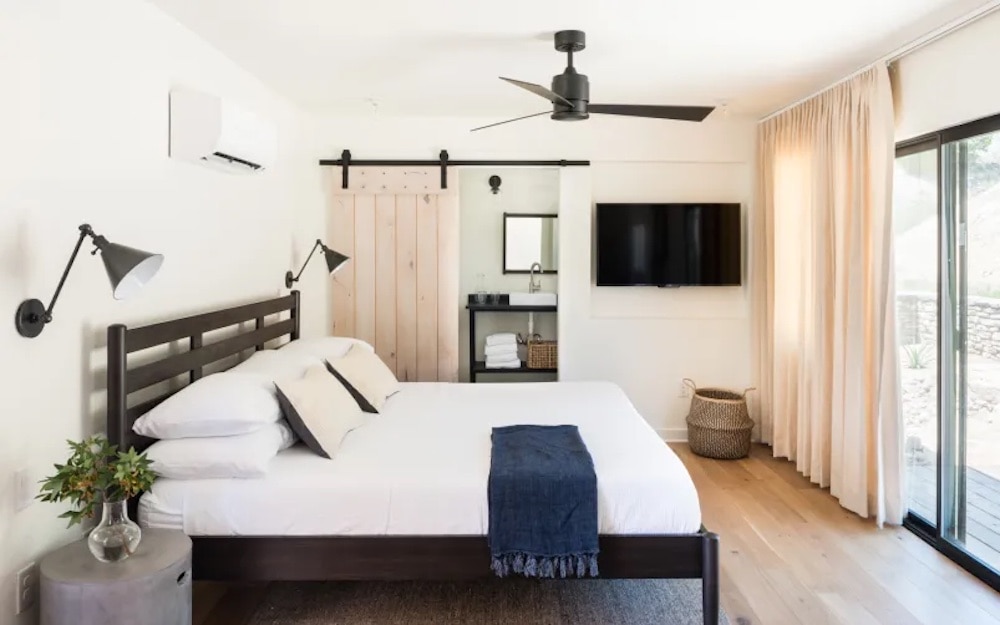 Why you should stay: This family-owned ranch offers a quiet escape in the countryside.
Sleeps: 5
Minimum stay: 2 nights
Rates from: $178/night
Contigo Ranch is a great option for any couples who want to enjoy their alone time somewhere a little more isolated. "Ranch" isn't just in the place's name for fun — the place really is a working ranch where you can see beautiful Watusi cattle and other wildlife like deer and rabbits roaming around.
Guests can choose to stay in one of the historic log cabins — these were built back in the 19th century — or one of the modern guest cottages. The former have a rustic charm while the latter are decorated in contemporary, stylish furnishings.
Contigo Ranch itself is a quiet haven with several walking trails and opportunities for stargazing, fishing, and more. You're close to Enchanted Rock State Natural Area too, and the town center is just a 20-minute drive away.
Check Availability
Related Read: 9 Best Texas Lavender Farms for Getting Your Fragrance Fix
2. Vineyard Trail Cottages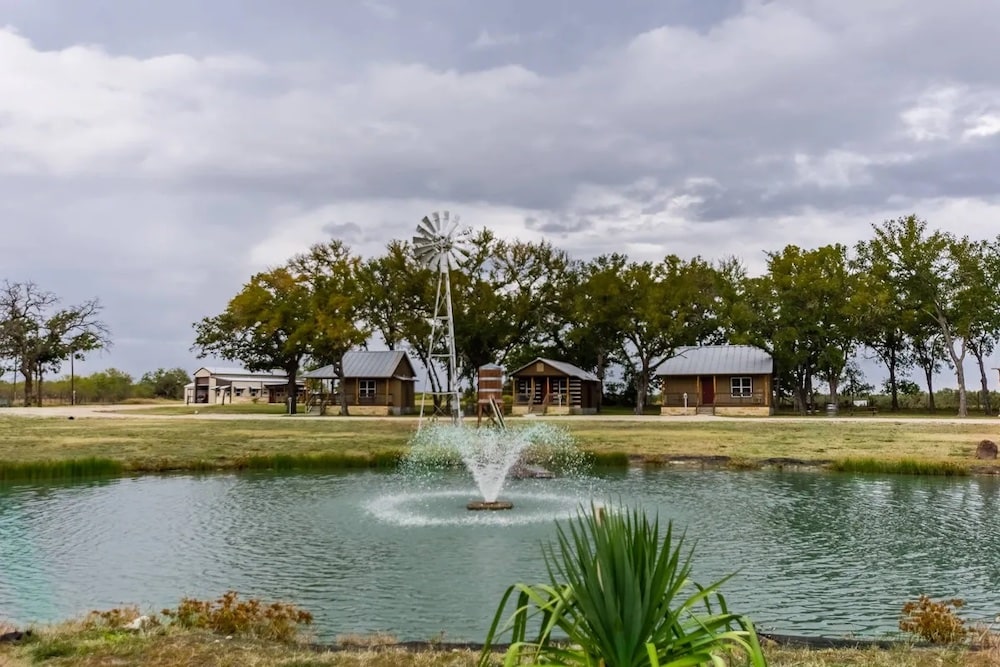 Why you should stay: Stay in a quaint cottage that's conveniently next door to a winery.
Sleeps: 4
Minimum stay: 1 night
Rates from: $159/night
At Vineyard Trail Cottages, you can find your favorite cottage amid the assortment on their 12-acre property, which is gated for your security and privacy.
The property has two different types of cottages to choose from, and if you're here for a romantic vacation, then you'll probably want to book one of the more private, standalone king cottages (the other cottages are duplex style with a joining door between units). Each is unique in terms of their specific furnishings and decorations, so you might want to have a look at the photo gallery online first to see which one you and your travel partner like the most.
Looking for a fun date idea during your stay? Use the private entrance from the cottages to go to the neighboring Texas Wine Collective where you can enjoy a wine tasting (they offer cheese pairings too!).
Check Availability
Related Read: 11 Best Resorts in Texas for a Rejuvenating Getaway
3. A Barn at the Quarry
Why you should stay: Let your worries wash away at this rural bed and breakfast with a hot tub.
Sleeps: 10
Minimum stay: 1 night
Rates from: $219/night
At A Barn at the Quarry, you and your paramour are invited to slow down and enjoy the beauty of Hill Country living — and each other's company of course. The property has different suites available for booking, each with its own advantages for couples like a jacuzzi tub, private entrance, or private porch. Whichever you choose, you'll have access to the property's outdoor hot tub.
While the property is located outside of the town center, you're just a 20-minute drive to Main Street, where you'll find many boutique shops and local restaurants, and only 13 minutes away by car to Luckenbach, a historic destination for live music. Basically, at this stay, you get the best of both worlds: A quiet retreat without being too far from all of the conveniences and attractions in town.
Check Availability
Related Read: 10 Best Texas Dude Ranches for a True Western Experience
4. Live Oak Treehouse at HoneyTree Farm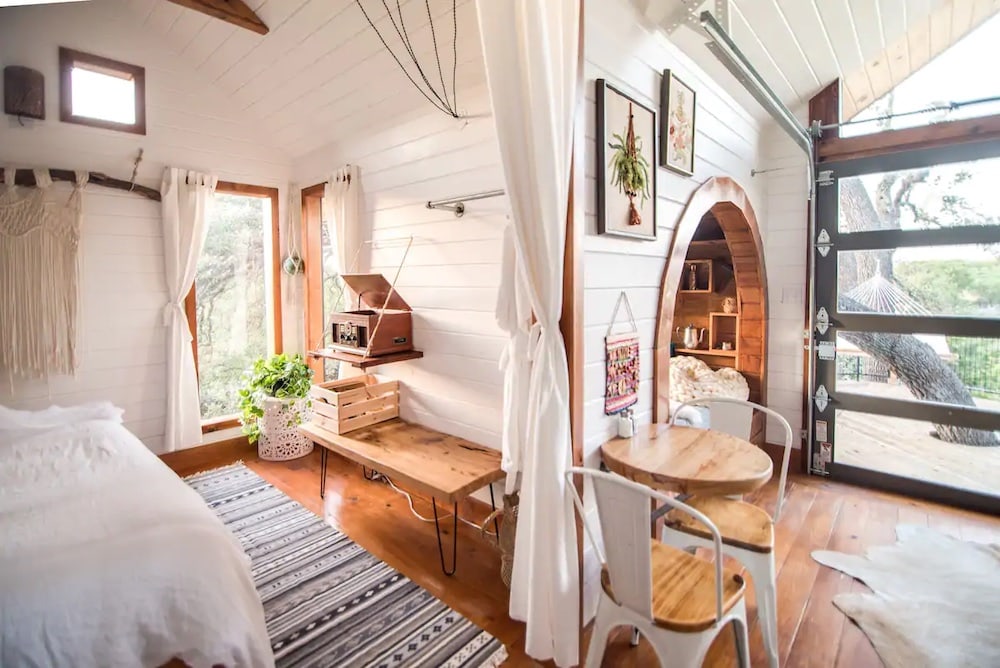 Why you should stay: This adorable treehouse with a book nook is a love nest for nature enthusiasts.
Sleeps: 2
Minimum stay: 1 night
Rates from: $299/night
It doesn't get much more picture-perfect than Live Oak Treehouse at HoneyTree Farm. All across this charming bungalow, you'll find special, thoughtfully chosen features like an adorable book nook where you and your partner can cuddle up, and a vinyl record player where you can put on the soundtrack to your romantic getaway.
As its name reveals, one of the highlights of this place is the fact that it's a treehouse. The deck literally wraps around a tree trunk — you'll find a hammock strung across there — and you can actually roll up the garage-style door in the living room to enjoy your surroundings without having to budge from the couch.
But wait, there's more! Underneath the house, you can go for an alfresco soak in the tub surrounded by a privacy enclosure.
Check Availability
Related Read: 8 Awesome Cabin Rentals Near San Antonio for a Country Getaway
5. Firefly Guesthouse
Why you should stay: It's easy to get cozy at this creekside cabin with a fireplace and big jacuzzi tub.
Sleeps: 2
Minimum stay: 2 nights
Rates from: $179/night
From the outside, Firefly Guesthouse looks like a storybook cottage come to life with its wooden beams and stone chimney. Inside, you'll find a warm and inviting space with country charm in accents like the plush leather sofa. Have a seat at the back porch, and you'll be treated to peaceful views of the creek.
This rental is only a block and a half away from Main Street so you can have a day date drinking wine at the local tasting rooms and then head back to your comfy abode for some rest and relaxation around the fireplace or in the jacuzzi tub. Prefer showers to baths? Well, the walk-in shower was built for two.
Check Availability
6. Barons CreekSide
Why you should stay: It's a bit of Switzerland in the middle of Texas at this resort with Swiss log cabins.
Sleeps: 9
Minimum stay: 1 night
Rates from: $189/night
Spanning 25 acres, Barons CreekSide is a three-star resort that channels Switzerland with its unique lodging. There are 10 Swiss log cabins scattered across the property that were actually built using elements from the owner's centuries-old farmhouse in Lucerne, Switzerland. If those aren't to your liking, then there are other options available like a farmhouse, the Hilltop Chalet, and a replica Conestoga wagon. The romance of the area is only enhanced by the creeks running alongside the accommodations.
While you're spoiled for choice when it comes to wineries in Fredericksburg, it's even easier to plan a couple's activity at one seeing as Kalasi Cellars is right next door. Another fun way to spend your time during your stay is to check out the live music at the property's bistro and wine bar in the evenings Thursday through Saturday.
Check Availability
7. Walnut Canyon Cabins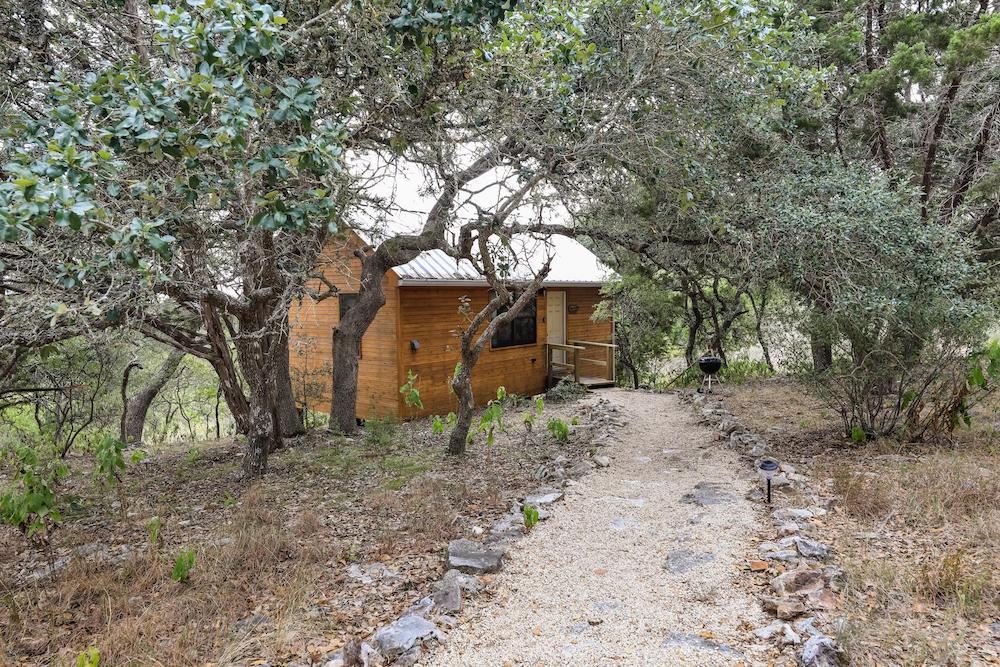 Why you should stay: Unplug and unwind at this serene hilltop property with private cabins.
Sleeps: 6
Minimum stay: 1 night
Rates from: $175/night
Perched on top of a hill, Walnut Canyon Cabins is a secluded property where you won't want to miss seeing at least one sunrise or sunset. Even when it's dark, there are still sights worth enjoying given the great stargazing opportunities.
Each of the cabins here is distanced far enough away from the next so that you and your special someone can enjoy your privacy. Whichever one you stay in, you can expect a fresh country breakfast upon your arrival, and a back porch that offers far-reaching views of the verdant Hill Country.
While you may be further away from Fredericksburg's downtown, you are close to Old Tunnel State Park, where you can see a pretty amazing sight watching the massive bat colony emerge from the abandoned railroad tunnel. It's something you and your travel partner won't soon forget.
Check Availability
8. The Octavia at The Blacksmith Quarters on Barons Creek
Why you should stay: You're right off Main Street at this cottage perfectly sized for a couple.
Sleeps: 2
Minimum stay: 1 night
Rates from: $250/night
Part of a compound of cottages, The Octavia is just the right fit for a couple. In fact, it's designed specifically for two with features like a double vanity and a large shower with double showerheads. The king-sized bed is positioned right in front of the fireplace, further upping the romantic atmosphere.
While you're here, you may want to spend a good chunk of your time enjoying the hot tub, which is surrounded by a privacy fence. If you're looking to do some sightseeing, you'll be happy to know that the property is located on Main Street, putting you within easy walking distance of popular, local attractions like the National Museum of the Pacific War and The Auslander restaurant.
Check Availability
9. Hoffman Haus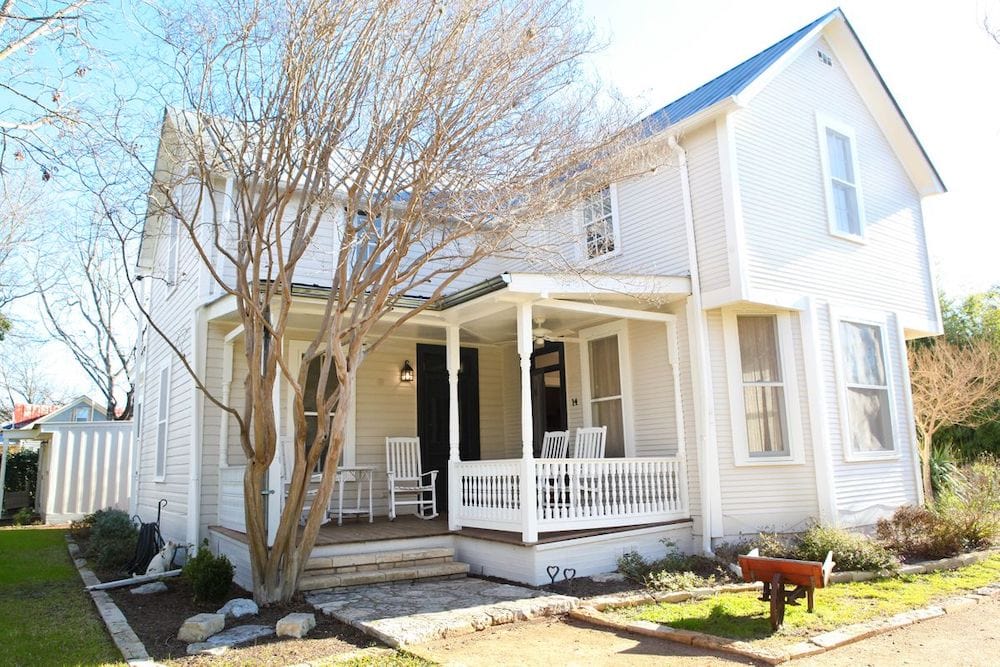 Why you should stay: These stylish lodgings come with daily gourmet breakfast and access to an on-site spa.
Sleeps: 7
Minimum stay: 1 night
Rates from: $190/night
Hoffman Haus proves how chic staying in a bed and breakfast can be with its various, fashionable rooms, suites, and houses. Some of the gems of the compound's accommodations include a stone house from 1871, a two-story farmhouse, and a rustic log cabin.
During your romantic getaway, you and your loved one will be treated to a complimentary breakfast made all the more enjoyable seeing as it's delivered right to your door. If you two are foodies, you may also be interested in booking a private cooking class on the property.
Another relaxing way to spend your time is to book a massage, facial, or body wrap at the property's day spa.
Check Availability
10. Cotton Gin Village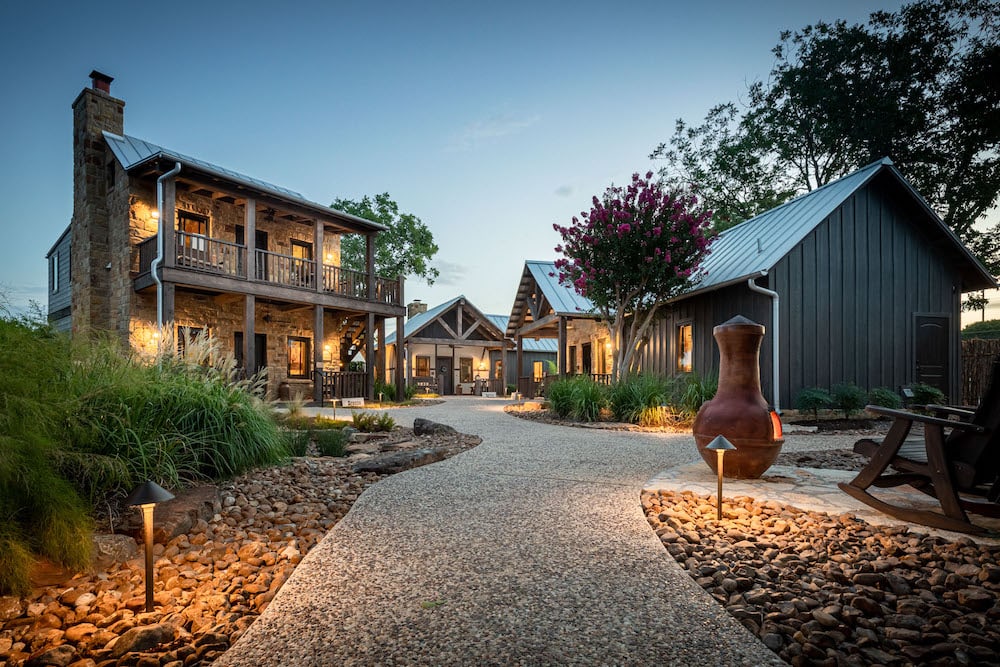 Why you should stay: It's upscale accommodations paired with delicious culinary experiences at this adults-only bed and breakfast.
Sleeps: 12
Minimum stay: 2 nights
Rates from: $239/night
Cotton Gin Village is a little piece of Hill Country paradise. Here, guest accommodations include 19th-century log cabins, modern cottages, and a 3,000-square-foot vacation home. For couples, you're probably looking at one of the first two options since those are all single bedroom units. Another important note for couples coming here: The property doesn't allow any guests under the age of 12.
While Cotton Gin Village is located away from the town center, you don't need to travel far for a romantic dining experience. Cabernet Grill, a renowned restaurant, is located on the property, and it's a great place to enjoy a steak dinner and a glass of wine (they have over 150 to choose from). Breakfast is covered too since you'll get a basket full of homemade foods delivered every morning during your stay.
Check Availability
Explore More of Texas
Sign up for Weekend Wanderer to join thousands of readers getting epic travel and gear ideas every week.
---