In Dallas and love freebies? Well, you're in luck.
Yes, you can go for a fancy drink at the Statler Hotel's rooftop bar. Sure, you can spend all your travel budget sampling the many great local restaurants.
But not everything fun in Dallas requires you to whip out your credit card. In fact, the city is full of enough free activities to fill a weekend or more, from touring historical and cultural sites to visiting various parks to chowing down on chips and guac — more on that in a bit.
When you find yourself waiting for your next paycheck to hit but you still want to have fun, consider checking out one of these top free things to do in Dallas, Texas.
1. Visit the John F. Kennedy Memorial Plaza & Dealey Plaza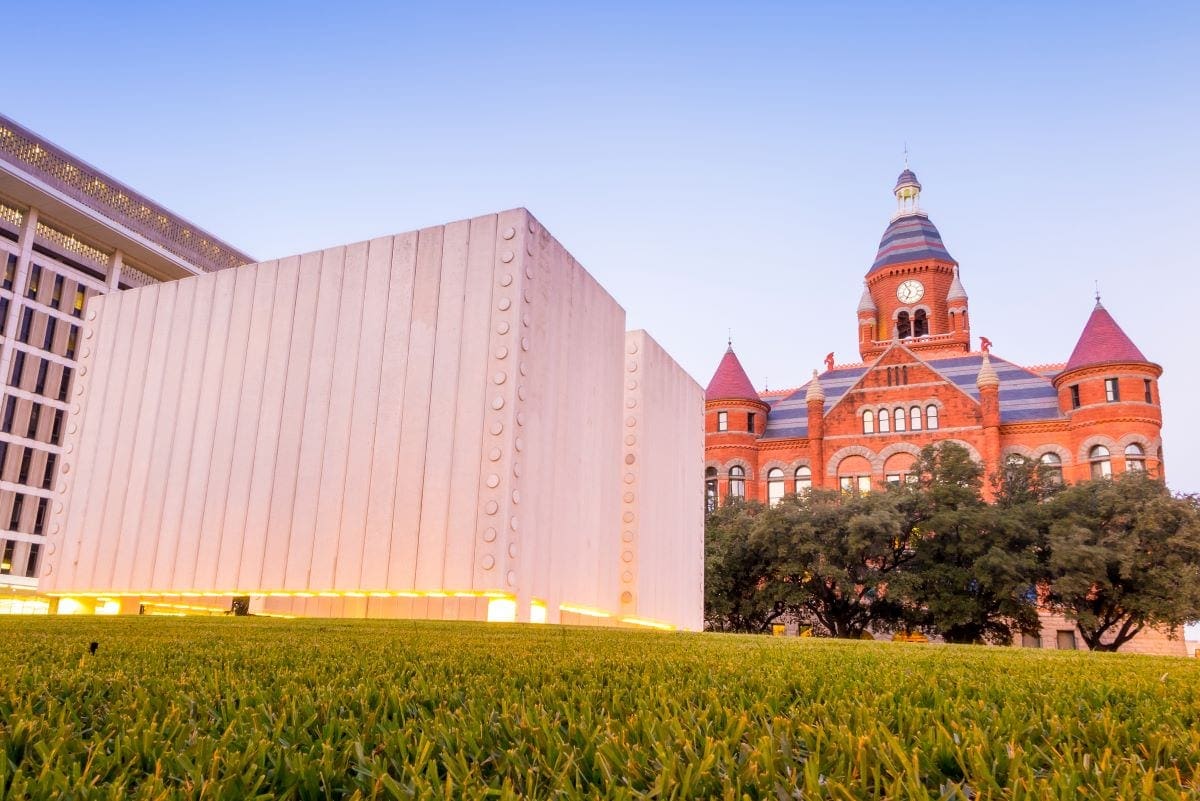 There's a lot in Dallas' history — good and bad, including that it's where former President John F. Kennedy was assassinated.
While it costs money to visit The Sixth Floor Museum (the museum dedicated to JFK's life and legacy), you can still go see the John F. Kennedy Memorial Plaza. Designed by architect Philip Johnson, the memorial is a cenotaph, meaning it's an open tomb monument, and visitors can walk inside of it for some quiet contemplation.
From there you can visit Dealey Plaza just down the road, which is the location where JFK was shot and has since been designated as a National Historic Landmark District.
Related read: 5 Must-Do Scenic Train Rides in Texas
2. Check Out the Dallas Museum of Art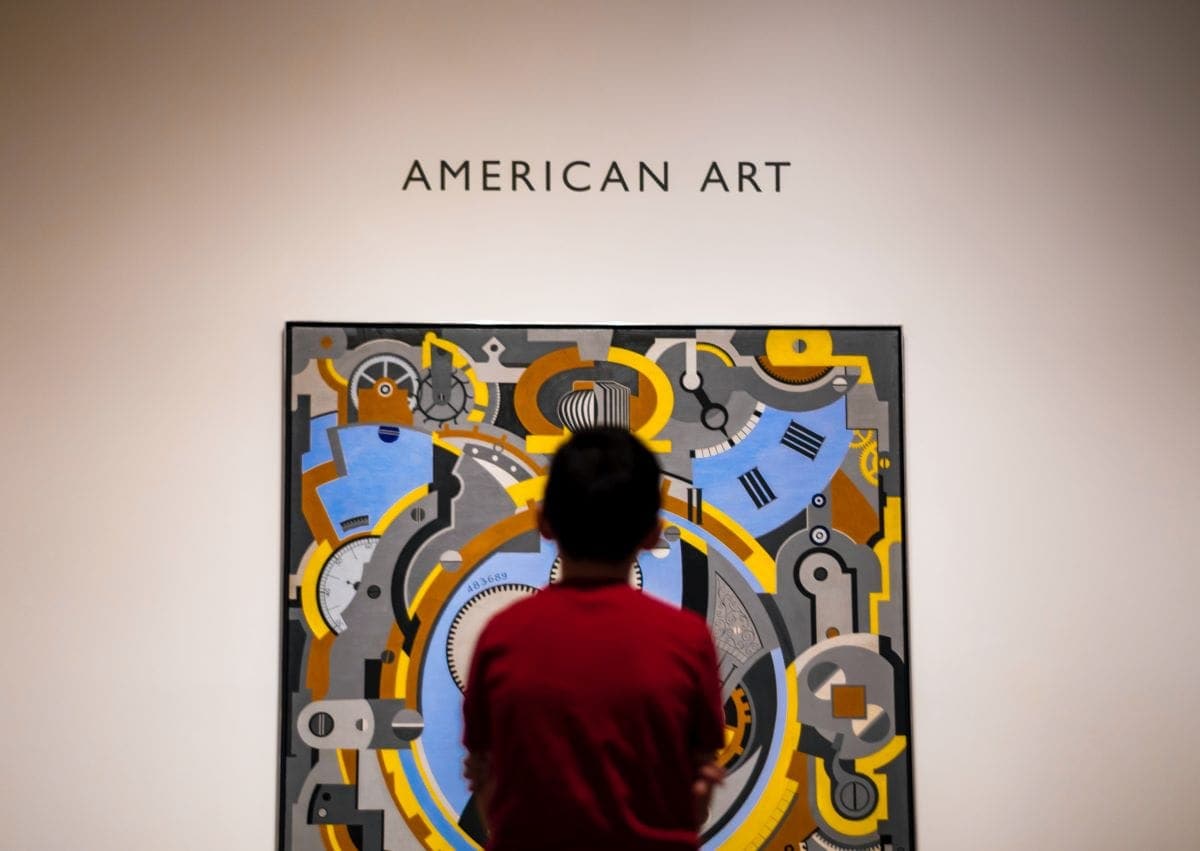 Come to the Dallas Museum of Art to see a collection that spans thousands of years and many different mediums, from Jackson Pollock paintings to Indigenous pottery to Turkish carpets.
You could come without a ticket and get sorted at the museum, but it's better if you reserve a ticket online ahead of time. Note that your free ticket gets you into the museum's collection galleries and a majority of the exhibitions, but there may be a special exhibit that requires a separate paid ticket.
Related read: 8 Best State Parks Near Dallas for a Natural Escape
3. Visit the African American Museum of Dallas
View this post on Instagram
Another museum in the city you can visit free of charge is the African American Museum of Dallas, which is part of the historic Fair Park complex.
Featuring a mixture of African American art, artifacts, documents, and other cultural materials, the museum boasts one of the country's largest African American folk art collections. They also put on different free events like a summer concert series so check their event calendar to see what's coming up.
The museum is open every day except Monday and Sunday.
Related read: 9 Cool Places to Stay in Dallas that Will Blow Your Mind
4. Go Plane Spotting at DFW Founders' Plaza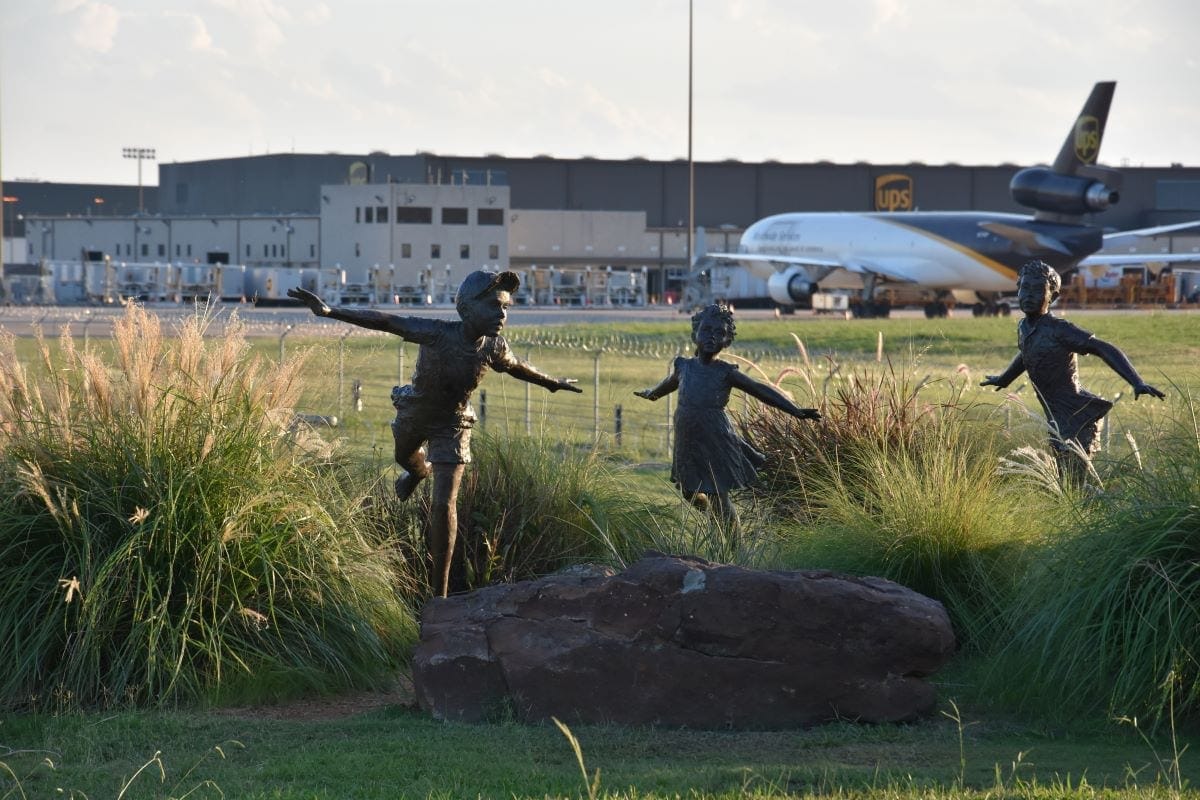 Another one of Dallas' famous plazas is DFW Founders' Plaza. Not to be confused with the Founders Plaza downtown, this one is an observation area next to DFW airport where you can watch the planes coming and going.
More than just an open lawn or roadside patch of grass, the area has picnic tables, telescopes, and a radio broadcasting air traffic control communications. Plane spotters and other aviation enthusiasts can enjoy the plaza anytime from 7 am to 7 pm.
Related read: The Ultimate Dallas to Austin Road Trip
5. Hang Out at Klyde Warren Park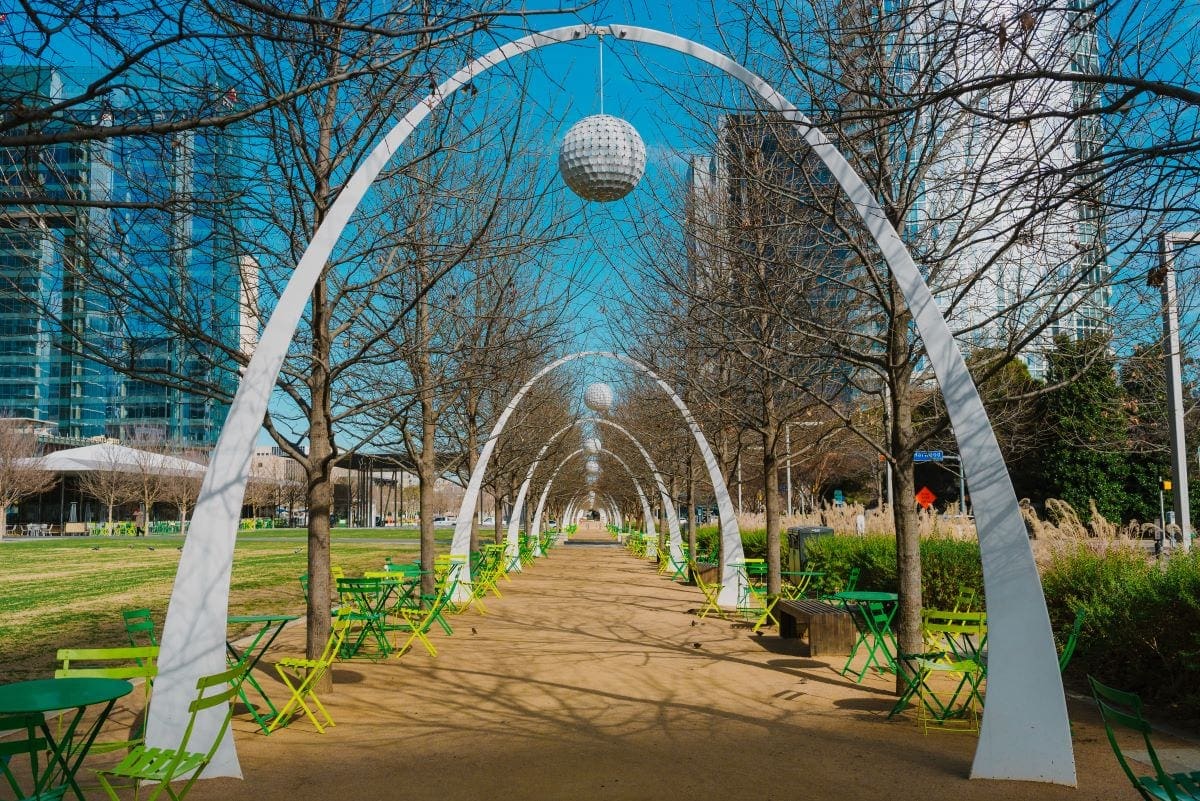 One of the most popular parks in the city, Klyde Warren Park isn't big (it's just over five acres), but it sure does make the most of its space.
Every day you can find some kind of free programming going on there from yoga classes to concerts to film screenings. Just have a look at their online calendar and you'll see the jam-packed agenda. Surrounded by skyscrapers and built over a freeway, it's also a most welcome bit of green in the heart of the city.
Klyde Warren Park is open every day from 6 am to 11 pm.
Related read: The 7 Best Camping Spots Near Dallas, Texas
6. Relax at White Rock Lake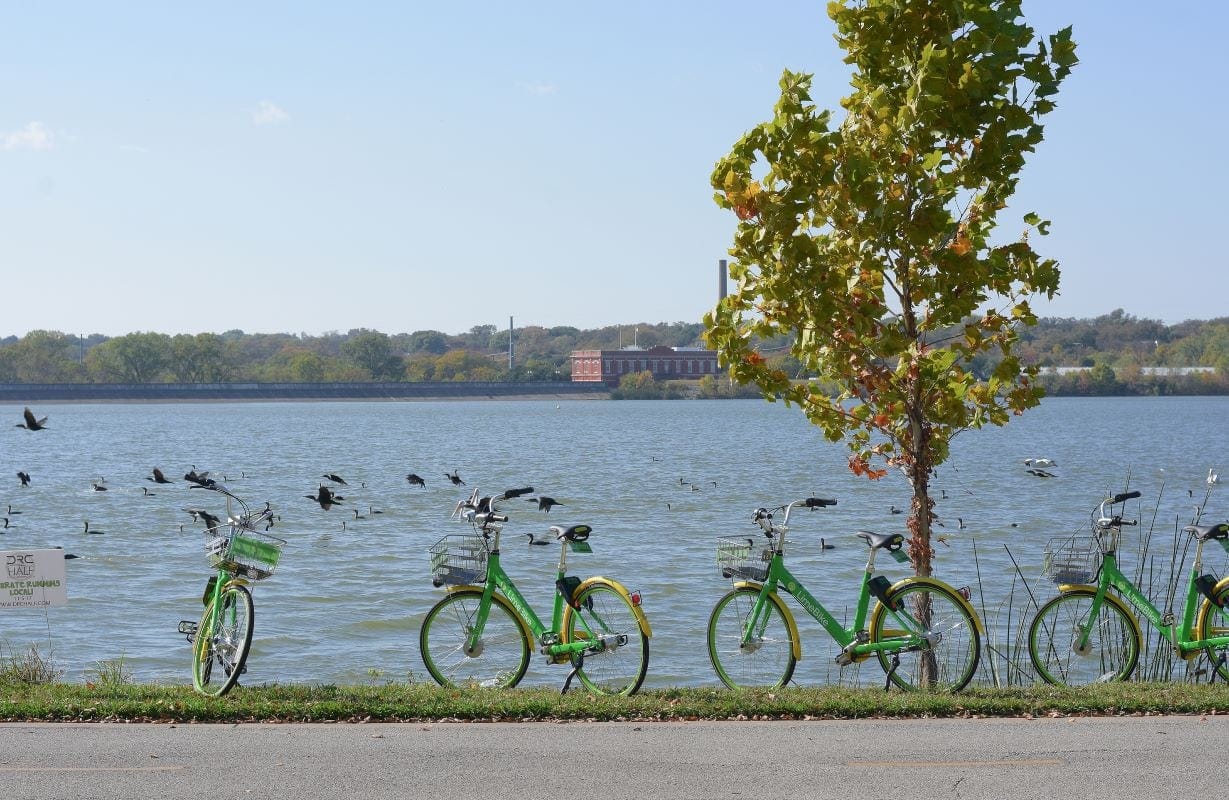 You don't have to leave the city limits to get some lake time. All you have to do is visit White Rock Lake, which is just over 1,000 acres.
Spend your time here hiking or biking the nine-mile trail, having a nice picnic, fishing, and kayaking. If you're lucky enough to have access to a boat, you can take that out too, but sadly, swimming is not allowed—for humans at least since there's a swimming area for dogs in the dog park.
White Rock Lake is open from 6 am to 11 pm every day.
Related read: 8 Cozy Cabin Rentals Near Dallas, Texas
7. Take the McKinney Avenue Trolley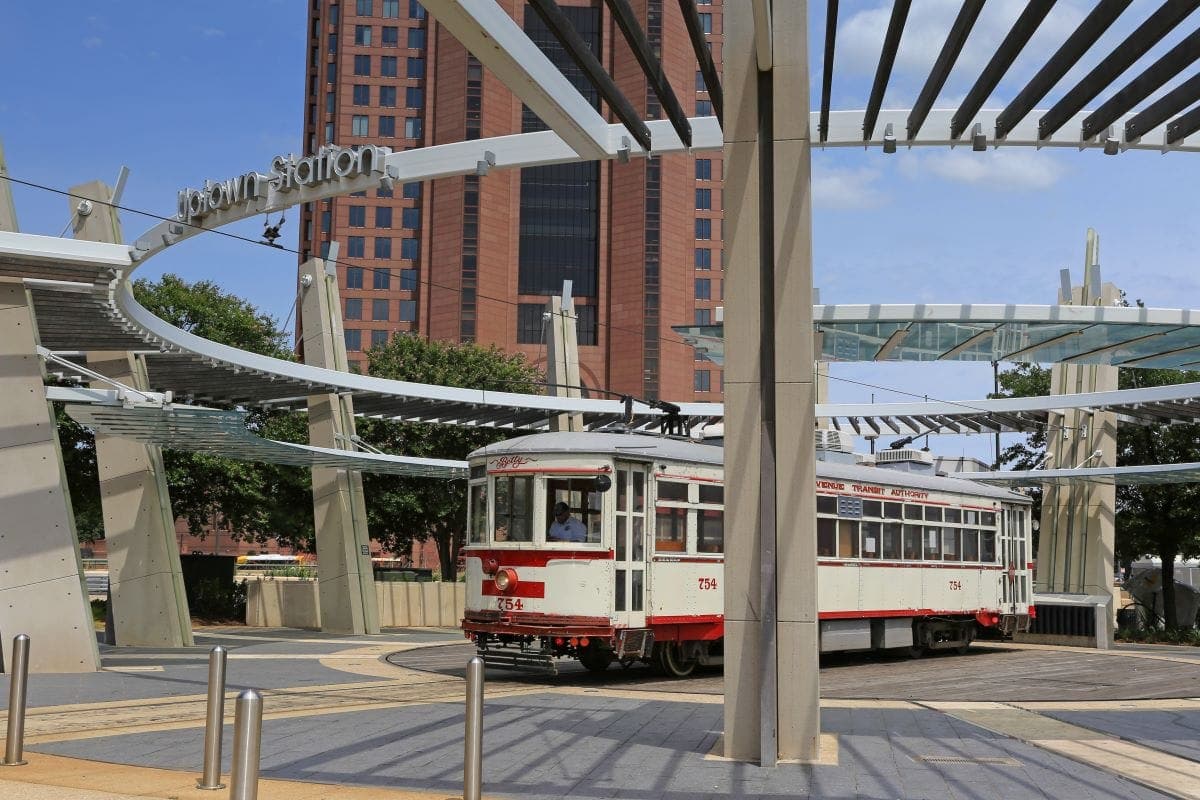 Texas is definitely not known for its public transportation system, but Dallas has something special in the McKinney Ave Trolley.
Also called the M-Line, the trolleys are fun to ride even if you don't have a particular destination you need to get to since they're restored vintage cars. But they're nice for touring Dallas too since the five-mile route brings you close to some of the city's main attractions.
While touted as "free," the tram service is technically name-your-price so you might want to leave some coins in the fare box.
8. Hike or Bike the Katy Trail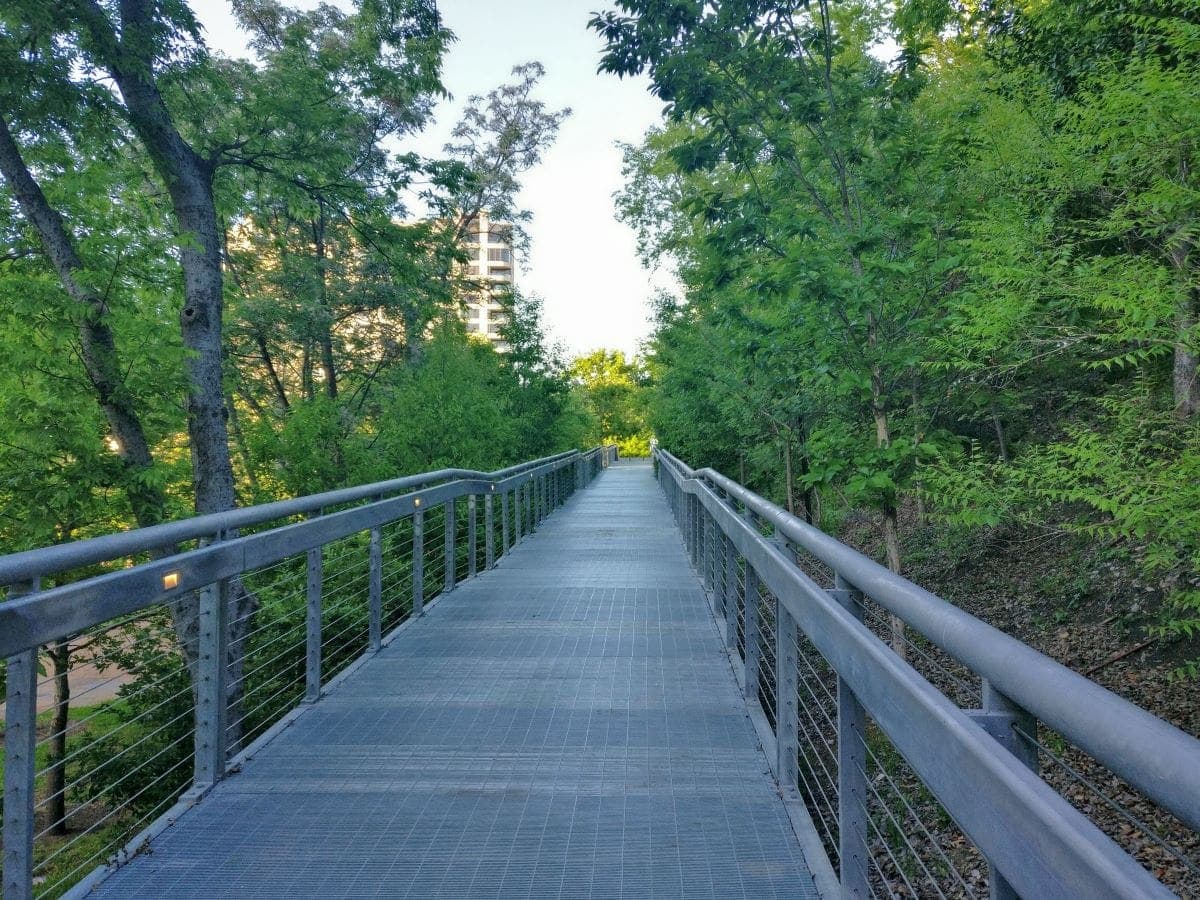 Walking the 3.5-mile Katy Trail is like walking through history since it was once a railroad line.
This route was part of the Missouri-Kansas-Texas Railroad (get it—K-T…Katy), and nowadays it's enjoying a second life as a green space to go for a stroll or a bike ride that's even more pleasant because no motorized vehicles are permitted on it.
Keep an eye out for the sculptures installed along the way that are part of the Katy Trail Art project.
Related read: 9 of the Best Romantic Getaways in Dallas, Texas
9. Go for a Snack at the Guacamologist Experience
View this post on Instagram
No one would connect an upscale brand like The Ritz-Carlton with the word "free," nor is it normal to think of guacamole as something complimentary (we've all had to shell out for that extra avocado).
That's part of the reason why the Guacamologist Experience at The Ritz-Carlton Dallas is so fun. Every evening at 6 pm you can make your way to the hotel lobby to enjoy some freshly prepared guacamole with some mini margaritas.
10. Explore the Cedar Ridge Nature Preserve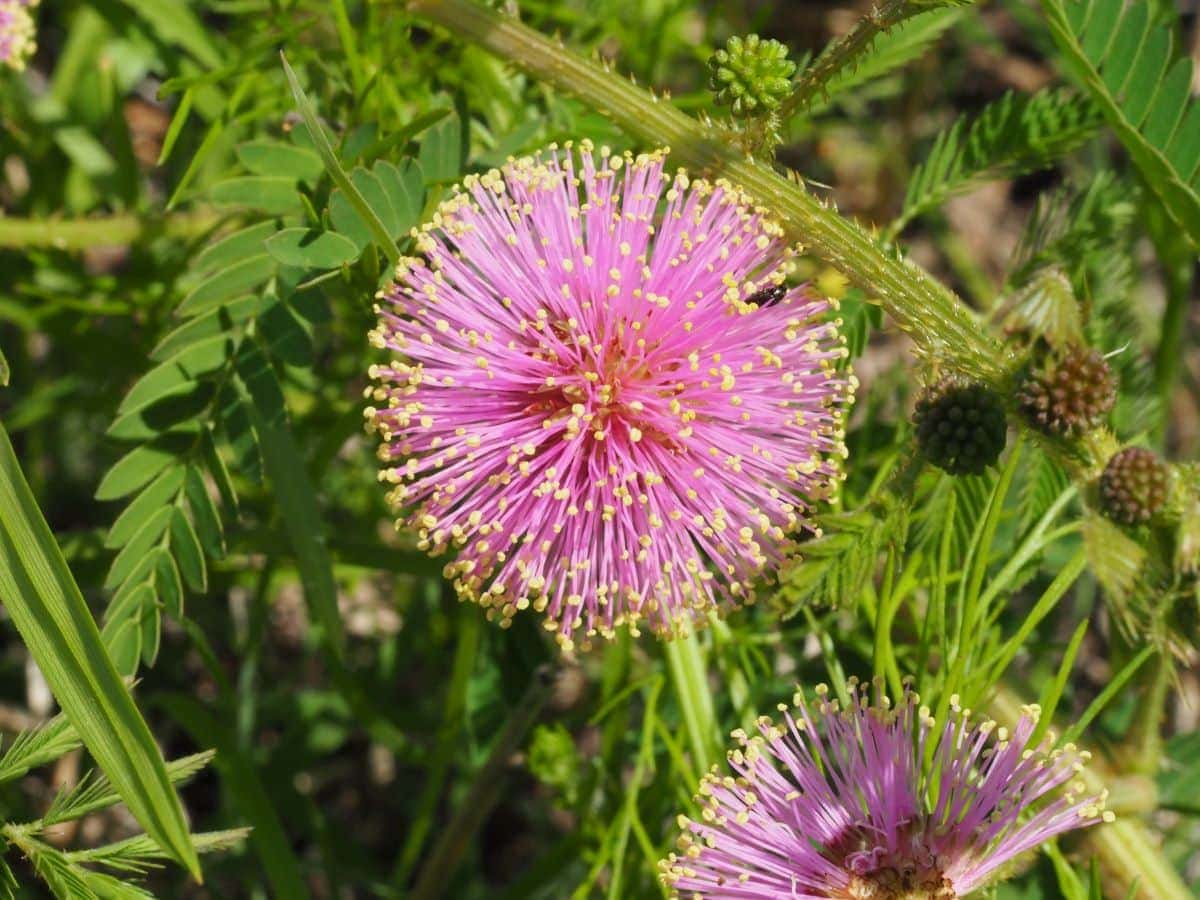 Located in the southwest part of the city, Cedar Ridge Nature Preserve offers miles of hiking trails amid 600 acres. You're just 20 minutes from downtown, but it may feel like you're in the middle of the Hill Country as you wander past all the native trees and plants.
Before you leave, stop by the butterfly garden. The preserve is open every day except Monday since that's when they close to give the land some rest. If you're wanting to visit after it's just rained, its best to check their Facebook page for updates since they close the trails temporarily after rain to prevent long-term damage.
Related read: 10 Unforgettable Glamping Spots Near Dallas, Texas
11. Watch a Show at Dallas Comedy Club
View this post on Instagram
In need of a good laugh? Dallas Comedy Club in the Deep Ellum neighborhood has you covered. Their schedule is full of improv performances from different troupes and open mic stand-up comedy evenings.
You'll have to pay for some of the shows at Dallas Comedy Club, but there are also plenty that are free of charge and you'll just need to RSVP for. Come with a sense of humor and prepare to be entertained.
12. Stroll Around the Dallas Farmers Market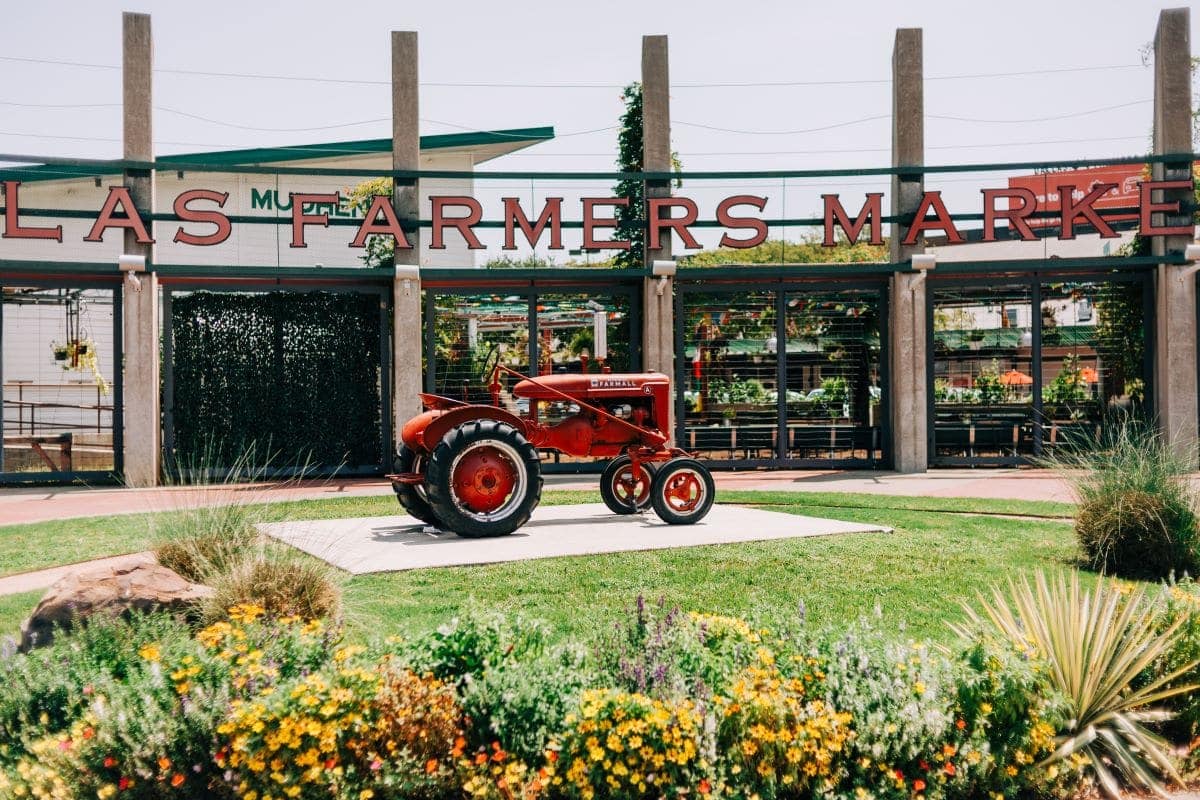 You don't have to buy anything to enjoy a farmers market. Sometimes it's just fun to enjoy the weather and have a look at what all is for sale.
At the Dallas Farmers Market, you can pursue a variety of food and artisanal vendors across their 26,000-square-foot covered hall (called The Market Shops) and their open-air pavilion (called The Shed). Depending on when you go, you may also catch some live events like musical performances or chef demonstrations.
The Market Shops are open every day of the week and The Shed is open on the weekends.
Related read: The Best Stops on an Epic Dallas to Houston Road Trip
13. Go to Trammell Crow Park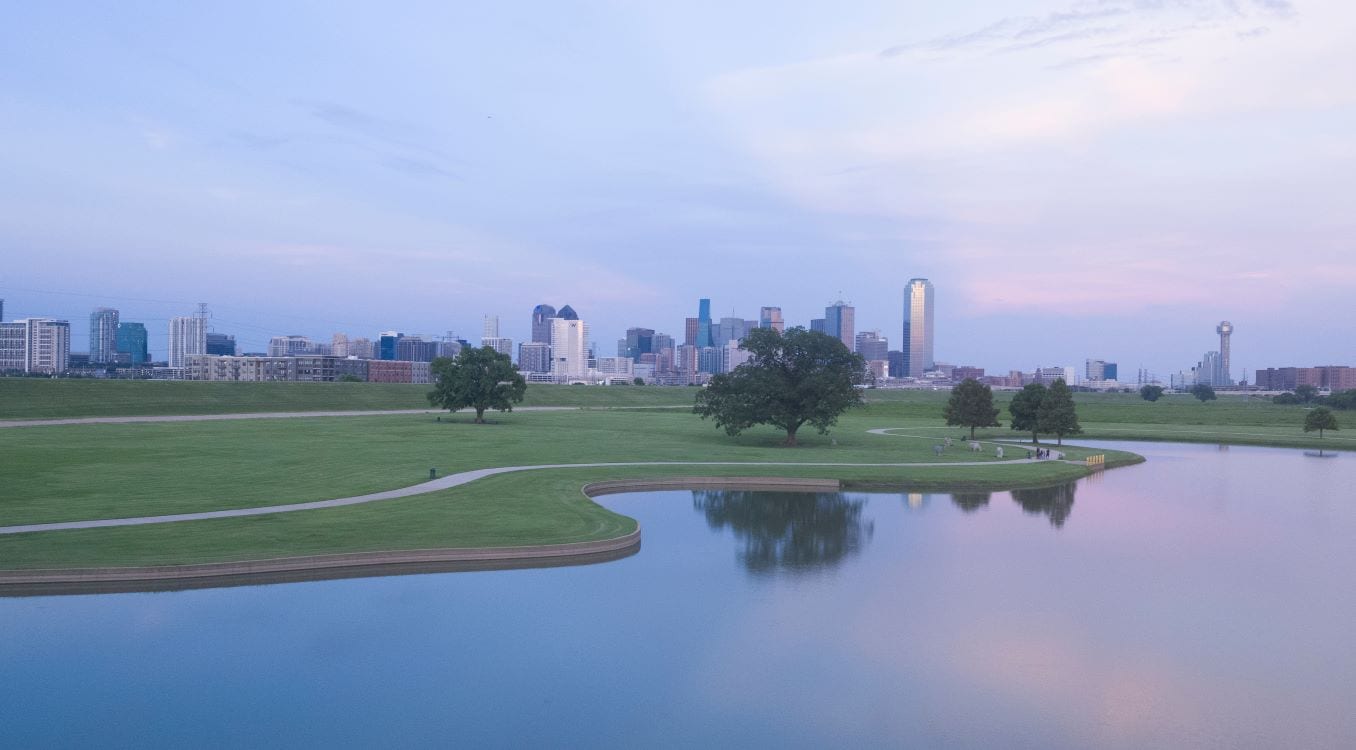 Trammell Crow Park is a nice place to spend a sunny afternoon for a variety of reasons. For one, it has some pretty great views of the Dallas skyline.
Two, it's located around the Trinity River and offers space to hike, picnic, and paddle. You'll also probably see some hang-gliders and paragliders doing their thing here. Three, the stone cow sculptures scattered around the place in lifelike situations add a delightful bit of whimsy.
14. See History at the J. Erik Jonsson Central Library
The city's first public library, the J. Erik Jonsson Central Library is home to far more than just shelves and shelves of books available for borrowing.
Come here and you can see two pretty incredible pieces on the 7th floor: an original broadside print of the Declaration of Independence from 1776 and Shakespeare's First Folio from 1623. Down on the 4th floor, you'll find other visual art exhibitions in the Lillian Bradshaw Gallery.
Related read: 8 Best Weekend Road Trips from Dallas, Texas
15. Listen to a Free Concert by the Dallas Symphony Orchestra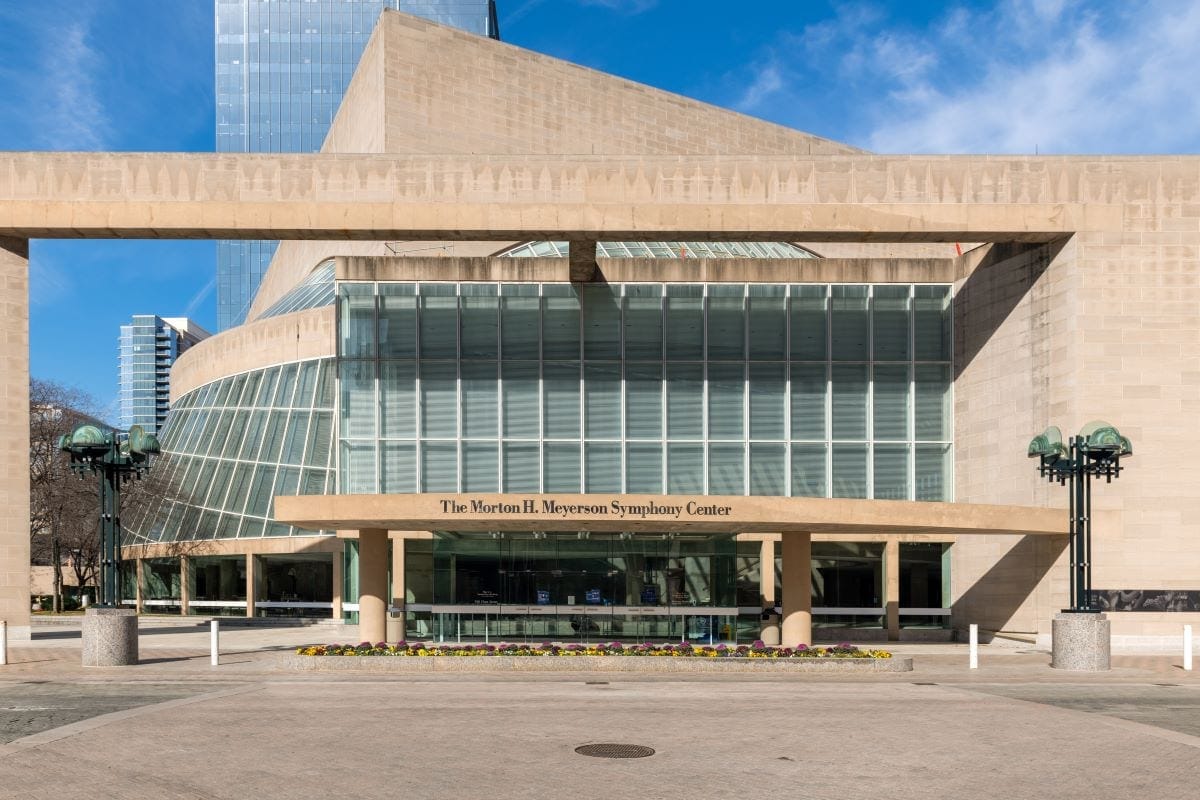 Every year, in addition to the ticketed shows of their normal season, the Dallas Symphony Orchestra puts on free, outdoor concerts throughout the city in places like Flag Pole Hill Park and Kidd Springs Park.
Their Memorial Day performance is particularly popular, and normally they let off some fireworks after that one. The concert program is always different so you can check their website to see what's on the agenda in which location.
Explore Texas
Get epic travel ideas delivered to your inbox with Weekend Wanderer, our newsletter inspiring thousands of readers every week.
---