We research, evaluate and select travel destinations based on a number of factors, including our writers' experience and expertise, user reviews and more. We may earn a commission when you book or purchase through our links. See our editorial policy to learn more.
---
Southern California often conjures up images of lavish beaches, sunsets that go on for hours, and bohemian desert enclaves. In short, it's a land of endless summer and warm temperatures.
But the southern stretch of the Golden State is home to much more than that, like adorable, lakeside mountain towns near ski slopes and sky-high peaks that are regularly dusted with snow for months out of the year. If California is the most diverse state geologically, then Southern Cali must rank near the top of the list for its magnificent array of vacation spots.
For the rogue wanderluster who'd prefer a night under the stars to a metropolitan hotel or a woodsy hobbit house instead of a posh Airbnb downtown, we've done a ton of research and created a list to satiate your wildest travel dreams. From immaculate Airstreams with ocean views to geodesic domes in the forest, we hope to inspire wonder and whimsy for your next stay.
1. Secluded Hobbit House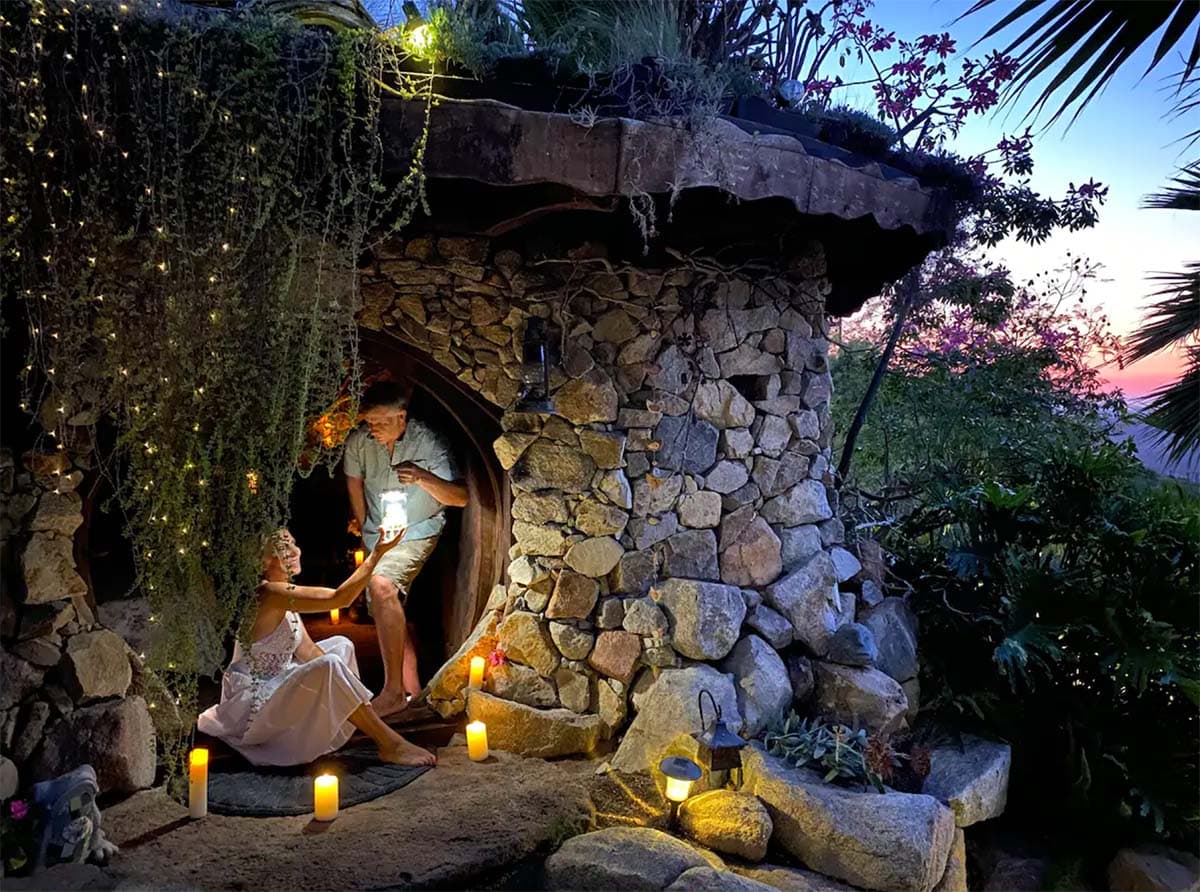 Why you should stay: Indulge your Middle Earth fantasies at this one-of-a-kind stay near San Diego.
Location: Ramona
Sleeps: 2
Minimum stay: 1 night
Rates from: $355/night
This listing is just what it sounds like, after entering through the iconic round door, guests here will feel instantly transported to a world where magic and fantasy reign supreme. Warm your toes at the site's wood burning fireplace or dream up your next novel at the built-in desk. There's no electricity in the hobbit house, so cooking is done via a propane camp stove and Yeti cooler (block of ice provided on request). But don't worry–there is running water.
Just outside, you'll find many of the (not historically accurate) luxuries of home, like an on-demand hot shower system and a flush toilet surrounded by whimsical wood carvings. It's the perfect place for people truly looking to escape the ordinary world while exploring Escondido, San Diego, or Anza Borrego.
Check Availability
Related Read: 15 Magical Hobbit Houses That'll Transport You to the Shire
2. Moon Pine GeoDome Glamping
Why you should stay: Soak up the stars and sunshine from the comfort of bed at this hip dome tent.
Location: Idyllwild
Sleeps: 2
Minimum stay: 1 night
Rates from: $176/night
This 16-foot geodesic dome is half cabin, half glamping tent, with a transparent edge and a skylight to give guests floor-to-ceiling forest views, even when they just want to lounge around in bed. Inside, you'll find a comfy bed with ultra-soft linens, a small couch, and a seating area to sip your morning tea and soak up the views.
The dome sits atop a wooden deck, which also offers ample space for stargazing or doing a bit of yoga. The hosts do note that this is a proper glamping site, and some roughing it is required, though they have gone the extra mile to provide amenities like a grill, Yeti cooler, cookware, and utensils. There's a hot shower just outside in the private bathroom area, as well as a composting toilet for when nature calls. Located just a 5-minute drive from downtown Idyllwild.
Check Availability
Related Read: The Most Scenic Los Angeles to Yosemite Road Trip Itinerary
3. 1974 Airstream on an Organic Ranch
Why you should stay: This bohemian dream is glamping at its finest, just a short drive from Ojai and the beach.
Location: Carpinteria
Sleeps: 2
Minimum stay: 2 nights
Rates from: $225/night
Enjoy a fully equipped kitchen and a small seating/dining area bedecked by space-age leather chairs at this impeccably revamped vintage Airstream. This ain't your dad's old travel trailer, rather, every inch of this modern marvel had been lovingly restored to help guests make the most of their stay, with amenities like air conditioning, a smart TV, a gas stove, and running water.
Beyond the walls of the Airstream, visitors will find a private bathroom chamber, complete with a flush toilet, washer/dryer, and a rain-style shower. Relax on the private deck or lounge by the fire pit, surrounded by sunshine, succulents, and an organic avocado orchard.
Check Availability
Related Read: 11 Amazing Airstream Airbnbs Across the U.S.
4. Dreamy Glass Cottage in Nature
Why you should stay: Become one with the forest at this mirrored cabin full of odd and awesome perks.
Location: Santa Barbara
Sleeps: 2
Minimum stay: 1 night
Rates from: $407/night
Solitude is the name of the game at this private, 3-acre retreat set among a grove of California live oaks. The cottage itself is wrapped in one-way mirrors, literally disappearing into the woods so that you can relax in bed and try to spot wildlife in the mornings. The site also includes access to a hot tub, a pool, reading hammocks, an outdoor piano, a trampoline, and organic eggs from the host's chickens.
A stunning redwood deck sits just out front of the cottage itself, and a short walk away is a covered kitchen/hang-out zone. There's even a custom-made redwood bathhouse, with hot showers and a toilet for guests. All this sits just five minutes from the ocean and ten minutes from downtown Santa Barbara.
Check Availability
Related Read: The 10 Best Camping Spots in Santa Barbara, California
5. Camp Chester Magical Forest Retreat
Why you should stay: Visit Anza Borrego or San Diego from this remote, mountainside glamping haven.
Location: Palomar Mountain, near Temecula
Sleeps: 4+
Minimum stay: 2 nights
Rates from: $150/night
Enjoy a plush queen bed set inside a heated safari-style canvas tent or cozy up inside the vintage travel trailer that's also included with the booking. Either way, there's room for the whole family at this sensational glamp site that's brimming with amenities. Do your morning yoga from the private wooden deck, fix up a feast at the outdoor grill, or snuggle up with a good book in one of the nearby hammocks. At the end of the day, chill out in the outdoor clawfoot bathtub.
The property, Birdsong Backcountry Retreat, offers three "artisanal accommodations," each of them unique, fenced, and pet friendly. Shared among them are a few miles of therapeutic hiking trails with beautiful mountain vistas and Adirondack chairs for relaxing and soaking up the scenery.
Check Availability
Related Read: 9 Amazing Glamping Spots Near Los Angeles, California
6. Santa Barbara Yurt Glamping
Why you should stay: Take your friend who isn't so into camping to this stunning, forested yurt to ease them into the wonders of nature, while staying comfy.
Location: Santa Barbara
Sleeps: 2+
Minimum stay: 2 nights
Rates from: $300/night
This gorgeous yurt more closely resembles a luxe apartment than a temporary dwelling, with its cozy bed (linens included), heater, hot shower, and simple but thoughtful indoor furnishings. The site also has an adorable "backyard" area, with a hammock, fire pit, and camp stove for cooking lavish meals after your day of adventure is done.
The property also features a wood fire-powered hot tub and is a 30-minute hike away from a stunning waterfall. Hosts here provide additional add-on services, like kundalini yoga and creekside massage, to encourage a mindful and relaxing stay. Both Santa Barbara and Cachuma Lake are just a short drive away.
Check Availability
Related Read: 5 Serene Hot Springs Near Mammoth Lakes, California
7. Pirates of the Caribbean Getaway
Why you should stay: This funky hideout in Topanga Canyon will have you and your mates screaming "Arrr Matey!"
Location: Topanga
Sleeps: 2
Minimum stay: 2 nights
Rates from: $225/night
This West LA guest house is positively brimming with character, charm, and whimsy. Set in a tropical backyard environment that'll have you feeling like you've jetted off to another country, the space is furnished with a queen-sized bed, plus a kitchenette with a mini-fridge, stovetop, Keurig coffee maker, and all the pots, pans, and spices you'll need to cook during your getaway.
The spa-like backyard surrounding the cottage provides guests with access to a jacuzzi and tipi for lounging when they aren't exploring Santa Monica or Los Angeles. And, for an extra $25 fee, guests can add-on time in the host's brand-new cedar wood sauna.
Check Availability
Related Read: 15 Best & Most Unique California Airbnbs
8. The Sugar Drop Dome House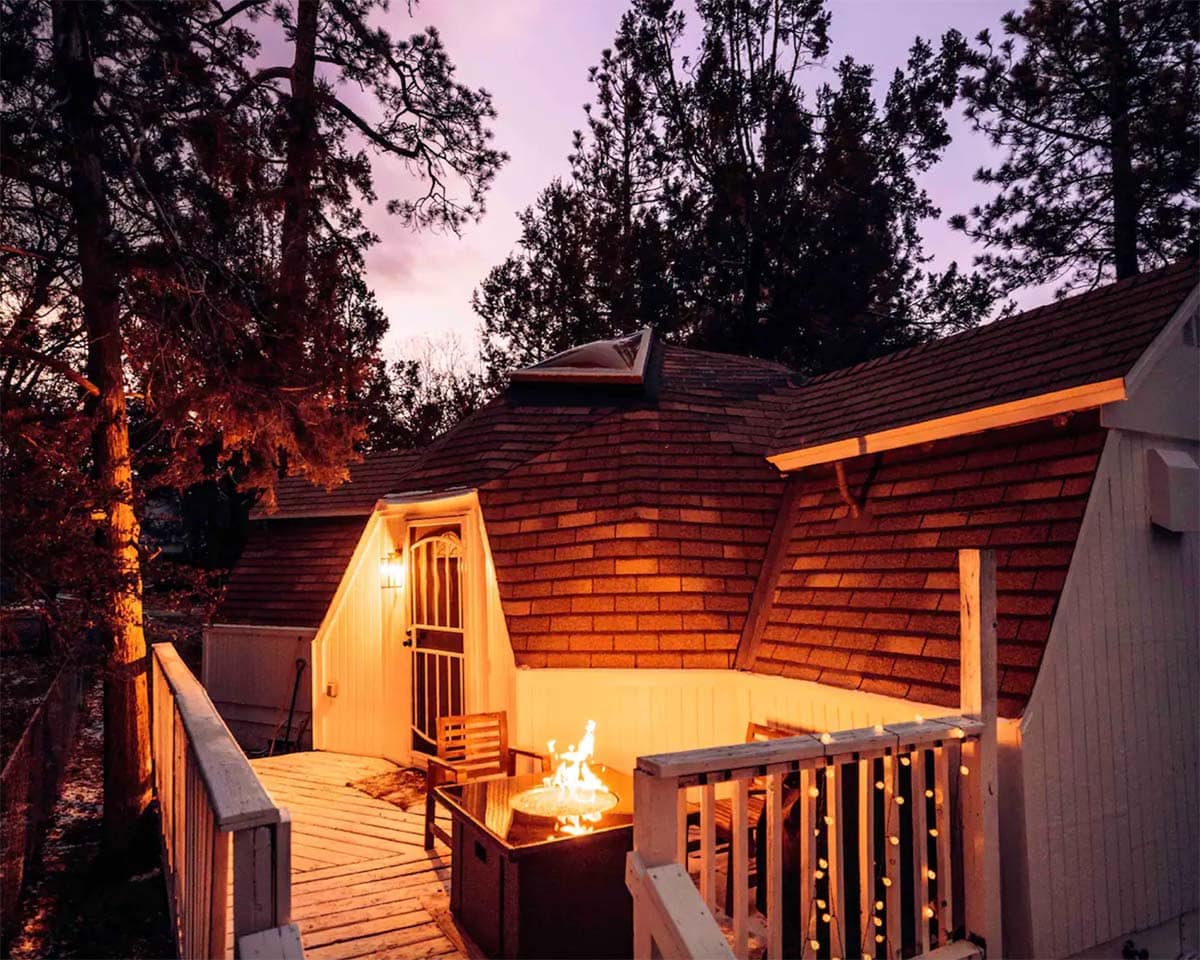 Why you should stay: Wake to a grove of shady conifers at this immaculate dome home that's dripping with charm.
Location: Big Bear
Sleeps: 2
Minimum stay: 2 nights
Rates from: $148/night
A cozy teal couch, a live edge coffee table, artistic lighting fixtures — however you slice it, the design at Sugar Drop is incredible, and this small dome house make a perfect mountain escape for two, whether you be hitting the slopes in the winter in Big Bear or hiking a few trails and getting out onto the lake in summer. The property is located in nearby Sugarloaf, a mere 10 minute drive to all the happenings in Big Bear proper.
Guests here can truly unwind in chic surroundings, with a dining nook, full kitchen, and comfy bedding all within reach. When it's cold outside, snuggle up by the fire or snooze in bed and gaze up at the triangular skylights.
Check Availability
Related Read: 9 Epic Cabin Rentals in Big Bear for Snow or Sunshine
9. Point View at Olive Rock Ranch
Why you should stay: Surround yourself with panoramic mountain views at this simply stunning bell tent with outdoor lounge area.
Location: Palomar Mountain
Sleeps: 4+
Minimum stay: 2 nights
Rates from: $139/night
With expansive views of Dameron Valley and the Palomar Mountains, it's hard not to fall in love with this little slice of paradise at Olive Rock Ranch. Their Point View glamp site features a palatial, yurt-style bell tent with colorful bedding, a hip rug, and a comfy sofa and reading chair for relaxing on chilly nights.
But the real treat is the outdoor space. A picnic table overlooking boulder-strewn hillsides of chaparral and far-off mountain peaks sits right outside the tent. Nearby, a homemade wooden swing sits at the ready for your inner child to come out and play. An outdoor grill, seating area, shower, and toilet cap off the location's stellar amenities. An epic escape for road tripping travelers hoping to explore Anza Borrego, Temecula, or the best that San Diego has to offer.
Check Availability
Related Read: 8 Epic Weekend Road Trips from Los Angeles, California
10. Luxe Malibu Airstream with a View
Why you should stay: Soothe yourself with incredible views of the Pacific Ocean from this clean, modern Airstream.
Location: Malibu, near Los Angeles
Sleeps: 2+
Minimum stay: 1 night
Rates from: $295/night
Who said that Los Angeles is all smog and burned out film stars? Just a short drive north along the fabled Pacific Coast Highway lies Malibu, a chic seaside town that Angelinos flock to when they need to escape the city. This recently-renovated Airstream provides epic views of the area, plus its own outdoor space so guests can relax in unparalleled nature on their own. Chill on the deck, take a nap in the hammock, or listen to your favorite tunes on the provided portable wifi speaker while watching the sunset.
When it's time to head inside, guests can unwind in a cozy sofa nook, cook up a meal on the gas stove (don't worry–there's a fridge too), take a hot shower, and drift off to sleep on the rear queen-sized bed. Looking to add a little something extra to your vacay? The Airstream is set on a working boutique horse ranch that offers trail rides and equine therapy sessions for a fee.
Check Availability
Related Read: 9 Best Cabin Rentals Near Los Angeles for a Secluded Getaway
11. Dome in the Desert
Why you should stay: Revitalize your boho side at this dreamy Joshua Tree dome cottage.
Location: Joshua Tree
Sleeps: 4
Minimum stay: 2 nights
Rates from: $167/night
Pops of vibrant colors meet modern whites, adding a playful bohemian flair to Dome in the Desert, just minutes away from Joshua Tree National Park. Enjoy a cocktail at the adorable dining area, play a card game in front of the indoor fireplace, or lay back in the crocheted swing and read your favorite novel. This home is a dream for anyone looking to unwind in style while they visit the Joshua Tree/Twentynine Palms area.
Each of the bedrooms in this stunner features a king-sized mattress, plus unique art that's sure to put a smile on your face. Out back, a small seating area with two chairs beckons guests to take in the sunset just beyond the property's very own Joshua tree, which frames the house perfectly. Check out our in-depth look at Dome in the Desert here.
Check Availability
Related Read: 6 Serene Cabin Rentals in San Diego to Get Away From It All
More Cali Travel Inspiration
Get epic travel ideas delivered to your inbox with Weekend Wanderer, our newsletter inspiring thousands of readers every week.
---