We research, evaluate and select travel destinations based on a number of factors, including our writers' experience, user reviews and more. We may earn a commission when you book or purchase through our links. See our editorial policy to learn more.
Was this article helpful?
---
Regardless if you're an LoTR fan or not, these charming Hobbit houses around the U.S. have a spellbinding effect that make them a travel attraction in their own right.
Hobbit houses are unique little homes often in a scenic location that are built with earthen roofs, domed ceilings, and rounded doorways. But these days, it's possible to find every modern twist on the Shire's classic architecture. And with so many incredible hobbit houses scattered across the country, there's no need to make the long and expensive journey to New Zealand for a bit of Hobbit fun.
Coolest Hobbit House Rentals in America
You know what they say, not all who wander are lost, especially those looking to live out the Lord of the Rings or just escape to the beauty of nature. So if you're ready for an unforgettable adventure, here are some of the coolest Hobbit houses in America.
Related Read: 15 Amazing Airbnb Monthly Rentals Around the U.S.
1. All the Comforts of Home
Why you should stay: An Airbnb that whisks you away to a magical realm and offers so much more than a traditional vacation rental.
Location: Fairfield, VA
Sleeps: 4
Minimum stay: 2 nights
Rates start from: $297/night
All the Comforts of Home is a getaway made for witches and wizards at heart. With its Hobbit-inspired architecture and incredible attention to detail, everything about this home tickles the imagination. From the wizard staffs and scrolls to the imposing dragon motif at the entrance, it's hard not to feel bewitched.
The hosts also have one-of-a-kind workshops where you can try your hand at crafting a wizard staff, forging metal in the blacksmith experience, or creating your own witches broom. To top it off, the property is surrounded by scenic views of the Blue Ridge Mountains.
Check Availability
Related Read: 11 Amazing Airstream Airbnbs Across the U.S.
2. Underground Hygge
Why you should stay: A rustic, tiny Hobbit home built into the hillside surrounded by Columbia River Gorge views.
Location: Orondo, WA
Sleeps: 2
Minimum stay: 1 night
Rates start from: $400/night
Underground Hygge is a custom cabin on a secluded six acres up the mountainside. Natural elements can be found throughout the home such as a driftwood sink and floor-to-ceiling stone fireplace. Antiques and upcycled decor also give the place an authentic charm you'd expect from a visit to the Shire.
To reach the property, you'll need to hike a short five minutes along a hilly trail from the parking area. Be sure to come prepared to relax in the comfort of a minimal yet cozy Airbnb.
Check Availability
Follow 'em: @thehobbitinn
3. The Hobbit House (Washington)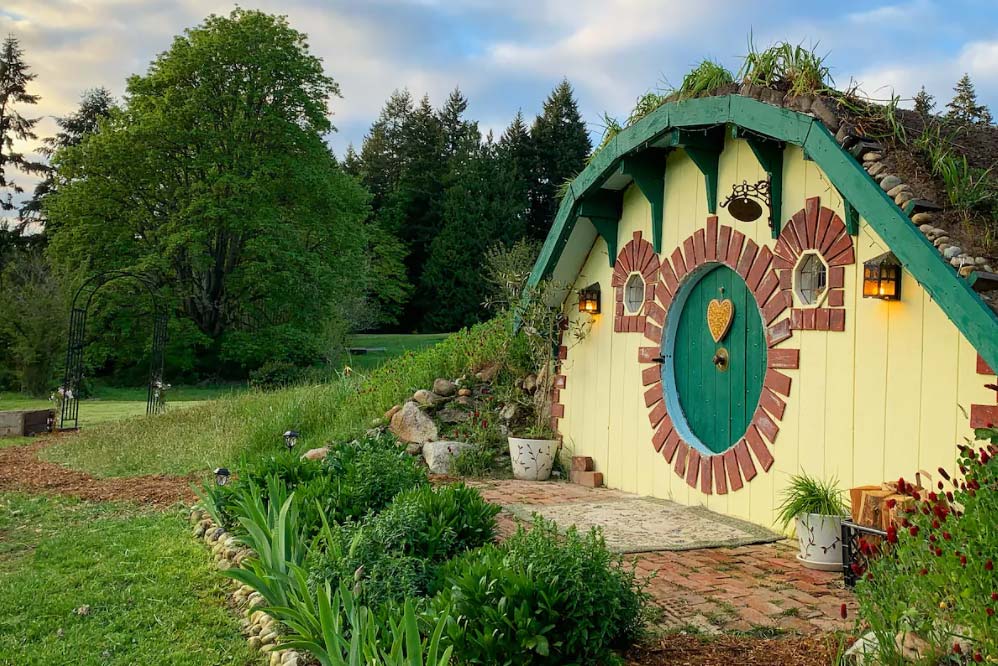 Why you should stay: A quaint glamping cabin in the gorgeous Puget Sound, a short ferry ride from Seattle with homey touches.
Location: Bainbridge Island, WA
Sleeps: 2
Minimum stay: 1 night
Rates start from: $75/night
Nestled in an idyllic island setting, this Hobbit House is a rustic cabin with camping amenities. Complete with a convertible fire pit and grill, portable bathroom, and disc golf baskets, this three-acre property is literally a breath of fresh air.
This hand-built home also has a small but well-optimized interior furnished with a convertible couch bed, gas fireplace, and coffee-making supplies. It's within walking distance from beautiful places like Manitou Beach and Rolling Bay.
Check Availability
Related Read: 12 Charming Barndominiums for Your Next Rural Getaway
4. The Hobbit House (California)
Why you should stay: A cabin in the city not far from Venice Beach with open air amenities for optimum time spent in the California sunshine.
Location: Los Angeles, CA
Sleeps: 3
Minimum stay: long term
Rates start from: $75/night
The LA Hobbit House is a studio Airbnb that combines the joys of camping with the convenience of the city. Featuring sloping ceilings and knotty pine paneling, this free-spirited home comes furnished with a queen and single bed, offering an excellent spot to stay in Marina del Rey for small groups.
Just outside the home, enjoy the zen garden dubbed The Circle featuring a circular yoga deck, an open-air kitchen with a coffee station, and laundry machines. The ocean is within walking distance away, as is a bus station with routes to downtown Los Angeles.
Check Availability
Follow 'em: @thehobbithousela
5. The Sassafras
Why you should stay: Stylish earth dome that is a modern take on the Hobbit house not far from the shops and eateries of downtown Johnson City.
Location: Johnson City, TN
Sleeps: 2
Minimum stay: 1 night
Rates start from: $199/night
The Sassafras is an elegant dome house perched on a bluff with peaceful surroundings made up of trees, an old quarry pond, and a calming waterfall. The home's only two external walls are made up of floor-to-ceiling windows, allowing cheerful natural light to brighten up the contemporary interior.
This property also has a paved patio with a stone fire pit and an outdoor soaking tub amongst the well-manicured garden. Relaxing in the serenity of the environment is by far the best thing to do at the Sassafras. Still, there are hiking trails, historical attractions, and delicious restaurants around Johnson City if you are seeking more to do.
Check Availability
6. The Shire of Montana
Why you should stay: A storybook cabin in a remote Montana valley with upscale decor and charming accents that help you live out a LoTR fantasy.
Location: Trout Creek, MT
Sleeps: 3
Minimum stay: 2 nights
Rates start from: $395/night
The Shire of Montana is a high-end cabin that's been pulled straight from the pages of a fairytale. All around the home, a cute Elven Village made up of miniature elf homes, a storybook well, and glowing string lights sets the scene, and allows your imagination to run wild.
The yard also has a wooden deck complete with a picnic table and grill for a magical cookout in the woods. Guests are welcomed to the property with a giant fairy-dusted cookie. Thompson Falls State Park and Mt. Headley is a quick drive away where you can embark on an exciting adventure.
Check Availability
7. Creekside Hideaway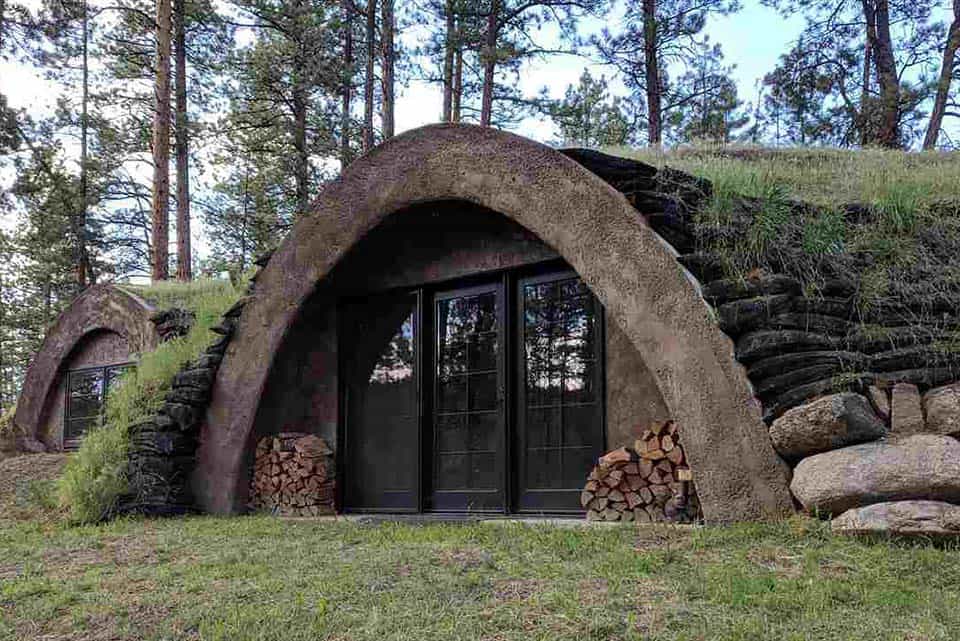 Why you should stay: Eye-catching architectural elements wow at this pet-friendly, luxurious earth house just 15 minutes south of Helena.
Location: Clancy, MT
Sleeps: 12
Minimum stay: 2 nights
Rates start from: $175/night
The Creekside Hideaway is a stunning vacation rental in the Elkhorn Mountains that won't just impress fans of Lord of the Rings but nature and interior design lovers too. A massive tree trunk shower entrance, private sleeping Hobbit nooks, and a secret door to a hidden room are just a few of the outstanding amenities at this charming rental. The home is also outfitted in classic Scandinavian design, with comfort and style the top priorities at this dome Airbnb.
Check Availability
Follow 'em: @creeksidehideawaymt
8. Hobbit House of Pawling
Why you should stay: A spacious earth house with exciting nods to Tolkien's famous world with the added benefit of modern amenities such as a bubbling hot tub.
Location: Pawling, NY
Sleeps: 6
Minimum stay: 2 nights
Rates start from: $450/night
The Hobbit House of Pawling has everything needed for a relaxing getaway just hours from New York City. Filled with thoughtful touches such as board games, puzzles, and a Keurig machine, this fun Airbnb is perfect for families.
Out in the yard, three patios, two fire pits, and one hammock are encircled by fragrant perennial gardens for days spent in the fresh air. The village of Pawling is a quick five-minute drive where there's convenient access to NYC's Metro North railway.
Check Availability
Follow 'em: @hobbithouseofpawling
9. Terluna
Why you should stay: An otherworldly dome house made from adobe located 25 minutes from the Big Bend National Park entrance.
Location: Terlingua, TX
Sleeps: 3
Minimum stay: 1 night
Rates start from: $98/night
Situated in the beauty of the Chihuahuan Desert, Terluna is a remote Airbnb with incredible stargazing opportunities. There are also epic mountain peaks, natural hot springs, and the Terlingua Ghost Town nearby for more incredible things to do in the area.
Those interested in staying close to home should prepare for spectacular shows of color over the desert landscape as the sun sets and rises each day. This environmentally-friendly property is powered by the sun and features an outdoor shower, a composting toilet, and water supplied by the rain.
Check Availability
Follow 'em: @bigbenddome
10. Hobbit Knoll
Why you should stay: Wake up in a modern Hobbit house in northern Asheville on an expansive property offering treehouse rentals too.
Location: Asheville, NC
Sleeps: 4
Minimum stay: 1 night
Rates start from: $314/night
The Hobbit Knoll is a marvelous representation of the Shire, catching the attention of major news publications like CNN and ABC News. Classic round doors make the dull task of entering rooms an exciting experience, and the front entrance bears a Tolkien-esque wooden tree carving and iron latticework.
Attention to detail is the name of the game at the Knoll, best enjoyed in the form of the welcome snacks and beverages as well as the add-on massage services. This home also features a gas fireplace and a beautiful kitchen with tile, stone, and farmhouse accents.
Check Availability
Follow 'em: @treehouses_of_serenity
11. Half House
Why you should stay: Wake up in the beauty of northern Michigan's Traverse Bay region in a cheerful dome lakehouse.
Location: Charlevoix, MI
Sleeps: 4
Minimum stay: 2-4 nights
Rates start from: $495/night
Take in lovely lighthouse and beach views over Lake Michigan at the Half House, a quaint little home, made for a hobbit. A stony facade, wood-burning fireplace, and quirky, half-shaped dome, make this a particularly special Midwest escape.
Not to mention its stellar location within walking distance to both the charming downtown streets of Charlevoix and the sandy shores of the lake. If visiting in the summer, make time for the town's free live music events and lakeshore bike paths.
Check Availability
12. The Hill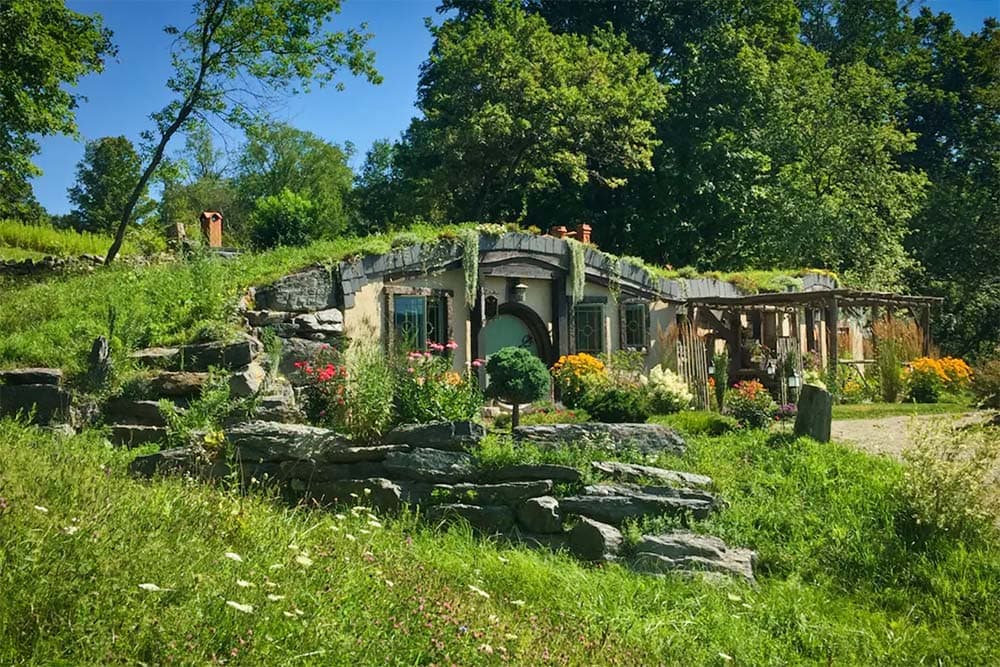 Why you should stay: A fantastical home nestled into the hillside encircled by rolling mountains best enjoyed from the grassy rooftop.
Location: Middletown Springs, VT
Sleeps: 4
Minimum stay: 2 nights
Rates start from: $350/night
The Hill is an enchanting Hobbit home not far from the White Rocks National Recreation Area. The hosts take their fandom seriously and have divided the space into distinct Lord of the Rings themed areas.
The Double Dragon Pub is a cozy hangout space complete with darts, a game table lit by an electric candle chandelier, and an old-timey bar top. It also has a bathroom and a Murphy bed. In the other half of the home, dubbed Baggs Inn, you'll find the kitchen, living room, and master bedroom. This property also features a garden area furnished with a claw foot soaking tub, fire pit, and a swimming hole.
Check Availability
13. Hobbit House at Nomad's Land
Why you should stay: A homey cabin constructed with recycled materials tucked away in the quiet of Georgia's countryside.
Location: Attalla, GA
Sleeps: 2
Minimum stay: 2 nights
Rates start from: $100/night
The Hobbit House at Nomad's Land has a rugged charm thanks to its living roof, reclaimed wooden walls, and raw log beams. Other excellent features include the exposed brick detail and the wine bottle wall that comes to life when the sun shines through it.
There is a clean outhouse with a flush toilet available to guests a short walk from the front door. Come to simply relax or take advantage of local outdoor activities like hiking trails that lead to Noccalula Falls or strolling the riverwalk along the Coosa River.
Check Availability
14. Wonder Haus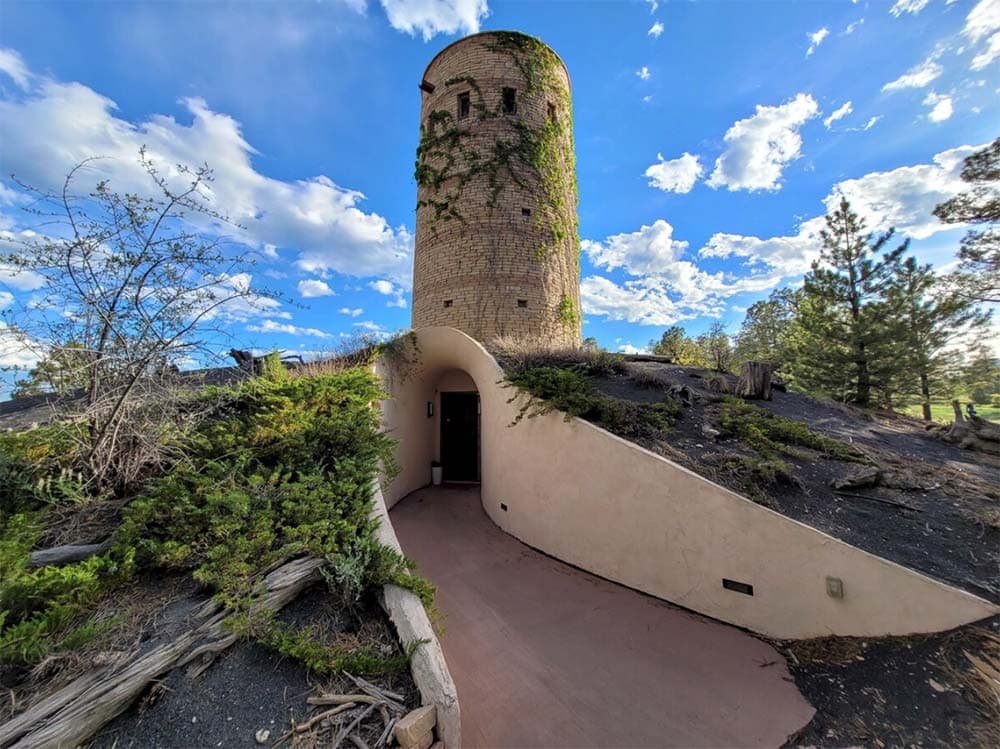 Why you should stay: A natural oasis with eclectic decor from the creative imaginations of eco-friendly hosts.
Location: Pagosa Springs, CO
Sleeps: 8
Minimum stay: 3 nights
Rates start from: $425/nights
Wonder Haus is a solar-powered home topped with a fantastic brick tower made for stargazing. Built into a hillside, this architecturally unique Airbnb features quirky elements such as a domed ceiling and a mid-century modern fireplace.
The San Juan National Forest surrounds the expansive seven-acre property, where guests can take advantage of hiking, biking, and skiing trails. Pagosa Springs is famous for its geothermal waters, so making time for naturally heated spas in the area is a must.
Check Availability
Follow 'em: @wonderhaus_co
Watch on YouTube
Find More Unique Stays
Sign up for Weekend Wanderer to join thousands of readers getting epic travel and gear ideas every week.
Was this article helpful?
---